This is the ultimate recipe to make tender and flavorful beef brisket that rivals the low and slow pit BBQ we all love, but without the full day of smoking over wood.
»You might also like this Instant Pot Pork Roast, Instant Pot Pulled Pork or Instant Pot Oxtail Ragu. If you are a brisket fan you can't pass up this delicious BBQ Beef Brisket Bun.
Despite what I used to think, you don't need a low and slow BBQ pit to make amazing brisket at home. In fact, all you need is a 4 hours in the oven on a low temperature, or just over an hour in the Instant Pot.
You can make this recipe in the oven or the Instant Pot with the instructions given in the recipe card below. However, I usually opt for the Instant Pot. It's an incredible tool for making dishes that usually take a long time. In the pressure cooker, you can drastically cut down the cooking time for dishes like this tender beef brisket.
If you don't have an Instant Pot yet (go directly to Amazon and order one!), you really should consider it. We have a free Instant Pot starter guide when you join our mailing list. You can also check out our Instant Pot page for more information.
The best thing about beef brisket is that it can be used for so many dishes. I always make a large amount and use it throughout the week for lunches and dinner. It makes amazing brisket sandwiches!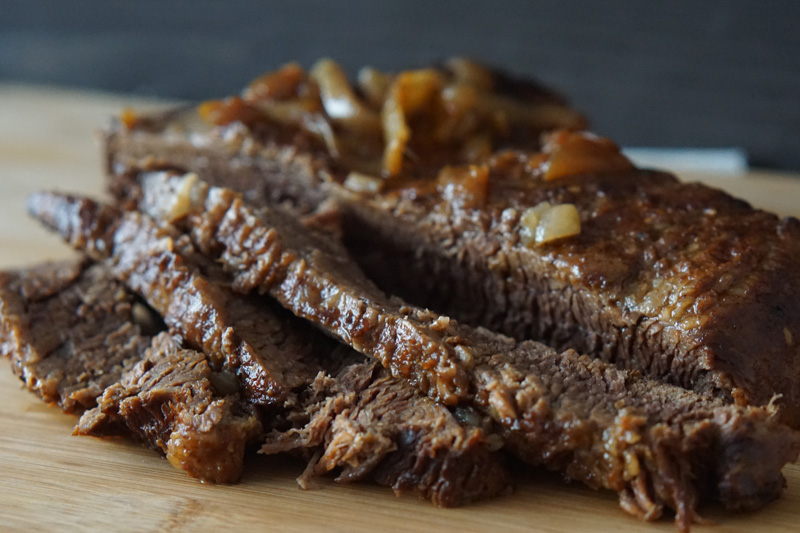 How to Buy Brisket
Which Cut to Buy
There are two different cuts of brisket you can buy. If you're lucky enough to have a choice, you can pick the flat cut or the point cut. The flat cut is much leaner, and is often trimmed of fat. The point cut has a nice layer of fat or fat cap on it.
My preferred cut is the point cut because I'm a firm believer that all that fat leads to incredible flavor. The more fat on the meat, the juicier and scrumptious the meat will be.
The bulk of the fat on a brisket is in a thick layer on top. As you cook it, that fat renders and some sinks into the meat. You can then choose to leave the rest on, or trim it off before you serve it.
The choice is up to you. If you don't like cooking all that fat, stick with a piece that is more trimmed.
On a side note, if you're looking for high-quality ground beef and meat, check out Butcher Box. It's a subscription meat box with 100% grass-fed beef, free-range, organic chicken, heritage breed pork, and wild caught Alaskan salmon. All the meat is humanely raised and never given antibiotics or added hormones ever.  See our full review of the service.
I'm super impressed with the quality of the meat from ButcherBox and won't go back to purchasing meat at the grocery. Plus, it's way easier to have it delivered to your door.
What Size to Buy
Brisket can be cut from small to very large pieces. For 2-4 people, a 2 pound brisket is just right. It won't leave a lot of left overs though, so we always go for a 3-pound brisket for 2 people. Then we can make more meals from it.
You won't be limited by size in the oven, so if you want to cook a really large slab of brisket, you'll want to go with the oven cooking method. In the Instant Pot, you're limited by the amount of space in the inner pot. It's possible to cook up to a 4-pound brisket in a 6-qt Instant Pot. Any larger than that and it doesn't fit well in the pot. You could go larger if you have an 8-quart IP.
How To Cook a Brisket Indoors
Brisket is often cooked low and slow on a fire pit, but not all of us have that option. I've been living in an apartment for many years. I can't even remember the last time we were able to cook on a grill outside. Such a bummer.
However, that doesn't mean you can't cook brisket if you don't have a pit bbq or a smoker. This recipe is foolproof when cooked in the oven or the Instant Pot, so don't shy away from making a brisket indoors.
Apply a Wet Rub
I am a firm believer in dry rub for meat. I put it on almost all the meats I make. If you've tried our super popular oven-baked baby back ribs, you've already tried our homemade dry rub. It's one of our most popular recipes. The rub in the recipe card below is the same, but a smaller amount.
You'll need the following ingredients and spices for the rub:
2 tsp brown sugar
2 tsp paprika
1/2 tsp black pepper
1/2 tsp salt
1/2 tsp chili powder
1/2 tsp onion powder
1/4 tsp garlic powder
Combine this dry rub with olive oil to make a wet rub. The wet rub allows the seasoning to infiltrate all of the nooks and it helps with the browning.
Generously slather on the wet rub to coat the brisket. Then let is sit for about 15 minutes.
Sear the Brisket
Start by searing the brisket on all sides. This will give the meat a nice browned and flavorful crust.
You can sear the meat on a skillet on the stove over medium-high heat. I sear the brisket directly in the Instant Pot on saute mode. Once it's browned, about 4 minutes per side, remove it from the pan. If using an Instant Pot, remove it from the inner pot and turn off the machine.
Be aware that the rub will begin to burn on the bottom if you take too long with this step. It should just take about 8 minutes. If the rub is starting to burn on the bottom, remove the brisket and add more oil to the pan/pot.
Cook the Brisket
In the Oven
Preheat oven to 300° F. Place the brisket in a large piece of tin foil and seal up the edges. Place the packet in an oven safe dish or roasting pan. Place the dish in the oven and bake for about 1 hour and 15 minutes per pound of meat. The brisket should reach a temperature of 180° F.
The best way to monitor its progress is to use a leave-in meat thermometer that you can set and will tell you when the meat is done. If you only have an instant read thermometer, start checking it after the total time has finished. It's okay if you go a little over with the temperature, but you don't want to go too far over or the meat will be dry.
In the Instant Pot
There will be some browned bits on the bottom of the pot from searing the brisket. Adding liquid in the form of beef broth to the pot will help you loosen that. Don't do this while saute mode is still on. It's very hot and the liquid will steam up immediately and can burn your arm if you're not careful.
Add the broth and scrape the bits up with a spatula. This adds great flavor to the meat as it cooks.
Add the BBQ sauce (I use this homemade bourbon BBQ sauce) and the diced onions to the pot. Then set the brisket back into the pot, nestling it in among the sauce.
Close the Instant Pot and set it to pressure cook (or manual, depending on which version you have). It will take 70 minutes.
After the time is up, allow the pressure to release naturally. This will take about 10 minutes.
When you open up the pot, you'll be greeted with a heavenly piece of meat that is fall apart tender and ready to be devoured.
Complete the Dish
Take the brisket carefully out of the dish or inner pot so that it doesn't fall apart. Slice it against the grain into 1/2″ thick slices to serve.
You can also use the sauce from the pot as a gravy. Just be aware that the sauce is likely to be quite fatty, especially if your piece of brisket had a fat cap.
You'll want to strain off the fat from the sauce before thickening it. I usually find that once I skim the fat, it takes about 5 minutes on saute mode to thicken the sauce into a nice gravy.
Like this recipe? We'd love for you to share it on your Pinterest board! Click to follow our Pinterest boards so you can find all our recipes!
Instagram it! If you try this recipe please tag #AFoodLoversKitchen on Instagram or Twitter. We love to see your photos of our recipes! Also follow us on Instagram, Twitter and Facebook to keep up on what we're cooking up.
Instant Pot Beef Brisket
This Instant Pot Brisket is the ultimate recipe to make tender and flavorful beef brisket that rivals the low and slow pit BBQ we all love.
Print
Pin
Rate
Ingredients
3

lb

beef brisket

1/4

cup

beef broth

INSTANT POT ONLY

3/4

cup

BBQ sauce

1/2

onion

sliced
For the rub
2

tbsp

olive oil

2

tsp

brown sugar

2

tsp

paprika

1/2

tsp

black pepper

1/2

tsp

salt

1/2

tsp

chili powder

1/2

tsp

onion powder

1/4

tsp

garlic powder
Instructions
Take the brisket out of the refrigerator 30 minutes before cooking. Pat dry and lay flat. Cut binding strings and trim down the fat cap, if there is any.

Mix the rub ingredients together in a bowl. Rub evenly on all sides of the meat. Let sit for 15 minutes.

In a skillet or inner pot on saute mode, sear the brisket and brown on both sides, around 4 minutes per side. When done, remove the brisket to a plate.

Preheat oven to 300° F. Place the brisket in a large piece of tin foil and top with the BBQ sauce (no broth is needed) and seal up the edges. Place the packet in an oven safe dish or roasting pan. Place the dish in the oven and bake for about 1 hour and 15 minutes per pound of meat. The brisket should reach a temperature of 180° F.

Add the beef broth to the inner pot and deglaze the pan, then add the BBQ sauce and whisk together. Return the brisket to the pot and immerse it in the liquid. Scatter the onions on top.

Close the lid and set the vent to sealing. Set to 70 minutes on high pressure. Once the time is up, allow a natural pressure release for 10 minutes.

Remove the meat from the pot. Strain any excess oil from the top of the sauce. Turn on the saute mode and allow the sauce to thicken, whisking occasionally, for about 5 minutes.
Nutrition
Calories:
491
kcal
|
Carbohydrates:
18
g
|
Protein:
48
g
|
Fat:
24
g
|
Saturated Fat:
7
g
|
Cholesterol:
141
mg
|
Sodium:
783
mg
|
Potassium:
876
mg
|
Fiber:
1
g
|
Sugar:
14
g
|
Vitamin A:
524
IU
|
Vitamin C:
2
mg
|
Calcium:
29
mg
|
Iron:
5
mg
🥧 If you're interested in more great recipes, I share all my favorite Instant Pot recipes over at A Pressure Cooker Kitchen, air fryer recipes at Air Fry Anytime, and cocktails and drinks at Savored Sips. Check it out today!
LIKE IT? PIN IT FOR LATER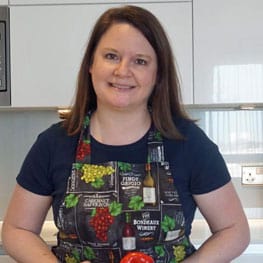 Laura is a home cook who loves making new recipes and finding new favorite things to eat, whether at home or abroad. She also runs a popular travel blog and spends a lot of her time traveling for food.