The key to adding intense flavor to meat is in the rub. A perfectly balanced dry rub does wonders for the flavor, but also seals in the juices and keeps the meat from drying out.
» For more great homemade seasonings, try this Cajun Seasoning, Carne Asada Dry Rub, and Taco Seasoning.
🥳🍗Don't miss out! New customers to ButcherBox get FREE wings for life! That's 3 pounds of free-range organic chicken in every box. SIGN UP HERE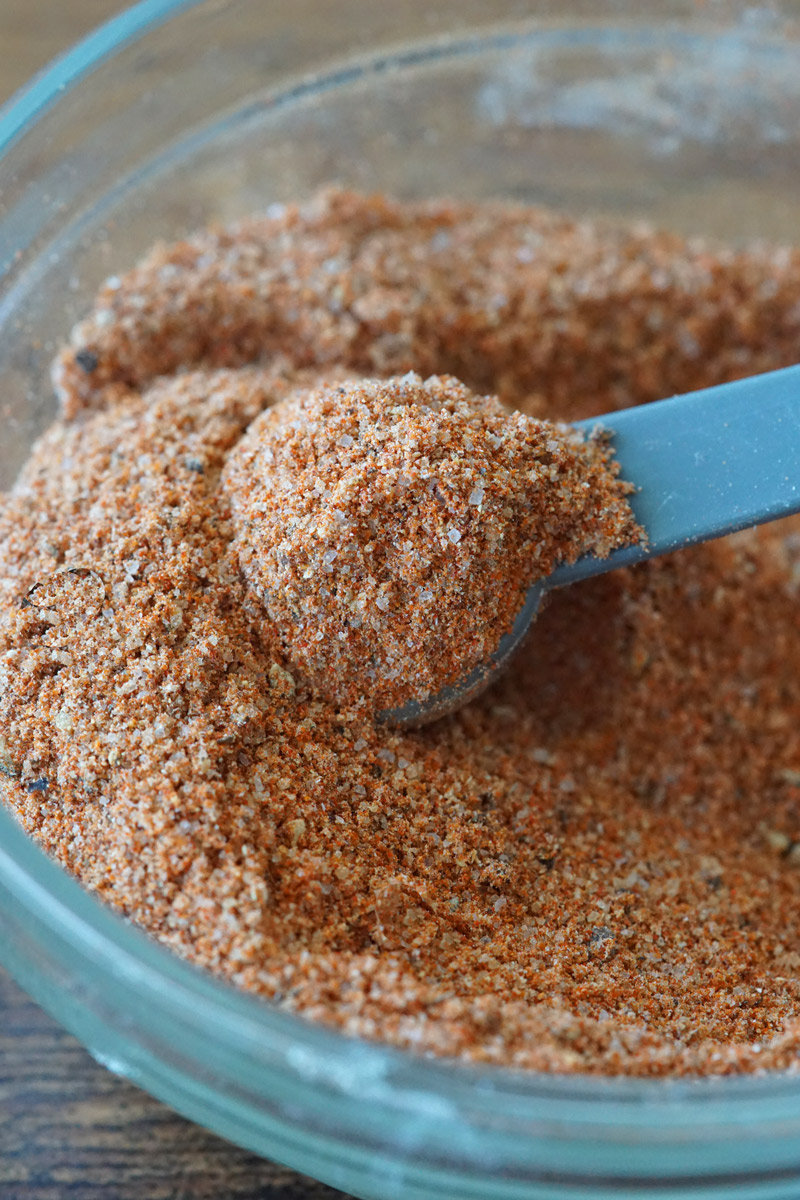 I swear by this BBQ Dry Rub. It's great on all types of meat, from oven-baked ribs to chicken wings to tomahawk pork chops. It adds just the right amount of spice to the meat, without overwhelming the flavor or becoming the star of the show.
We use this dry spice rub on everything, because it's packed with flavor and adds a perfectly balanced punch of spice to every bite. The spices that go into this rub all work together to create a great flavor profile.
Grilling meat and veggies for a barbecue? Adding this spice rub will give both the veggies and the meat the right amount of flavor, with or without sauce. It's really all you need to dress up your food.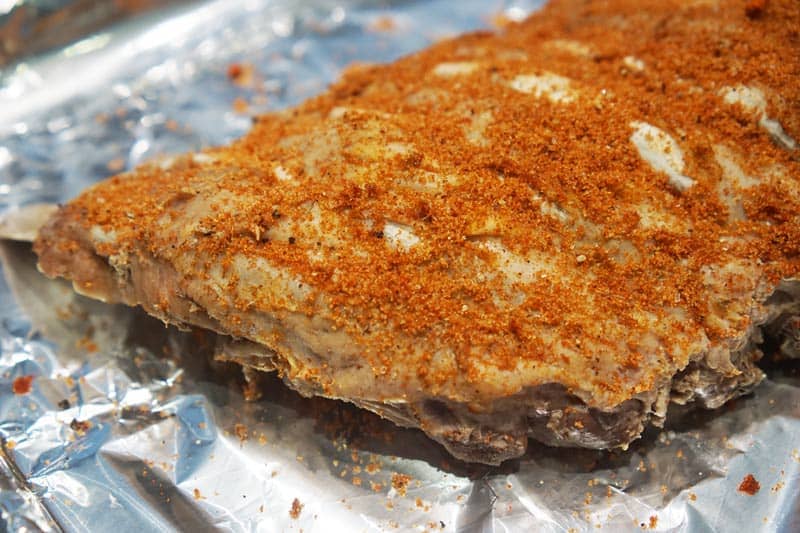 Why Use a Dry Rub
If you're wondering why you might want to use a dry rub instead of marinade, there are actually quite a few reasons. If you've ever seared a piece of meat before, you know that the liquid from the meat has to dry up or evaporate before you can get a good sear.
That means, the wetter the meat, the longer it will take to evaporate. With a dry rub, you're avoiding adding extra moisture to the surface of the meat, so a nice caramelized sear will form on the meat quicker.
A dry rub also has more concentrated flavor. Sometimes you're not looking to add more flavor that will mask the taste of the dish, but you can really punch up the flavor of veggies, or add another dimension to ribs.
How Much To Use
A good rule of thumb is to to use 1 tablespoon of dry rub per pound of meat. Dry rub adds so much flavor to meat that you will want to use it all the time and on everything! Now, that's not to say that there aren't things that you might want to use a more moderate hand on.
If you have a really nice steak you may not want to use a lot of rub because that will overpower the flavor of the meat. In this case add just a sprinkling of rub to enhance the flavor.
As you use dry rub on different cuts of meat you will find what works best for you. Everything can be adjusted to your liking.
Make It in Bulk
Since this rub is extremely versatile, I mix up a large batch and put it in a spice container to use throughout the month as I cook various dishes.
I would recommend having a few seasoning shakers to put the rub in. You can even make gifts of dry rub to give away at Christmas or for birthdays and housewarmings. I've done this for years for my local friends and family and they loved it.
Print the recipe card and attach it to the jar so they can make it themselves when they run out. Believe me, if you don't they'll be asking you for it. Be sure to tell them where you got it!
Try a Seasoning Bottle!
If you make this homemade dry rub, it's great to have a seasoning shaker to make it easier to use the dry rub without contaminating it while seasoning meats. I have 3 of these that I use for my favorite homemade rubs.
Preparing the Dry Rub
If you have a robust spice rack, like I do, you'll probably always have the right spices to mix this up. If you don't keep a lot of spices at home, the best way to stock up for this rub is to get your spices from a bulk spice counter, like the ones they have at Whole Foods.
You don't have to buy large quantities of each spice in order to make this rub. I often will mix up just one or two servings at a time, so I don't have to have a huge quantity of spices sitting around.
The spices you'll need are (you can find the quantities for each in the recipe at the bottom of this post):
Paprika
Brown sugar
Salt and pepper
Chili powder
Onion powder
Garlic powder
Mustard powder
Most people don't have mustard powder in their spice rack. You can leave it out if you don't have it. I do recommend getting it though. It has a lot of uses. I put mustard powder in my stovetop mac and cheese recipe too.
Add all of the spices to a bowl and mix them thoroughly. I sometimes put them all in a ziplock bag instead, so it's easier to mix it all together. Then you can sprinkle the rub onto your meat or veggies without contaminating it with your fingers. And you can keep the leftover rub in the plastic bag until you use it again.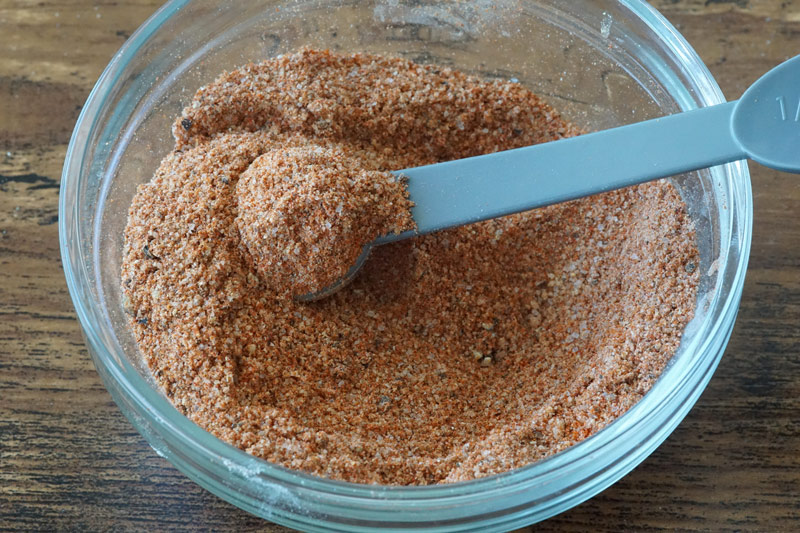 If you're looking for a recipe to try this with, my favorite use for this dry rub is baby back ribs. It adds so much extra flavor that you'll be convinced never to make ribs without it again.
You'll also want to try our homemade Bourbon BBQ sauce with these baked baby back ribs. I mean, doesn't that rack of ribs below look tasty?
>> If you're planning a barbecue, don't forget the vegans! Here are a few vegan BBQ recipes that your friends will be happy you made.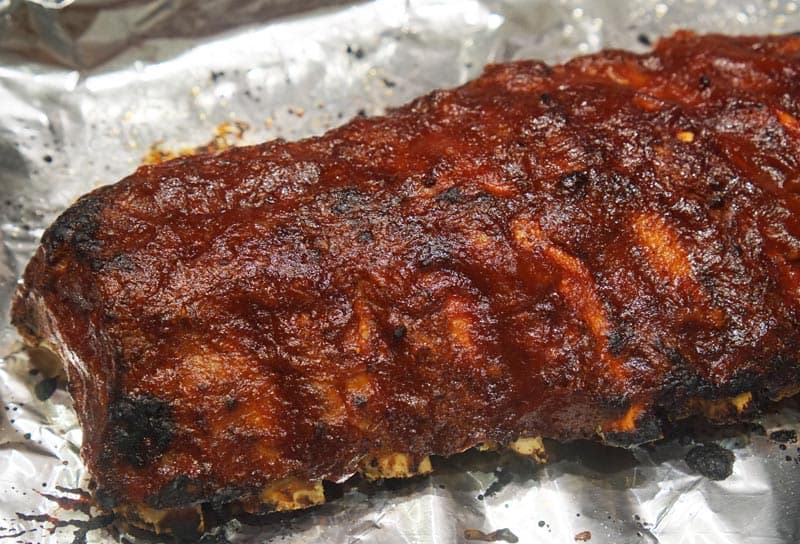 If you need a large batch of this rub, the recipe is scale-able. You can make as much rub as you need just by adjusting the quantities. If you're making many racks of ribs for a party, just double or triple the dry rub recipe.
How to Store Dry Rub
It's best to use your dry rub within a month, so the spices don't lose their flavor. The fresher the spices, the more flavorful the rub will be. For this reason, I typically make 4x the recipe below and store it in a 25 oz small mason jar with an air tight lid.
If you want to make an even larger batch, you can vacuum seal it in a bag. I love my vacuum sealer for things like this.
😋 Looking for a quick dinner solution? 🥗😋
Want to get fresh, pre-portioned ingredients for delicious recipes delivered to your door? Add a few HelloFresh recipes to complete your weekly menu. Choose from 50 weekly menu curated by chefs! Sign up now to get 65% OFF your first box + your 1st box ships free.
Related Posts:
Like this recipe? We'd love for you to share it on your Pinterest board! Click to follow our Pinterest boards so you can find all our recipes!
Instagram it! If you try this recipe please tag #AFoodLoversKitchen on Instagram or Twitter. We love to see your photos of our recipes! Also follow us on Instagram, Twitter and Facebook to keep up on what we're cooking up.
Homemade Dry Rub
This homemade dry rub is packed with flavor and adds a perfectly balanced punch of spice to every bite.
Print
Pin
Rate
Ingredients
1

tablespoon

brown sugar

1

tablespoon

paprika

2

teaspoons

black pepper

2

teaspoons

salt

2

teaspoons

chili powder

2

teaspoons

onion powder

1

teaspoon

garlic powder

1/2

teaspoon

mustard powder

you can leave this out if you don't have it
Instructions
Mix all spices together until well combined. Rub onto ribs, chicken, or veggies.
Notes
Double or triple the recipe to have spice left over.
Leftover spice can be kept for later in an air tight container or ziplock bag.
Why not pair this dry rub with our homemade Bourbon BBQ sauce?! That's a flavor combo you can't resist.
Nutrition
Calories:
29
kcal
|
Carbohydrates:
6
g
|
Protein:
1
g
|
Fat:
1
g
|
Saturated Fat:
1
g
|
Sodium:
602
mg
|
Potassium:
100
mg
|
Fiber:
1
g
|
Sugar:
3
g
|
Vitamin A:
1171
IU
|
Calcium:
21
mg
|
Iron:
1
mg
🥧 If you're interested in more great recipes, I share all my favorite Instant Pot recipes over at A Pressure Cooker Kitchen, air fryer recipes at Air Fry Anytime, and cocktails and drinks at Savored Sips. Check it out today!
Pin it for later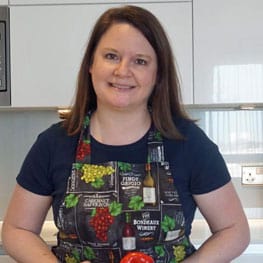 Laura is a home cook who loves making new recipes and finding new favorite things to eat, whether at home or abroad. She also runs a popular travel blog and spends a lot of her time traveling for food.