Tomahawk Pork Chops are the gourmet version of regular pork chops. With the bone still on the meat, and a thicker, fattier piece of meat, the tomahawk pork chop wins every award for juiciness and flavor.
» You might like this Roast Pork Belly in the Oven.
If you've never tried a Tomahawk Pork Chop before, I suggest giving it a try to see why it's so superior to a typical pork chop. Although this is a specialty cut and not every butcher will carry them, it doesn't hurt to ask.
I hadn't cooked a Tomahawk Pork Chop at home until I saw my friend posting pictures of his on Facebook. His whole family is so in love with these chops that they make them regularly – weekly, even!
I had to get my hands on some to try. When I finally did get some, I realized how amazing they were for myself.
What is a Tomahawk Pork Chop?
Tomahawk Pork Chops are for meat lovers, for sure. They are cut from the rib of the animal, or what is called the bone-in ribeye.
Unlike other bone-in chops, the Tomahawk has the long bone remaining on the meat.
It's tender and flavor-packed, due to the part of the animal it's taken from, right next to the succulent pork belly.
Sometimes Tomahawk pork chops come with the skin and fat cat still attached. Sometimes they come with a bit of the pork belly left on the bone. But the most typical way for them to be butchered is for the long bone to be trimmed of meat, and the majority of fat and skin removed.
Why Are Tomahawks Better Than Regular Pork Chops?
Leaving the bone on the meat adds great flavor, which is one of the main reasons why these Tomahawk Pork Chops are a vast improvement on your regular old pork chops.
As the bone heats up, the marrow (which is rich in fats and other great flavors) penetrates the bone and flavors the meat, making for a nice and juicy piece of meat.
The bone also conducts heat within the meat, allowing it to cooks more evenly. This helps prevent the meat from drying out and shrinking during cooking, which is what creates the dry, toughness of overcooked pork.
Seasoning the Pork Chops
Pork is one of those meats that really thrives with a good dry rub (here's our favorite dry rub recipe). It soaks up the salt, creating a fantastic crust, and all that flavor bakes right in and creates the tastiest piece of meat you've ever had.
So the dry rub is very important. I wouldn't skip this step. You can just go with salt and pepper, but I guarantee you it won't be as amazing – flavor wise – as this rub creates.
All you need for the dry rub is:
2 tsp paprika
2 tsp salt (smoked salt is even better, if you have it!)
1 tsp black pepper
1 tsp onion powder
1 tsp garlic powder
About 30 minutes before you intend to cook the chops, take them out of the refrigerator. Pat them dry and coat them with the dry rub on all sides.
Let the pork come up to room temperature before cooking. This ensures an even cooking, and allows the rub to really take hold.
Grilling Tomahawk Pork Chops
Usually Tomahawk Pork Chops would be cooked on the grill. That's the best way to cook them and if you have that choice, definitely put them on the grill.
You can still use the dry rub we recommend here, but grill them on a preheated grill at 400 degrees F until the internal temp reaches 135 degrees F.
I use this awesome instant-read Thermapen to measure the internal temperature of the meat. You could also use a probe so you are absolutely sure not to overcook.
The meat will continue to cook and rise in temperature once you've taken it off, so it will reach the ideal temperature of 145 degrees F as it rests. Be sure to let it rest at least 5 minutes before slicing into it so the meat fibers can relax and retain its juiciness.
How to Cook Tomahawk Pork Chops in the Oven
I'm one of the unfortunate few who don't have a grill at my disposal all the time, so I cook meat in the oven quite frequently (like these awesome oven-baked baby back ribs and oven-roasted tri-tip steak).
It's not a problem. These Pork Tomahawk Chops turn out amazing in the oven, too.
Arrange a rack in the middle of the oven and pre heat to 400°F (204°C).
Once you've slathered on the dry rub, you need to sear the chops on the stove top. To do this, you'll need a flat pan or grilling pan, because the bone protrudes, so it won't fit in a regular high-walled skillet.
Sear the meat on one side, quickly and at high heat. Then flip the chop over and put the non-seared side down on a preheated oven-safe pan or baking sheet. If the pan you seared on is oven safe, that's great, just put it in that way.
Bake the pork chops for about 6-10 minutes. It's best to have a probe thermometer inserted into the meat (not touching the bone), so you are sure to remove it at the proper temperature and overcooking won't be a problem.
When the temperature reaches 135 degrees F, remove the chops.
Add a pat of butter on top of the meat and let it rest for 10 minutes. The butter will melt and the chops will continue carry over cooking so the internal temperature reaches 145 degrees F.
Baking Tomahawk Pork Chops in the Air Fryer
Another way we like to bake these chops is in the air fryer, however you can't do it if the bone on the chop is long. It won't fit in the air fryer. We've started asking our butcher to cut the long bone off, so they can be cooked this way.
The chops don't get as good of a sear on them in the air fryer, but they do turn out a little crispy, and perfectly juicy on the inside.
Cook them for 10 minutes – 5 on each side – at 375 degrees. In the last few minutes, check them with a meat thermometer to make sure the internal temp reaches 135 to 140 degrees. Remove them when this temperature is reaches and let them rest for 5 minutes.
Liked this recipe? You might like this Sweet & Sour Pork Chops recipe.
Like this recipe? We'd love for you to share it on your Pinterest board! Click to follow our Pinterest boards so you can find all our recipes!
Instagram it! If you try this recipe please tag #AFoodLoversKitchen on Instagram or Twitter. We love to see your photos of our recipes! Also follow us on Instagram, Twitter and Facebook to keep up on what we're cooking up.
Oven-Roasted Tomahawk Pork Chops
This is one tender and meaty pork chop that you won't be able to wait to sink your teeth into.
Print
Pin
Rate
Ingredients
2

tomahawk pork chops

about 1/2 pound each

2

teaspoons

salt

smoked salt is even better, if you have it!

1

teaspoon

paprika

1/2

teaspoon

onion powder

1/2

teaspoon

garlic powder

1/4

teaspoon

black pepper
Instructions
Pat the pork chops dry with a paper towel and coat on all sides with dry rub. Rest for 30 minutes.

Arrange a rack in the middle of the oven and pre heat to 400°F (204°C).

Heat a large oven-safe skillet over high heat. Sear the meat on one side, about 3 minutes. Then flip the chop over and put the skillet in the oven.

Bake the pork chops for about 6-10 minutes. It's best to have a probe thermometer inserted into the meat (not touching the bone). When the temperature reaches 135 degrees F, remove the chops.

Add a pat of butter on top of the meat and rest it for 10 minutes.
Nutrition
Calories:
297
kcal
|
Carbohydrates:
2
g
|
Protein:
35
g
|
Fat:
15
g
|
Saturated Fat:
5
g
|
Cholesterol:
117
mg
|
Sodium:
2420
mg
|
Potassium:
608
mg
|
Fiber:
1
g
|
Sugar:
1
g
|
Vitamin A:
566
IU
|
Calcium:
32
mg
|
Iron:
1
mg
Like it? Pin it for later!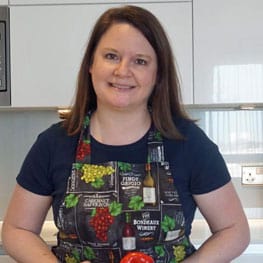 Laura is a home cook who loves making new recipes and finding new favorite things to eat, whether at home or abroad. She also runs a popular travel blog and spends a lot of her time traveling for food.