This homemade Cajun Seasoning is a spicy and savory blend that adds tremendous flavor to any dish – meat, pasta, soups, and salads alike.
» Looking for more great homemade seasoning mixes? You might try this Homemade Taco Seasoning and our Perfectly-Balanced Homemade Dry Rub.
Cajun seasoning is so full of flavor and it has a way of elevating anything it gets added to. You can make endless tasty dishes with this one seasoning blend.
We often use it as a rub for meats, add it to pasta sauces like in this Cajun Chicken Pasta recipe, or these Cajun Dry Rub Chicken Wings and sprinkle it over salads. It can be added to mayonnaise to make a Cajun salad dressing, or sprinkled into soups to boost the flavor. It is also great on fish, try this Cajun-Seasoned Blackened Cod. The possibilities are endless.
For that reason, I make a double or triple batch of this recipe and keep it in a seasoning jar so it's always on hand for whatever I want to add it to. I do this with homemade taco seasoning and bbq dry rub, as well. It's a convenient way to always have a preservative and additive-free seasoning on hand.
What is Cajun Seasoning?
Cajun seasoning is a blend of spices that originated in Louisiana, particularly the southwestern corner of the state where Cajun culture is most concentrated.
It's a robust blend of spices:
Paprika
Garlic
Cayenne
Oregano
Thyme
Black pepper
There isn't just one recipe for Cajun seasoning. It's a fluid recipe that often gets passed on through generations, or adjusted to meet the specifications of a recipe. Some versions are incredibly spicy hot, while others are mild. Some include salt, others don't.
The key to a good Cajun seasoning is balance. With so many different spices being added, it's important to keep a good balance between all the flavors, so the come together as one cohesive blend.
How Hot Is It?
One thing you're probably wondering is just how hot this seasoning is. My version of Cajun seasoning falls somewhere between mild and medium spiciness. It has some heat to it, but it won't melt your face off when you eat it.
Cayenne pepper is the primary source of heat in Cajun spices. It's a mild-heat chili, and when added in larger quantities it can add a great amount of heat to the seasoning. That's why it's important to get the right balance.
Another source of heat in this seasoning can be the paprika. There are varying degrees of spiciness to paprika, depending on what type you use. It's important to test out your paprika before adding it, to see how spicy it is on its own. The basic paprika that is sold in the U.S. is generally not spicy. But do check the package to see if it says it's hot paprika.
I use Spanish paprika that has a sweet and smoky element to it, but is not spicy on its own.
Finally, the black pepper can also adds spiciness to the blend. It's added in moderation, so it's not overpowering to the other flavors.
If you don't like any spiciness, you can leave out the cayenne and replace it with additional paprika.
Why Make Cajun Seasoning at Home?
The joy of mixing up this seasoning at home is three-fold.
It's super easy
It will save money. Store bought Cajun seasoning is pretty expensive, while bulk herbs and spices are not.
You can adjust the heat and flavor to suit your palate. I've thrown away entire jars of store bought seasoning because they were too spicy or not well balanced.
How to Store Homemade Seasoning
There are some great containers that will help you store your mixed spices. These storage containers are great for mixing up a big batch or seasoning so you don't have to make it again every time you want to use it.
In my opinion, doing that leads to infinitely more flavorful food, because you won't skip it due to the work involved. I might get lazy and forego making a new batch, but if it's already mixed up, I'll definitely use it.
Here are a few of my favorite containers on Amazon (affiliate links). These come in different sizes and sets, so click through to find what works best for you.
What is the difference between Creole seasoning and Cajun seasoning?
The biggest difference between Cajun and Creole is the culture it comes from. They are not interchangeable and are very much descendent of the way and type of cooking from those two distinct cultures.
You'll find that Cajun spices focus more on peppers and heat, from cayenne, paprika, and black pepper. Creole focuses more on herbs like oregano, bay leaves, and thyme.
Is Cajun food spicy?
The level of heat in a dish depends greatly on the amount of, and type of, pepper used in the dish. Cayenne pepper can be quite spicy and if added in a large enough quantity it will be spicy, but it's not a required level of spice in every dish.
How long will homemade Cajun seasoning last?
You can store your seasoning in an air tight container for a very long time – up to a year or two! – and it will retain its flavor and aroma. In a loose container that's exposed to the air, it will begin to lose its robustness after a few weeks.
Like this recipe? We'd love for you to share it on your Pinterest board! Click to follow our Pinterest boards so you can find all our recipes!
Instagram it! If you try this recipe please tag #AFoodLoversKitchen on Instagram or Twitter. We love to see your photos of our recipes! Also follow us on Instagram, Twitter and Facebook to keep up on what we're cooking up.
Homemade Cajun Seasoning
This homemade Cajun Seasoning is a spicy and savory blend that adds tremendous flavor to any dish – meat, pasta, soups, and salads alike.
Print
Pin
Rate
Ingredients
1

tbsp

paprika

I prefer smoked paprika

2

tsp

salt

2

tsp

garlic powder

1

tsp

ground black pepper

1

tsp

onion powder

1

tsp

dried oregano

1

tsp

cayenne

1/2

tsp

dried thyme
Instructions
Mix all spices together. Store any remaining spice in an airtight container.
Notes
This recipe makes 1/4 c of seasoning mix.  You may or may not use that amount in a recipe.  Add to taste.
Always store spice mixtures in an air tight container.
Nutrition
Calories:
62
kcal
|
Carbohydrates:
13
g
|
Protein:
3
g
|
Fat:
1
g
|
Saturated Fat:
1
g
|
Sodium:
4662
mg
|
Potassium:
335
mg
|
Fiber:
5
g
|
Sugar:
1
g
|
Vitamin A:
4327
IU
|
Vitamin C:
2
mg
|
Calcium:
69
mg
|
Iron:
3
mg
🥧 If you're interested in more great recipes, I share all my favorite Instant Pot recipes over at A Pressure Cooker Kitchen, air fryer recipes at Air Fry Anytime, and cocktails and drinks at Savored Sips. Check it out today!
Like it? Pin it for later!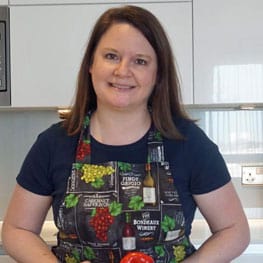 Laura is a home cook who loves making new recipes and finding new favorite things to eat, whether at home or abroad. She also runs a popular travel blog and spends a lot of her time traveling for food.