These delicious Cajun Dry Rub Chicken Wings are seasoned with a spicy and flavorful Cajun seasoning then cooked to perfection. They're so crispy and delicious, you won't be able to stop eating them.
» Once you fall in love with these Cajun wings, come back and try our Cajun Chicken Pasta. Oh so good!
If you're a fan of chicken wings, you absolutely must try these Cajun wings. Don't shy away if you're not into spicy foods. You can mix up the Cajun seasoning to suit your preferred spice level and no matter how hot you choose the dry rub is packed with flavor.
I'm a serious chicken wing fan, so I'm always creating new flavors and trying new ways to dress up chicken wings. I have to say that these Cajun chicken wings steal the show and I find myself making them all. the. time.
The seasoning does all the work here. The outcome is amazing. You're going to love these wings.
For a party, we like to serve these along with BBQ Chicken Wings to give two different flavors for guests to enjoy.
>> Looking for more great chicken wings? You will love these 5 Tasty Sauces for Chicken Wings.
How to Cook Chicken Wings
There are a lot of ways you can cook chicken wings. Two of our favorite ways to cook them are baking and air frying.
Baking leads to a tender and crispy wing, with a lot less fat than deep frying, and it's an easy way to make them with much mess. It takes about 30 minutes in the oven on 400° F, turning once.
Another great way to cook chicken wings is in the air fryer. If you have one, you're going to love how quick these are to make. Just pop them in the air fryer for 20 minutes on 400° F. Give the basket a shake halfway through cooking. They're perfectly juicy and crispy.
How to Make Cajun Dry Rub
Cajun seasoning is a blend of spices that originated in Louisiana, particularly the southwestern corner of the state where Cajun culture is most concentrated.
It's a robust blend of spices:
Paprika
Garlic
Cayenne
Oregano
Thyme
Black pepper
Grab a bowl and mix together these spices. The amounts are in the recipe card below. This recipe leads to a fairly mild seasoning with not too much heat, because I find that most people like it this way. If you want it more spicy than this, just add more cayenne pepper until it's the spice level you want.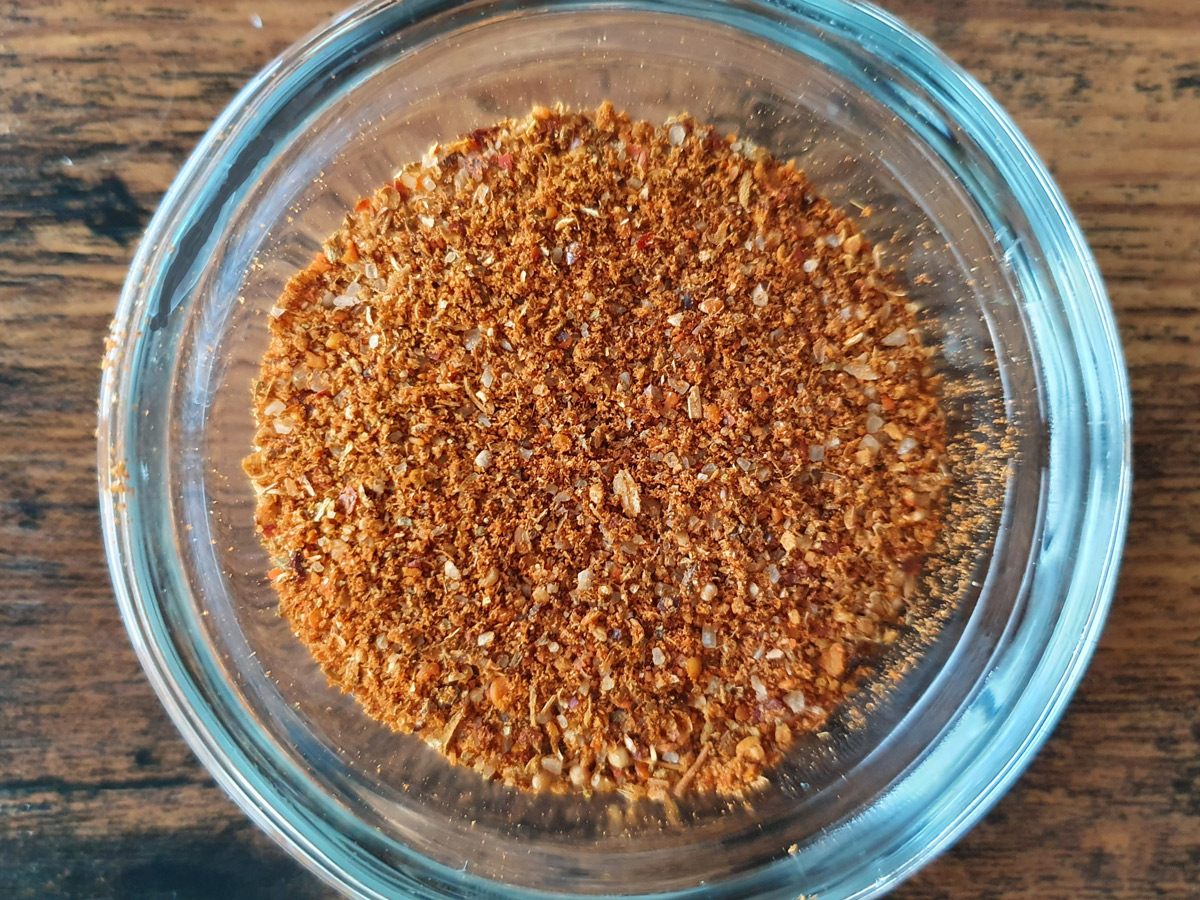 Try a Seasoning Bottle!
If you make this homemade dry rub, it's great to have a seasoning shaker to make it easier to use the dry rub without contaminating it while seasoning meats. I have 3 of these that I use for my favorite homemade rubs.
Sprinkle the Cajun seasoning onto the chicken wings. The amount of seasoning in the recipe is good to cover one pound of wings. I suggest using the entire amount. It might seem like a lot, but it really ensures the flavor reaches every part of the wing.
Once the wings are coated, put them on a baking sheet to go in the oven for 30 minutes at 400° F. After 15 minutes, turn the chicken wings over and continue to bake.
They'll become nice and crispy and browned. If they're not quite to that stage after 30 minutes total, leave them in a bit longer. In my opinion, these are so much better when the skin of the chicken has crisped up nicely.
I don't think these wings need any additional sauce. They're so super flavorful with the rub alone.
What to Serve With Chicken Wings
For sides, serve these wings with a Bacon & Jalapeno Corn Salad, Chipotle Coleslaw or our favorite Classic Wedge Salad.
Since wings are total comfort food for me, I go right to Mac & Cheese as a side. They also go well with Baked Beans.
These baked wings are great for parties, picnics, or even backyard barbecues. They turn out perfect every time, and the sauce makes them irresistible finger food!
If you like these, you might want to try our Sweet & Spicy Korean Chicken Wings or go a step further and brine the chicken wings for more tenderness. We also really like this Honey Sriracha sauce on chicken wings.
How to Reheat Chicken Wings
There are quite a few ways to go about reheating chicken wings if you happen to find yourself with some leftovers, but one method really stands out from the rest. We really believe that the best way to reheat chicken wings is with the air fryer.
Preheat the air fryer to 365°F (185°C) for about 5 minutes.
Brush or spray the air fryer basket with oil.
Place the chicken wings in a single layer in the air fryer basket, making sure not to overcrowd them.
Cook for about 8-10 minutes, flipping the wings halfway through.
Overall, reheating chicken wings in an air fryer is a great option for those who want to enjoy hot and crispy wings fast. It provides consistent results, ensuring that the wings are heated evenly and thoroughly.
That said, it won't matter if you use an air fryer, a toaster oven, a full oven, or a convection oven to reheat your wings. They will turn out the best when done this way because it allows for even and thorough heating, which helps retain the juicy and tender texture while ensuring they are fully heated. To read through the rest of the reheating options check out the best ways to reheat chicken wings.
Like this recipe? We'd love for you to share it on your Pinterest board! Click to follow our Pinterest boards so you can find all our recipes!
Instagram it! If you try this recipe please tag #AFoodLoversKitchen on Instagram or Twitter. We love to see your photos of our recipes! Also follow us on Instagram, Twitter and Facebook to keep up on what we're cooking up.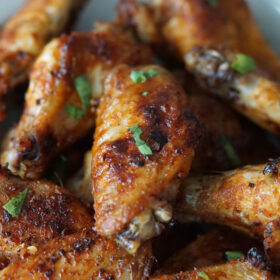 Cajun Dry Rub Chicken Wings
These delicious Cajun Dry Rub Chicken Wings are seasoned with a spicy and flavorful Cajun seasoning then cooked to perfection. They're so crispy and delicious, you won't be able to stop eating them.
Print
Pin
Rate
Ingredients
1

pound

chicken wings

1

teaspoon

paprika I prefer smoked paprika

1/2

teaspoon

salt

1/4

teaspoon

garlic salt

1/4

teaspoon

ground black pepper

1/4

teaspoon

onion powder

1/4

teaspoon

dried oregano

1/4

teaspoon

cayenne pepper

1/4

teaspoon

dried thyme
Instructions
Pre-heat the oven to 400° F (200° C).

Rinse and pat dry the chicken wings. Put them in a large mixing bowl.

Mix the dry rub in a bowl.

Sprinkle the dry rub over the chicken wings and mix to coat.

Place the chicken wings on a

baking sheet

lined with parchment paper, or tin foil that is lightly greased. Bake for 15 minutes, then flip the wings over and continue cooking for an additional 15-20 minutes, until the wings are crispy and browned.
Nutrition
Calories:
278
kcal
|
Carbohydrates:
1
g
|
Protein:
23
g
|
Fat:
20
g
|
Saturated Fat:
6
g
|
Trans Fat:
1
g
|
Cholesterol:
94
mg
|
Sodium:
963
mg
|
Potassium:
229
mg
|
Fiber:
1
g
|
Sugar:
1
g
|
Vitamin A:
787
IU
|
Vitamin C:
1
mg
|
Calcium:
26
mg
|
Iron:
2
mg
🥧 If you're interested in more great recipes, I share all my favorite Instant Pot recipes over at A Pressure Cooker Kitchen, air fryer recipes at Air Fry Anytime, and cocktails and drinks at Savored Sips. Check it out today!
Pin it for later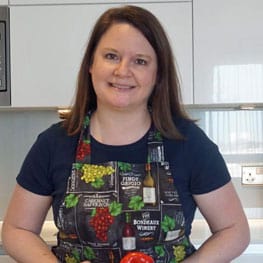 Laura is a home cook who loves making new recipes and finding new favorite things to eat, whether at home or abroad. She also runs a popular travel blog and spends a lot of her time traveling for food.