This sweet and spicy Honey Sriracha Sauce adds so much flavor to baked or grilled chicken and wings. Slather it on as a glaze or use it as a dipping sauce.
» You might also like our Honey Sriracha Brussels Sprouts. Also try this delicious Yum Yum Sauce.
You will be surprised how amazing this Honey Sriracha Sauce tastes. You might expect it to super spicy because of the Sriracha, but the honey reduces the spice level and seriously ratchets up the deliciousness.
These two flavors together are the perfect accompaniment to chicken. We use it as a glaze on chicken wings and shrimp, even as a sauce on roast potatoes and brussels sprouts. Anywhere that you would use BBQ sauce is a candidate.
It's super simple to make the this honey sriracha sauce. You need just five ingredients that you likely already have on hand. It takes about 5 minutes on the stove top.
What is Sriracha?
Sriracha is a popular hot sauce that originated in Thailand and has gained worldwide recognition for its distinctive flavor and spiciness.
Sriracha is made primarily from red chili peppers, vinegar, garlic, sugar, and salt, resulting in a delicious combination of heat, tanginess, sweetness, and umami. The sauce has a thick consistency and a vibrant red color. It is gluten-free and vegan.
It is known for its versatility, as it can be used as a condiment, a dipping sauce, or as an ingredient to add a kick to various dishes.
Ingredients Needed to Make Honey Sriracha Sauce
The ingredients you need for this recipe are:
Sriracha – The most important ingredient in this sauce is the Sriracha. I prefer Huy Fung Foods Sriracha with the rooster on the bottle. Another brand that's good is Flying Goose Sriracha with the goose on the bottle.
Honey – You want to select a good quality honey. Preferably one that is fresh and in liquid form. Honey can get crystallized over time, which won't work as well for this sauce.
Butter – salted or unsalted is fine, whatever you have on hand.
Soy sauce – I always use lite soy sauce, because it has a lot less sodium in it.
Lemon juice – freshly squeezed, if possible.
How to Make It
This sauce is super easy to make. Just combine all the ingredients in a saucepan and set it over medium high heat.
Stir it all together and let it bubble for a minute before lowering the heat to a simmer. Cook for about 5 minutes, until the sauce has reduced slightly and thickened up a bit.
You can use the sauce right away, or store it for later. I like to brush it on baked or grilled chicken. It's great on potatoes or brussels sprouts as well, try these honey sriracha roasted potatoes.
If storing it for later, you may have to heat it up for a few seconds in the microwave to make it liquidy again. The honey can stiffen up in the refrigerator.
Ways to Serve Honey Sriracha Sauce
There are quite a few ways you can serve this sauce. If you really like it – and I'm pretty sure you will – then you can get creative and serve it with all kinds of things. Here are a few ideas to get you started.
Brush on chicken: wings, drumsticks, thighs
Serve over pan fried salmon or shrimp
Use as a sauce for roasted potatoes
Use as a dipping sauce for veggies
How to Store Leftover Sauce
Store it in a sealed container in the refrigerate for up to 10 days. If you make a large batch of sauce you can use it for all the things over a week and a half period before it goes bad.
If you want to make a bunch of sauce and freeze it so you can just pull it from the freezer any time you need it, that's doable! Cool the sauce to room temperature, then pour it into a freezer-safe container, or pour it into the wells of an ice cube tray.
Freeze for up to 2 months. To use it, you can just plop the frozen cube of sauce into the pan and heat it up to bubbling.
What Our Readers Are Saying
You don't have to just take my word for it. Hundreds of readers have tried this recipe and loved it. See below some of the reviews we've received from visitors:
"We love this sauce on everything from chicken to salmon! It is our go to favorite sauce and so easy!" – Pam G
"I want to put this sauce on eeeeverything! It's perfectly sweet and spicy, and SO delicious!" -Jessica F
"You had me at Sriracha. This sauce is delicious. My family loves it!" – Nart
Other Things to Try This Sauce On
Frequently Asked Questions
Is this sauce extremely spicy?
You might think that by adding sriracha, which is quite spicy on its own, that this sauce would be extremely spicy and hot, but the honey counterbalances the heat and tones it down quite a bit. While it is still a lightly spicy sauce, it isn't overwhelming. You can adjust the heat even more by adding more honey.
What is sriracha sauce made of?
Sriracha is made from a red jalapeño-hybrid chile pepper. The chilis are mixed with vinegar, salt, garlic and sugar to make a spicy yet tangy hot sauce that goes well with any meat or veggie, and especially with Asian foods.
Can honey sriracha sauce be used as a dipping sauce?
Yes, you can use this honey sriracha sauce as a dipping sauce for things like French fries or tater tots, or you can use it as a glaze for meats like chicken drumsticks, or on chicken wings. It's thick enough to use it either way.
Before You Go
Since you made it to the end of this article, you're probably pretty interested in some other sauce recipes. Here are a few more articles we think you might enjoy.
Like this recipe? We'd love for you to share it on your Pinterest board! Click to follow our Pinterest boards so you can find all our recipes!
Instagram it! If you try this recipe please tag #AFoodLoversKitchen on Instagram or Twitter. We love to see your photos of our recipes! Also follow us on Instagram, Twitter and Facebook to keep up on what we're cooking up.
Honey Sriracha Sauce
This honey sriracha sauce is spicy and sweet and a great accompaniment to any meat.
Print
Pin
Rate
Ingredients
1/4

cup

sriracha

3

tablespoons

honey

1

tablespoon

salted butter

2

teaspoons

low-sodium soy sauce

1

teaspoon

lemon juice
Instructions
Mix together all ingredients in a small saucepan. Bring to a boil over medium-high heat.

Reduce heat to medium-low and continue to cook for about 5 minutes, until the sauce has reduced and thickened slightly.

Use as a glaze or dipping sauce.
Nutrition
Calories:
51
kcal
|
Carbohydrates:
9
g
|
Protein:
1
g
|
Fat:
2
g
|
Saturated Fat:
1
g
|
Cholesterol:
5
mg
|
Sodium:
341
mg
|
Potassium:
14
mg
|
Sugar:
9
g
|
Vitamin A:
75
IU
|
Vitamin C:
8
mg
|
Iron:
1
mg
Pin it for later!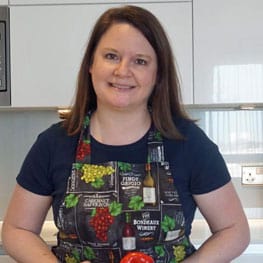 Laura is a home cook, with 25 years experience behind the stove, who spends an extraordinary amount of time in the kitchen cooking. She loves making new recipes and finding wonderful new things to eat, both at home or abroad. She spends a lot of time researching, crafting, and perfecting her recipes and currently has a cookbook in development.