This article has links to products and services we recommend, which we may make commission from.
This Yum Yum Sauce will lead you to dip, dunk, and douse everything you eat from now on, it's just THAT good.
Yum Yum Sauce is often called Japanese Hibachi sauce, because it's a sauce that was popularized at Hibachi restaurants. It's offered as a dipping sauce for your shrimp, chicken and beef, and can be served on top of your fried rice. It's incredibly addictive. Once you've tried it, you will go eagerly searching for a recipe so you can make it at home.
That's what we're here for! To satisfy your cravings and to help you make the best sauce you'll ever taste. I personally don't call it Japanese Yum Yum Sauce. I call it American Crack Sauce.
While this sauce originated in Hibachi restaurants, it's not by any means truly Japanese. I will say, they do use a lot of mayonnaise in Japan, but not really like this. In all our foodie travel around Japan, we never came across a yum yum sauce. So that makes it distinctly American.
So American Crack Sauce it is. Now you're wondering what is in this irresistible Yum Yum Sauce.
Here's the thing….
My Yum Yum Sauce is different than most of the recipes you'll find. I used to make the other version, but as soon as I learned the joy of this version, there was no reason to ever go back.
This version is way easier, to start with. And it tastes way better. That's enough for me!
Here's what's different.
Yum Yum Sauce Ingredients
Most recipes for Yum Yum Sauce have somewhere between 7-10 ingredients. These ingredients are mayonnaise, ketchup or tomato sauce, melted butter, rice wine vinegar, mirin, garlic powder, onion powder, paprika, and sugar.
Many of those things you probably keep in the cupboard most of the time. It's not too difficult to mix up those 8 or 9 ingredients. Sure. But what if I told you there was an easier way? In fact, a WAY easier way.
My recipe only needs 3 ingredients.
This Yum Yum Sauce version tastes quite similar to the other version. You might be wondering how. It's because the Lee Kum Kee Oriental sesame dressing contains many of the ingredients from the other sauce version. It has rice vinegar, garlic, chili peppers, and sugar. The only extra addition is the sesame oil, which to me adds a great nuttiness that the other version lacks.
How to Make Yum Yum Sauce
Get ready because if you blink you'll miss it. Stir together the mayo, Sriracha, and sesame dressing. Done.
Easy right? You don't need multiple measuring spoons. You don't need to pull every spice out of your cabinet to find the few that you need. You don't have to test the amount of sugar you add to make sure you're not overdoing it.
What to Use Yum Yum Sauce With
I'm not sure why I'm including this heading. The answer is EVERYTHING. Anything that can be dipped, we dip in this. We put it on shrimp tacos… well, any kind of tacos actually. We put it on nachos. We dip chicken wings in it. We put it on every Asian dish, especially the salmon sushi bowl and Vietnamese caramelized pork bowl I'm obsessed with.
If you have a hard time finding the Lee Kum Kee Oriental Sesame Dressing in a store near you, you can purchase it on Amazon. Just make sure when you're looking for it that you don't get confused and buy the plain sesame oil instead, as they are sold in a bottle that looks similar.
Some people think Srirachi is too spicy. I personally don't think it adds much heat to this sauce because it's such a small amount. It's really balanced. But if you don't like Srirachi, or thing it's too spicy, you can substitute it with ketchup. I prefer to use the less sugar less salt ketchup, but if you like your sauce sweet, the regular is fine.
Like this post? We'd love it if you would share it on your Pinterest board! Click to follow our Pinterest boards so you can find all our recipes!
Yum Yum Sauce
This Yum Yum Sauce is so good, you'll want to dip everything you eat in it from now on. Trust me.
Print
Pin
Rate
Ingredients
1/2

cup

Mayonnaise

1

tbsp

Lee Kum Kee Oriental Sesame Dressing

1 1/2

tsp

Sriracha

(or ketchup)
Instructions
Combine all ingredients in a small bowl. Whisk the ingredients together until well blended.
Notes
I find it easiest to combine all the ingredients in a container with a lid and shake vigorously until the sauce is combined. You can then store the sauce in this same container.
Putting this sauce in a squeeze condiment bottle is the best way to add it to dishes like tacos and sushi bowls.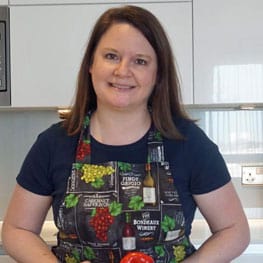 Laura is a home cook who loves making new recipes and finding new favorite things to eat, whether at home or abroad. She also runs a popular travel blog and spends a lot of her time traveling for food.