This article has links to products that we may make commission from.
When summer approaches and the temperatures start going up, we really start craving homemade ice cream. That ice cream maker has been sitting in the cabinet for way too long, collecting dust, waiting for the opportunity to mix up some new and fun flavors.
Well, it's time to get churning again! Below we've got a collection of some amazing ice cream flavors. There's even one for olive oil ice cream, which you absolutely MUST try to believe. It's so delicious.
The three of us here at A Food Lover's Kitchen were debating which was our favorite. Angela chose the Peach Ice Cream because it reminds her of childhood. Jillian chose Cherry Mascarpone, and I'm sticking with the Olive Oil!
How to Make Homemade Ice Cream
The easiest way to make homemade ice cream is in an ice cream maker. There are many different types. If you don't have one already, we recommend one that doesn't require rock salt.
Most modern ice cream makers, like this one from Hamilton Beach ($39.99 – free shipping), only require you to pre-freeze the bowl (we just keep ours in the freeze all the time), and then you can whip up ice cream in just 20 minutes.
When making ice cream in an ice cream maker like the one above, there are just four steps.
Mix up your recipe (no more than 4 cups total). It's best when the mix is chilled before pouring into the machine.
Take the pre-frozen bowl out and put it on the machine. Cover it with the plastic guard. Turn it on.
Pour the mix into the bowl as it's churning.
Check it after 20 minutes. Add any extra at this stage, just before the ice cream is firm enough.
The ice cream is done when it's firm and set. It can take up to 40 minutes for some recipes. It also varies based on how cold the ingredients were when you added them.
Basic Vanilla Ice Cream Recipe
So many recipes start with a good vanilla ice cream base. Then you can add any fruit or additions you wish to the base. Here is a super easy and quick vanilla ice cream recipe to make in your ice cream maker.
3/4 cup white sugar
1 cup heavy whipping cream
2 1/4 cups milk
2 tsp vanilla extract
Mix together the sugar, whipping cream, and milk in a sauce pan over medium-low heat. Stir together and let it heat until the sugar is dissolved. It shouldn't reach a boil.
Pour the mixture into a container and add the vanilla. Chill the mixture in the refrigerator for at least 2 hours, until cold. Transfer the mixture to the ice cream machine and process until it reaches desired thickness, around 20-25 minutes.
If you're adding fruit or additions, pour them into the mixture after 5 minutes of churning.
22 Creative Ice Cream Recipes
Here are 22 super creative and delicious ice cream recipes you can make in your ice cream maker. These recipes were compiled from expert recipe creators. Click through to see the recipe.
The Ultimate Homemade Peach Ice Cream
Like a bowl full of summer, the Ultimate Homemade Peach Ice Cream will blow your mind with flavor. This easy homemade ice cream recipe can also use frozen or canned peaches, giving you that summer flavor year round.
Raspberry Swirl and Chocolate Chunk Ice Cream
The classic combination of luscious raspberry sauce swirled into vanilla ice cream and mixed with chocolate chunks makes this custard base ice cream a must try.
Stroopwafel Ice Cream with Bourbon & Caramel
Stroopwafel Ice Cream comes fully loaded with hints of bourbon, a river of caramel sauce and chunks of stroopwafel throughout. One of life's pleasures.
Chocolate Ice Cream with Ceylon Cinnamon
The fruity flavour of natural cocoa and dark chocolate plays against the spicy fragrant Ceylon cinnamon in a match-made-in-heaven kind of way for a wonderful homemade ice cream.
Black Sesame Ice Cream
Black sesame (kurogoma) ice cream is a popular dessert in Japanese restaurants. It has a sweet and nutty flavour that is really delicious and perfect to eat after a nice Japanese dinner.
Lemon Basil Cookie Crunch Ice Cream
Perfect for warm weather, this lemon basil cookie crunch ice cream is a summer dream. This lemon basil ice cream is soft, creamy and full of delicious lemon cookie chunks for a little crunch.
Rose Ice Cream
This Rose Ice Cream is easy to make and combines the floral taste of rose with fresh cream. This is definitely a traditional English version based on the old-fashioned roses in the garden.
Graham Cracker Ice Cream
Loaded with graham crackers, chocolate chips and Buncha Crunch, this graham cracker ice cream will have you wondering where it has been all of your life.
Coconut Macadamia Nut Ice Cream
If you love Hawaii and ice cream, then you are probably going to fall head over heels for this easy Coconut Macadamia Nut Ice Cream recipe. This creamy, easy ice cream has buttery macadamia nut flavor and there are chunks of chopped nuts in each bite.
Cherry Mascarpone Ice Cream
Embrace fresh summer cherries and rich mascarpone in this creamy ice cream that's perfect for a treat on a hot day with its mild, fresh fruit flavour that balances with the cheese for a sweet, creamy treat.
Apple Pie Ice Cream
Ice cream is not only for summer, it can be perfect for fall too! This Apple Pie Ice Cream has everything you want for the season. Tender apples, warm spices, buttery pie crust & creamy ice cream.
Pina Colada Ice Cream
Turn your favorite frozen drink into tropical Piña Colada Ice Cream! Loads of coconut and pineapple will have you feeling like you are on vacation.
Hokey Pokey Ice Cream
Hokey Pokey Ice Cream hails from New Zealand. Essentially it's honeycomb ice cream, so try one lick and you'll see what all the fuss is about!
Honey-Lavender Ice Cream with Peach Compote
While this honey-lavender ice cream sounds extra fancy, it couldn't be simpler to make. With its floral notes and optional peach compote topping, its the perfect ice cream to take you through the summer months.
Olive Oil Ice Cream
This olive oil ice cream has the perfect combination of quality ingredients giving an incredible delicate, smooth, silky-like texture, and an exquisite, unforgettable taste.
Chunky Elvis Ice Cream
Chunky Elvis Ice Cream, inspired by his famous sandwich. This easy homemade ice cream recipe is full of bananas, honey, peanut butter, and bacon!
Coconut Mango Ice Cream
If you like tropical flavors, this coconut mango ice cream is for you. This ice cream is creamy, fruity perfection. A tropical ice cream that transports you to a sun-soaked beach.
Pistachio Ice Cream
This is an easy Pistachio Ice Cream made in an ice cream maker with just 4 ingredients. Freshly ground pistachios are the star of this ice cream.
Caramel Corn Ice Cream with Vanilla Goat Milk Caramel Swirl
Caramel Corn Ice Cream is a decadent Salt & Straw inspired homemade, sweet ice cream base infused with the juice of fresh corn kernels that are sautéed in brown butter and then simmered in heavy cream for a subtle sweet corn flavor.
Cherry Amaretto Crunch Ice Cream
If you're an ice cream lover and an almond lover, you're going to swoon for this amaretto ice cream with cherries and toasted almonds. Cherry Amaretto Crunch Ice Cream is creamy and lush with chewy bits and satisfying crunch.
Cinnamon Oatmeal Cookie Ice Cream
This ice cream tastes like a delicious oatmeal cookie with a cold glass of milk! Cinnamon Oatmeal Cookie Ice Cream is a copycat Ben & Jerry's flavor that tastes better than the original!
Butter Brickle Ice Cream with Homemade Toffee
Butter Brickle Ice cream made with Homemade Toffee. Rich, buttery and creamy. The perfect dessert for summer! Cream is sweet with a hint of caramel with lot's of crunch from the toffee bits.
In Conclusion
There are so many fun and unique flavors that go great in ice cream. We just scratched the surface with these recipes. Let your imagination go, dust off the ice cream maker and try a few.
Like this recipe? We'd love for you to share it on your Pinterest board! Click to follow our Pinterest boards so you can find all our recipes!
Instagram it! If you try this recipe please tag #AFoodLoversKitchen on Instagram or Twitter. We love to see your photos of our recipes! Also follow us on Instagram, Twitter and Facebook to keep up on what we're cooking up.
Pin it for later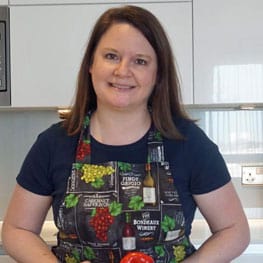 Laura is a home cook who loves making new recipes and finding new favorite things to eat, whether at home or abroad. She also runs a popular travel blog and spends a lot of her time traveling for food.