The Instant pot has been the hot new cooking appliance for the past few years now. It's a fresh take on the old-fashioned pressure cooker. But you might be wondering if that's all it is – more expensive version of a pressure cooker. In the end, which is better?
Before I bought my Instant Pot, I spent a lot of time wondering why I should buy this expensive machine when I could buy a traditional pressure cooker for much less. What made the Instant Pot so fantastic that everyone was buying one?
» You might also like these 15 Time Saving Kitchen Tools and this review of ButcherBox.
Ease of use was the difference I finally understood once I bought my Instant Pot and started using it. If you already have a traditional pressure cooker in your kitchen cabinet, you likely don't get it out all that often, right? That is the difference! I use my Instant Pot multiple times per week.
While our mothers and grandmothers were comfortable using a stovetop pressure cooker, many home cooks today are intimidated by the hissing of steam and the potential for the cooker to blow up if you don't use it correctly.
Because of this, pressure cooking has fallen out of favor in the last few decades. But that all changed with the arrival of the Instant Pot – a self-contained, electrical pressure cooker with plenty of built in safety features.
But Isn't Instant Pot Just a Pressure Cooker?
Yes, the Instant Pot is a pressure cooker. But there is a big difference between the two in terms of how they function and how easy they are to use for the typical home cook.
Let's take a look at what a pressure cooker can do:
When cooking something on the stove top, the water boils at 212 degrees and stays at that temperature, but inside a pressure cooker the water can build up to 250 degrees, which allows the food to cook much faster.
Cooks food in 70% less time than on the stove top.
Great for cooking foods that take a long time, like pot roasts, whole chicken, brisket and dried beans.
Breaks down the tough fibers in meats much faster for tender roasts and briskets in half the time.
Both a traditional pressure cooker and an Instant Pot do those same basic things. The difference comes down to how convenient they are to use.
Pros of an Instant Pot
Easy for beginners – not as intimidating as a traditional pressure cooker.
Powered by a sophisticated microprocessor that monitors and adjusts pressure, temperature, time, and heat.
Cooks food up to 70% faster than other methods and deliver consistent, delicious results every time.
10+ safety features with UL certification let you "set it and forget it."
Convenient one-touch control of 13 programs can be customized to remember the way you like to cook
Smart Lid automatically seals your Instant Pot. Steam release is also a breeze with a fast, safe push of the quick release button.
Read more about why you should buy an Instant Pot and which model is right for you.
Super Easy to Use
The inexpensive stove top pressure cooker will do you no good if you're too intimidated to use it, or end up keeping it in the back of the cabinet because you don't have the time and patience to keep an eye on the pressure and adjust the heat as needed.
The benefit of an Instant Pot is that you don't have to know anything about the pressure or what's going on inside the machine. You don't have to watch the stove top to make sure the pressure is at the right level. And thus you don't have to worry about the cooking process at all.
All models of the Instant Pot have programmed buttons that make the cooking process very easy. If you're cooking beans, all you have to do is press the "Beans" setting. If you're cooking a roast, you just press the "Meat" setting. The pressure level and timing is adjusted for you, with no need to watch it.
Multiple Functions
A traditional pressure cooker can do many things, but the Instant Pot takes it to a whole new level. Here are the myriad things an Instant Pot can do:
Pressure cooker
Slow cooker
Rice cooker
Steamer
Sauté Mode
Keep food warm
Make Yogurt
Sterilize
Make cakes
Canning
Sous Vide
Aside from the types of cooking the Instant Pot is capable of, there are also many different ways to cook inside the Instant Pot. There are many different accessories you can purchase that make even the basic IP more useful. You can even bake things like cheesecake and lasagna, using a spring form pan. Or you can cook two things at once, like chicken curry and rice, using stackable containers.
Set it And Forget It
One of the reasons the slow cooker took off in popularity was the ability to set it and forget it. You could put a roast or stew ingredients into the slow cooker and leave it cooking all day without you being there.
The Instant Pot does the same thing, only faster. You can put all the ingredients you need into the pot, put the lid on, push the button, and when you come back to it, your food is done. The big difference is that instead of taking 6 hours to cook, the same food will be done in 2 hours or less.
>> Check out our Instant Pot page to learn more about this useful machine.
Pros of a Traditional Pressure Cooker
Foods cook 3 to 10 times faster than ordinary cooking methods, saving time, energy, and money.
Pressure cooking preserves flavors and nutrients, and tenderizes lean cuts of meat.
Strong, heavy-gauge aluminum for quick, even heating.
Works on electric, smooth-top, and gas ranges.
Pressure regulator maintains the proper cooking pressure automatically.
Fully immersible and dishwasher safe with the sealing ring and over-pressure plug removed.
It Can Reach a Higher PSI
The biggest difference between a traditional pressure cooker and an Instant Pot is the level of PSI or pressure that can be reached. A traditional pressure cooker can reach a PSI of 15 on the stove top, while most Instant Pot models (except the most expensive Max model), can only reach a PSI of 12.
What this means is that the traditional cooker actually cooks faster than the Instant Pot. If time is your main concern, the traditional cooker wins.
It's Less Expensive
Another benefit of the traditional pressure cooker is that its often costs less than an Instant Pot. You can purchase a good 6-quart pressure cooker for around $40, as opposed to the $79 for an Instant Pot.
Takes Less Space
It took me a while to purchase an Instant Pot when we moved to London, because our kitchen is so small that I really didn't have room to store the rather large Instant Pot. A traditional pressure cooker has a much smaller footprint comparatively.
A 6-quart pressure cooker is 17 x 9 x 8.75″, while the same size Instant Pot is 13 x 12 x 12.5″. If you don't have an entire cabinet to store the Instant Pot, a traditional pressure cooker is a better space saver.
Which One is Right For You?
The version you like best comes down to how you like to cook. I would say that the Instant Pot has an edge on the traditional pressure cooker, though. The ease of use is a huge factor to consider.
If you want to be more hands-on with the cooking process, the traditional pressure cooker offers a lot of benefits, in a smaller package.
If you're more interested in a set it and forget it machine that doesn't have to be used on the stove-top, plus the additional safety features and general peace of mind, then the Instant Pot is your better choice.
Our Recommendations
The chart below shows the models we recommend in both traditional and Instant Pot. The Instant Pot Duo is great for beginners, while the Max is great for home cooks who want to be able to do it all.
Why Use An Instant Pot
The Instant Pot is one of the most useful kitchen appliances you can buy, because it drastically cuts down on the cooking time for developing flavors in soups and stews, getting tough cuts of meat tender, and even baking a cheesecake. And there are many accessories that will help you get more out of your Instant Pot.
If you don't have one yet, check out our guide on which one to buy. You can also check out our Instant Pot page for more information.
Finding Recipes
No matter which you choose – an Instant Pot or a traditional pressure cooker – there are tons of great recipes out there. We have lots of great Instant Pot recipes on our site that you can check out.
Another of our favorite places to get Instant Pot recipes is Pinterest. You can check out my Instant Pot board for recipe ideas, or do a quick search for exactly what you're looking for.
Check out our sister site, A Pressure Cooker Kitchen, for all things Instant Pot. We help you find easy-to-make, delicious Instant Pot recipes to get the most out of your pressure cooker. See our recipes, guides, and information to help you get started.
Final Thoughts
I personally love my Instant Pot and wouldn't trade it for a traditional pressure cooker, no matter what. It's super convenient to use and doesn't scare me like a stove top version. The ability to put whatever I want in there and just turn it on is highly appealing.
🥧 If you're interested in more great recipes, I share all my favorite Instant Pot recipes over at A Pressure Cooker Kitchen, air fryer recipes at Air Fry Anytime, and cocktails and drinks at Savored Sips. Check it out today!
Like this recipe? We'd love for you to share it on your Pinterest board! Click to follow our Pinterest boards so you can find all our recipes!
Instagram it! If you try this recipe please tag #AFoodLoversKitchen on Instagram or Twitter. We love to see your photos of our recipes! Also follow us on Instagram, Twitter and Facebook to keep up on what we're cooking up.
Pin it for later!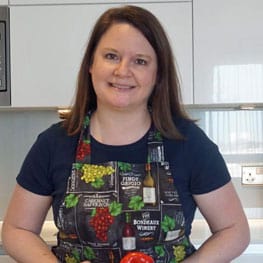 Laura is a home cook who loves making new recipes and finding new favorite things to eat, whether at home or abroad. She also runs a popular travel blog and spends a lot of her time traveling for food.