These super easy Oven-Baked Baby Back Ribs turn tedious fire-pit cooking into a simple indoor process that delivers fall-apart baby back ribs every time. You're going to love this recipe!
» Guess what else is great in the oven! This roasted rack of lamb and delicious tri-tip steak.
🥳🥩ButcherBox is offering new customers 2 packs of ground beef FREE in every box for the lifetime of their subscription! Don't miss out! Don't miss out! 🥳 SIGN UP HERE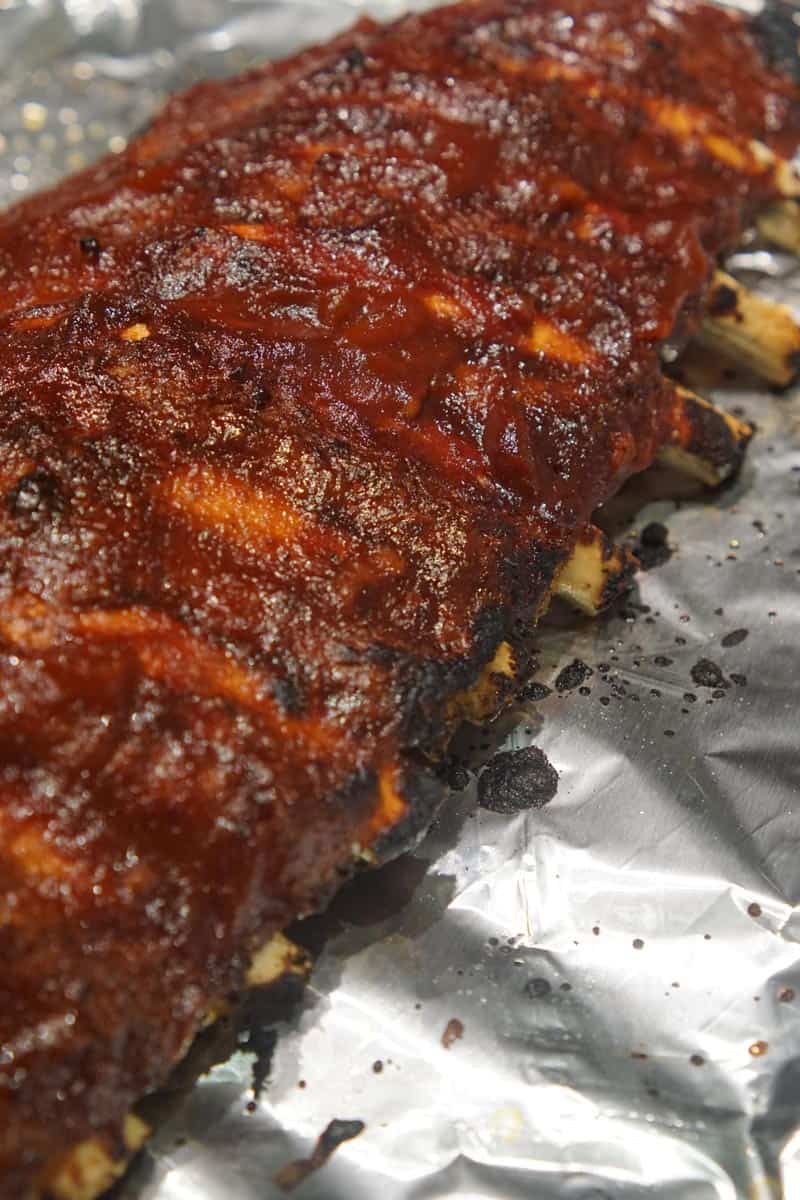 CHEF'S TIP: The key to making fall-apart baby back ribs in the oven is to cook them low and slow in a "packet" that seals in the steam. We bake our ribs at 275° F wrapped in foil for 2-3 hours and this produces the absolute perfect ribs every time.
If you don't have an outdoor grill, or it's the middle of winter and you don't want to uncover the grill and stand out in the rain, this recipe is a fantastic alternative that makes a really good rack of ribs indoors with very little mess and fuss.
Barbecue meat, especially baby back ribs, is one of the true pleasures in life, but cooking low and slow over a fire pit for hours on end is not so pleasurable. Oven-baking them leads to a perfect rack of ribs every time, with half the fuss.
Cooking ribs in the oven on a low heat for a few hours produces incredibly tender meat that is falling off the bone, just like you'd expect from cooking for hours on a bbq pit.
Ingredients You Need
You can use whatever type of rub and BBQ sauce you like, but I would encourage you to try our homemade versions because the ribs with our rub and BBQ sauce are simply to die for. If you want the full flavor explosion of this recipe, you need to make it all!
Baby back ribs – I personally really like baby back ribs and choose these most of the time, but you can make this recipe using spare ribs or pork ribs, whatever ribs you happen to have.
Dry Rub – Our dry rub is a savory blend of paprika, salt, pepper, chili, onion and garlic powders, mustard powder, and brown sugar. Together, these spices really elevate the flavor of the ribs (don't leave out the brown sugar – for low carb version use a brown sugar substitute).
BBQ Sauce – We use a delicious homemade Smoky Bourbon BBQ Sauce for these ribs. The flavors in the sauce are divine. I mix up a large batch and use it for anything that requires BBQ sauce.
Flavor the Ribs With Rub
Super tender meat is only one part of the equation. The key to giving these ribs intense flavor is in the dry rub. A perfectly balanced dry rub does wonders for flavor, but also seals in the juices and keeps the ribs from drying out. I swear by this BBQ rib rub.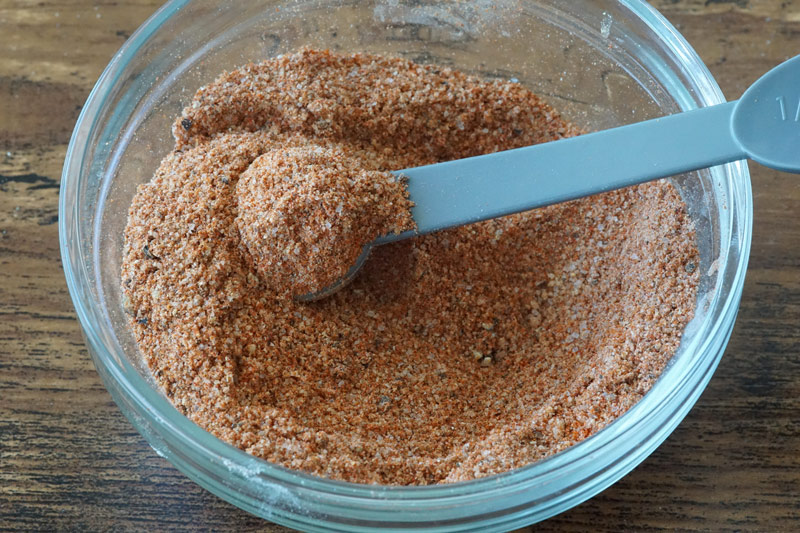 It's actually great on all types of meat, like chicken thighs and tomahawk pork chops, not just ribs. But I think it adds just the right amount of spice to the ribs.
Baby back ribs in the oven are just about the easiest way to make ribs and still have that fall-apart goodness you love. I actually prefer baked baby back ribs to grilled now. The texture is just perfect.
The only thing you can't really have with baked ribs is the delicious char of the grill. So if you're not planning to finish them up on the grill, you might want to broil them to add char to the top.
What If I Want to Cook on the Grill?
I make these ribs for family outdoor barbecues all the time. The secret is to cook them in the oven at home, so they're just about ready. Then you can slap them on the grill and baste them with BBQ Sauce to get that delicious charred finish.
This is a much easier way to make ribs for a party, when fully cooking multiple slabs of ribs for a party would take a tedious amount of time and grill space. Doing it this way allows you to prepare the ribs ahead of time and just finish them on the grill, saving tons of time.
How to Make Baby Back Ribs in the Oven
Here's a quick overview video of how to prepare and bake these baby back ribs.
1. Remove the Silver Skin
One thing you have to remember about preparing ribs is that there's a thin silver skin or membrane along the back of the ribs that must be removed. The membrane is a thick skin that will prevent the ribs from actually falling off the bone.
It's not great to leave it on, because the ribs will be less tender and not as fun to eat.
To remove it is easy. Just turn the ribs over and look for a piece of the membrane around the edges of the meat that you can grab hold of. You can also slide a small knife blade between the silver skin and the ribs and pull up to loosen it.
It is silver in color and forms a very thin layer over the back. When you catch a piece, pull it back, like peeling off a piece of tape. If you get it just right, you can pull the entire membrane off in one piece. Here's a pictorial to help.
Note: If you can't locate the membrane, it's possible the butcher has already removed it.
2. Add a Dry Rub
Next, sprinkle the dry rub across the ribs and rub it all over. Try our dry rub recipe. It's easy to make and adds tons of flavor.
You can let it sit overnight in the refrigerator with the rub for even more flavor, but it's not necessary.
The rub adds an extra layer of intense flavor to the ribs. I highly recommend using it. However, if you prefer, you can just use salt and pepper. Season the ribs liberally.
3. Bake the Baby Back Ribs
To make baked baby back ribs in the oven, you need to create the perfect environment for them to steam cook. Wrapping them in tin foil is the easiest way to do that. You can also use butcher paper or parchment paper if you don't like cooking with foil.
Cut off a piece of tin foil that's large enough to make a packet for the ribs. They need to be completely encased in the foil. Crimp the edges together to keep the steam in. This is how the ribs become so tender.
Place the baking sheet in the oven at 275° F. This is a bit of a set it and forget it exercise. The exact amount of time it needs to cook depends a great deal on the size of the rack of ribs you're cooking.
It will take around 2 to 2.5 hours for a small rack or ribs.
Medium rack will take around 3 hours. A large rack could take up to 4 hours.
It needs to cook in the oven for a minimum of 2 hours before you check it for the first time. After that time, give it a peek.
The meat should have pulled back from the edges of the bones. If you're not sure if it's done, insert a fork into the meat and give it a gentle tug. It should give easily.
If it doesn't, put it back into the oven for another 30 minutes. Remember, it could take up to 4 hours to cook the ribs to perfection, depending on the size of the ribs you're cooking.
Be careful not to over do it. It's harder to pick up the bones to eat when it's too tender. You want the meat to pull back from the bones, but not completely let go of the bone.
4. Add BBQ Sauce
When done, remove the ribs from the tin foil and discard the juices. Slather the ribs with BBQ sauce (be sure to check out our recipe for homemade Bourbon BBQ sauce – it's to die for!).
For me, BBQ sauce is absolutely necessary on baby back ribs. It's the sauce that seals in the juices and boosts the flavor.
When making these ribs in the oven you might lament the lack of char that you get on the grill. But don't worry, we've got a fix for that.
5. Broil or Grill
Place the ribs under the broiler for 3-5 minutes. Keep an eye on it, in case of flare ups. I like to give them a second dose of sauce and put them back under the broiler for another 3-5 minutes, to fully caramelize the sauce. If you're in a hurry, the second time isn't necessary.
If you want to grill them instead of broiling, just slap the ribs, basted with BBQ sauce, meat side up on a hot grill and close the lid. Allow them to get a little char around the edges before basting again. It'll take about 5-10 minutes to get a really great caramelized crust on the top.
The ribs will come out with a slight char on the sauce that makes them look and taste more like they've been on the grill. This adds to the intensity of the flavors. If you have an air fryer you might want to try these Easy Air Fryer Ribs.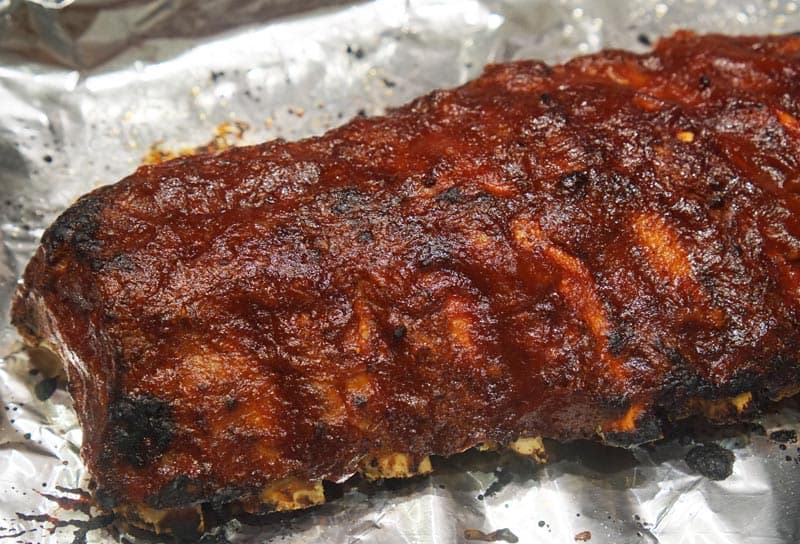 The best part about this recipe is that it's incredibly scale-able. You can make one rack for one or two people, or even make 4 or 5 at a time to feed a crowd. This recipe can also be used with spare ribs. You'll just need to extend the baking time by 30-60 minutes depending on the size of the ribs.
Top Tips for the Best Outcome
We've already given our biggest tip, which is the cook the ribs low and slow in a packet in the oven. That is going to produce the most tender, fall-apart ribs. But there are a few other things that will elevate your ribs too. These are:
Always remove the membrane. The tough bit of silvery membrane on the back of the ribs will hold on tightly to the meat and won't get any softer when it cooks. It's tough to chew through and it keep the meat firmly attached to the bones. Be sure to remove that, even if it's a bit of a battle.
Wrap the ribs in foil and let them cool, undisturbed for at least 1.5 hours. The more times you look at them, the more steam you release = not good for the ribs.
What Our Readers Are Saying
You don't have to just take my word for it. Hundreds of readers have tried this recipe and loved it. See below some of the reviews we've received from visitors on Pinterest.
Oven-Baking Baby Back Ribs – FAQs
What temperature should pork ribs be cooked at in the oven?
In this recipe, we cook baby back ribs in the oven at 275 degrees F for 2-3 hours. The biggest decider of how long they must cook at this temperature is the size of the rack of ribs. A rack that is on the small side will likely take around 2 hours, while a larger rack will take up to 3 hours.
Should I cover ribs when cooking in oven?
Yes, it's always best to cover the ribs when cooking in the oven, to keep them from drying out. Making a packet out of tin foil and cooking the ribs in the packet will produce perfect ribs every time.
How do you know when ribs are done in the oven?
You will know it's done when the meat has pulled back significantly from the bone and the bone easily pulls free from the meat when tugged.
Do ribs get more tender the longer they cook?
Yes, ribs will become more tender the longer they cook, but there is also a point where they will stop becoming tender and will dry out.
If you're looking for the most tender meat without drying, check the meat every 10 minutes near the end of cooking, by tugging on the bone to see how easily it comes away from the meat. Eventually it will fall right off the bone. After that point, the meat will begin drying out.
Should ribs be cooked bone side up or down?
The bony side of the ribs should always be cooking facing down; the meaty side facing up. This keeps the meat from directly touching the pan, which would dry it out as it cooks.
What to Serve With Baby Back Ribs
Looking for a side dish to serve with these ribs? Why not try one of these:
Ready for dessert? Why not try one of these awesome Homemade Ice Cream recipes.
Other BBQ Recipes to Try
Related Posts:
Other BBQ Recipes to Try
Like this recipe? We'd love for you to share it on your Pinterest board! Click to follow our Pinterest boards so you can find all our recipes!
Instagram it! If you try this recipe please tag #AFoodLoversKitchen on Instagram or Twitter. We love to see your photos of our recipes! Also follow us on Instagram, Twitter and Facebook to keep up on what we're cooking up.
Easy Oven-Baked Baby Back Ribs
Oven-baked baby back ribs are fall-off-the-bone tender and flavorful, just like grilled ribs, but with a lot less effort.
Print
Pin
Rate
Ingredients
1

rack

baby back ribs

(you can cook as many racks as you want at the same time)

1

tablespoon

paprika

1

tablespoon

brown sugar

use a brown sugar substitute for low carb option

2

teaspoons

salt

2

teaspoons

ground black pepper

2

teaspoons

chili powder

Use mild to hot, depending on your taste preferences

2

teaspoons

onion powder

2

teaspoons

garlic powder

1/2

teaspoon

mustard powder

1/2

cup

bbq sauce

(click to go to recipe)
Instructions
Pre-heat the oven to 275° F.

Rinse and pat the ribs dry with a paper towel. Remove the silver skin membrane from the underside.

Coat the ribs with the dry rub. It's not necessary, but if you have time, cover and let sit in the refrigerator for 2 hours or overnight to enhance flavor.

Wrap the ribs in foil on a baking sheet, sealing the edges tightly to create a packet.

Cook in the oven for 2 hours. You'll know it's ready when the meat pulls back from the bone and becomes fork tender. Continue cooking until the bone gives easily when pulled (up to 4 hours for larger rack of ribs).

Peel back the foil and discard any juices. Baste the ribs with BBQ sauce.
Extra Steps – Not Required
As an extra step, you can grill or broil the ribs to slightly char the top.

To grill, heat the grill. When hot, put the ribs directly over the flames and grill for 3-4 minutes, until the sauce is bubbling. Be careful when transferring to and from the grill, as the meat is very tender and can fall apart easily.

To broil, set the oven to broil. When hot, place the baking tray under the broiler for 3-5 minutes. Repeat with an additional layer of bbq sauce, if desired.
Notes
To bake more racks of ribs at a time, use a larger baking pan or two separate pans.
The cooking time will vary based on the size of the rack of ribs, and how many, you're cooking. Check the meat at 2 hours and continue cooking in 20-30 minute increments until the bone easily pulls away from the meat.
Nutrition
Calories:
453
kcal
|
Carbohydrates:
32
g
|
Protein:
28
g
|
Fat:
24
g
|
Saturated Fat:
8
g
|
Cholesterol:
98
mg
|
Sodium:
859
mg
|
Potassium:
543
mg
|
Fiber:
1
g
|
Sugar:
24
g
|
Vitamin A:
297
IU
|
Vitamin C:
1
mg
|
Calcium:
107
mg
|
Iron:
3
mg
Pin it for later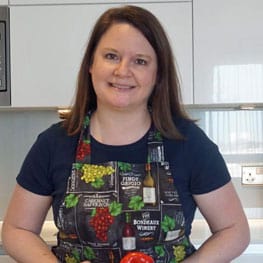 Laura is a home cook who loves making new recipes and finding new favorite things to eat, whether at home or abroad. She also runs a popular travel blog and spends a lot of her time traveling for food.