If you like crispy potatoes that are crunchy on the outside and creamy on the inside, these are exactly that. They truly are the best crispy roast potatoes you'll ever make.
I know this sounds weird, but if I could only eat one thing for a week, it would probably be potatoes. I love the versatility and variety potatoes offer.
These roast potatoes are one of my favorite ways to eat potatoes, though believe me, there are many others on the list. If you are like me you will want to try these oven-baked crispy smashed potatoes , honey sriracha roasted potatoes or roasted parmesan sweet potatoes.
Of course, to get them to this level of amazing, you have to put in a little effort. Making the perfect potato is not just chopping up whatever russets you have in the fridge and throwing them in a hot oven.
There's a technique to these potatoes. But I promise you'll be greatly rewarded. I learned this technique from Cook's Illustrated The Science of Good Cooking. It's a keeper.
I went seeking answers after many disastrous attempts to make roast potatoes that resulted in soggy, not at all crispy excuses. I just couldn't figure out why they never turned out well, until I learned that the starch and sugar content in potatoes has a dramatic affect and had to be taken into consideration.
Potatoes with a high starch content are lower in moisture, so they brown and crisp up better than low-starch potatoes. Potatoes with higher sugar content will have a more intense malliard reaction, meaning they will brown better.
It's also best if the potatoes have been chilled for at least a day before you use them for this recipe. Chilling will turn some of the starch in the potato into sugar, which we already know helps with browning.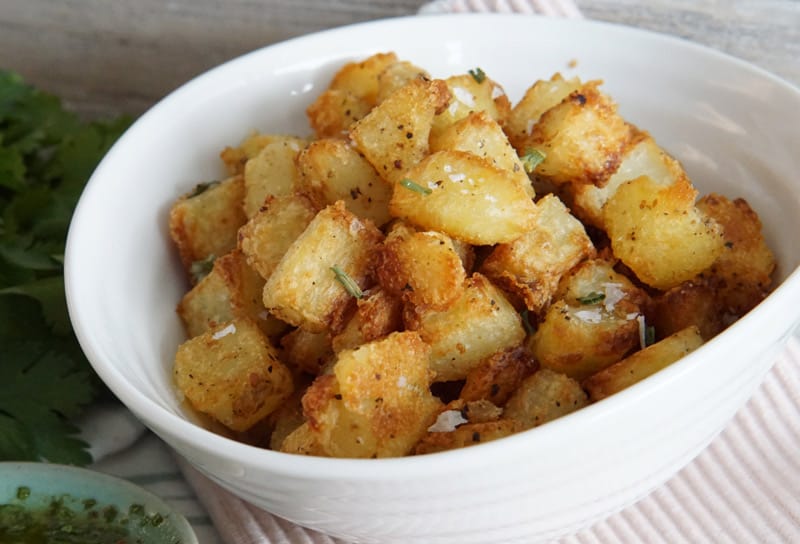 How to Make the Perfect Roast Potatoes
Step One – Chop
The size of the potato pieces will have a big impact on the outcome. I suggest chunks of about 1 – 2 inches each, because it will provide the best crunch to fluffy potato ratio. With smaller pieces, the crunchy surface tends to overwhelm the small amount of potato inside.
Step Two – Parboil
Once the potatoes are chopped, you need to break down the starch in the potato by parboiling them. It won't take long. I always put lots of salt and a ½ tsp baking soda in the water.
I know it sounds weird but baking soda helps release the starches into the water, which will attach to the surface of the potatoes and help them crisp up.
The potatoes are ready when you can insert a fork and they are tender but not crisp. If they fall apart, you've gone too far.
Step Three – Drain and Allow to Steam
Drain the potatoes and – this is important – allow them to sit in the pan and blow off steam for a minute to dry them out.
Step Four – Toss with Olive Oil
Add the olive oil, salt and pepper to a bowl that's large enough to hold your potatoes. pour the potatoes into the bowl and toss to coat the potatoes. This will also start to slightly mash the surface of the potato, which will create the perfect crispy crust in the oven.
Step Five – Spread onto baking sheet
Transfer the potatoes to a baking sheet. Don't crowd them. Each potato chunk needs a little space to get crispy. This is the number one reason why potatoes don't get adequately crispy, so do yourself a favor and just spread them out.
If you're making a large batch, you might have to cook them in 2 batches. That's better than crowding.
Step Six – Bake
Put the baking sheet into the oven and bake at 425 degrees F (215 degrees C) for about 20 minutes.
Watch as transform into the perfect crispy potatoes. You'll need to turn the potatoes once at the 20 minute mark to give an even crunch. Continue cooking for an additional 15-20 minutes, or until you're desired level of crispiness is reached.
Don't let them get too browned. Darker doesn't necessarily mean crispier. If you overcook them, the exterior can become tough.
» You can also cook these potatoes in an air fryer, which develops a great crunchy exterior, without any excess oil.
Be sure to serve the potatoes as soon as they come out of the oven. That's when they're at their most glorious. I like to sprinkle on a bit of flake salt and serve with ketchup. You can also sprinkle on a bit of rosemary or Parmesan cheese for a variation.
Which is the Right Potato?
The question always turns to which type of potato is the right one to use. Russet potatoes are actually pretty good contenders. They'll crisp up well and be fluffy in the middle. If you prefer a creamier middle, try Yukon Golds.
Now that we live in the UK, I've completely fallen for Maris Piper potatoes. They always end up with the perfect interior fluffy to creamy ratio.
If you want to experiment with different types of potatoes, it's actually pretty interesting to see the different outcomes. You can also check out this potato chart to learn more about each type of potato.
Four medium sized russet potatoes equals about 2 lbs, give or take. I find that this makes 2 large servings or 4 small servings. If you're just sitting down noshing on potatoes, they'll go way faster than you think. So plan for 2 medium potatoes per person or 1 large potato per person.
Like this recipe? We'd love for you to share it on your Pinterest board! Click to follow our Pinterest boards so you can find all our recipes!
Instagram it! If you try this recipe please tag #AFoodLoversKitchen on Instagram or Twitter. We love to see your photos of our recipes! Also follow us on Instagram, Twitter and Facebook to keep up on what we're cooking up.
The Best Crispy Roast Potatoes You'll Ever Make
These crispy roast potatoes are the perfect combination of crunchy and fluffy.
Print
Pin
Rate
Ingredients
4

medium

russet or Yukon Gold potatoes

(about 2 lbs)

1 1/2

tsp

salt

divided

1/4

tsp

baking soda

2

tbsp

extra-virgin olive oil

¼

tsp

ground black pepper

⅛

tsp

rosemary

finely chopped (optional)
Instructions
Pre-heat oven to 425 degrees F (215 degrees C).

Peel and chop potatoes into 1" to 2" chunks.

Fill a medium pot halfway with water and set it on medium heat. Add 1 tsp salt (reserving the rest) and baking soda to the water. Add the potato chunks to the pot. Boil for 6-8 minutes or until just slightly tender.

Meanwhile, add olive oil, remaining salt, and pepper in a bowl big enough to hold the potato chunks.

When the potatoes are done, drain and allow to sit in the pan for 1 minute to evaporate any remaining water.

Add potatoes to the bowl with the olive oil mixture. Toss to coat. The surface of the chunks should break up slightly and become rough.

Transfer potatoes to a baking sheet and spread out evenly. Do not crowd. Place the tray in the oven.

Allow the potatoes to brown for around 20 minutes. Gently flip the potatoes over. Bake for an additional 10-20 minutes until they are golden on the outside.

Remove from oven. Sprinkle with salt and rosemary, if desired. Serve immediately.
Notes
To retain their crunch, these potatoes need to be served immediately. If you aren't serving them right away, undercook them slightly by about 5 minutes. Then return them to the oven for 5-10 minutes just before serving.
Nutrition
Calories:
461
kcal
|
Carbohydrates:
77
g
|
Protein:
9
g
|
Fat:
14
g
|
Saturated Fat:
2
g
|
Sodium:
1903
mg
|
Potassium:
1780
mg
|
Fiber:
6
g
|
Sugar:
3
g
|
Vitamin A:
6
IU
|
Vitamin C:
24
mg
|
Calcium:
58
mg
|
Iron:
4
mg
Pin it for later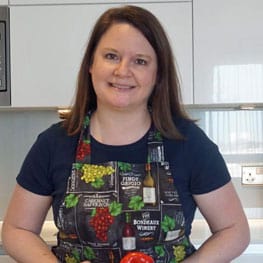 Laura is a home cook who loves making new recipes and finding new favorite things to eat, whether at home or abroad. She also runs a popular travel blog and spends a lot of her time traveling for food.