This article has links to products and services we recommend, which we may make commission from.
We all know it's not healthy to deep fry, but sometimes it's just too hard to resist the crunchy texture and incredibly satisfying taste of foods that have been deep fried. That's why the Air Fryer has gain such popularity over the years. You can get that same crispy crunchy texture in an air fryer without the oil.
It's true. You can cook healthier at home with an air fryer, with less mess, less fuss, and all the great texture and flavor of deep frying. The air fryer takes away the hassle of oil but still produces a great crunchy texture and taste.
Deep frying at home has always been a messy proposition that I don't love. Having to replace the oil all the time is a major hassle. When you're running it, if you're not extremely careful, you can get oil all over the kitchen from splattering. It's messy and tedious.
An air fryer is much cleaner and faster to use. It's easy to maintain, and it doesn't require a lot of space to store it. If you've been thinking about whether to get one, I highly recommend making the switch from your traditional deep fryer to an air fryer. You won't look back. Trust me.
You'll learn all of our reasons for this recommendation below in our air fryer overview. We've also included 6 of the best air fryers you can buy today with reviews, to help you choose a model.
What is An Air Fryer?
Let's start with the basics. You may not know what an air fryer really is, or you may have seen it on TV, but aren't quite sure what the benefits really are.
When it comes right down to it, an air fryer's purpose is to mimic the way a deep fryer would cook food – giving it that golden, crispy exterior that we all love so much – only without using all that oil. You don't submerging your food in hot oil to cook it in an air fryer.
An air fryer contains a heating coil and a fan. It simultaneously heats to a high degree and circulates hot air around the exterior of the food, much like a fan oven, and crisps up the exterior, while cooking the food to the perfect internal temperature, often in half the time it would take to roast or bake it.
Try These Air Fryer Recipes
Why Buy An Air Fryer?
The biggest reason to buy an air fryer is to achieve the same affect as a deep fryer, but in a much healthier manner. However, there are many other great reasons to use an air fryer for cooking at home.
Here are a few of the main reasons you might consider buying an air fryer.
1. Less Mess
While there are some deep fryers that keep a firm lid on the splatters, literally, they still produce a lot of mess to clean up. With a deep fryer, you have to change the oil regularly, and clean the greasy, grimy interior. Not to mention that while cooking, the oil often splatters around the kitchen.
And let's not even discuss those times when you accidentally knock the whole machine over and oil pours everywhere. Yes, I've done that before. It was a huge disaster.
An air fryer is much cleaner because there is no messy oil left behind in the fryer, except the little bit that might drip from the food as it's cooking. It's easy to wipe down after each use. There's no splatter. Not a problem if you knock it over.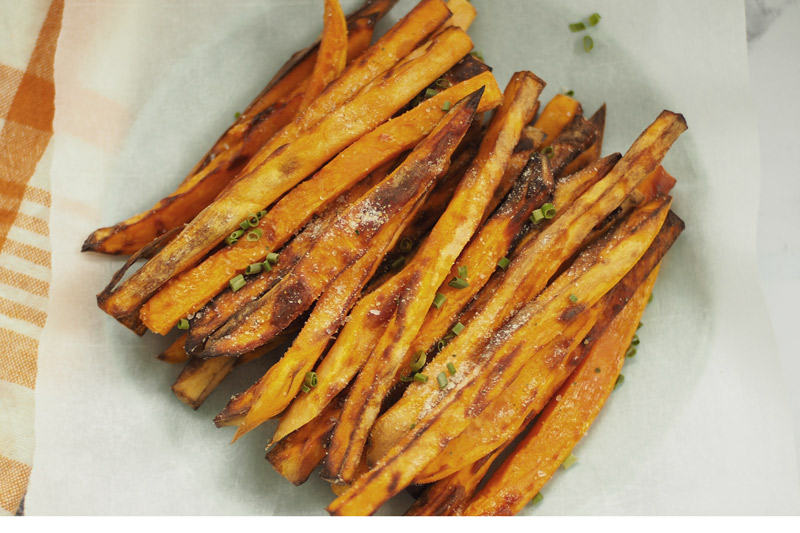 >> If you're interested in alternative ways to cook food faster and more conveniently, you might also like the Instant Pot. Learn more about the Instant Pot and decide if you should get one.
2. It's Healthier Than Deep Frying
Deep frying your food can add an incredibly amount of calories and fat to the final product. Plus, many oils used for deep frying are unhealthy and high in trans fats.
Air frying, on the other hand, only requires a small amount of added oil, if any (many foods don't require oil to cook well in the air fryer). You will still get the crispy exterior – crispy french fries or onion rings, for instance – but without the added calories and fat.
3. It's Versatile
An electric air fryer isn't an incredibly expensive kitchen appliance. For around $70, you can get a very good air fryer that allows you to do a lot of different types of cooking at home, in one appliance.
The best air fryers allow you to fry, bake, grill, roast and dehydrate. So you can use it for french fries, a whole roast chicken, any type of frozen foods, pizza, even steak. We've cooked cinnamon rolls, breakfast sandwiches, muffins. You name it.
4. It's Energy & Time Efficient
The air fryer has saved us an incredible amount of time. It doesn't require a lengthy preheating time, so you can just put it in and cook it immediately. This is way less time than it takes in the oven to do the same thing.
For instance, when cooking frozen french fries, it takes 10 minutes to preheat the oven and 25 minutes to cook the french fries. In the air fryer, it takes just 18 minutes to cook frozen french fries, with no preheat time. That's nearly half the time it takes in the oven.
And speaking of the oven, using an air fryer is much more energy efficient than using your oven to cook the same food. The appliance is small and it takes much less energy to run it than it would your oven.
It also keeps the room cooler, which is a major plus during the summer when you really don't want to use the oven at all.
How Does an Air Fryer Work?
One of the best ways to understand how an air fryer works is to watch it in action. You can see the Philips air fryer in action in the video below. This will show you how an air fryer works, and how it can crisp up the food without the oil of a deep fryer.
How to Choose the Right Air Fryer
You'll want to consider these important things before purchasing a power air fryer. As we've said, there are so many different ones out there, so you can narrow down your needs and find the oil-less fryer that works best for you. Be sure to ask yourself these questions before buying:
Size & Capacity
One of the most important factors to which air fryer you buy is the size and capacity. As you can imagine, they come in all different sizes. There are small ones that don't take up much space in the kitchen, but that can only hold a small amount of food. And there are large ones that fit a lot (even a whole chicken or turkey!) but take up much more space to store.
Most fryers can cook between 1.5 and 2.5 pounds of food at a time. If you're cooking for just one or two people, a smaller fryer (usually 3.7 qt) would probably suit you just fine. If you're cooking for 4 or more, you'd want a larger size (usually referred to as XL).
Extra Features
Extra features include temperature gauges, baskets and trays, timers, pre-set buttons, dishwasher safe parts, etc. These extra features can turn the cooking process into a breeze, while machines lacking in features can make it a chore.
For instance, a removable basket will make it much easier for you to clean the machine after it's been used. Don't underestimate the features you might want. They can add slightly to the overall price, but those features may well be worth it.
Wattage
You really don't want to skimp on wattage with a power air fryer. A higher wattage means it is a more powerful fryer. It's easy to become frustrated with low-wattage fryers that don't seem to do their job well.
Typically, fryers range in wattage from 800-2100. It's wise to make sure your power outlets can support a higher wattage before you purchase it.
Price
Air fryers range in price from around $65 to $250. Likely you'll be getting more features for the higher-end products, but you need to read the included features to be sure.
The price also takes into consideration the brand. A brand name, like Hamilton Beach or Philips, will cost more than a no-name brand, but that doesn't mean a no-name brand isn't a good one. Read the reviews to know what you're getting.
Top Rated Air Fryer Reviews
The best air fryer for you is heavily determined by your individual needs and preferences. But here we selected 6 of the best air fryers, based on customer reviews.
Philips is the manufacturer of the first airfryer, so they have the benefit of being the "original", but they don't rest on their laurels. It really is one of the best air fryers you can buy for home use, in our opinion.
One of the drawbacks of an air fryers is that it doesn't cook or crisp evenly. However, the Philips fryer has a starfish design in the basket that allows the heat to penetrate all angles of the food, ensuring that it is cooked evenly, all around.
The capacity of the smaller Philips fryer is about one bag of french fries (or 1.75 lbs). It can be used for small meals, but do keep in mind that the more you put in it, the harder it is to cook evenly. If you fill the basket, you will have to move the food around to cook it evenly.
They also have an XL version that fits more (equivalent to 2 bags of fries (or 2.65 lbs). A lot of people say they like the XL version better, even for smaller amounts of food, because it allows more air circulation. The XL version has a digital touch screen interface that lets you adjust the temperature up to 390 degrees, and it also has a 60-minute timer built in.
The smaller version has a 30 minute timer, but no digital display. If you use it regularly for the same foods, the XL has a pre-set button that will remember your settings.
Both versions of the fryer have removable, dishwasher safe baskets. However, I caution against putting the parts in the dishwasher, as the non-stick surface could get scratched.
Both versions also come with a single layer basket. If you want, you can also purchase a double-layer rack or a fry grill pan. They aren't necessary, but can make cooking certain foods easier.
Wattage is 1425 watts for the small air fyer and the dimensions are 11′ long x 12′ wide x 15′ high. It weighs 15 pounds.
The XL uses 2100 watts and the dimensions are 12.4″ long x 11.8″ wide x 16.5″ high, weighing around 15.5 pounds.
Both devices come with a 150-recipe cookbook designed by Gordon Ramsay. Yes, this set is a nesting set that will fit together neatly when packed away.
Pros: Nice looking, starfish design helps it cook more evenly. Basket tray slides out and can be cleaned in the dishwasher.
Cons: Non-stick surface has been known to come off after repeated use.
Buy Here
---
The Hamilton Beach 3.2-liter air fryer is just the right size for up to 4 servings. If you're only serving two people, your food will be just the right amount of crispy in this fryer.
With this fryer, you get 6 one-touch pre-programmed settings to allow you to cook common items for a set length of time at a set temperature. All you have to do to select is scroll through the programs and choose the one you want. The easier way to use this machine is to set it to 400 degrees F and vary the cooking time based on what you're making.
There is a 60-minute timer, so you can set the fryer to cook and return when the timer goes off. You can cook up to 400 degrees F, which is good enough to fry most foods quickly.
The basket is non-stick, so clean up is really easy. You don't need to clean sticky oil off the basket, because you won't be using any oil. So all you need to do is wipe the basket down with some soapy water.
Size is always one of the most important things when looking for the right air fryer for you. This size air fryer has the same footprint as the smaller 2.5-liter version, but a greater internal capacity. So if you're trying to decide between the two, keep that in mind.
This model also uses 1500 watts, so it's more powerful and cooks faster.
Pros: Nice looking. Basket tray slides out easily and non-stick surface makes for easy cleaning. Retractable cord.
Cons: I haven't heard any cons for this model.
Buy Here
---
GoWISE USA 3.7-Quart & 5.8 Quart Air Fryer
GoWISE USA is another brand that does a very good job cooking the food in the air fryer. They also have two different sizes to choose from – a 3.7 qt small size and a 5.8 qt large size.
The good thing about the GoWISE air fryer is that both machines come with digital displays and cook presets. With both models, you can set the temperature from 170F to 400F and cook from 1-30 minutes. You will be surprised by how much of a difference the extra 10 degrees can make (the Philips model only goes up to 390).
This air fryer allows you to fry, bake, grill, and roast, so you can make most of your dinners in this handy appliance. It makes crispy fried chicken, steak, french fries, pizza – you name it.
There are a total of 8 pre-settings that will keep you from having to figure out the right temperature and timing for cooking typical things like fries, chicken, steak, shrimp, pork, cake, and fish.
All you have to do is click the button. You do need to remember to come back and shake, rotate or flip the food during the cooking, but this machine has a reminder alarm for that. It will also automatically shut off after the cooking time has been reached, if you don't get back to it right away.
Another nice addition is a button that will allow you to change the temperature in the middle of cooking. Both machines come with a slide-out basket that has a removable pan in it, so you can easily transport the food to the plate, but you can purchase extra accessories for it, like a double-layer rack and grill tray.
They also come with a 50-recipe cookbook to help you get started. These baskets are not dishwasher safe, but they are non-stick so they are pretty easy to clean, as long as you don't scratch away the surface.
We've also found that you can place a piece of parchment paper with holes poked in it in the bottom of the basket for easier clean up.
Pros: Digital display, higher cooking temperature, removable pan.
Cons: Non-stick coating comes off easily if not very careful with the basket.
Buy Here
---
NuWave Brio 3-Quart & 6-Quart Air Fryer
The NuWave Brio comes in two sizes – a 3 quart small size and a 6-quart large size. Both have digital displays where you can set the temperature and time. They have a preheat mode to prepare the cooker and shorten cooking time.
There is also a popular reheat mode that you can use to heat up leftovers, or keep food warm while you cook something else. We also like that there are 6 preset cooking modes for things that you cook often, so you don't have to mess with the temperature controls every time.
Speaking of temperature, these fryers can be set in increments of 5 degrees from 100 up to 400 degrees. They have an automatic turn off function, in case you don't get back to it in a reasonable time.
The parts aren't dishwasher safe, but if you keep them clean after each use, it won't be difficult to clean. You must be very careful when scrubbing the non-stick material because it has a tendency to peel off. Using warm water with a grease-cutting soap and a non-abrasive cloth is the best way to clean them.
You can also bake, roast, grill, broil or toast in this machine. Really just about anything can be cooked or warmed, including a full (small-sized) chicken. It comes with a recipe book and the fry basket.
You can add additional accessories (or buy the version that comes with the accessories).
Pros: Digital touch display. Automatic shut off. Digital timer.
Cons: Basket feels flimsy. Non-stick coating comes off easily.
Buy Here
---
Black and Decker Air Fryer
The Black+Decker Air Fryer comes in only one size – 2 liters, or about 8 cups. You can fit about enough food for one person, or a snack for two. It's one of the smaller appliances in our list. The Black+Decker has a removable basket that is dishwasher safe.
It has a dual convection fan to promote even, fast cooking, but you do need to flip the food midway through to ensure even browning. The temperature ranges from 175 to 400 degrees F.
This unit does not have a digital display, but it has two indicator lights, one letting you know the unit is powered on, and the other will show when the pre-heating is complete.
The appliance does have a 60-minute and it will turn off the unit automatically when the cooking time is up. Not a lot of bells and whistles on this unit, so if you're looking for a more basic model without a lot of buttons to learn, this one fits the bill.
Pros: Automatic shut off. Dishwasher safe.
Cons: No digital display
Buy Here
---
T-Fal FZ7002 ActiFry Low-Fat Healthy AirFryer
The T-Fal ActiFry holds up to up to 2.2 lbs of food. It's one of the easier models to run because the controls are very basic. It just has a simple on/off switch and a digital timer with a buzzer for easy monitoring.
The main different between this unit and the others is that the basket that holds the food doesn't slide out from the front of the unit. There is, instead, a lift-up lid, and the food is arranged inside the basket (so it looks more like a traditional deep fryer).
Like the Philips unit, the T-Fal has a patented system – a heat pulse system – that circulates air around the food to provide the results you're expecting. It also has a built in stirring paddle that moves the food around to ensure even cooking.
This unit is also very easy to clean, because it breaks down into removable parts. The pan, lid, paddle, spoon and filter can easily be disassembled and put into the dishwasher. You then just have to wipe out the base of the machine that can't be submerged in water.
There are not a lot of features on this unit, but that does make it easier to use. It comes with a 38-recipe color cookbook. Be aware that this unit is slightly larger than the others, so it will take up more space in the kitchen. It is 11.75″ x 19.1″ x 15.6″. It also only heats to 374-degrees F. There are no available extra accessories.
Pros: Easy to use and easy to clean. Parts break down and can be put in the dishwasher. Stirring paddle.
Cons: Too simplistic. Unit is large.
Buy Here
Looking for more helpful kitchen gadgets? Check out 21 kitchen gadget gifts everyone will love.
CONCLUSION
Many of the air fryers on the market today have very similar features, but if you know what you're looking for, you can find the perfect one for your needs.
We hope that our well-researched list will help you choose the model that's right for you. If you buy one, we'd love to hear what you think and if it met your expectations. Leave us a comment!
Like this post? Why not save it on your Pinterest board for later!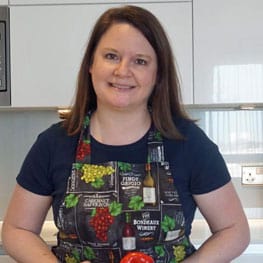 Laura is a home cook who loves making new recipes and finding new favorite things to eat, whether at home or abroad. She also runs a popular travel blog and spends a lot of her time traveling for food.