This Mexican Carnitas recipe is about as good as it gets. The tender pieces of pork are like little morsels of savory magic, and they can be used in so many different recipes, making this a very versatile recipe.
» You might also try these Easy Chilaquiles Recipe and these 12 Comfort Food Recipes.
I remember the first time I tasted really good authentic carnitas. I was at La Sandia, a Mexican restaurant owned by one of my favorite Mexican chefs, Richard Sandoval. I order the skillet pork carnitas from the menu. They were unbelievably good.
There was a sweetness to the pork that really put them on another level from any carnitas I'd had before. I wanted to learn how to make them at home.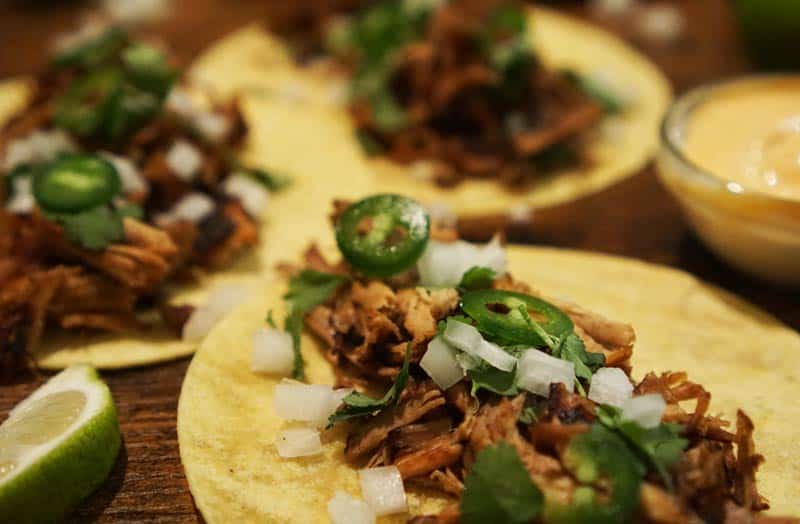 A few months later I was lucky enough to meet Chef Sandoval at a book signing at the restaurant. I couldn't help but ask him what the secret was. You know what he said?
Coke. That's right, original cane sugar Coke.
I began experimenting with my own authentic carnitas recipe after that. I knew that good carnitas needed fat. To be truly authentic, they should be slow cooked in lard.
They also need citrus/acid and a sweet element. Oranges and coke.
This is really all you need to create the most authentic, crispy and delicious pork carnitas you've ever tasted.
It works every time. And there's very little preparation involved.
I prefer to work with boneless pork shoulder and I cut it into large chunks. You can also use bone-in pork shoulder and leave it whole, if you wish.
The way I get around using full lard to braise the meat is to add in as much of the fat as is possible. Buying a fatty piece of shoulder is the best way to do it. Brown and cook the fat with the rest of the meat to create juicy and unctuous Mexican carnitas.
Ingredients You'll Need
Pork shoulder – I prefer to work with boneless pork shoulder and I cut it into large chunks. You can also use bone-in pork shoulder and leave it whole, if you wish. Because of it's high fat content it helps the meat become super tender and juicy.
Herbs and spices – Salt, black pepper, cumin, oregano, and bay leaves.
Garlic
Orange juice
Coke – Original cane sugar Coke for sweetness.
Taco fixings – Corn tortillas, diced onion, fresh cilantro, lime, and jalapeno.
How to Make Authentic Pork Carnitas
Carnitas are often made in the oven or slow cooker, because they need a lot of time for the meat to break down and become tender. I am going to show you how to cook pork carnitas on the stove.
The first step is to salt the pork and brown it in a stock pot on all sides. This takes about 6 minutes.
Once it's browned, add the rest of the ingredients to the stock pot. This includes the orange juice, spices, and can of Coke. If the meat isn't at least 3/4 covered, you can add some extra water to get it 3/4 submerged.
Note: In this recipe, I use a stock pot on the stove to cook carnitas. You can also use a
slow cooker
or a pressure cooker, like the
Instant Pot
(which I adore). The cooking time will vary for all three methods.
If cooking on the stove top, set the heat to medium low, so the liquid in the pot is just bubbling, but not boiling. Cover with the lid. Maintain this level of heat for around 3-4 hours.
If you're using a slow cooker, set the cooker to low and leave it for the day. It will need to cook for at least 4-6 hours.
The pressure cooker will take considerably less time. In the Instant Pot, set it for 45 minutes on the "Meat" setting.
After the cook time is up, you will have a pot of meat that looks like this, and smells incredible.
I chose to keep the meat in as large of pieces as possible until I decide how I'm going to use it. Of course, it comes out fall apart tender, and perfect for carnitas tacos, burritos, or tortas.
Really there is no limit to how you use the carnitas pork. You can even just serve it by itself. It's THAT good.
If you love this tender shredded pork, you'll also love our shredded beef barbacoa recipe. It's just as easy to make and can be used in many dishes.
For authentic Mexican carnitas tacos, I shred the meat up into small, bite-sized pieces, then crisp it up either on a pan on the stove, or on a baking sheet under the broiler.
For just a couple of servings, the pan works just fine. Add a little oil and heat on high. Then add the meat and allow it to brown without moving it for around 30 seconds per side.
When the meat is crisped up, you can pile it onto warmed corn tortillas, followed by diced onion or pico de gallo, cilantro and a spritz of lime.
That's all you need to make the perfect authentic carnitas tacos. You can use the leftovers to make these delicious carnitas burritos.
Adding the Coke might seem like a strange addition, but believe me – it's really integral to the outcome. The acid and sugar really give it a boost. Be sure to use the real cane sugar Mexican Coke, if you can find it. Do not use Coke Zero or Diet Coke as a substitute.
If you don't want to use Coke, or don't have any on hand, you can replace it with extra water and 2 tbsp cane sugar or light brown sugar.
FAQs
How are carnitas traditionally made?
This Mexican dish originates from the state of Michoacán in Western Mexico. Traditionally, authentic carnitas are made by braising or simmering the pork shoulder in lard or other oil until tender.
Why do you add orange juice and Coke to carnitas?
Orange juice helps to tenderize the meat which lends to the tender, fall apart meat. The Coke adds sugar to make this meat the best you have ever tasted.
Can I freeze the leftovers?
Absolutely! This recipe makes quite a bit. Wrap it up tight and freeze it for up to 4 months. When you are ready to reheat, thaw it completely and crisp it up on a sheet pan under the broiler or in a frying pan on the stove.
Related Posts:
😋 Looking for a quick dinner solution? 🥗😋
Want to get fresh, pre-portioned ingredients for delicious recipes delivered to your door? Add a few HelloFresh recipes to complete your weekly menu. Choose from 50 weekly menu curated by chefs! Sign up now to get 65% OFF your first box + your 1st box ships free.
Like it, Love it, Want Some More of It? Subscribe to our newsletter and follow us on Pinterest, Instagram and Facebook. We really love it when you save our recipes to Pinterest 😊
Have you made carnitas before? How does your recipe differ from ours? Tell us what you love about them in the comments.
Delicious and Authentic Carnitas Recipe
This authentic carnitas recipe can be used to make many different dishes, including these crispy pork carnitas tacos.
Print
Pin
Rate
Ingredients
For Carnitas
2.5

pound

boneless pork shoulder

cut into large chunks

2

teaspoons

salt

2

teaspoons

ground black pepper

2

teaspoons

ground cumin

1

teaspoon

dried oregano

2

cloves

garlic

smashed

1/2

cup

orange juice

or juice of 2 oranges

12

ounces

Coke

sugar cane version, if possible

2

bay leaves
For Tacos
6

4-inch

corn tortillas

1/2

onion

diced

1/2

cup

fresh cilantro

chopped

1

lime

cut into slices

1

jalapeno pepper

finely sliced (with or without seeds for spiciness)
Instructions
Rinse pork and pat dry with a paper towel. Salt and pepper the pork. Cut into large chunks.

In a 6-quart stock pot over medium-high heat, add 1 tbsp olive oil. When hot, add pork pieces and brown on all sides, about 3 minutes per side.

Add the remaining salt and pepper, cumin, oregano, garlic, orange juice, Coke and bay leaves to the pot.

Cover and simmer over low heat for 3-4 hours, turning the meat at least once during cooking, until the meat is tender (it falls apart when forked). Alternative: If cooking in a slow cooker, cover and cook on low heat 5-6 hours. In the pressure cooker, cook for 45 minutes on high pressure.

Remove pork from the braising liquid.
For the tacos
Heat 1/2 tbsp olive oil in a skillet over high heat. Add the shredded meat to the pan. Allow it to brown for at least 1 minute untouched. Flip the meat over and brown an additional 1 minute. Remove from heat.

Warm the corn tortillas according to the package.

Place an ample amount of carnitas in the center of each tortilla.

Sprinkle each taco with onions, cilantro, and jalapeno slices, to taste.
Nutrition
Calories:
315
kcal
|
Carbohydrates:
17
g
|
Protein:
44
g
|
Fat:
7
g
|
Saturated Fat:
2
g
|
Cholesterol:
113
mg
|
Sodium:
1276
mg
|
Potassium:
832
mg
|
Fiber:
2
g
|
Sugar:
8
g
|
Vitamin A:
165
IU
|
Vitamin C:
18
mg
|
Calcium:
48
mg
|
Iron:
3
mg
Other Comfort Food Recipes To Try
Click for Even More Recipes
Pin it for later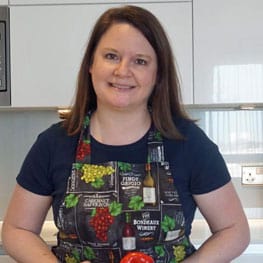 Laura is a home cook, with 25 years experience behind the stove, who spends an extraordinary amount of time in the kitchen cooking. She loves making new recipes and finding wonderful new things to eat, both at home or abroad. She spends a lot of time researching, crafting, and perfecting her recipes and currently has a cookbook in development.