This article has links to products and services we recommend, which we may make commission from.
If you're still making lasagna with jarred tomato sauce, you're missing out on the nuances of flavor that you'll only ever get from making your own sauce from scratch.
It's actually quite simple to make your own tomato sauce, so that's what we do in this recipe. You won't regret it! It adds so much more to the dish than canned sauce.
I used to make lasagna with whatever jarred sauce I had on hand, but after I made homemade meat sauce for the first time, I realized what I was missing out on and I've never bought jarred sauce again.
Any lasagna recipe will be greatly improved by the addition of homemade sauce, so we aren't going to let you get away with it in this recipe. It's still incredibly simple to make, so why not spend the extra 10 minutes it takes?
I perfected my tomato meat sauce very early when I started cooking. It's useful for so many meals. When I added it to my lasagna, this dish became irresistible. I would probably make it every week if it weren't for all the calories. It's a special meal dish now – when I make it, it always feels like a special day.
Homemade Lasagna Tips & Secrets (No Boil Pasta!)
One of the ways I save time (and hassle) in this recipe is using no-boil pasta sheets. You can easily find these lasagna sheets in the grocery. Just make sure it says No Boil or No Cook on the side of the box.
This means you don't have to precook the noodles, which can save quite a bit of time and hassle. They always end up sticking together for me, which is super annoying.
I also like to make my own ricotta. I know this sounds difficult or tedious, but it's pretty easy. It ensures that your ricotta is as fresh as possible, and you can adjust the seasoning to match your preference.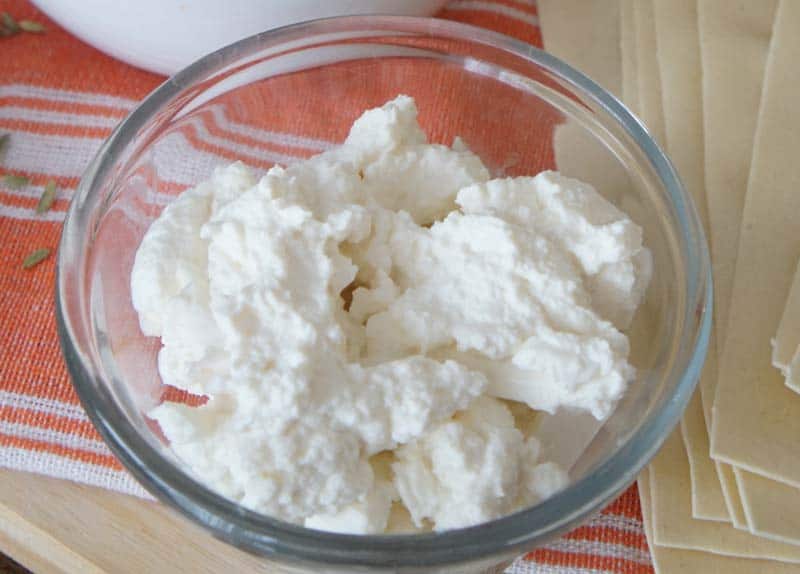 I always use a mixture of ⅔ ground beef and ⅓ sweet Italian sausage in my lasagna sauce. You can combine both in one pan to save on dishes. Spread the meat in an even layer and allow it to brown before stirring and chopping up. The browned meat gives so much additional flavor to the sauce.
How to Make Homemade Lasagna from Scratch
You start this recipe by making the tomato meat sauce. That's chopping onions, crushing garlic, browning the meat, and mixing in the spices.
It needs a little bit of time to simmer so the flavors can meld together, so you can either set it in the slow cooker on low for the entire day, or you can do it a day ahead.
I prefer to make my meat sauce on the stovetop, but if you work during the day and want to make this recipe as easy as possible, put all the sauce ingredients in the slow cooker, mix together, and cook on low for up to 8 hours, while you're at work.
On the stovetop, I leave it to simmer for anywhere from just a few minutes to 4 hours, depending on how much time I have. The longer it simmers, the better the flavors will be.
Once the sauce is ready, you just have to assemble the lasagna. Spray your pan to prevent sticking. Then start out with a small scoop of sauce on the bottom. Then add in your pasta sheets.
Scoop sauce over the noodles, crumble on a layer of ricotta, then top with a generous handful of mozzarella cheese. Follow this up with two more similar layers. For the top layer, I only add a bit of sauce on top of the last layer of pasta. No mozzarella on the top just yet.
Bake the lasagna on 375 for 30 minutes. Remove it then and sprinkle the remaining mozzarella cheese on top, then return it to the oven for an additional 20 minutes. This will keep the cheese from browning too much and becoming crusty.
When you take the lasagna out of the oven, it's best to give it a good 5 to 10 minutes to rest before serving it. This will allow all the ingredients to come together and solidify a bit more, so it's easier to slice and serve.
You can top it with a bit of shredded parmesan cheese for a final boost in flavor.
»  Want to make a fun lasagna variations? You'll love this taco lasagna recipe. For other great tomato and mozzarella recipes, try this Caprese Ravioli or our favorite Chicken Caprese pasta. Also try this Beef Ragu with Pappardelle recipe. It's divine.
Like this recipes? Be sure to save it on your Pinterest board for later!
Easy & Delicious Homemade Lasagna
This homemade lasagna recipe uses homemade sauce, ricotta, and loads of mozzarella for a soul satisfying dish.
Print
Pin
Rate
Total Time:
1
hour
10
minutes
Ingredients
For the sauce
2

12oz

cans chopped tomatoes

1

lb

ground beef

1/2

cup

Italian pork sausage meat

crumbled

1/4

cup

tomato puree

1/2

onion

chopped

1

clove

garlic

crushed

1

tsp

Italian herbs

1

tsp

salt

1/4

tsp

oregano

1/4

tsp

fennel seeds

1/4

tsp

ground black pepper

1/4

tsp

white sugar
For the lasagna
12

sheets

no-boil lasagna noodles

1

cup

ricotta cheese

2

cups

mozzarella cheese

grated
Instructions
Pre-heat the oven to 375F. Prepare a 13x9 baking dish by spraying it with cooking oil.

Put the tomatoes in a medium saucepan over low heat.

Brown the ground beef and sausage in a skillet over medium high heat. Do not stir it until a brown layer has formed on the bottom. Add the onion, garlic and herbs and mix together thoroughly until the meat is no longer pink.

Add the meat mixture to the saucepan with the tomatoes and add the white sugar. Allow to simmer for up to 4 hours.

Spread a few spoonfuls of sauce on the bottom of the baking dish. Add a layer of pasta sheets, making sure not to overlap. Cover the pasta with a large scoop of meat sauce (around ¼ of the total). Crumble or spread ¼ of the ricotta cheese on top. Sprinkle 1/4 of the mozzarella on top. Repeat with 3 more layers.

On the top layer, only spread on the remaining meat sauce. Reserve the remaining mozzarella. Cover the baking dish with tin foil and put it in the oven to bake for 30 minutes.

Remove the tin foil, top the lasagna with the remaining mozzarella cheese. Return to the oven for an additional 20 minutes.
(This post contains affiliate links. For more information, see our Disclosure page.)