This article has links to products that we may make commission from.
If you're still making lasagna with jarred tomato sauce, you're missing out on the nuances of flavor that you'll only ever get from making your own sauce from scratch.
»Looking for other great pasta recipes? You might like this Five-Cheese Penne al Forno or Chicken Fettuccine Alfredo.
It's actually quite simple to make your own tomato sauce, so that's what we do in this recipe. You won't regret it! It adds so much more to the dish than canned sauce.
I used to make lasagna with whatever jarred sauce I had on hand, but after I made homemade meat sauce for the first time, I realized what I was missing out on and I've never bought jarred sauce again.
On a side note, if you're looking for high-quality ground beef and meat, check out Butcher Box. It's a subscription meat box with 100% grass-fed beef, free-range, organic chicken, heritage breed pork, and wild caught Alaskan salmon. All the meat is humanely raised and never given antibiotics or added hormones ever.  See our full review of the service.
I'm super impressed with the quality of the meat from ButcherBox and won't go back to purchasing meat at the grocery. Plus, it's way easier to have it delivered to your door.
Any lasagna recipe will be greatly improved by the addition of homemade sauce, so we aren't going to let you get away with it in this recipe. It's still incredibly simple to make, so why not spend the extra 10 minutes it takes?
I perfected my tomato meat sauce very early when I started cooking. It's useful for so many meals. When I added it to my lasagna, this dish became irresistible.
I would probably make it every week if it weren't for all the calories. It's a special meal dish now – when I make it, it always feels like a special day.
Making Your Own Pasta
If you want to try your hand at making your own pasta, I can't recommend it enough. It's not difficult or scary to make your own pasta.
Here is an incredibly easy homemade pasta recipe that only requires you to mix flour with eggs and knead the dough.
2 large eggs
200g of 00 flour, plus extra for dusting
Make a mound out of the flour (reserving about 20 grams to use only if necessary). Swirl a whole in the middle of the mound with your fingers. Crack the eggs into the center of the mound.
Using a fork, beat the eggs gently, then start to incorporate the surrounding flour, slowly, until fully combined. Add the extra flour only if the dough is too sticky. Then knead the dough until it's smooth and elastic.
Rolling the Pasta
There are two ways to roll your fresh pasta. You can knead it and roll it out with a rolling pin. This takes a bit of muscle and time, but it's not difficult. Or you can use a pasta maker. There are three different types of pasta makers.
A manual pasta roller won't make the pasta for you; it'll just help with rolling out or cutting shapes. The second option is an attachment for the KitchenAid that rolls out the dough for you.
There is a third, even easier option. If you've ever wanted to make fresh pasta, but didn't want to do the work, you need this.
Check out this amazing electric pasta maker from Hamilton Beach. Fresh, homemade pasta is now as simple as adding ingredients and pushing a button. In 15 minutes or less, you can have pasta that's ready to boil. The pasta machine mixes, kneads and extrudes the pasta for you.
This electric pasta maker has 7 different pasta shapes: thick spaghetti, lasagna, spaghetti, angel hair, wide noodle, penne and fettuccine. It's pretty brilliant.
How much homemade pasta per person?
I recommend a 2 ounce serving of fresh pasta per person. Once the pasta is cooked it equals around 1 cup of pasta, which is a decent serving. The recipe above makes 4 servings.
Homemade Lasagna Tips & Secrets
If you don't have time to make homemade pasta sheets, you can save time by using no-boil pasta sheets. You can easily find these lasagna sheets in the grocery. Just make sure it says No Boil or No Cook on the side of the box.
This means you don't have to precook the pasta, which can save quite a bit of time and hassle. When I boil lasagna sheets, they always end up sticking together, which is super annoying.
I also like to make my own ricotta. I know this sounds difficult or tedious, but it's pretty easy. It ensures that your ricotta is as fresh as possible, and you can adjust the seasoning to match your preference.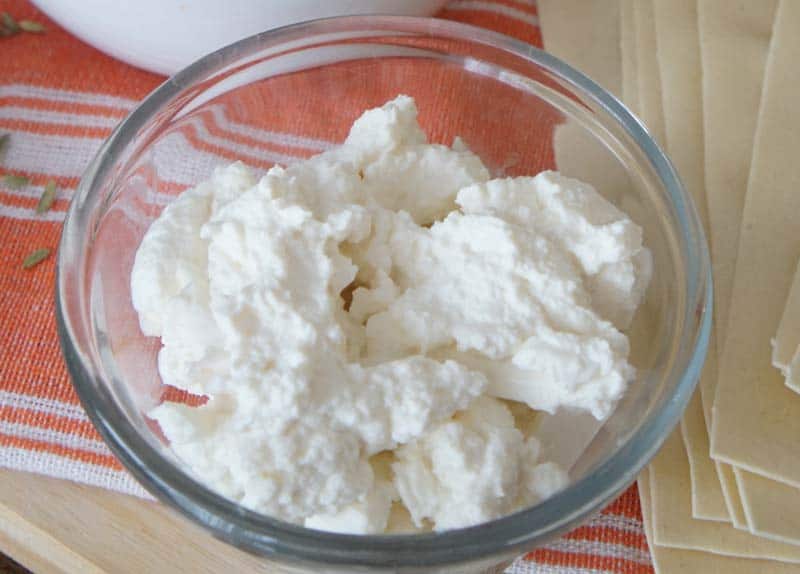 I always use a mixture of 2/3 ground beef and 1/3 sweet Italian sausage in my lasagna sauce. You can combine both in one pan to save on dishes.
Spread the meat in an even layer and allow it to brown before stirring and chopping up. The browned meat gives so much additional flavor to the sauce.
How to Make Homemade Lasagna from Scratch
You start this recipe by making the tomato meat sauce. That's chopping onions, crushing garlic, browning the meat, and mixing in the spices. It needs a little bit of time to simmer so the flavors can meld together, so you can either set it in the slow cooker on low for the entire day, or you can do it a day ahead.
I prefer to make my meat sauce on the stovetop, but if you work during the day and want to make this recipe as easy as possible, put all the sauce ingredients in the slow cooker, mix together, and cook on low for up to 8 hours, while you're at work.
On the stovetop, I leave it to simmer for anywhere from just a few minutes to 4 hours, depending on how much time I have. The longer it simmers, the better the flavors will be.
Once the sauce is ready, you just have to assemble the lasagna. Spray your pan to prevent sticking. Then start out with a small scoop of sauce on the bottom. Then add in your pasta sheets.
Scoop sauce over the noodles, crumble on a layer of ricotta, then top with a generous handful of mozzarella cheese. Follow this up with two more similar layers. For the top layer, I only add a bit of sauce on top of the last layer of pasta. No mozzarella on the top just yet.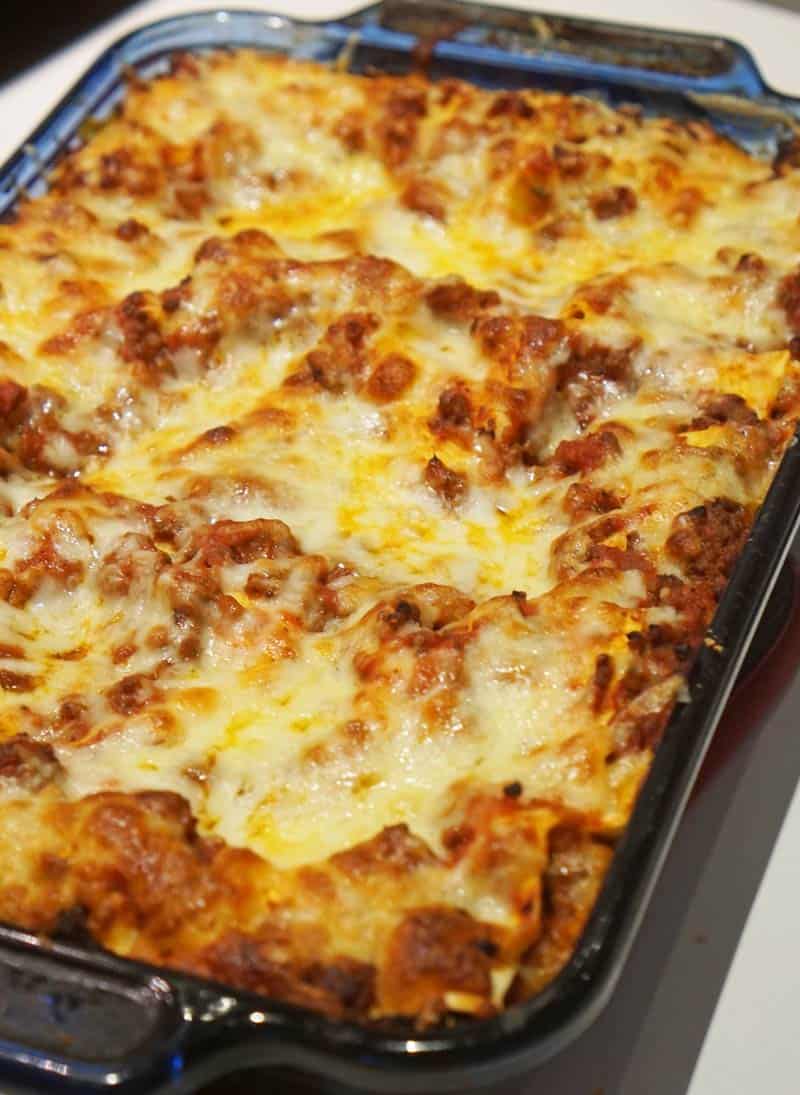 Bake the lasagna on 375 for 30 minutes. Remove it and sprinkle the remaining mozzarella cheese on top, then return it to the oven for an additional 20 minutes. This will keep the cheese from browning too much and becoming crusty.
When you take the lasagna out of the oven, it's best to give it a good 5 to 10 minutes to rest before serving it. This will allow all the ingredients to come together and solidify a bit more, so it's easier to slice and serve.
You can top it with a bit of shredded Parmesan cheese for a final boost in flavor.
» Want to make a fun lasagna variations? You'll love this taco lasagna recipe. For other great tomato and mozzarella recipes, try this Caprese Ravioli or our favorite Chicken Caprese pasta. Also try this Beef Ragu with Pappardelle recipe. It's divine.
Like this recipe? We'd love for you to share it on your Pinterest board! Click to follow our Pinterest boards so you can find all our recipes!
Instagram it! If you try this recipe please tag #AFoodLoversKitchen on Instagram or Twitter. We love to see your photos of our recipes! Also follow us on Instagram, Twitter and Facebook to keep up on what we're cooking up.
Easy & Delicious Homemade Lasagna
This homemade lasagna recipe uses homemade sauce, ricotta, and loads of mozzarella for a soul satisfying dish.
Print
Pin
Rate
Ingredients
For the sauce
2

14 oz

cans chopped tomatoes

1

lb

ground beef

1/2

cup

Italian pork sausage meat

crumbled

1/4

cup

tomato puree

1/2

onion

chopped

1

clove

garlic

crushed

1

tsp

Italian herbs

1

tsp

salt

1/4

tsp

oregano

1/4

tsp

fennel seeds

1/4

tsp

ground black pepper

1/4

tsp

white sugar
For Homemade Pasta Sheets (optional)
For the lasagna
12

sheets

no-boil lasagna noodles

can be substituted with homemade pasta sheets

1

cup

ricotta cheese

2

cups

mozzarella cheese

grated
Instructions
Pre-heat the oven to 375F. Prepare a 13×9 baking dish by spraying it with cooking oil.
For the tomato sauce
Put the tomatoes in a medium saucepan over low heat.

Brown the ground beef and sausage in a skillet over medium high heat. Do not stir it until a brown layer has formed on the bottom. Add the onion, garlic and herbs and mix together thoroughly until the meat is no longer pink.

Add the meat mixture to the saucepan with the tomatoes and add the white sugar. Allow to simmer for up to 4 hours.
For the homemade lasagna sheets (optional)
Make a mound out of the flour (reserving about 20 grams to use only if necessary). Swirl a whole in the middle of the mound with your fingers. Crack the eggs into the center of the mound. 

Using a fork, beat the eggs gently, then start to incorporate the surrounding flour, slowly, until fully combined. Add the extra flour only if the dough is too sticky. Then knead the dough until it's smooth and elastic.

Roll out the dough by hand or with a pasta roller. Cut long thin strips or pass the dough through a pasta extruder.

Cook the pasta at a low boil for approximately 3-5 minutes, to your desired level of doneness.
To assemble the lasagna
Spread a few spoonfuls of sauce on the bottom of the baking dish. Add a layer of pasta sheets, making sure not to overlap. Cover the pasta with a large scoop of meat sauce (around ¼ of the total). Crumble or spread ¼ of the ricotta cheese on top. Sprinkle 1/4 of the mozzarella on top. Repeat with 3 more layers.

On the top layer, only spread on the remaining meat sauce. Reserve the remaining mozzarella. Cover the baking dish with tin foil and put it in the oven to bake for 30 minutes.

Remove the tin foil, top the lasagna with the remaining mozzarella cheese. Return to the oven for an additional 20 minutes.
Notes
Fresh homemade pasta sheets don't need to be precooked. Neither do "no boil" lasagna sheets.
Some people prefer to substitute the ricotta with cottage cheese or a bechamel sauce. That's fine, if it's your preference.
Nutrition
Calories:
651
kcal
|
Carbohydrates:
46
g
|
Protein:
36
g
|
Fat:
35
g
|
Saturated Fat:
16
g
|
Cholesterol:
118
mg
|
Sodium:
834
mg
|
Potassium:
508
mg
|
Fiber:
2
g
|
Sugar:
3
g
|
Vitamin A:
505
IU
|
Vitamin C:
2
mg
|
Calcium:
310
mg
|
Iron:
3
mg
Pin it for later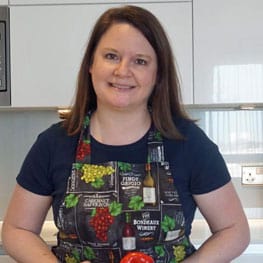 Laura is a home cook who loves making new recipes and finding new favorite things to eat, whether at home or abroad. She also runs a popular travel blog and spends a lot of her time traveling for food.