Ricotta is a smooth, soft cow's milk cheese made from whey and milk cream, with a fresh flavor, creamy texture and sweet tang. Use this quick recipe to make your own homemade ricotta.
Homemade Ricotta is easier to make than you might think. If you're used to buying it in the store, there are many reasons why making ricotta at home is a better option.
There are only three ingredients in this easy ricotta recipe. Milk, salt and lemon juice or vinegar. You can be sure there aren't any additives, like store bought cheese.
It takes about an hour to make, but it's not all hands-on, as you need to drain the cheese curds once they come out of the pan. If you have milk, you can have fresh ricotta. I've often found that the grocery doesn't have ricotta when I need it. Plus it can be rather expensive.
For the price of a jug of milk, you can have a cup of ricotta to use for your recipe, or as an impromptu appetizer when guests come over.
How to Make Ricotta Cheese at Home
As I mentioned, you only need three ingredients. Make sure the milk you use is whole fat milk and not organic or ultra-pasteurized.The curds won't form properly with this type of milk and you'll be disappointed with the outcome.
You'll need a large saucepan, a slotted spoon, a colander, and cheesecloth for draining. It's also good to have a thermometer for determining the temperature of the milk.
I love this Thermapen thermometer, it's an instant-read thermometer with great accuracy. If you just wedge it open a little, you can rest it on the side of the saucepan to continuously measure the temp.
Heat the milk in the saucepan over medium heat. You can add the salt at this point and taste the milk to see if it's to your desired salt level. Don't over salt it. You can always add more later.
Once it reaches 180 degrees F, add the lemon juice or vinegar. A note about the acid. You can decide which acid to use. I tend to use lemon for dessert-based ricotta dishes because it blends very well with dessert flavors. I use vinegar for savory dishes, like my homemade lasagna.
Using the vinegar version with desserts might be a bit off putting. Plain white vinegar is fine. You'll notice that the curds begin to form right away. If they don't, it's possible you didn't get the milk to a high enough temperature.
You can turn the heat up a bit and see if the curds begin to form at a higher heat. You can also add a bit more acid.
You can gently stir the curds to break them up, but be careful not to over do it. The curds can break back down into the whey and you'll have nothing left. Once the bulk of the curds have formed and the whey is nearly clear, turn off the heat.
If you're not in a hurry, you can leave the ricotta curds on the stove top for 20 minutes or so to rest. But this isn't required. The curds can be removed with a slotted spoon into a colander lined with cheesecloth.
The curds will need to drain for at least 20 minutes to reach a cheese-like consistency. You can decide if you want a wetter or dryer ricotta. If you prefer it really dry, leave it for 40-60 minutes, until it's the way you want it.
How to Store Homemade Ricotta
It's best to serve your homemade ricotta right away. The fresher the better! But you can also store your fresh ricotta in a container in the refrigerator for about 3-4 days. You can't freeze it.
If you try freezing it, it will come out watery and grainy when it's thawed. I don't like the texture, personally. The taste is fine.
How to Use Ricotta Cheese
If you're wondering what to do with your ricotta once you've made it, there are dozens of uses!
My favorite way to use it is in lasagna, but that's not the only dish that calls for fresh ricotta. I also love to make Ricotta Gnocchi out of it. It's a great substitute for potatoes and makes light and fluffy gnocchi.
You can spread the ricotta on tea sandwiches, cucumbers or crackers. Try spreading it on delicious fluffy scones.
Other recipes you might like
Like this recipe? We'd love for you to share it on your Pinterest board! Click to follow our Pinterest boards so you can find all our recipes!
Instagram it! If you try this recipe please tag #AFoodLoversKitchen on Instagram or Twitter. We love to see your photos of our recipes! Also follow us on Instagram, Twitter and Facebook to keep up on what we're cooking up.
Homemade Ricotta Recipe
There are only three ingredients in this easy ricotta recipe. It's a great alternative to store-bought ricotta.

Print
Pin
Rate
Ingredients
1

quart

whole milk

do not use ultra-pasteurized

1 1/2

tbsp

lemon juice or white vinegar

1/4

tsp

salt

to taste
Instructions
Line a colander with cheesecloth and set aside.

Pour the milk into a saucepan. Add the salt to taste. Heat the milk over medium heat until 180 degrees F.

Add the lemon juice or vinegar and stir gently to combine. Allow the curds to form (about 5 minutes). Remove from heat.

Use a slotted spoon to gently remove the curds and place them in the cheesecloth lined colander.

Allow to drain for 20-60 minutes, until your desired consistency is reached.
Nutrition
Calories:
97
kcal
|
Carbohydrates:
8
g
|
Protein:
5
g
|
Fat:
5
g
|
Saturated Fat:
3
g
|
Cholesterol:
16
mg
|
Sodium:
165
mg
|
Potassium:
208
mg
|
Sugar:
8
g
|
Vitamin A:
256
IU
|
Calcium:
178
mg
|
Iron:
1
mg
Pin it for later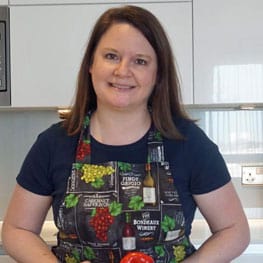 Laura is a home cook who loves making new recipes and finding new favorite things to eat, whether at home or abroad. She also runs a popular travel blog and spends a lot of her time traveling for food.