If you're still making spaghetti with jarred tomato sauce, you're missing out on the nuances of flavor that you'll only ever get from making your own sauce from scratch.
You might be thinking that it's just so much easier to open a jar of sauce, but if you care at all about what goes into your meal, you might want to start making your own tomato sauce.
Not only is this recipe really easy to make, with only a few basic ingredients, it will allow you to do away with the extra artificial ingredients that are often found in jarred tomato sauce, and to cut back on the amount of sugar too.
I perfected my tomato meat sauce very early when I started cooking. It's useful for so many meals. It's great on spaghetti noodles or spiralized vegetables like zucchini. Add a sprinkle of parmesan cheese on the top and you will impress anyone with your cooking skills.
When I added it to my lasagna, the dish became irresistible. It's also really great as baked ziti. You really can use this sauce with any type of pasta you want.
How to Make Homemade Spaghetti Sauce
I always use a mixture of ⅔ ground beef and ⅓ sweet Italian sausage in my spaghetti sauce. You can combine both in one pan to save on dishes. Spread the meat in an even layer and allow it to brown before stirring and chopping up. The browned meat gives so much additional flavor to the sauce.
Once the meat is browned on one side, add the onions and spices (but not the sugar, just yet) and stir it all up. Give it another five minutes to meld together the flavors, then combine it with the tomatoes in a saucepan.
I prefer to make my sauce on the stovetop, but if you want to make this recipe as easy as possible, put all the sauce ingredients in the slow cooker, mix together, and cook on low for up to 8 hours, while you're at work.
On the stovetop, I leave it to simmer for anywhere from just a few minutes to 4 hours, depending on how much time I have. The longer it simmers, the better the flavors will be.
Once the sauce is ready, you just have to combine it with your pasta and serve. Some people think you should spoon the sauce over the top of the pasta, but I don't think that makes the best plate of pasta. It's best to combine them in the saucepan and allow the sauce to stick to the pasta before serving.
You can use a microplaner/shredder to shave a bit of shredded Parmesan cheese for a final boost in flavor.
Like this recipes? Be sure to save it on your Pinterest board for later!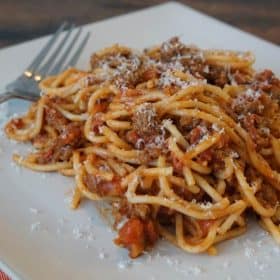 Homemade Spaghetti Sauce Recipe
You'll never use store-bought spaghetti sauce again after you learn how easy this sauce is to make and how incredibly good it is.
Print
Pin
Rate
Ingredients
2

12oz cans chopped tomatoes

1

lb

ground beef

1/2

cup

Italian pork sausage meat

crumbled

1/4

cup

tomato puree

1/2

onion

chopped

1

clove

garlic

crushed

1

tsp

Italian herbs

1

tsp

salt

1/4

tsp

oregano

1/4

tsp

fennel seeds

1/4

tsp

ground black pepper

1/4

tsp

white sugar
Instructions
Put the tomatoes in a medium saucepan over low heat.

Brown the ground beef and sausage in a skillet over medium high heat. Do not stir it until a brown layer has formed on the bottom.

Add the onion, garlic and herbs and mix together thoroughly until the meat is thoroughly cooked.

Add the meat mixture to the saucepan with the tomatoes. Add the white sugar and stir it all together.

Allow to simmer for up to 4 hours.
Notes
Time: 30 minutes (up to 4 hours)
(This post contains affiliate links. For more information, see our Disclosure page.)