This Oven-Roasted Tri Tip steak is an easy-to-make, low-cost, and super flavorful alternative to expensive steak cuts like filet mignon, but it's still amazingly tender and tasty.
» You might like this Oven-Baked Tomahawk Pork Chop and this Honey Sriracha Brussels Sprouts recipe.
🍗🍗 For a limited time, new members to Butcherbox will receive 2 LBS OF CHICKEN BREAST IN EVERY BOX for a year! That's a huge savings, don't miss out SIGN UP HERE
Tri Tip steak is one of my favorite cuts of beef. It is cut from the bottom sirloin and can be found in most groceries these days. It was made popular in Santa Maria, California, in the 1950s when the Santa Maria rub was also created.
The cut of meat alone is very tender and is best when cooked at high heat and served at medium rare. It's not the type of roast that is served fork tender or falling apart. It's not a "shredded beef" type of roast.
The best ways to cook a tri tip roast are either on the grill or in the oven. If you have access to a grill, definitely try it both ways to see which is your preferred method.
You know what's perfect with this steak? A classic wedge salad.
Ingredients You'll Need
2 1/2 pound tri tip roast
Salt, ground black pepper and garlic powder
Yep, that's all you need! It's a super simple, but very delicious way to season tri tip that you'll roast in the oven.
Preparing the Tri-Tip
You might notice when purchasing Tri Tip that it can be prepared in a few different ways by the butcher. Generally, the roast has a fat cap on one side, which I think it ideal for oven-roasting.
You can also find tri tip to have a layer of fat around the entire cut. Or it can also come with no fat at all. If you have your choice, ask for the fat on one side.
If there's fat on both sides of the roast you've purchased, that's okay. You can trim it off of one side. You'll also noticed that there is a silver membrane along that side of the meat that should also be removed. It's a bit tough when cooked and makes the meat less tender.
Santa Maria Style Rub
I firmly believe that not tri tip roast is complete without the Santa Maria rub. It's super easy to make. In fact, it's just three ingredients: salt, pepper and garlic powder. Hard to believe that the original rub that has become so famous includes just 3 ingredients, but it's true.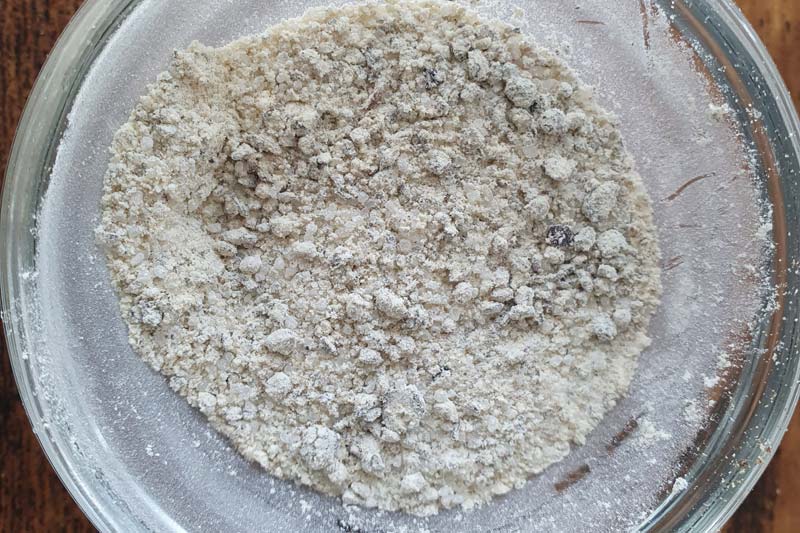 Mix together these spices and rub it liberally all over the roast. There may be some leftover if you have a smaller roast.
Remember to sprinkle the rub over the roast, then use your hands to spread it, rather than putting your hand directly into the bowl of rub. Then you can save whatever is leftover for another use.
You don't have to allow it to marinate or sit with the rub for a long time. The joy of the rub is that when it's cooked at a high temperature, it forms a sort of crust on the outside of the meat that is so delicious.
You might also want to try our other dry rub. It has more varied spices, if you want something more robust than this one.
How to Oven-Roast a Tri Tip
Tri-tip roasts range from 1 1/2 pounds to 4 pounds. A 1 1/2 lb roast will serve around 3-4 people, depending on appetite. I try to buy a 2 1/2 pound roast so there's some left overs.
The cooking time will vary based on the size of the roast. Plan on about 10 minutes per pound. The best way to make sure the meat is cooked to your preference is to use a thermometer to test the meat.
If you have a digital oven thermometer that can be left in the meat while it cooks, that's the best way to ensure it doesn't over cook.
For medium-rare you want 135 degrees F. For medium it's 145 degrees. Be sure to take into account the 5-10 degrees from carryover cooking (the amount the temp rises during resting). I don't recommend going over 145 degrees for this cut, but if you like well done meat, that's up to you.
I always find that it rises 10 degrees after removing from the oven, so I take it out at 125.
I prefer medium rare for tri tip. It needs to reach 130-135 degrees F for medium rare. 140 degrees for medium.
How to Grill a Tri Tip
To cook it on a grill, just preheat the grill to 425 degrees F and cook on both sides for roughly 10 minutes per side, depending on the thickness of the roast.
An instant-read thermometer inserted into the center should read 125-130 degrees F (50 degrees C). Let the meat rest for at least 10 minutes before slicing. This allows the meat to come up to the proper temperature.
What to Serve Tri Tip With
We find that this Tri Tip doesn't require any sauce, because we love the rub so much, but if you prefer a sauce, you can use our favorite homemade BBQ sauce or any BBQ sauce you like. It also tastes great with some chimichurri.
Related Posts:
Like this recipe? We'd love for you to share it on your Pinterest board! Click to follow our Pinterest boards so you can find all our recipes!
Instagram it! If you try this recipe please tag #AFoodLoversKitchen on Instagram or Twitter. We love to see your photos of our recipes! Also follow us on Instagram, Twitter and Facebook to keep up on what we're cooking up.
Oven-Roasted Tri Tip Steak
Oven-Roasted Tri Tip Steak is an economical cut that's flavorful and tender
Print
Pin
Rate
Ingredients
2 1/2

pound

tri tip roast

1

tablespoon

salt

1

tablespoon

ground pepper

1

tablespoon

garlic powder
Instructions
Preheat oven to 450 degrees F (230 degrees C). Use a roasting pan with a rack on the bottom.

Rub the roast liberally with the Santa Maria rub. Place meat in the prepared roasting pan.

Roast in the preheated oven for 15 minutes. Reduce oven temperature to 350 degrees F (175 degrees C) and continue roasting meat for another 10 minutes, until an instant-read thermometer inserted into the center reads 125 degrees F (for medium rare). Let rest for 10 minutes before thinly slicing against the grain.
Notes
Make sure you test the temperature of the meat to cook to your preferred temperature. Don't rely on time to cook a perfect roast.
Nutrition
Calories:
457
kcal
|
Carbohydrates:
3
g
|
Protein:
59
g
|
Fat:
22
g
|
Saturated Fat:
8
g
|
Cholesterol:
184
mg
|
Sodium:
1896
mg
|
Potassium:
959
mg
|
Fiber:
1
g
|
Sugar:
1
g
|
Calcium:
75
mg
|
Iron:
5
mg
🥧 If you're interested in more great recipes, I share all my favorite Instant Pot recipes over at A Pressure Cooker Kitchen, air fryer recipes at Air Fry Anytime, and cocktails and drinks at Savored Sips. Check it out today!
Pin it for later!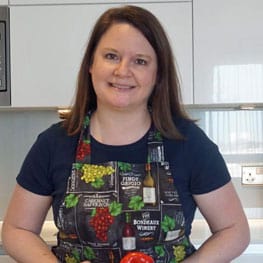 Laura is a home cook who loves making new recipes and finding new favorite things to eat, whether at home or abroad. She also runs a popular travel blog and spends a lot of her time traveling for food.