You will surely wow your guests with this beautiful Shaved Asparagus Pesto Salad, perfect for any spring meal.
»You might like and
When asparagus season comes around, I'm truly ready for some vibrant, spring dishes. But I quickly tire of the same old asparagus recipes, no matter how much I enjoy steamed and grilled asparagus.
This shaved asparagus recipe allows you to enjoy asparagus in a completely different way. It's served raw because the shavings are thin enough to make it not only edible but crunchy and refreshing.
I learned to shave asparagus like this from a friend who was hosting an asparagus party one spring, many years ago. She had come up with dozens of different ways to serve this spring favorite.
The shiny, delicate ribbons of asparagus she tossed with a light vinaigrette were so pretty and unique that I couldn't wait to try making them myself. Turns out they're incredibly easy to make and you can toss them with just about any kind of dressing you're craving.
Ingredients You'll Need
Asparagus – 1 bundle of large asparagus stocks. Large size is better to make ribbons. You won't get much out of a small stock.
Basil pesto – Store bought or homemade.
Cherry tomatoes – Cut in half or quartered.
Feta cheese – Feta is the perfect salty, crumbly texture. You could use goat cheese or shaved parmesan instead.
Lemon – Add a spritz of lemon on the top for a little extra acid.
Salt – to taste.
How to Make Asparagus Ribbons
All you need to make asparagus ribbons are some thick stocks of asparagus and either a potato peeler or a mandolin.
Don't bother with the skinny stocks of asparagus. They aren't thick enough to make a pretty ribbon out of, and it will take forever to compile a small salad worth. The thicker stocks work perfectly, especially with a mandolin.
Make sure you cut the tops and bottoms off before shaving them. The tough bottom of the stock doesn't make for good crunchiness. It's just tough and stringy. The tops can be saved and used for something else. I think they work particularly well in a spring frittata or omelette.
This process is very similar to spiralizing, though you can't spiralize asparagus, sadly. But check out our recipe for spiralized zucchini with pesto. It's delicious!
How to Serve Shaved Asparagus
My favorite way to serve shaved asparagus is mixed with a bit of basil pesto and sliced cherry tomatoes. You can even add some goat cheese crumbles for a little extra punch. You can make your own pesto, or just buy some at the store.
Lightly toss the ribbons in the pesto, add it to the plate and top with tomatoes and cheese. I also like to add a spritz of lemon on the top for a little extra acid.
It's as easy as that. If you're serving this dish at a party, be aware that the ribbons begin to wilt a bit about 10 minutes after they've been mixed with the dressing. So plan to serve it right away, or alternatively dress it at the table.
The heavenly smell of fresh pesto and the wispy strands of asparagus are a perfect addition to an Easter meal or as a starter for a dinner party. Your guests will be wowed. Not many people have ever tried shaved asparagus.
If you end up having a lot of asparagus thanks to a good spring crop, be sure to read our guide on how to freeze asparagus.
More On Asparagus
Frequently Asked Questions
What does raw asparagus taste like?
You will love the taste of shaved asparagus. The shavings of raw asparagus are thin enough to make it not only edible but crunchy and refreshing. It has a very mild fresh flavor.
How do I know if the asparagus is fresh?
You want to look for bunches that are a rich green color. The stalks should be firm and crisp and the ends should be tight. When asparagus is old you will notice that the tip is mushy to the touch.
How do I trim asparagus so it isn't woody at the end?
Asparagus can be woody and stringy at the base end. There is a simple way to trim them to avoid this unpleasant texture. If you bend a piece of asparagus it will naturally break where the tough part ends. You can also try to cut into it with a knife. The tough parts won't cut as easily. Just keep cutting bits off until your knife goes in easily, you know you got all of the woody tough part off.
Related Posts
Like it, Love it, Want Some More of It? Subscribe to our newsletter and follow us on Pinterest, Instagram and Facebook. We really love it when you save our recipes to Pinterest 😊
Shaved Asparagus Pesto Salad
You will surely wow your guests with this beautiful pesto asparagus ribbon salad, perfect for any spring meal.
Print
Pin
Rate
Ingredients
1

bundle thick stock asparagus

roughly 1 pound

2

tablespoons

(

30

ml

)

basil pesto

prepared or homemade

1

cup

(

149

g

)

cherry tomatoes

cut into half or quarters, depends on size and preference

1/4

cup

(

38

g

)

feta cheese crumbled

2

lemon wedges

Salt to taste
Instructions
Cut the tops and bottoms off the asparagus stocks. Using a mandoline or potato peeler, cut the asparagus into ribbons lengthwise. Place the ribbons in a large bowl.

Gently stir in the basil pesto to coat the ribbons without breaking them.

Add the tomatoes and feta cheese and toss to incorporate them.

Spritz the lemon evenly over the salad. Add salt to taste.

Serve immediately to avoid wilting.
Nutrition
Calories:
64
kcal
|
Carbohydrates:
3
g
|
Protein:
2
g
|
Fat:
5
g
|
Saturated Fat:
2
g
|
Cholesterol:
9
mg
|
Sodium:
179
mg
|
Potassium:
94
mg
|
Fiber:
1
g
|
Sugar:
2
g
|
Vitamin A:
403
IU
|
Vitamin C:
13
mg
|
Calcium:
62
mg
|
Iron:
1
mg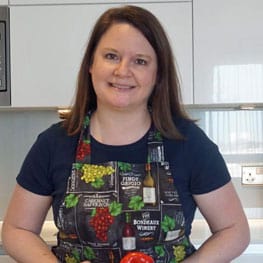 Laura is a home cook, with 25 years experience behind the stove, who spends an extraordinary amount of time in the kitchen cooking. She loves making new recipes and finding wonderful new things to eat, both at home or abroad. She spends a lot of time researching, crafting, and perfecting her recipes and currently has a cookbook in development.