I had my eye on a spiralizer for a long time before I finally got one. Being able to make "noodles" from vegetables was the motivating factor for me. You might want to replace carb-heavy pasta with vegetables, or start incorporating more vegetables into your diet. Whatever reason you have for looking into the best spiralizer, it's a fantastic tool to add to your kitchen arsenal.
I love pasta, but an effort to reduce carbs in my diet led me to stop eating pasta dishes all together, until I got a spiralizer. This handy and versatile gadget makes it easy to create delicious, nutritious dishes from farm-fresh favorites, like zucchini, cucumbers, apples, pears, and sweet potatoes.
You may think spiral slicers are a new trendy gadget or a passing phase, but spiralizers have actually been around for a long time. In fact, one of the top spiralizers on Amazon, the OXO Good Grips 3-Blade Tabletop Spiralizer has been on the market for more than 15 years.
This popular kitchen gadget has earned a loyal following of happy customers who rave about it. I mean, it can't get any easier than the process shown below.
Let's take a closer look at what you can expect when you purchase the OXO Good Grips Tabletop Spiralizer (the one pictured above).
Here is the spiralizer in action in this video by OXO:
OXO Tabletop Spiralizer Review
When deciding which spiralizer to purchase, you'll want to consider a few top priorities: versatile, easy to use, easy to store, easy to clean. Below you'll see our overview of these top features, plus more.
Versatile
No one has space in their kitchen for a one-hit wonder. You need a gadget that can at least do double duty.
The OXO isn't just a spiralizer. It has three different and tough stainless steel blades: a spaghetti-cut blade that makes 1/8″, a fettuccine-cut blade for 1/4″ noodles, a ribbon-cut blade that makes thin flat spirals.
If you're wondering what you're going to do with the extra blades, it includes built-in storage bin to hold the blades when not in use.
Easy to Use
Easy to use starts from the moment you take it out of the box. It has convenient suction cups on the bottom to help stabilize it while in use. It didn't slide or move around when placed on granite, glass, laminate, or wood surfaces.
The unit is hand operated with a manual turn-crank, so you don't have to worry about replacing batteries or having an electrical outlet nearby while operating.
The sharp blades make quick work of tough vegetables, like sweet potatoes and Daikon radish. All you have to do is attach the vegetable in the grip and turn the handle.
Even with heavy use, the blades stay sharp and cutting is easy.
Easy to Store
I have a very small kitchen with little to no room to store extra gadgets. Since this is a full-size spiralizer, it is larger than a small handheld one. Here are the measurements: 6.25 x 9.75 x 8.25 in. It's not small (though it is smaller than top competitors).
It will take up a bit of space, so keep that in mind. If this is a deal breaker for you, check out the OXO Spiral Vegetable Slicer instead. This lower-cost, hand-held device is much more compact (3.1" x 3.1" x 3.6) than the tabletop model.
I use the OXO handheld spiral slicer whenever I'm just making one or two servings at a time because it's so simple. It's a bit more challenging to use so it's not a great option for large quantities.
Easy to Clean
When you are finished using the slicer, a quick rinse in hot, soapy water is all you need as far as clean up. For best results, rinse the device and blade as soon as you are done, because dried-on food is more difficult to remove and some vegetables can stain the plastic.
Cons
Unfortunately, no product is perfect for everyone and the OXO is no exception.
One notable issue with this device is it does not include a catch tray for juice or the sliced veggies. This can get a bit messy, especially when working with colorful vegetables, like carrots or beets. You can work around this by placing the unit on a covered, raised surface, such as a wood cutting board, and adding a plate underneath to catch the noodles as they are sliced.
When you are finished, a quick clean up of any juice with a damp cloth or paper towel will prevent staining.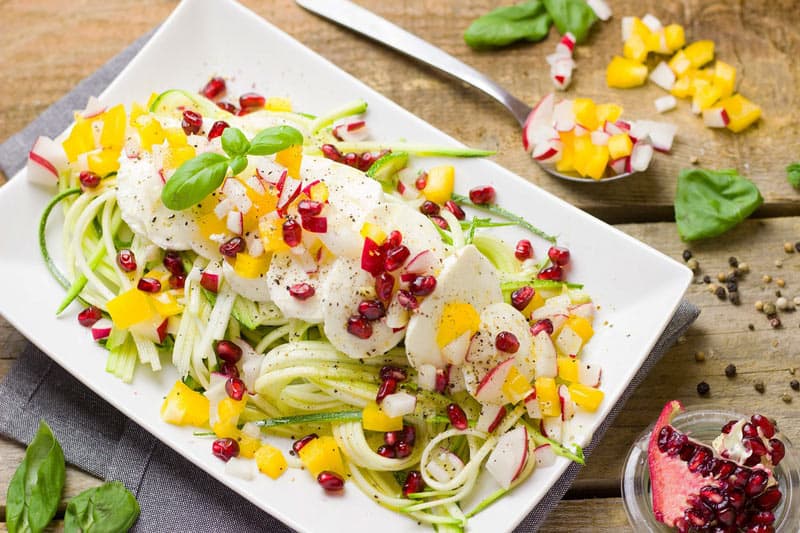 Best Vegetables to Spiralize
I'm sure you've seen many recipes using the most popular vegetables for spiralizing, like carrots and zucchini, but there are many other great vegetables and fruits you can use in your recipes.
The best candidates are at least 2 inches in diameter, but you can get creative, too. Here are a few of my favorite things to spiralize. I make salad, soup, pasta, and appetizers with these noodles. They taste wonderful and look even better!
Apple
Beet
Bell Pepper
Broccoli
Butternut Squash
Cabbage
Celeriac
Sweet Potato
Cucumber
Bottom Line
It's not hard to see why this is one of the most popular spiral slicers. For the price, it has incredible value. It carries a mid-level price tag among spiral slicers, but it is a lot more versatile and easy to use than some lower priced units, such as the OXO Spiral Vegetable Slicer.
Even if you don't love the idea of adding another kitchen gadget to your collection, this one is definitely worth considering if you are committed to incorporating more healthy fruits and vegetables into your diet.
It is so fast and easy to use; you'll find yourself reaching for it over and over again. You can check it out for yourself here.
Note: If you have Amazon Prime, this item qualifies for free two day shipping. Disclaimer: This post contains affiliate links. See our Disclaimer page for more information.)
Pin it for later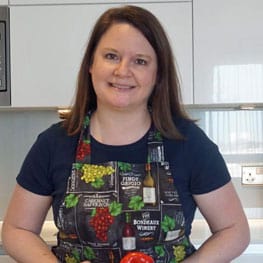 Laura is a home cook who loves making new recipes and finding new favorite things to eat, whether at home or abroad. She also runs a popular travel blog and spends a lot of her time traveling for food.