These BBQ Pork Belly slices come out of the oven crisp and tender, with perfectly rendered fat and charred ends. They're an easy-to-make alternative to slow-roasted pork belly, with all the finger-licking satisfaction, but no long hours in the oven.
🥳🥩New customers to ButcherBox get a FREE bundle including 2 lbs of ground beef, 3 lbs of chicken wings, and a 2.8 lb rack of St. Louis ribs. Offer ends March 19th. SIGN UP HERE
» You will love these 9 Delicious Pork Belly Recipes!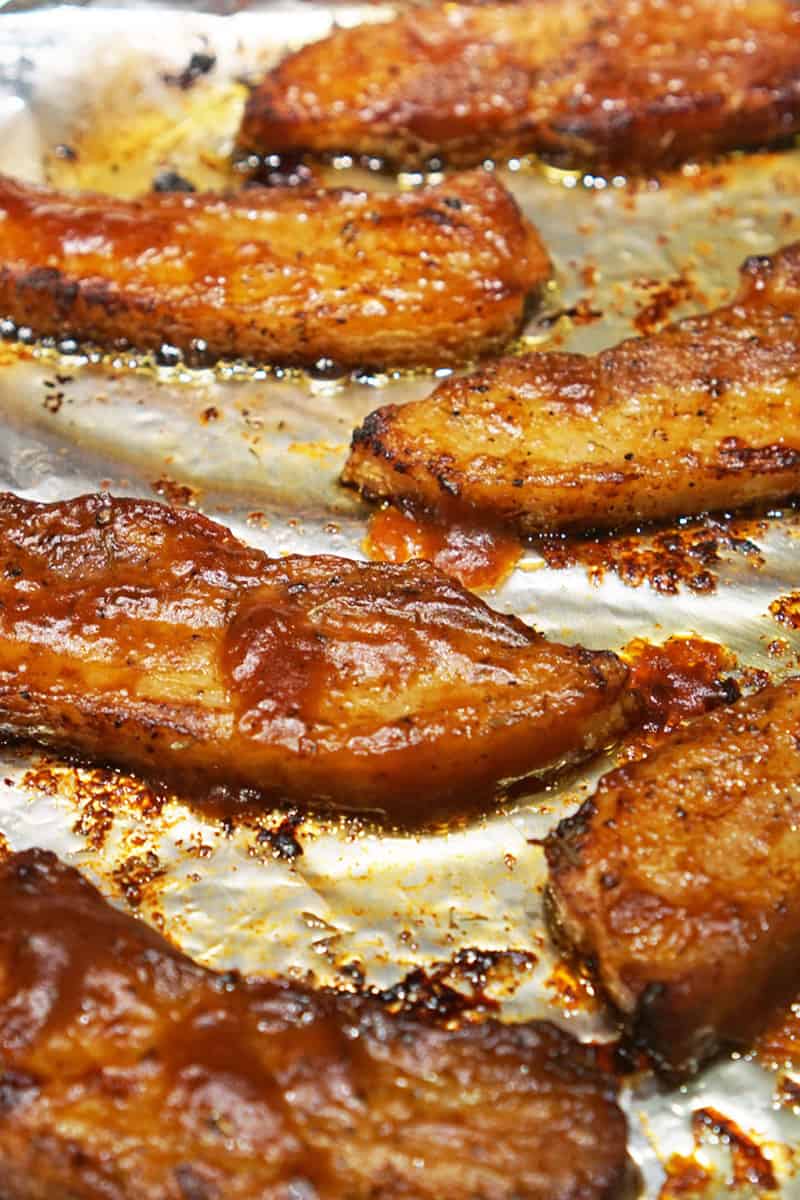 I have always had a love affair with pork belly, but it takes a long time to roast pork belly in the slow cooker or in the oven. That's why I've switched to baking pork belly slices instead. They're so much smaller, so they cook super fast, but still have that delicious flavor and texture of pork belly. Click through this Pork Belly Slices preview to see how it's done.
I cook pork belly at home all the time now, without all the hassle and long hours of oven roasting. Who knew pork belly strips were so easy to make? If I'd known, I would have started this trend long ago. Since I make pulled pork quite often, this is a great alternative to mix up the weekly menu.
These little strips of pork cook up quickly, without the need for slow roasting. They still have all the crunchy, fatty goodness of a pork belly roast, but are way easier to make.
If you're intimidated by making a whole pork belly roast or don't need that much meat, I'd suggest trying these slices instead. They can be used on top of bowls (we love this pork belly bowl at our house), or just to serve with your favorite side.
If you're a raving pork belly fan, like me, you'll also want to check out these pork belly tacos. I often just serve pork belly strips on their own, but when I want to mix it up, I make tacos or pork belly buns.
We've also make pork belly bites in the air fryer. OMG. They are off the charts good.
Ingredients You'll Need
We want to keep this recipe super simple because the pork belly should be the shining ingredient here. If you cook it right, it will be perfect all on its own.
Pork belly strips – Look for ones that are around 1″ thick and contain a good ratio of fat to meat. The fat will render down and give the pork belly its signature melt-in-your-mouth texture.
Olive oil – It's not necessary to coat the pork with olive oil, but it does keep the exterior from drying out too much while cooking.
Salt & pepper – Basic seasoning is all the pork needs to shine.
BBQ sauce – this is optional, if you want to give a different flavor to the pork.
Where to Get Pork Belly Strips
You can purchase pork belly strips that have already been cut. I prefer a thickness of around 1 inch. Any thicker and it takes longer for the fat to render.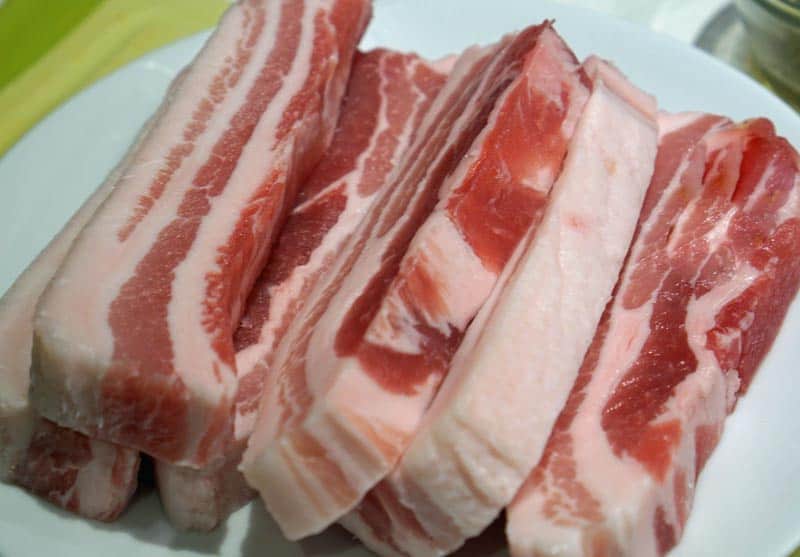 Look for strips that have an even amount of fat to meat ratio. That way, they won't end up too fatty or too dry.
If you can't find pork belly strips in your grocery, you can purchase a full slab and cut the strips yourself. You could also ask the butcher to cut strips for you. Nearly every butchers counter will have a slab of pork belly they can cut, if you ask.
If all you can find is pork belly cut into squares, that's fine too. Depending on their size, they may take more or less time to cook.
If you can't find good meat in the cuts you like, we love the meat you can get from FarmFoods, which is an online meat delivery. You can choose your cuts of meat to be delivered right to your door. All the meat is humanely-raised and healthy.
How to Make BBQ Pork Belly Strips
As promised, pork belly strips are incredibly easy to make. I like to bake them in the oven, but you can also grill them on the stovetop on a griddle pan, like this one. It gives the illusion of cooking outside on the grill, without the hassle of lighting up the grill.
Step One:
Prepare a baking tray by lining it with parchment paper or tin foil. Layout the pork belly strips, spaced evenly. Rub with olive oil, salt and pepper.
Step Two:
Bake the pork belly strips for about 15 minutes on 375°F. They'll start to get sizzly and begin to brown on top.
Step Three:
Remove the tray from the oven and baste the tops of the pork belly strips with BBQ sauce (try our homemade Bourbon BBQ sauce recipe). Flip them over and baste the other side too. Then stick them back in the oven for another 10-15 minutes.
You'll want to watch them closely near the end to make sure you don't overdo it. The cooking time isn't precise because the thickness of the strips vary. I've found that 1″ thick slices usually take 30 minutes to reach the perfect crispiness. However, yours may take more or less time to cook.
They should look like the slices below, which I photographed right as they came out of the oven.
They should be starting to char around the edges and are bubbly and browned on top. If I left these in for another 5 minutes, the fat would start to shrink down and harden, which is a sure sign that they've cooked too long.
Wondering what to serve these with? Why not try one of these side dishes:
You can eat these pork belly slices on their own. They're amazingly good alongside a bacon and corn salad, 5-cheese mac & cheese or with a wedge salad.
Pork Belly Slices FAQs
Is pork belly the same as bacon?
Pork Belly is cut from the same part of the pork as bacon. However, pork belly is uncured, unsmoked, and unsliced, which is how it differs from bacon.
To what internal temperature should pork belly be cooked?
For pork you want the internal meat temperature to be over 160°F. If you cook your pork belly slices as advised in this recipe, they will absolutely reach that temperature.
Are pork belly slices good to cook with?
Yes, pork belly slices are super cheap (usually about $3-$5) and really simple to cook while being packed full of flavor. They go well in bowls and salads, tacos, and just by themselves.
Related Posts:
Like this recipe? We'd love for you to share it on your Pinterest board! Click to follow our Pinterest boards so you can find all our recipes!
Instagram it! If you try this recipe please tag #AFoodLoversKitchen on Instagram or Twitter. We love to see your photos of our recipes! Also follow us on Instagram, Twitter and Facebook to keep up on what we're cooking up.
BBQ Pork Belly Strips
BBQ Pork Belly Slices are an easy-to-make alternative to slow-roasted pork belly, with all the finger-licking satisfaction.
Print
Pin
Rate
Ingredients
Instructions
Preheat the oven to 375 °F (190 °c).

Whisk together the olive oil, salt and pepper, then brush the mixture onto both sides of the pork belly strips.

Place pork belly strips on a baking tray and bake them for 15 minutes.

Remove from oven. Baste the strips BBQ sauce. Then turn them over and baste the other side.

Return to the oven another 10-15 minutes. When they are golden and bubbly and fat has become translucent, they are ready to remove from the oven. They may need more or less time depending on the thickness of the strips.

Remove from the oven and serve with rice or your favorite side dish.
Notes
For easier cleanup, line your baking tray with parchment paper or tin foil.
You can omit or substitute the BBQ sauce, if desired. I sometimes use Char Sui or Hoisin instead of BBQ sauce, depending on what I'm eating the pork belly with.
Nutrition
Calories:
927
kcal
|
Carbohydrates:
7
g
|
Protein:
16
g
|
Fat:
92
g
|
Saturated Fat:
33
g
|
Cholesterol:
122
mg
|
Sodium:
383
mg
|
Potassium:
356
mg
|
Fiber:
1
g
|
Sugar:
6
g
|
Vitamin A:
57
IU
|
Vitamin C:
1
mg
|
Calcium:
14
mg
|
Iron:
1
mg
🥧 If you're interested in more great recipes, I share all my favorite Instant Pot recipes over at A Pressure Cooker Kitchen, air fryer recipes at Air Fry Anytime, and cocktails and drinks at Savored Sips. Check it out today!
Pin it for later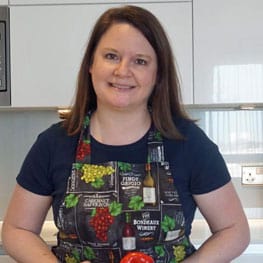 Laura is a home cook who loves making new recipes and finding new favorite things to eat, whether at home or abroad. She also runs a popular travel blog and spends a lot of her time traveling for food.