This Instant Pot Pulled Pork is the ultimate recipe to make tender and flavorful pulled pork from a Pork Butt or Shoulder.
»You might also like this Instant Pot Pork & Sauerkraut or Instant Pot Oxtail Ragu.
You don't need a low and slow BBQ pit to make amazing pulled pork at home. In fact, all you need is an Instant Pot and about a quarter of the time needed to cook it on the barbecue or in the oven.
The Instant Pot is an incredible tool in the kitchen for making dishes that usually take a long time. In the pressure cooker, you can drastically cut down the cooking time for dishes like this tender pulled pork.
The best thing about pulled pork is that it can be used in so many dishes. So you can make a large batch of it and use it throughout the week with other dishes.
Our favorite things to make with shredded pork are Pulled Pork Sandwiches (pictured), pulled pork gnocchi, these pulled pork BBQ eggrolls and pulled pork stuffed sweet potatoes.
Other things you can do with it are to add it to a salad, make burritos, or put it on top of roasted cauliflower for a delicious low-carb meal.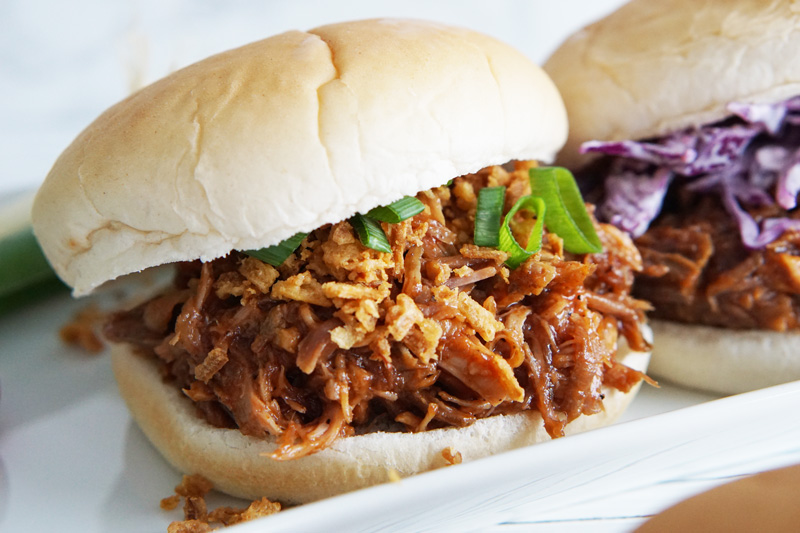 » What is the difference between the Pork Shoulder and the Pork Loin?
Which Cut of Pork to Use
There are a few different cuts of pork that make good pulled pork. My favorite is pork shoulder (also called pork butt), but you can use pork pork leg or loin as well.
Pork Shoulder
I cook a LOT of pork shoulder in the instant pot, for things like carnitas and pulled pork sandwiches. It turns out so tender and falls apart when you shred it.
Pork shoulder can come with or without the bone. I prefer it not to have a bone. If you can't get it boneless, you can always remove the bone yourself before cooking, or cook it as is and remove the bone later.
It can also come with a large cap of fat on the top (and maybe even skin). You'll want to remove both before cooking.
Pork Leg
Pork leg usually comes in one big chunk, where shoulder is more marbled. It can turn out slightly more dry than shoulder, which is why I usually choose shoulder instead of pork leg, but it's still a good choice.
Pork Loin
Pork loin is the leanest cut of meat and doesn't have much fat. It's also usually sold in smaller roasts that are thinner. Pork loin will cook a lot faster in the Instant Pot. Overcooking can quickly lead to dry pork. That's why I mostly avoid this cut.
On a side note, if you're looking for high-quality ground beef and meat, check out Butcher Box. It's a subscription meat box with 100% grass-fed beef, free-range, organic chicken, heritage breed pork, and wild caught Alaskan salmon. All the meat is humanely raised and never given antibiotics or added hormones ever.  See our full review of the service.
I'm super impressed with the quality of the meat from ButcherBox and won't go back to purchasing meat at the grocery. Plus, it's way easier to have it delivered to your door.
Ingredients You'll Need
Pork shoulder – Boneless pork shoulder, also called pork butt, skin and fat cap removed
Dry rub spices – Paprika, salt, ground black pepper, chili powder, garlic salt, mustard powder.
Beef or pork stock – The Instant Pot uses liquid to help it come up to pressure. It also helps to deglaze the pan to avoid a burn notice. You could use apple juice or water as well.
Onion and garlic
How To Cook Pork Shoulder
Pork shoulder generally come tied up or covered with a string netting. This is to keep the meat together in one piece while it cooks. You'll want to remove any string or covering.
It's much faster to cook the pork shoulder in pieces, prepare the pork shoulder by first cutting off any skin and fat, and then cutting it into large chunks – 3 or 4 pieces is fine.
Apply a Dry Rub
For this roast, I always use my homemade dry rub. It's one of our most popular recipes and it's perfect for this pork. The one ingredient I don't include in the rub for this recipe is the brown sugar, because it will quickly burn in the Instant Pot on sauté mode.
Pat the pork dry before putting on the rub. Get it into all the little nooks. Then let is sit for about 5 minutes.
Sear the Pork
Start by searing the pork on all sides. This will give the pork a nice browned and flavorful crust.
I sear the pork directly in the Instant Pot on sauté mode in olive oil. Once it's browned, about 3 minutes per side, I remove it from the pot and turn off the machine.
Be aware that the dry rub will begin to burn on the bottom of the Instant Pot if you take too long with this step. It should just take about 6 minutes. If the rub is starting to burn on the bottom, remove the roast and add more oil to the pot.
As soon as the pork is mostly browned, turn off sauté mode. It will remain hot enough to finish the sear.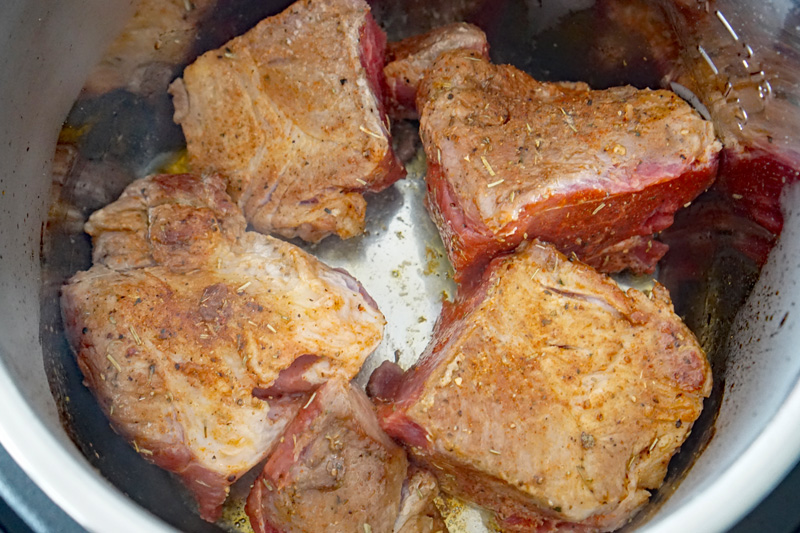 Pressure Cook the Pork
There will be some browned bits on the bottom of the pot from searing the pork. You need to get that up by adding liquid to the pot. Don't do this while sauté mode is still on. It's very hot and the liquid will steam up immediately and can burn your arm if you're not careful.
Add the broth and scrape the bits up with a spatula. This adds great flavor to the meat as it cooks.
Close the Instant Pot and set it to pressure cook (or manual, depending on which version you have). Since you've cut the pork into smaller pieces, it won't matter what size pork shoulder you're cooking. It will take 50 minutes.
After the time is up, allow the pressure to release naturally. It will take 15-20 minutes.
If for some reason the meat isn't fork tender and falls apart easily when you pull it, you can put it back in for another 10 minutes.
I've cooked dozens of pork shoulders this way and have never had to put one back on. It's always perfectly tender.
Shred It and Serve It
Take the pork out of the Instant Pot and shred it. It will fall apart quite easily.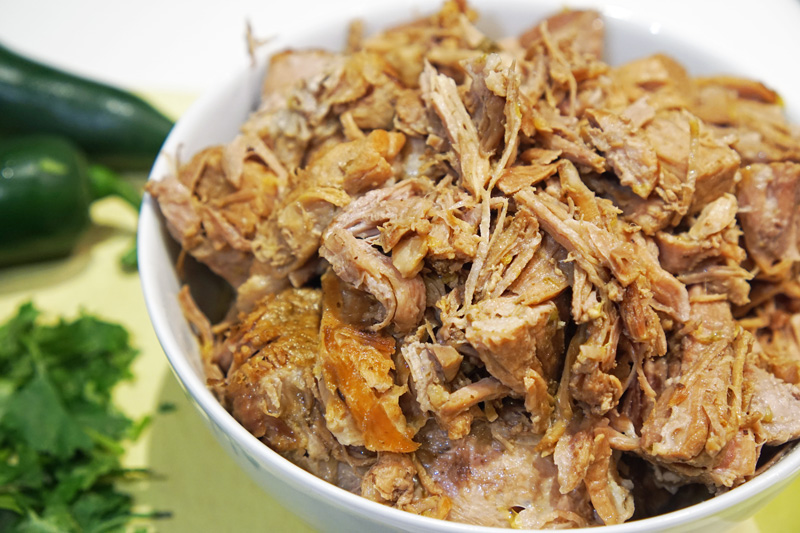 Now you can use it to make whatever you want. I love adding our homemade bourbon bbq sauce to the pork and making pulled pork sandwiches, or just serving the bbq pork in a bowl with cabbage, tomatoes, cilantro and cucumbers.
Another great way to use pulled pork is in these delicious BBQ Pulled Pork Egg Rolls. They're easy to put together and make a fun and tasty appetizer. I love to watch people eat them because they're surprised and excited by the filling.
Pulled pork can go with some many things. If you are looking for side dish recipes then check out what to serve with your pulled pork.
Storing and Reheating
Storing
To store leftovers properly allow the pork to come to room temperature.
Refrigerate – Wrap leftovers tightly in plastic wrap, a Ziploc bag, or airtight container and refrigerate for up to 5 days.
Freeze – Wrap leftovers tightly in plastic wrap, a Ziploc bag, or airtight container and freeze for up to 3 months.
Reheating
Oven – Set your oven to a low temperature. Add moisture back into your meat. You can use any sauce or broth of your liking. Cover the dish with foil to trap the moisture while it's heating up. Cook until the pork pieces reach an internal temperature of 165°.
Stove – Set your stove plate on low-to-medium heat and cook your pork for roughly 12-15 minutes. Make sure to stir the pulled pork occasionally to reheat everything evenly.
Crock Pot – Set your crock pot to gentle medium heat. Add your pulled pork and spread it into the bottom of the crockpot or slow cooker. Reinforce some moisture by adding a splash of apple juice, broth, barbecue sauce, etc. Allow the shredded pork to cook between two to four hours.
Air Fryer – Place the shredded pork in a small baking dish. Choose the "roast" function on your air fryer and set the temperature at 320 degrees Fahrenheit. Add your plate in and allow it to cook for six minutes.
Why Use An Instant Pot
The Instant Pot is one of the most useful kitchen appliances you can buy, because it drastically cuts down on the cooking time for developing flavors in soups and stews, getting tough cuts of meat tender, and even baking a cheesecake. And there are many accessories that will help you get more out of your Instant Pot.
If you don't have one yet, check out our guide on which one to buy. You can also check out our Instant Pot page for more information.
Frequently Asked Questions
Can you overcook pulled pork in the Instant Pot?
While overcooking is possible the major cause of tough pork is undercooking. The meat gets tender when the connective tissue start to break down. If your pork is tough when the cooking time is done cook it for another 5 minutes and check again.
What is the best cut of pork to use for pulled pork?
There are a few different cuts of pork that make good pulled pork. My favorite is pork shoulder (also called pork butt), but you can use pork pork leg or loin as well. The loin is a leaner cut of meat and doesn't have much fat. Because of this it can dry out quickly. For this reason I try to avoid the loin for pulled pork
Do I have to sear the pork before cooking?
While not necessary for cooking we highly recommend it. Searing the outside adds immense flavor to the pork.
How long do I cook a pork roast in the Instant Pot?
It is recommended that you cook a boneless pork roast for 15 minutes per pound in the Instant Pot. For this 3 lb roast we are cooking for 50 minutes with a natural pressure release of about 20 minutes. You want a fork tender roast not a sliceable roast. You're looking for an internal temperature of 160 degrees F. If it's under, you can turn it back on for 5 or 10 minutes.
Before You Go
Since you made it to the end of this article, you're probably pretty interested in the Instant Pot. Here are a few more articles we think you might enjoy.
Like it, Love it, Want Some More of It? Subscribe to our newsletter and follow us on Pinterest, Instagram and Facebook. We really love it when you save our recipes to Pinterest 😊
Instant Pot Pulled Pork Shoulder
This Instant Pot Pulled Pork is the ultimate recipe to make tender and flavorful pulled pork from a Pork Butt or Pork Shoulder.
Print
Pin
Rate
Ingredients
3

pounds

boneless pork shoulder

skin and fat cap removed

1

tablespoon

paprika

1

teaspoon

salt

1/2

teaspoon

ground black pepper

1/2

teaspoon

chili powder

1/4

teaspoon

garlic salt

1/4

teaspoon

mustard powder

1

cup

beef or pork stock

1

small

onion

chopped

2

cloves

garlic

smashed
Instructions
Remove any skin and fat from the pork shoulder, pat dry, and cut it into large chunks.

Combine the paprika, salt, pepper, chili powder, garlic salt and mustard powder in a small bowl. Coat each piece of pork with the rub.

Heat the Instant Pot on Saute mode and add the cooking oil. When hot, sear the pork chunks on all sides until browned (about 3 mins per side). Remove from the pot.

Add the beef stock to the pot and whisk rapidly to scrap all the browned bits off the bottom. Add back in the pork, along with the onion and garlic.

Secure the lid on the Instant Pot and set the valve to sealing.

Select the Pressure Cook button and set to 50 minutes. When finished, allow the pressure to release naturally (about 20 minutes). Remove the meat and shred it.
Notes
You can use a pork shoulder, butt, leg, loin or belly. Remove skin, fat cap, and any bones.
If you don't wish to use the dry rub, sprinkle with salt and pepper or seasoning salt.
Nutrition
Calories:
304
kcal
|
Carbohydrates:
3
g
|
Protein:
52
g
|
Fat:
8
g
|
Saturated Fat:
2
g
|
Polyunsaturated Fat:
1
g
|
Monounsaturated Fat:
3
g
|
Trans Fat:
1
g
|
Cholesterol:
136
mg
|
Sodium:
691
mg
|
Potassium:
986
mg
|
Fiber:
1
g
|
Sugar:
1
g
|
Vitamin A:
643
IU
|
Vitamin C:
1
mg
|
Calcium:
28
mg
|
Iron:
2
mg
LIKE IT? PIN IT FOR LATER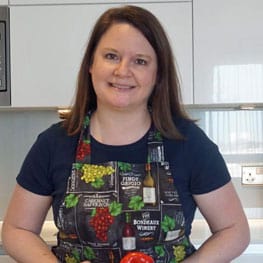 Laura is a home cook, with 25 years experience behind the stove, who spends an extraordinary amount of time in the kitchen cooking. She loves making new recipes and finding wonderful new things to eat, both at home or abroad. She spends a lot of time researching, crafting, and perfecting her recipes and currently has a cookbook in development.