This article has links to products that we may make commission from.
These Verde Wet Burritos feature slow-cooked carnitas with spicy Mexican rice and beans and melted cheddar cheese.
I'm addicted to this incredibly tasty verde wet burrito from a small Mexican eatery in southern California. Their burritos are the gold standard. They're so good that I spent quite a bit of time cloning their recipe to make my own version that very closely resembles it.
That's where this recipe came from. It's about as close to that amazing burrito as I can get without authentic processes and ingredients.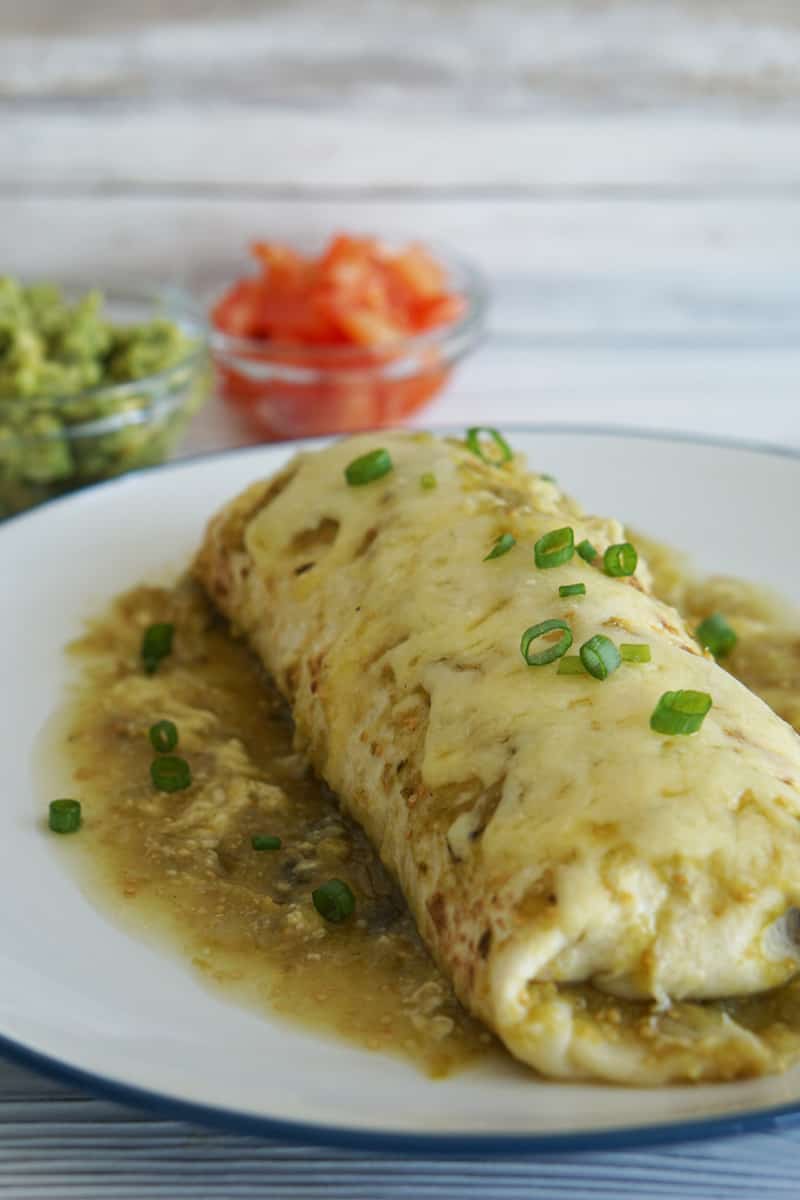 A lot of what makes a burrito so good is in the ingredients. Second-rate flour tortillas and inferior rice will only lead to a dry and bland burrito. But it's not always easy to find high-quality Mexican ingredients. I've learned that there are some really good products that are easy to find that still make a delicious burrito.
The ingredients we use for this recipe include Old El Paso flour tortillas, Las Palmas green chile enchilada sauce, Uncle Ben's Mexican-style rice and Rositas Refried Beans.
You can absolutely make these burritos with other brands of the ingredients, or even by making your own [we do have this easy recipe for homemade refried beans!], but I have personally tested these store-bought products and recommend them for this wet burrito.
For the pork carnitas, I use my favorite Carnitas recipe. I usually cook a 3-4 lb pork shoulder and use the left overs for various dishes throughout the week. I always make these verde wet burritos with the leftovers. It's too good not to.
There is just one other "secret" that I learned from eating burritos at the El Torito Meat Market in Hesperia, California, which I proclaim to be the best wet burritos anywhere inside the United States.
The secret is to mix the rice and refried beans together before adding them to the burrito. It makes a BIG difference. The rice can be too dry on its own, but mixing the two together takes care of that and binds the ingredients together better, so they don't fall out when you take a bite.
How to Make Mexican Wet Burritos
The first step is to prepare the meat. You can use any type of meat you wish in this recipe. As I said, I prefer pork and I make it "carnitas style". You could use shredded beef or chicken, as well.
It's best to braise the meat you'll be using, so it cooks in liquid and turns out nice and juicy. Dry meat will make the burrito dry too. I've seen people use shredded chicken breast for this recipe and they usually think it turns out a bit bland. That's because plain chicken breast doesn't have the amazing flavor these carnitas do.
Look how tender and juicy the carnitas are. Tons of flavor in that recipe.
Mix together the rice and refried beans. Scoop a few spoonfuls into the middle of the flour tortilla. You want to use at least a 10″ tortilla. It makes a substantial burrito, but not too huge.
Pile on a generous amount of shredded meat, then top with shredded cheddar cheese. That's all I put in the burrito. Be sure not to overstuff it, or it'll be difficult to roll.
Fold the two ends up over the filling, then fold one side flap over the center, tightening it around the ingredients for a close fit, and roll the burrito.
Pour half the verde sauce into the baking dish. For two burritos, I use an 8×8″ glass dish. If I'm just making one burrito, which I do occasionally at lunch time, I use a 9×6″ pan (see image below), so the sauce doesn't spread out too much..
Then place the burritos seam-side down in the baking dish and pour the rest of the sauce over the top. Bake for 10 minutes at 375F.
Pull them out of the oven and top with the remaining shredded cheese and return them to the oven for 3-5 more minutes until the cheese has melted.
Once you put them on the plate, you can add more verde sauce if you wish. Serve with guacamole and corn chips for a truly Mexican meal.
We have tons of other Mexican favorites on our site. If you're looking for something else to go along with this, check some of these out:
30 Great Taco Recipes to Spice Up Taco Night
Love Tacos? Try these 17 Taco-Inspired Meals
Homemade Taco Seasoning for Ground Beef
Like this recipe? We'd love for you to share it on your Pinterest board! Click to follow our Pinterest boards so you can find all our recipes!
Instagram it! If you try this recipe please tag #AFoodLoversKitchen on Instagram or Twitter. We love to see your photos of our recipes! Also follow us on Instagram, Twitter and Facebook to keep up on what we're cooking up.
Verde Wet Burritos
These verde Wet Burritos feature slow-cooked carnitas with spicy Mexican rice and beans and melted cheddar cheese.
Print
Pin
Rate
Instructions
Preheat the oven to 375 degrees F (190 degrees C).

Warm the flour tortillas to make them pliable. Mix the rice and beans together and spread equally onto the center of each tortilla. Divide the meat equally on top of the bean mixture. Top with half the cheese.

Fold in the sides of the burrito and roll it tightly.

Pour half the enchilada sauce into an 8×8" baking dish. Place the rolled burritos seam-side down in the baking dish. Pour the remaining sauce over the top. Bake for 10 minutes. Remove from oven and sprinkle on the remaining cheese. Continue cooking for 3-5 minutes, until the cheese is melted.
Notes
You can use any type of meat you want, but be sure to seasoning it for added flavor.
You can substitute the verde enchilada sauce with red enchilada sauce, for a different version.
Nutrition
Serving:
1
g
|
Calories:
595
kcal
|
Carbohydrates:
70
g
|
Protein:
30
g
|
Fat:
21
g
|
Saturated Fat:
11
g
|
Cholesterol:
83
mg
|
Sodium:
2187
mg
|
Potassium:
95
mg
|
Fiber:
5
g
|
Sugar:
23
g
|
Vitamin A:
1408
IU
|
Vitamin C:
4
mg
|
Calcium:
383
mg
|
Iron:
3
mg
Pin it for later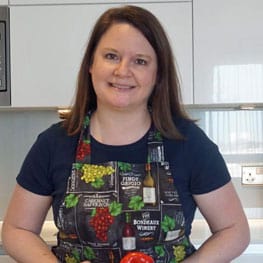 Laura is a home cook who loves making new recipes and finding new favorite things to eat, whether at home or abroad. She also runs a popular travel blog and spends a lot of her time traveling for food.