Packed with good monounsaturated fats and fiber, this easy guacamole recipe makes a healthy and irresistible snack that you can enjoy without feeling guilty.
>> Check out these great Mexican food recipes. These Homemade Blue Corn Tortillas are always a hit.
There's nothing better than a bowl of guacamole and tortilla chips. It's the perfect snack for any occasion. The only problem is that so many pre-made guacamole are terrible, and not many people try making it fresh. I want to change that for you now. No more store-bought guacamole!
Fresh guacamole has all the goodness and none of the extra preservatives that store-bought versions have. Sure, it wont last long because avocado oxidized quickly (turns brown), but that doesn't matter because you should only be making what you're going to eat in one sitting anyway. Guacamole should always be made fresh.
How to Choose Good Avocados
I've lamented many times the inability to find ripe avocados in the store. You can stand over the bin lightly squeezing each avocado and not find any that are ripe.
My best suggestion is to plan ahead and buy unripe avocados. They will ripen within two days on the counter (don't put them in the refrigerator, which stops the ripening). I'd you're lucky enough to find ripe avocados in the store, look for ones that are firm but give a little when you lightly squeeze.
They should be uniformly black or dark green with no color variation. The skin should not feel dry or brittle. Then look at the stem. The stem stub should still be firmly intact. Don't buy one without the stem.
» Here's a full guide on choosing and using avocados.
Guacamole's Secret Ingredient
I've made hundreds of batches on guacamole. I've also eaten dozens of homemade versions. There is a secret ingredient, aside from all the usual ones, that adds an extra boost to the flavor and makes this guacamole recipe better than usual.
If you trust me and include this ingredient, you will taste the best guacamole you've ever made.
It's cumin.
A dash of cumin adds so much extra depth of flavor to guacamole, you wont believe it. I didn't think it was possible to love guacamole more than I already did until I tried it this way. Plus, as a side benefit, cumin is good for you! I personally don't add tomatoes to my guacamole.
I don't think they belong. But if you want to use tomatoes, I suggest using cherry tomatoes and dicing them up in small pieces. A full-sized tomato has too much liquid in it and it will make your guacamole soupy.
How to Make Guacamole
To make the perfect dip, you need ripe avocados, finely chopped white onion, garlic, cilantro, lime juice, salt and cumin. That's all. Please don't add mayo or sour cream. Avocados have enough creaminess of their own.
You should let them do the talking in this recipe. Scoop put the avocado and mash it up roughly, but not too much. Add the rest of the ingredients and mix it altogether (avoiding over mixing). That's all there is to it.
I recommend using one avocado per person. If you eat it all and want more you can always whip up another batch. But it's sad to have leftovers because it doesn't keep well.
If you do end up with leftovers, it wont last more than 24 hours, no matter what you do. But you can prevent oxidation by keeping the pit to add back into the leftover guacamole, then cover it with plastic wrap so that the wrap touches the entire surface of the dip without any air pockets.
Aside from consuming all the guacamole with tortilla chips, I like to pile it onto flautas and burritos. Serve alongside homemade refried beans.
Other Recipes to Try
Like this recipe? We'd love for you to share it on your Pinterest board! Click to follow our Pinterest boards so you can find all our recipes!
Instagram it! If you try this recipe please tag #AFoodLoversKitchen on Instagram or Twitter. We love to see your photos of our recipes! Also follow us on Instagram, Twitter and Facebook to keep up on what we're cooking up.
Easy Guacamole Recipe
Packed with good monounsaturated fats and fiber, this easy guacamole recipe makes a healthy and irresistible snack that you can enjoy without feeling guilty.
Print
Pin
Rate
Ingredients
3

ripe avocados

1/2

small

white onion

finely chopped

1/2

clove

minced garlic

1

tsp

lime juice

1/4

tsp

salt

more if desired

1/4

tsp

cumin

1/4

cup

cilantro

chopped

1/2

jalapeño

minced, seeds and membrane removed, optional
Instructions
Scoop out the avocado and add it to a medium bowl. Mash it up into small chunks.

Add the rest of the ingredients and mix it all together. Don't overmix. There should still be chunks of avocado.

Serve with tortilla chips. Or use as a topping for your favorite Mexican dish.
Notes
You can easily double this recipe if you're making it for a crowd.
Guacamole doesn't keep well once made. To preserve it, place a piece of plastic wrap inside the bowl, pressing it onto the surface of the leftover guacamole, so no air is touching the dip. It can be stored this way for up to 24 hours.
Nutrition
Calories:
494
kcal
|
Carbohydrates:
28
g
|
Protein:
6
g
|
Fat:
44
g
|
Saturated Fat:
6
g
|
Sodium:
314
mg
|
Potassium:
1488
mg
|
Fiber:
21
g
|
Sugar:
3
g
|
Vitamin A:
613
IU
|
Vitamin C:
37
mg
|
Calcium:
36
mg
|
Iron:
2
mg
Pin it for later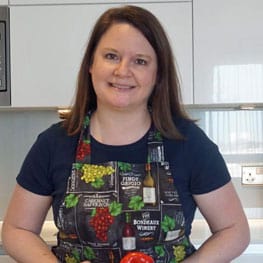 Laura is a home cook who loves making new recipes and finding new favorite things to eat, whether at home or abroad. She also runs a popular travel blog and spends a lot of her time traveling for food.