This easy homemade Sloppy Joe recipe has a zingy tomato sauce that will bring you right back to eating these iconic sandwiches as a kid. They're very easy to make at home with just a few simple ingredients.
» Also try these Crispy Chicken Sandwiches and 12 Comfort Food Recipes.
You'll never buy another can of Sloppy Joe sauce again after you see how easy it is to make at home. There's a key ingredient in this recipe that I never see included in Sloppy Joe recipes. This one ingredient changes the sauce so dramatically that I can't imagine leaving it out. It elevates the taste of this sauce from okay to really good.
Whenever people ask what foods are distinctly American, I think we completely forget about the Sloppy Joe, which is about as American as it can get.
Why do hamburgers and hot dogs get all the glory, when the Sloppy Joe is just as American? Although the origin of this sandwich is hotly contested, as most things are, it's homeland is unarguably America.
Was it a cook in Iowa named Joe who added tomato sauce to his loose meat sandwich and called it a Sloppy Joe, or was it Sloppy Joe's bar in Florida that started the trend? It doesn't really matter. We're all just lucky someone invented it.
» Try these 20 Simple & Tasty Sides for Sloppy Joes for a quick and easy meal all planned out!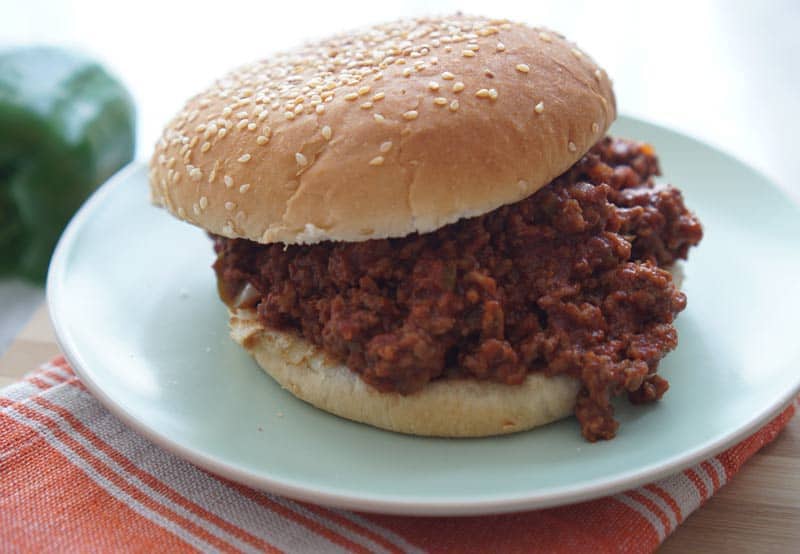 Key Ingredients for Sloppy Joes
Worcestershire Sauce
So, if you're still wondering what the key ingredient is that makes this tomato sauce superior, it's Worcestershire sauce. It gives the sauce an umami boost, while the apple cider vinegar brightens it all up.
High-Quality Ground Beef
On a side note, if you're looking for high-quality ground beef and meat, check out Butcher Box. It's a subscription meat box with 100% grass-fed beef, free-range, organic chicken, heritage breed pork, and wild caught Alaskan salmon. All the meat is humanely raised and never given antibiotics or added hormones ever.  See our full review of the service.
I'm super impressed with the quality of the meat from ButcherBox and won't go back to purchasing meat at the grocery. Plus, it's way easier to have it delivered to your door.
You can also purchase quality meat raised on small farms from FarmFoods without a subscription. They have all the information for every farm on their website and you can choose what cuts you want and have it shipped free to your door.
Other Ingredients You'll need
Onion – I use a small white or yellow onion, chopped.
Green pepper – Any color really, finely chopped.
Ketchup – Helps give the sauce flavor and body.
Tomato paste – This thickened, reduced form of tomato is very useful for deepening the flavor of your sauce. It also helps thicken it a bit.
Apple cider vinegar – Vinegar helps balance flavors and brighten this recipe up. You could substitute red wine or white wine vinegar or non-seasoned rice vinegar.
Cheddar cheese – or another good melting cheese. Optional
Hamburger buns
How to Make Sloppy Joes
This sandwich is a favorite for us not just because it's so tasty, and it reminds us of childhood, but also because it's so darn easy to make.
You would think that making this sauce would be time consuming. It would have to simmer away for hours to develop depth of flavor. That's just not the case.
Cook the ground beef, onion, and bell pepper in a medium-sized skillet over medium heat. Crumble the beef as it cooks.
Add all the remaining ingredients to the pan (except for the shredded cheese and buns, of course) and stir well to combine.
Simmer over low heat for 10 minutes. Flavor will develop during the 10 minutes, so don't skip the simmering. You can taste it to see if it needs any more salt or Worcestershire sauce.
Serve on toasted buns. Top with shredded cheese, if you want. We love the addition of cheese, but it's definitely not required.
» If you like how easy this sauce is to make, you'll also want to check out my homemade spaghetti sauce.
How to Serve Sloppy Joes
You can serve this homemade Sloppy Joe sauce on toasted burger buns or on slider rolls. We also occasionally serve it on top of grilled root vegetables, like a slice of roasted celeriac, for a low-carb meal.
Top it with some melted cheese and you have an easy weeknight meal that everyone will enjoy. Once you make these Sloppy Joes once you'll be addicted, believe me. It's impossible to go back to jarred sauce after you see how easy it is and how good it tastes.
Pair this Sloppy Joe sandwich with a wedge salad or bacon corn salad for a complete meal. Also try one of these fun recipes:
Frequently Asked Questions
Is sloppy joe and Manwich the same thing?
Manwich is the product name for a marketed version of sloppy joe sauce. It was meant to make sloppy joes easy to make. The great things is that homemade sloppy joes are super easy to make and taste better than the canned sauce.
What is Worcestershire sauce?
This sauce was created in the city of Worcester in Worcestershire England. It gets its unique flavor from vinegar, molasses, anchovies, garlic, tamarind extract, chili pepper extract, sugar and salt among other things. It can lends a boost of flavor to recipes such as soups and stews, sauces and marinades.
What can I substitute for Worcestershire sauce?
Try this ingenious kitchen hack. 1 tablespoon ketchup, 1 tablespoon white wine vinegar, 1/2 tablespoon soy sauce, and 1 dash of hot sauce.
Like this recipe? We'd love for you to share it on your Pinterest board! Click to follow our Pinterest boards so you can find all our recipes!
Instagram it! If you try this recipe please tag #AFoodLoversKitchen on Instagram or Twitter. We love to see your photos of our recipes! Also follow us on Instagram, Twitter and Facebook to keep up on what we're cooking up.
Easy Homemade Sloppy Joes
You'll never buy another can of sloppy joe sauce after you taste the healthy, zingy tomato sauce that makes these Sloppy Joes a weekday favorite.
Print
Pin
Rate
Ingredients
1

pound

ground beef

1/4

cup

onion, finely chopped

1/2

small

green pepper, finely chopped

1

cup

ketchup

2

ounces

tomato paste

1/4

cup

water

1 1/2

tablespoons

Worcestershire sauce

1

tablespoon

apple cider vinegar

1/2

teaspoon

garlic salt

1/4

teaspoon

celery salt

Salt and ground black pepper, to taste

1/2

cup

shredded cheddar cheese

for garnish, if desired

4

hamburger buns

toasted
Instructions
Cook the ground beef, onion, and bell pepper in a medium-sized skillet over medium heat. Crumble it as it cooks.

Add all remaining ingredients (except for shredded cheese and buns) and stir well to combine.

Simmer over low heat for 10 minutes.

Serve on toasted buns. Top with shredded cheese, if desired.
Nutrition
Serving:
1
sandwich
|
Calories:
554
kcal
|
Carbohydrates:
43
g
|
Protein:
29
g
|
Fat:
29
g
|
Saturated Fat:
12
g
|
Cholesterol:
95
mg
|
Sodium:
1645
mg
|
Potassium:
796
mg
|
Fiber:
2
g
|
Sugar:
19
g
|
Vitamin A:
689
IU
|
Vitamin C:
20
mg
|
Calcium:
219
mg
|
Iron:
5
mg
Other Comfort Food Recipes To Try
Click for Even More Comfort Food Recipes
🥧 If you're interested in more great recipes, I share all my favorite Instant Pot recipes over at A Pressure Cooker Kitchen, air fryer recipes at Air Fry Anytime, and cocktails and drinks at Savored Sips. Check it out today!
Pin it for later!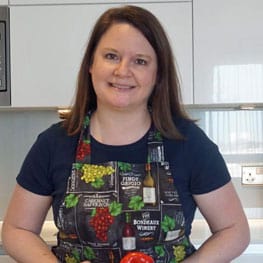 Laura is a home cook who loves making new recipes and finding new favorite things to eat, whether at home or abroad. She also runs a popular travel blog and spends a lot of her time traveling for food.