Using ingredients you typically already have on hand, you can create this easy Sloppy Joe recipe with a healthy, zingy tomato sauce that elevates this sandwich to a weekday favorite.
You'll never buy another can of Sloppy Joe sauce again after you see how easy it is to make at home. There's a key ingredient in this recipe that I never see included in Sloppy Joe recipes. This one ingredient changes the sauce so dramatically that I can't imagine leaving it out. It elevates the taste of this sauce from okay to really good.
Whenever people ask what foods are distinctly American, I think we completely forget about the Sloppy Joe, which is about as American as it can get. Why do hambugers and hot dogs get all the glory, when the Sloppy Joe is just as American?
Although the origin of this sandwich is hotly contested, as most things are, it's homeland is unarguably America. Was it a cook in Iowa named Joe who added tomato sauce to his loose meat sandwich and called it a Sloppy Joe, or was it Sloppy Joe's bar in Florida that started the trend?
It doesn't really matter. We're all just lucky someone invented it.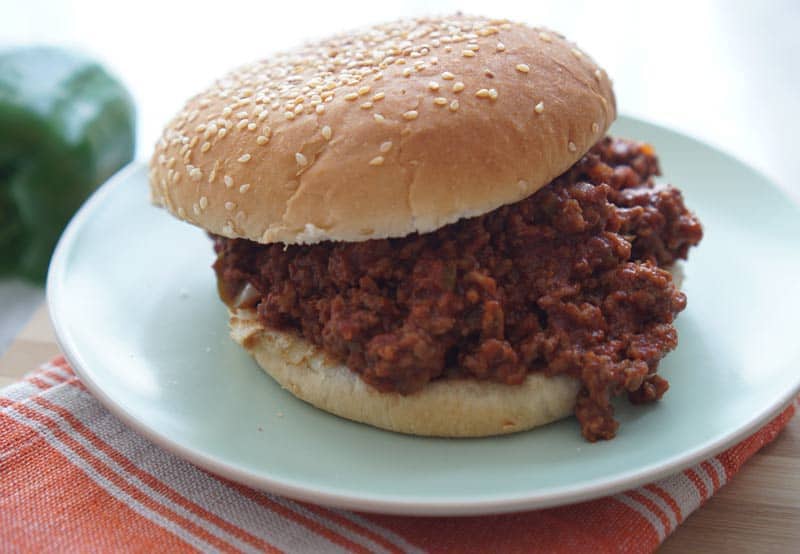 So, if you're still wondering what the key ingredient is that makes this tomato sauce superior, it's Worcestershire sauce. It gives the sauce an umami boost, while the apple cider vinegar brightens it all up.
This sandwich is a favorite for us not just because it's so tasty, and it reminds us of childhood, but also because it's so darn easy to make. You would think that  making this sauce would be time consuming. It would have to simmer away for hours to develop depth of flavor.
That's just not the case. The only chopping necessary is dicing 1/4 cup of green peppers and onion. The rest of the job just includes adding the ingredients to the pan and simmering for 10 minutes. Super simple.
» If you like how easy this sauce is to make, you'll also want to check out my homemade spaghetti sauce.
You can serve this homemade Sloppy Joe sauce on toasted burger buns or on slider rolls. We also occasionally serve it on top of grilled root vegetables, like a slice of roasted celeriac, for a low-carb meal. Top it with some melted cheese and you have an easy weeknight meal that everyone will enjoy.
Once you make these Sloppy Joes once you'll be addicted, believe me. It's impossible to go back to jarred sauce after you see how easy it is and how good it tastes.
Pair this Sloppy Joe sandwich with a wedge salad or corn salad for a complete meal.
Like this post? We'd love it if you would share it on your Pinterest board! Click to follow our Pinterest boards so you can find all our recipes!
Easy Homemade Sloppy Joes
You'll never buy another can of sloppy joe sauce after trying this easy sloppy joe recipe. Using ingredients you typically already have on hand, you can create a healthy, zingy tomato sauce that elevates this to a weekday favorite.
Print
Pin
Rate
Ingredients
1

lb

ground beef

1 8

oz

can tomato sauce

1

cup

tomato ketchup

1

tbsp

Worcestershire sauce

1/4

cup

green pepper, finely chopped

about half a pepper

2

tbsp

onion, finely chopped

1/4

tsp

garlic salt

1/4

tsp

celery salt

1/4

tsp

ground black pepper
Instructions
Fry the beef in a medium-sized skillet over medium heat until cooked through.

Add all the other ingredients and mix well.

Simmer over low heat for 10 minutes.

Serve over toasted buns. Top with melted cheese, if desired.