This article has links to products and services we recommend, which we may make commission from.
There's a reason Philly Cheesesteaks are so popular. Try putting those ingredients on a pizza and you've got an exciting twist that's almost as addictive as the original.
Aren't we always looking for new and interesting pizza toppings? Well, we are at least. Pizza is one of my husband's great loves. He would eat pizza for every meal if he didn't care about his health. I don't make pizza that often at home, but I do try to think up different topping combinations for a twist once in awhile. These Philly Cheesesteak pizzas are now a household favorite.
That's how I came up with this Philly Cheesesteak version. I was fully prepared to make sandwiches with the ingredients when I saw pre-cooked pizza dough at the store. Change of plans. We're making pizza!
You can make your own pizza dough (be sure to follow our perfect every time thin-crust dough recipe), but pre-cooked pizza dough is one of the best time-saving conveniences there are. I buy bread dough that is fresh, not frozen. It makes an 8″ pizza – perfect for one.
Click to learn more about how to make pizza at home.
How to Make Philly Cheesesteak Pizza
Step One
Make the dough, unless you're using pre-cooked dough. If you're making it from scratch, be sure to pre-cook the dough and let it cool before proceeding.
Step Two
Brush olive oil on the crust and sprinkle with fresh parsley (optional).
Step Three
When we order Philly Cheesesteaks at Gino's in Philadelphia, we always order it "with whiz" which means it comes with onions and Cheez whiz.
Cheez Whiz, despite its complete lack of nutrition, is an integral part of the Cheesesteak experience. You can use Cheez Whiz as the base sauce for this pizza, because it's spreadable, but you can also use melted Velvetta, or just chop up slices of American cheese and melt them with a bit of cream in the microwave to make it spreadable.
P.S. You can even make your own Cheez Whiz substitute at home with this recipe.
Step Four
Saute green peppers, onions and beef strips (rib-eye or top round works well) in a skillet, then sprinkle the mixture onto your pizza. Cover the top with mozzarella cheese.
Step Five
Bake until the cheese is bubbly and the crust is crispy, around 8 minutes. Make sure to serve it piping hot from the oven.
What Rack of the Oven Should You Cook Your Pizza On?
Have you ever wondered if it makes a difference which rack you cook the pizza on? I definitely have. I actually read a bunch of scientific cooking demos that explained the difference between what happens on the top vs the bottom of the oven. The conclusion was that it's best to cook the pizza on the top rack. It allows for the most even cooking of both the crust and the toppings, so one doesn't burn before the other cooks. Give it a try!
Also, for this recipe, I prefer to cook the pizza directly on the rack, without a pizza stone or baking sheet. Since the crust is already pre-baked, it doesn't need as much time or heat to cook as a raw pizza dough would. If you use a pizza stone, you might find that it gets overcooked.
Like this recipe? We'd love for you to share it on your Pinterest board! Click to follow our Pinterest boards so you can find all our recipes!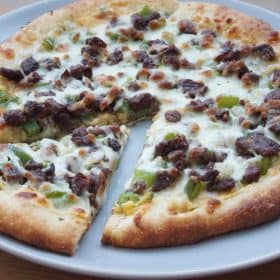 Philly Cheesesteak Pizza
Turn the iconic sandwich into an equally delicious Philly Cheesesteak Pizza
Print
Pin
Rate
Ingredients
2

8"

pre-cooked pizza dough

1

green pepper, chopped

1

onion, chopped

1

cup

mozzarella cheese, shredded

1/2

cup

Cheez Whiz

1

tbsp

olive oil

1

tbsp

chopped parsley

optional

salt & pepper to taste
Instructions
Preheat the oven to 425 degrees F.

Brush olive oil onto the pre-cooked pizza dough. Sprinkle with parsley, if desired.

Spread half the Cheez Whiz on the each pizza dough.

Saute the onion and green pepper together in a skillet over medium-high heat, until onions begin to turn transluscent - approximately 4 minutes. Remove from heat and sprinkle evenly onto each pizza dough.

Return the skillet to the heat and saute the beef strips until cooked through. Season with salt and pepper. Remove from heat and sprinkle evenly onto each pizza dough.

Divide the mozzarella cheese and sprinkle evenly on each pizza dough.

Put the pizza in the oven on the top rack and bake for 5-8 minutes, until the cheese is bubbling.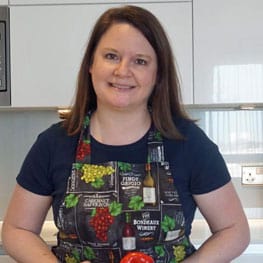 Laura is a home cook who loves making new recipes and finding new favorite things to eat, whether at home or abroad. She also runs a popular travel blog and spends a lot of her time traveling for food.