This quick and easy refried beans recipe is perfect for a healthy, meatless side dish for your favorite Mexican or Tex-Mex entrees.
»Looking for other great Mexican recipes to try? You might like these Mexican-Style Chicken Flautas, Chipotle Beef Barbacoa or Classic Pico de Gallo.
I love refried beans. It's a main staple for Mexican night at our house. We put them in burritos, enchiladas, and as a side dish to just about any Mexican dish we eat like these sour cream chicken enchiladas.
Though it might sound difficult to make, I assure you it isn't. It's really just mashed up pinto beans! Okay, there's a bit more to it than that, but don't let that scare you away.
In this post, we're going to show you how to make your own homemade refried beans. You'll see how easy it is and wonder why you waited so long.
What are Refried Beans?
Refried beans, also called frijoles refritos, are smashed cooked beans (usually Pinto beans) that are sauteed with some onion, garlic, fat like lard or bacon grease, and some spices. When mixed all together, they become creamy and flavorful.
Beans in general can be a healthy part of your diet. Pinto beans are packed with nutrients, fiber and protein. They are also fairly low in carbohydrates. However, if you eat refried beans made with lard or bacon grease, as many traditional recipes call for, then you're adding quite a bit of saturated fats and calories.
Making your own beans helps alleviate this problem. You can make your beans with healthy fats, like avocado or olive oil, or even coconut oil that is flavorless.
What Beans Do I Use?
A big question when making refried beans at home is what beans to use. The traditional bean that is used for refried beans in Mexico is pinto beans.
These give the creamy texture and color that you are used to. You can use other beans if you want – black beans are a popular alternative. Or vary the beans and mix it up. Kidney beans work well, as do cannellini or Great Northern beans.
» You might be interested in Black Beans vs Pinto Beans: How Are They Different?
Dried Beans or Canned Beans?
It's up to you whether you use dried or canned beans. I find it easier to store a bag of dried beans, rather than a bunch of cans of cooked beans. Storing dried beans ensures that you'll always have it on hand when you need it. They take up very little space, and are inexpensive.
Most pinto beans do not need to be soaked for a long time before using. They take about 70-80 minutes to make on the stovetop.
No matter if you use canned or dried beans, be sure to rinse the beans thoroughly before you use them – canned beans especially, as they can be coated in a sauce that adds an off flavor to the beans.
How to Make Refried Beans
Step One:
If using dried beans: Rinse the dried beans thoroughly in cold water. Put them in a saucepan with water and boil for 10 minutes. Reduce the heat and simmer for an additional 60-70 minutes, until the beans are soft and begin to split. Drain the beans.
First, chop the onions really finely. You don't want large pieces of onion in your refried beans. You want them to blend in once cooked.
Saute the onions and garlic with salt and pepper to taste until the onions are translucent. Then add the beans and the other seasonings and stir. Cook the beans until they are warmed through and just begin to split. They need to be somewhat dried inside to make the right texture.
Step Two:
Next you need to mash or blend the beans. You'll need to decide what texture you want the refried beans to be. If you want them to be just broken up, but still have some larger pieces of bean – a course texture – then use a masher (like this one) to break up the beans.
If you want a finer, smoother texture, you can use an immersion blender to really blend it up. Don't go overboard with this tough. You do still want a little texture, or it'll end up more like whipped mashed potatoes.
Voila!
That's all there is to it. See how easy it is to make your own refried beans?
How to Serve Refried Beans
Refried beans are a great side dish for any Mexican meal. We love it with our homemade carnitas, or inside a delicious verde burrito. If we serve them as a side dish, I can't resist heaping cheddar cheese on top and melting it, like you get at a Mexican restaurant.
In my opinion, there's nothing better than a plate of refried beans, Mexican rice, and tacos.
Other recipes to try
Like it, Love it, Want Some More of It? Subscribe to our newsletter and follow us on Pinterest, Instagram and Facebook. We really love it when you save our recipes to Pinterest 😊
Easy Refried Beans
This quick and easy recipe is perfect for busy weeknight meals or whenever you want a healthy, meatless side dish for your favorite Mexican or Tex-Mex entrees.
Print
Pin
Rate
Ingredients
3

tbsp

extra virgin olive oil

1/2

medium yellow onion

diced

1

garlic cloves

minced

2

16 oz.

cans pinto beans

rinsed and drained

1

tbsp

ground cumin

1

tsp

chili powder

1/2

tsp

smoked paprika

Sea salt and black pepper

to taste
Instructions
Heat olive oil in a large skillet over medium-high heat. Add onion and garlic and season with

salt

and black pepper, to taste. Cook, stirring occasionally, until the onion is soft and translucent, approximately 4-5 minutes.

Reduce heat to medium and add beans, ground cumin, chili powder, smoked paprika, and crushed

red pepper flakes

, if using. Cook, stirring occasionally, until the beans are heated through and start to break apart slightly, approximately 8-10 minutes.

Remove from heat and puree beans with an immersion blender or a potato masher until almost smooth.
Notes
Tip: For a more flavorful and authentic variation, substitute bacon grease for the olive oil in this recipe.
Nutrition
Calories:
108
kcal
|
Carbohydrates:
3
g
|
Protein:
1
g
|
Fat:
11
g
|
Saturated Fat:
1
g
|
Sodium:
12
mg
|
Potassium:
57
mg
|
Fiber:
1
g
|
Sugar:
1
g
|
Vitamin A:
290
IU
|
Vitamin C:
1
mg
|
Calcium:
17
mg
|
Iron:
1
mg
Pin it for later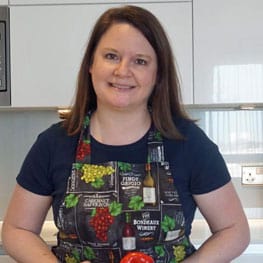 Laura is a home cook, with 25 years experience behind the stove, who spends an extraordinary amount of time in the kitchen cooking. She loves making new recipes and finding wonderful new things to eat, both at home or abroad. She spends a lot of time researching, crafting, and perfecting her recipes and currently has a cookbook in development.