This Vietnamese-style Banh Mi sandwich is one of my all-time favorite things to eat, with its tender braised meat, vibrant pickled vegetables and cucumbers.
If you've eaten Banh Mi before, you know that these flavors together are simply irresistible. The basics of the sandwich are always the same, but each restaurant or food stand seems to have their own variations, which makes it fun to try everywhere you go.
The best part is that this sandwich is really easy to make at home, so you can have it any time you want.
The basic ingredients for this dish are easy. You need a crusty roll or baguette, pork, pickled daikon and carrots, cucumbers, cilantro and mayonnaise… oh and pate, if you're a purist.
Daikon & Carrot Slaw
It's not really possible to buy the picked daikon and carrot mix. You'll have to make your own. But it only takes about 10 minutes to put together and then they need to marinate in the vinegar for at least an hour to develop flavor.
To make the slaw, you'll need to peel and julienne the daikon and carrots. If I'm just making 4 banh mi, I use one medium carrot and half a daikon. You can always make more and have it left over. It keeps in the fridge for at least 3 weeks and is great on salads and sandwiches.
To make it simple, I use the OXO Good Grips Julienne Peeler. It's a huge time saver! However, you can also cut the veggies up by hand into thin matchsticks. You could also grate it, if you don't have time or want to keep it easy.
Place the julienned veggies in a bowl and sprinkle with salt and sugar. Massage it into the veggies until they become a bit flexible. This helps to get some of the water content out so they can soak up the maximum amount of vinegar.
Next, rinse the veggies and set them aside. Mix up the pickling liquid by adding the water, white vinegar, sugar and salt to a bowl. Stir it until the sugar dissolves. Then put the liquid and the veggies together in a sealable container and put it in the refrigerator to marinate.
It takes at least 3 hours to impart good flavor, but if you can wait a day they'll be even better!
Note: If you can't find daikon, you can use regular radishes. I use red radishes sometimes when I can't find daikon and it's just as good.
>> Here's a great recipe and guide for making a large batch of Daikon & Carrot slaw.
How to Make the Pork
For the pork, this recipe uses slow-roasted pork shoulder. It's easy to make in the Instant Pot or on the stovetop. It can be used in a lot of different dishes, not just these Banh Mi, so if you make a large pork shoulder (2-3 lbs), you'll have some left overs to use for other meals.
Here's a recipe to make the pork shoulder in the Instant Pot. You'll need to cut the pork into 3″ chunks, rub it with some seasonings like salt, pepper, rosemary, and paprika. Sear the meat on all sides, then cook it in the Instant Pot with 1 cup of water, half a chopped onion, and a bay leaf for 45 minutes.
On the stovetop, it takes about 3 hours on a low simmer to reach the fork-tender point, which is when you know it's done.
You can also use pork tenderloin. Just slice it thinly and into strips. Then cook it over medium heat until browned.
Once the pork is cooked, add it to a medium sauce pan over medium high heat. Add 2 teaspoons of fish sauce and 1/2 tsp honey. Stir it all up and cook for about 5 minutes, until the pork starts to caramelize.
What Type of Bread to Use
The best option is a Vietnamese baguette, which is a bit more crusty on the outside and fluffy on the inside than a French baguette. You can make your own Vietnamese rolls using this recipe, if you want to try your hand at it.
The difference between the Vietnamese baguette and a French baguette is how much lighter they are. Vietnamese bread is made with rice and wheat flour, so the Vietnamese baguette is airy and light.
A French baguette is the next best thing. You might want to pull a bit of the bread out of the inside of the roll to make it less dense and give space for all the ingredients.
At my grocery, I'm able to easily get Vienna rolls (pictured), which are very similar to French rolls, but they're smaller. Any roll with a crusty exterior is find to use.
Heat it up in the oven to get that freshly baked aroma and crunch.
Building the Sandwich
To build your sandwich, start with the sauce. Mix together some mayonnaise and Maggi Seasoning sauce or soy sauce in a bowl. Slather that onto both sides of the bread.
Next, add sliced cucumbers, then pile in the pork. On top of the pork, put in some of the daikon and carrot slow, some fresh cilantro (coriander), and a few sliced jalapenos.
A true Vietnamese Banh Mi has pâte on it, due to the French influence on this sandwich. Pâte is very tasty on the sandwich. If you want it to be as authentic as possible, it's a must – and fairly easy to get at the store. However, it's not necessary.
Here's a recipe for pate, if you'd like to try making it yourself.
Other Recipes to Try
If you like these Banh Mi sandwiches, you'll also love our Vietnamese pork bowls. They combine all of the same ingredients as this sandwich with vermicelli noodles in bowl form – no bread.
Like this recipe? We'd love for you to share it on your Pinterest board! Click to follow our Pinterest boards so you can find all our recipes!
Instagram it! If you try this recipe please tag #AFoodLoversKitchen on Instagram or Twitter. We love to see your photos of our recipes! Also follow us on Instagram, Twitter and Facebook to keep up on what we're cooking up.
Vietnamese-Style Banh Mi
Banh Mi sandwiches are filled with tender pork, the crunch of pickled vegetables, aromatic cilantro, and spicy jalapenos.
Print
Pin
Rate
Ingredients
For the pickled vegetables
1

medium

carrot

cut into matchsticks

1/2

daikon

cut into matchsticks

1/2

tsp

salt

1/4

cup

white sugar

2/3

cup

distilled white vinegar

1/2

cup

lukewarm water
For the sandwiches
4

6-inch

baguettes

Vietnamese rolls, if possible

1

lb

slow-roasted pork shoulder

2

tsp

fish sauce

1

tsp

honey

1/2

cup

fresh cilantro

roughly chopped

1

small

cucumber

thinly sliced

2

jalapeno peppers

ribs and seeds removed, thinly sliced

3

tbsp

mayonnaise

1/2

tsp

Maggi seasoning sauce or soy sauce
Instructions
For the pickled vegetables
Cut the carrot and daikon into thin matchsticks. Place the carrot and daikon in a bowl. Pour the salt over the top and massage it into the vegetables to release some water and soften them. Let them sit for about 5 minutes. Rinse the vegetables under cold water to remove the salt.

In a bowl, mix the sugar, vinegar and water. Stir until sugar dissolves. Combine the vegetables and the pickling liquid in a sealable container and refrigerate for at least 3 hours to overnight before using.
For the sandwiches
Heat the rolls in the oven for 5 minutes until just slightly crunchy. Slice lengthwise, but don't cut all the way through the roll, so one edge is still connected. This will keep the ingredients in and make it easier to eat.

Heat a pan over medium-high heat. Add the cooked pork shoulder, fish sauce, and honey. Stir to combine, breaking up the pork shoulder into small pieces. Saute until slightly caramelized.

Mix together the mayonnaise and Maggi liquid seasoning or soy sauce. Slather on the inside of the roll.

Fill each sandwich with cucumber slices, 1/4th of the meat, the daikon and carrot slaw, cilantro and jalapenos.
Notes
You can substitute prepared roasted pork or chicken breast instead of making your own pork shoulder.
If you can't find Vietnamese rolls, French baguettes will work.
If you can't find daikon, you can use regular radishes.
Traditional Vietnamese Banh Mi includes pate slices on the sandwich, but it's not required.
The pickled daikon will last for 3-4 days in the refrigerator in the pickling water.
Nutrition
Calories:
596
kcal
|
Carbohydrates:
81
g
|
Protein:
26
g
|
Fat:
17
g
|
Saturated Fat:
4
g
|
Cholesterol:
51
mg
|
Sodium:
1476
mg
|
Potassium:
600
mg
|
Fiber:
5
g
|
Sugar:
18
g
|
Vitamin A:
2787
IU
|
Vitamin C:
21
mg
|
Calcium:
132
mg
|
Iron:
5
mg
Pin it for later!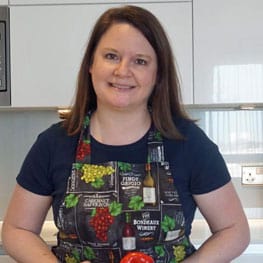 Laura is a home cook who loves making new recipes and finding new favorite things to eat, whether at home or abroad. She also runs a popular travel blog and spends a lot of her time traveling for food.