This article has links to products that we may make commission from.
These Vietnamese Pork Bowls feature caramelized pork and an array of crisp and refreshing vegetables in one satisfying bowl.
We've been on a "bowl" kick lately at home. I love the idea of gather multiple ingredients for the bowl. It's a great way to see how ingredients can mix and match, and what flavors and textures go together well.
This bowl has lots of layers and depth of flavor. The pork is marinated in soy sauce, oyster sauce, fish sauce, lime juice, honey and garlic, then caramelized at high heat so the flavors deepen as the pork becomes irresistable crunchy. The pickled carrots and daikon add acidity and texture.
This bowl is my take on Bun Thit Nuong, which are Vietnamese grilled pork bowls. We don't have a grill at home, so it's difficult to make tasty grilled pork, like this traditional Vietnamese dish calls for. Instead, I substitute with caramelized pulled pork. It's equally as delicious, and easier to do when you can't get to the grill.
How to Make Vietnamese Pork Bowls
There are a number of components to this dish, so it's not a quick and easy 15 minute meal. However, you can purchase the more time-consuming pieces of the dish and then it will be a 15-minute meal!
The two elements that take the most time to make are the pork and the carrot and daikon slaw. I make these at home regularly and they are easy enough to do, but they take time. You can often purchase pulled pork and picked carrots.
How to Make the Caramelized Pork
I use pork shoulder for this carmelized pork and I cook it on the stove top. If you're in a hurry, you can easily make it in the Instant Pot, as well. Or set it in the crock pot to cook while you're out at work.
I like to make a large batch of pork (using a 2-3 lb boneless pork shoulder. This gives us enough meat for a couple of meals, so it's more economical for time and cost. However, if you only want to make enough for this recipe, you'll need 1.5 pounds of pork shoulder.  
Cut the pork shoulder into 3 inch chunks and salt and pepper it on all sides. The absolutely critical step is to brown the meat on all sides in a skillet or pan over high heat. Be sure to add some cooking oil to the pan. It will take about 2 minutes per side.
When that's done, add the broth and de-glaze the pan (use a whisk to get all the little bits of browned goodness off the bottom of the pan). If you're cooking it on the stove top, add the lid, reduce the heat to low, and simmer for 4-5 hours, until the meat becomes tender and falls apart when pulled with a fork.
Meanwhile, mix up the sauce for the meat in a medium bowl that can fit the pork.
Remove the pork from the pan. Shred it into small chunks and add it to the bowl with the sauce. Stir to coat the meat.
Heat up a large skillet over high heat and add cooking oil. When the oil is hot, add the pork to the pan, spreading it out so it's in a flat layer on the pan. Do not crowd the pork or pile it up, or it won't get caramelized. Cook the meat in two batches, if necessary. Don't touch the meat as it cooks. Allow it to crisp up on one side before turning it to crisp on the other side – about 3 minutes per side.
How to Make the Pickled Carrot & Daikon Slaw
For this slaw, you'll need carrots and daikon radish. I like to make a large batch, because often the daikon is quite large and I don't want to waste it, but you can make just enough for this dish, if you want.
You need to slice the carrot and daikon into julienne matchsticks or similar. I like to make them using my spiralizer, because it's fun. Here are two tools you can use to quickly cut the vegetables.
In a large bowl, combine warm water, sugar, salt and vinegar and stir to combine. You need to pickle the vegetables in the brine overnight, so it's best to place the vegetables in an air tight container. Pour the brine to cover the vegetables. Close the lid and refrigerate for at least 12 hours.
Note: This slaw gets stinky. It's really tasty and goes well on salads and sandwiches, if there are left overs, but it might not smell too good in your refrigerator. So plan to use it quickly.
Assembling the Bowl
With the pork and slaw ready to go, you can easily assemble the bowls. As a base, we use vermicelli noodles (cooked according to the package instructions), but you can also use plain white or brown rice.
Around the noodles, add half the pork, half the carrot & daikon slaw, the edamame beans, the cucumbers, green onions, and cilantro. Then you can add Sriracha and Yum Yum Sauce to the top, if you want (believe me, you do want!)
That's all there is to it. If you have left overs from making this, you can save them for lunch the next day. Or use the left overs to make these delicious Vietnamese Banh Mi Sandwiches.
If you like this recipe, you might want to try some of our other international cuisine dishes, like this Thai Panang Curry, or this Japanese Okonomiyaki (cabbage pancake).
Other recipes to try
Like this recipe? We'd love for you to share it on your Pinterest board! Click to follow our Pinterest boards so you can find all our recipes!
Instagram it! If you try this recipe please tag #AFoodLoversKitchen on Instagram or Twitter. We love to see your photos of our recipes! Also follow us on Instagram, Twitter and Facebook to keep up on what we're cooking up.
Vietnamese Caramelized Pork Bowls
These Vietnamese Caramelized Pork Bowls feature caramelized pork and an array of crisp and refreshing vegetables in one satisfying bowl.
Print
Pin
Rate
Ingredients
For the pork
2

tbsp

cooking oil

divided

1

lb

pork shoulder

4

tbsp

soy sauce

divided

1/2

cup

water

2

bay leaves

1

tsp

salt

1

tsp

pepper

2

tbsp

oyster sauce

2

tbsp

lime juice

1/2

tbsp

fish sauce

1

tsp

honey

1/2

tsp

black pepper
For the slaw
2

carrots

julienned

1/2

daikon

julienned

2

cups

warm water

1/4

cup

distilled white vinegar

1 1/4

tbsp

sugar

1

tbsp

salt
For the bowl
1

pkg

Vermicelli noodles

cooked according to the package

1/2

cup

edamame beans

shelled

1/2

cup

cucumber

diced

1/2

cup

fresh cilantro

roughly chopped

1/4

cup

green onion

chopped
Instructions
For the pork
Cut the pork shoulder into 3" cubes. Add 1 tbsp cooking oil to a medium stock pan over high heat. When hot, add the pork shoulder pieces and brown on each side.

Turn the heat down to low. Add in 2 tbsp soy sauce, water, bay leaves, salt and pepper. Cover and simmer for 2-3 hours, until the pork is tender and falling apart.

In a medium-sized bowl, mix the remaining soy sauce, oyster sauce, lime juice, fish sauce, honey and pepper. Stir to combine.

When the pork is done, break it up into small pieces and add to the bowl with the sauce. Stir well to combine.

For best results, caramelize the meat in two batches. Heat a skillet over medium high heat. Add the remaining cooking oil. When hot, add half the pork mixture to the pan. Spread it out so the meat isn't crowded. Allow the meat to caramelize on one side, without moving it in the pan for 2-3 minutes. When it's sizzling and brown, flip it over to caramelize the other side. Take the meat off the pan and finish the second batch.
For the slaw
In a large bowl, mix the water, vinegar, sugar and salt until everything is dissolved.

Put the carrots and daikon in a jar or container. Fill the vessel with the vinegar mixture until carrots and daikon are completely covered.

Cover the jar or container put it in the refrigerator for at least 12 hours.
To assemble the bowl
Cook the Vermicelli noodles according to the package.

Add half the noodles and meat to each bowl. Add the other ingredients in neat piles into the bowl. Top with desired sauces. Serve.
Notes
Top your Vietnamese pork bowl with this yum yum sauce. It's super easy to make and really tasty.
Pin it for later!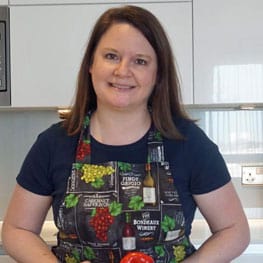 Laura is a home cook who loves making new recipes and finding new favorite things to eat, whether at home or abroad. She also runs a popular travel blog and spends a lot of her time traveling for food.