Fajitas are an easy weekday meal that will please the whole family. These chicken or beef fajitas are healthy, quick and satisfyingly good.
» You might like this recipe for The Best Verde Wet Burrito or Classic Pico de Gallo.
We make fajitas at home all the time. It's one of the easiest meals to make and everyone's happy. I don't use a packet of spices to season these fajitas. Instead I make a spice blend that is way more flavorful, without the sugar and other flavoring agents that are used in the big name brands.
How to Make Fajita Seasoning
A lot of the flavor in these fajitas comes from the seasoning. I never use a packet of seasoning because they add so many extra things. If you make it yourself, you will always have it on hand when you need it, and it only contains the spices you put in it.
I mix up a fresh batch of seasoning every time I make fajitas. You can mix a large batch and keep it in a container, for ease. You don't need much to season a skillet of fajitas for four people.
For the seasoning you'll need these spices (see the recipe for quantities):
Chili powder
Cumin
Paprika
Garlic powder
Oregano
Seasoned Salt
Pepper
Brown sugar (optional)
You can actually leave out one or two of the spices if you don't have it on hand and the seasoning is still pretty legit. The only things you really can't leave out are the chili powder and the cumin.
We've also got a great recipe for taco seasoning. It's very similar. Super tasty.
Other Ingredients You'll Need
Cooking oil – For sautéing the protein and veggies. Use something with a neutral flavor so that it doesn't overpower the food.
Chicken or beef – Whichever protein you use will need to be cut into strips.
Bell peppers – We always use a combinations of red, yellow, and green. Cut into strips
Onion – Yellow onion works best. It adds some sweetness. You can use white onion as well.
Flour tortillas
Garnish – Cilantro, shredded cheese, sour cream, and hot sauce.
How to Make Fajitas
The first decision to make is whether you want to make beef or chicken fajitas. I personally love beef fajitas the best, but chicken is a close second.
If you're vegetarian, you can leave out the meat altogether, or substitute it with a root vegetable, like potato, sweet potato, or squash.
Cut the vegetables into thin strips. You might wonder why strips instead of chunks. It's because the strips stay in the tortilla better and don't fall out the sides as you try to eat it. Cut the meat into thin strips as well.
You'll want to season the vegetables and the meat with salt and pepper, but don't put on the seasoning just yet. If you put the seasoning on before you saute it, the spices can easily burn and create a bitter taste.
Cook the meat first. When it's almost cooked through, add 2 teaspoons of the seasoning. Mix well. Once the meat is completely cooked, remove it from the pan. Add the vegetables and saute for about 5 minutes, stirring so the vegetables don't burn.
On a side note, if you're looking for high-quality ground beef and meat, check out Butcher Box. It's a subscription meat box with 100% grass-fed beef, free-range, organic chicken, heritage breed pork, and wild caught Alaskan salmon. All the meat is humanely raised and never given antibiotics or added hormones ever.  See our full review of the service.
I'm super impressed with the quality of the meat from ButcherBox and won't go back to purchasing meat at the grocery. Plus, it's way easier to have it delivered to your door.
Add the remaining seasoning to the vegetables and mix together well. I prefer not to cook the vegetables too long, so they still have a bit of crunch to them. As soon as they reach your desired doneness, add back in the meat and mix it all together. Remove the pan from the heat.
I use 8-inch or mini flour tortillas for fajitas. They're just the right size so you don't end up overfilling it. Load up the flour tortilla with the chicken and vegetables.
Top them with whatever condiments you want. I always dress mine up with shredded cheddar, cholula hot sauce, chopped cilantro, and sometimes sour cream and guacamole.
Low Calorie, No-Carb Fajitas
One of the best things about fajitas is that they can be a healthy, low-calorie meal. Leave the cheese off to make them dairy free. Leave the sugar out of the seasoning. You can even make them a low-carb meal.
I love flour tortillas, but if I'm not eating carbs, I just replace them with lettuce leaves. You could also try these Homemade Keto Tortillas from our sister site Delightfully Low Carb. They're great no matter how you make them.
What to Serve With Fajitas
One of the best side dishes to serve with fajitas, in my opinion, will always be refried beans with cheese. If you're not a fan of beans, you can pair it with a tomato cucumber salad or Mexican grilled corn.
Frequently Asked Questions
What is the best meat for fajitas?
There are many great options when it comes to fajitas. Try using flank or skirt steak. Cut sirloin steak into thin strips to sauté up quickly. If you like chicken then we always use chicken breast. For vegetarian's or just as a meatless Monday try root vegetables like potato, sweet potato, or squash.
Are taco seasoning and fajita seasoning the same?
While they have very similar spices there are some differences between the 2. Taco seasoning tenders to have more chili powder and oregano while fajita seasoning has more cumin. For this reason taco seasoning tends to be a bit more spicy.
Like this recipe? We'd love for you to share it on your Pinterest board! Click to follow our Pinterest boards so you can find all our recipes!
Instagram it! If you try this recipe please tag #AFoodLoversKitchen on Instagram or Twitter. We love to see your photos of our recipes! Also follow us on Instagram, Twitter and Facebook to keep up on what we're cooking up.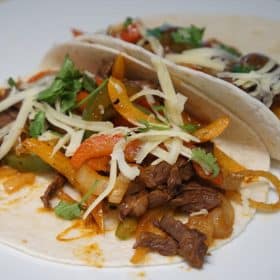 Chicken or Beef Fajitas
Fajitas, with homemade fajita seasoning, are a fast and simple dinner that can be made as healthy as you want it to be.
Print
Pin
Rate
Ingredients
For the fajita seasoning
1

teaspoon

chili powder

1

teaspoon

paprika

3/4

teaspoon

ground cumin

1/2

teaspoon

seasoned salt

table salt is also okay

1/4

teaspoon

garlic powder

1/4

teaspoon

ground black pepper

1/4

teaspoon

brown sugar

optional
For the fajitas
1

tablespoon

cooking oil

1

pound

chicken or beef

cut into strips

1

each green

red, orange bell peppers, cut into strips

1

large yellow onion

8

small flour tortillas

1

small bunch cilantro

chopped

Shredded cheese

sour cream, hot sauce for topping (optional)
Instructions
For the fajita seasoning
Mix together all of the spices. This recipe makes just enough for one batch of fajitas. You can make more by doubling or tripling the recipe.
For the Fajitas
Season the vegetables and meat strips, separately, with salt and pepper.

Add half the cooking oil to a large skillet on medium high heat. Add the meat and cook for 5-8 minutes. When it's almost cooked through, add 2 teaspoons of the seasoning. Mix well. Once the meat is cooked through, remove it from the pan.

Add the remaining cooking oil to the skillet. Add the vegetables and saute for about 5 minutes, stirring occasionally so the vegetables don't burn. Add the remaining seasoning to the vegetables and mix together well.

Add the meat back to the skillet and mix it all together. Remove the pan from the heat.

Serve the fajita filling on flour tortillas. Top with your choice of condiments (cheese, hot sauce, cilantro, sour cream).
Nutrition
Calories:
176
kcal
|
Carbohydrates:
18
g
|
Protein:
8
g
|
Fat:
8
g
|
Saturated Fat:
2
g
|
Polyunsaturated Fat:
2
g
|
Monounsaturated Fat:
4
g
|
Trans Fat:
1
g
|
Cholesterol:
20
mg
|
Sodium:
376
mg
|
Potassium:
161
mg
|
Fiber:
1
g
|
Sugar:
2
g
|
Vitamin A:
310
IU
|
Vitamin C:
14
mg
|
Calcium:
43
mg
|
Iron:
2
mg
Other Mexican Food Recipes To Try
Click for Even More Mexican Favorites
🥧 If you're interested in more great recipes, I share all my favorite Instant Pot recipes over at A Pressure Cooker Kitchen, air fryer recipes at Air Fry Anytime, and cocktails and drinks at Savored Sips. Check it out today!
Pin it for later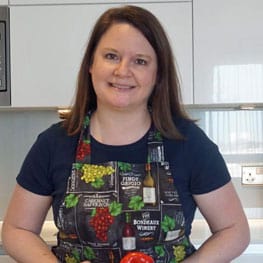 Laura is a home cook who loves making new recipes and finding new favorite things to eat, whether at home or abroad. She also runs a popular travel blog and spends a lot of her time traveling for food.