Mexican food is a serious favorite in our house. We make all kinds of Mexican dishes at home all year round. While it's not possible to replicate the atmosphere of Mexico at home, we can at least enjoy the authentic tastes and flavors we love about Mexican cuisine.
» If you want even more, check out all our Mexican food recipes.
A lot of Mexican food you make at home turns out to be more like Tex-Mex or an Americanized version of an authentic dish. Just because you can't replicate all of the spices and authentic processes used in Mexico doesn't mean you can't enjoy these dishes the way you like to make them at home.
You might also be interested in learning a few facts about Mexican food that you didn't know before.
Our Favorite Mexican Dishes
Turn your Taco Tuesday into an all week affair with these easy Mexican recipes. If you're looking for a good side dish to serve with your tacos and burritos, here's our list of taco-inspired side dishes.
1. Guacamole
Easy Guacamole Recipe
Packed with good monounsaturated fats and fiber, this easy guacamole recipe makes a healthy and irresistible snack.
See the recipe
There's nothing better than a bowl of guacamole and tortilla chips. It's the perfect snack for any occasion. The only problem is that so many pre-made guacamole are terrible, and not many people try making it fresh. I want to change that for you now. No more store-bought guacamole!
Fresh guacamole has all the goodness and none of the extra preservatives that store-bought versions have. Sure, it wont last long because avocado oxidized quickly (turns brown), but that doesn't matter because you should only be making what you're going to eat in one sitting anyway. Guacamole should always be made fresh.
2. Elote
Classic Mexican Street Corn (Elote)
A classic Mexican street food, this corn on the cob is charred on the grill, then slathered in mayo, and topped with tangy Cotija cheese, chili powder and cilantro. 
See the recipe
Mexican Street Corn is one of my favorite quick and tasty foods that can be found at street stands all over Mexico. The ears of corn are tossed on the grill to get tender and sweet, then they're lathered up with a mixture of mayo and sour cream, and topped with cotija (Mexican cheese), chili powder, and cilantro.
Instead of serving plain old corn on the cob, try this Mexican street corn version to add some excitement and flavor to your dinner. It will quickly become one of your favorites, once you see how well all these flavors enhance the corn. It's addictive, really.
3. Chilaquiles
Mexican Chilaquiles
Chilaquiles (corn chips) with shredded chicken and green chile sauce, baked and topped with Mexican cheese
See the recipe
Chilaquiles can be eaten for breakfast, lunch or dinner. It's a versatile, filling, and flavorful snack or meal. This easy Chilaquiles recipe leaves the chips crunchy and full of flavor.
If you like nachos and enchiladas, you'll love Chilaquiles – the harmonious marriage between these two great dishes. The salsa verde brings it all together, as it coats the tortilla chips to add immense flavor to every bite. If you want to add meat, you can add in some shredded chicken or beef.
4. Flautas
Mexican-Style Chicken Flautas
These Mexican-style chicken flautas are a great snack or appetizer, served with shredded lettuce, cheese and pico de gallo.
See the recipe
This Mexican-style chicken flautas recipe makes a great appetizer or main dish. Top it with with shredded lettuce and fresh pico de gallo for the perfect dish. A flauta, which actually means 'flute' in Spanish, is a small, rolled-up corn tortilla that includes a filling usually made with beef, chicken or pork that is stewed in tomato and onion.
Flautas are very versatile. Make them with chicken, beef, pork, beans or even just cheese. Use corn or flour tortillas, It's up to you!
5. Fajitas
Chicken or Beef Fajitas
Fajitas, with homemade fajita seasoning, are a fast and simple dinner that can be made as healthy as you want it to be.
See the recipe
Fajitas can be made with chicken or beef, or even just with veggies. Pack the flavorful strips of meat and peppers onto a soft and chewy flour tortilla, top it with some cheese and cilantro and you have the perfect Mexican meal.
We make fajitas at home all the time. It's one of the easiest meals to make and everyone's happy. I don't use a packet of spices to season these fajitas. Instead I make a spice blend that is way more flavorful, without the sugar and other flavoring agents that are used in the big name brands.
6. Barbacoa
Chipotle Beef Barbacoa Recipe
Easy Beef Barbacoa Recipe for tacos, burgers and burritos
See the recipe
Beef Barbacoa is so tasty and versatile that it can be used in just about any dish you want. We even make Barbacoa Burgers out of it. It's the perfect addition to tacos, burritos, even nachos. When you see how easy it is to make, you might just add it to your regular dinner rotation.
If you love Mexican food, you'll definitely want to start making beef barbacoa at home. It's the perfect slow cooker or Instant Pot recipe, because these two methods of cooking allow the sauce to really meld with the meat, and for the meat to break down into melt in your mouth little morsels. The best part: the leftovers can be used for days in different dishes, so you won't have to cook again for a few days, if you don't want to.
7. Burritos
Verde Wet Burritos
These verde Wet Burritos feature slow-cooked carnitas with spicy Mexican rice and beans and melted cheddar cheese.
See the recipe
These Verde Wet Burritos feature slow-cooked carnitas with spicy Mexican rice and beans and melted cheddar cheese. A lot of what makes a burrito so good is in the ingredients. Second-rate flour tortillas and inferior rice can only lead to a dry and bland burrito. But I've also learned that there are some really good products that are super easy to find that make for a really delicious burrito.
The ingredients we use for this recipe include Old El Paso flour tortillas, Las Palmas green chile enchilada sauce, Uncle Ben's Mexican-style rice and Rositas Refried Beans. It's as close to the burritos we get at our favorite Mexican restaurant as possible.
8. Carnitas
Delicious and Authentic Carnitas Recipe
This authentic carnitas recipe can be used to make many different dishes, including these crispy pork carnitas tacos.
See the recipe
This Mexican Carnitas recipe is about as good as it gets. The tender pieces of pork are like little morsels of savory magic, and they can be used in so many different Mexican dishes, making this a very versatile recipe.
Authentic carnitas really should be cooked on the stovetop in lard, but you can get away with cooking them in their own fat (using a pork shoulder that has the fat cap attached). Add some orange juice, cumin, and Coke (yes, that's correct!), and you have the best batch of carnitas you've ever eaten.
9. Tortillas
Blue Corn Tortillas
It only takes blue corn masa harina, water, salt and a few minutes of your time to make fresh delicious blue corn tortillas.
See the recipe
Homemade Blue Corn Tortillas are a fun and unique way to dress up your taco night. It only takes blue corn masa harina, water, salt and a few minutes of your time to make fresh delicious blue corn tortillas.
Yellow corn tortillas are in abundance at the grocery store. Depending on where you live, there is likely a huge display of corn tortillas to choose from. In certain states, it's even possible to get freshly made tortillas, straight off the griddle. However, it's much harder to find blue corn tortillas in the store.
I love the the taste of blue corn flour. It's got a deeper, more intense flavor than white or yellow corn. Not to mention that the blue corn tortillas make a much more dramatic presentation on the plate.
10. Mezcal Cocktail
Oaxacan Mezcal & Basil Cocktail
This Oaxacan Mezcal Cocktail, with its smokiness and perfect balance of sweet and sour, will leave you craving more.
See the recipe
We were in love with this cocktail from the first time we tasted it. We kept going back to the bar to order it, because it was so beguilingly good. The fresh basil, sour lime juice and sweet agave syrup go together so well. And that's even before you introduce the Mezcal, which adds a tantalizing smoky flavor.
It's easy to make these cocktails and even easier to drink them – trust me. You'll want to have plenty of fresh basil and a lot of agave syrup on hand.
CONCLUSION
All of these dishes are perfect for your Cinco de Mayo party or celebration. They can be made in small or large batches, depending on the size of your party.
Like it, Love it, Want Some More of It? Subscribe to our newsletter and follow us on Pinterest, Instagram and Facebook. We really love it when you save our recipes to Pinterest 😊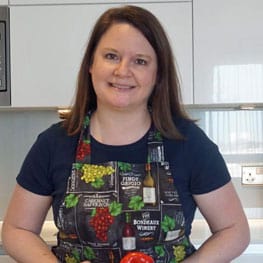 Laura is a home cook, with 25 years experience behind the stove, who spends an extraordinary amount of time in the kitchen cooking. She loves making new recipes and finding wonderful new things to eat, both at home or abroad. She spends a lot of time researching, crafting, and perfecting her recipes and currently has a cookbook in development.