This article has links to products that we may make commission from.
This Mexican-style chicken flautas recipe makes a great appetizer or main dish. Top it with with shredded lettuce and fresh pico de gallo for the perfect dish.
Tacos will always be my first love when it comes to Mexican food, and most Mexicans would probably say the same thing. It's a main staple of Mexican cuisine. But when you turn those tacos into crispy flautas, I am equally happy.
They are easy to eat, crunchy, and so tasty. These chicken flautas are very versatile. Use it with chicken, beef, pork, beans or even just cheese. Use corn or flour tortillas, It's up to you.
What Are Flautas?
A flauta, which actually means 'flute' in Spanish, is a small, rolled-up corn tortilla that includes a filling usually made with beef, chicken or pork that is stewed in tomato and onion.
After rolling, the flauta is fried in oil to give it a nice crispy exterior and seal in all the delicious juices from the filling.
It is served as an appetizer, either covered with or on top of a bed of shredded lettuce, with pico de gallo and maybe some shredded cheese on top. It's typically eaten with your hands (like you're holding a flute!).
I have had flautas that were served as a main dish, however, and if that's how you want to serve them, by all means!
This Mexican specialty, also called flautas de pollo, is one of the most popular Mexican snacks. They are really great snacks for parties because they're so easy to eat while standing. You don't even need a plate to eat them on.
You might be wondering what the difference is between taquitos and flautas. The differences are minor, and sometimes the terms are even used interchangeably.
Taquitos are generally made with corn tortillas, while flautas are usually made with flour tortillas.
Flautas are also often longer in size than taquitos. You will definitely still find corn tortillas being used for flautas, however.
We choose to use flour tortillas for our flautas. I think that's a slightly more authentic choice, but it's up to you.
How to Make Flautas
Flautas are very easy to make. It takes no time at all to saute the onions and garlic, then simmer down the tomato sauce and add the shredded chicken. You can really use any type of meat you want – or make them vegetarian.
Shredded chicken, barbacoa, carnitas… they all work in this dish.With corn tortillas, you'll want to fry them quickly in oil to make them more pliable, before adding the filling and rolling them. But with flour tortillas, there's no need to do this extra step.
Be sure not to use too much filling in the flauta and to spread it evenly. You want to get a tight roll, without filling sticking out the ends.
Then you just need to heat the oil on medium heat and put the rolled tortillas with the seam side down.
Watch them carefully to be sure they don't burn. It's also best not to allow them to touch in the pan. They need their space. Once they're done, serve right away – they're best when hot! I like to put fresh guacamole, pico de gallo, cojita cheese and sour cream on top.
By the way, if you don't want to add the extra oil by frying these flautas, you can bake them in the oven for 15 minutes on 350, or even in the air fryer. They'll still be crispy and delicious, either way.
If you love these chicken flautas why not try these sour cream chicken enchiladas.
Other Recipes to Try
Like this recipe? We'd love for you to share it on your Pinterest board! Click to follow our Pinterest boards so you can find all our recipes!
Instagram it! If you try this recipe please tag #AFoodLoversKitchen on Instagram or Twitter. We love to see your photos of our recipes! Also follow us on Instagram, Twitter and Facebook to keep up on what we're cooking up.
Mexican-Style Chicken Flautas
These Mexican-style chicken flautas are a great snack or appetizer, served with shredded lettuce, cheese and pico de gallo.
Print
Pin
Rate
Ingredients
1

cup

shredded chicken breast

1/2

cup

cooking oil

I use avocado oil

1/2

cup

canned chopped tomatoes

1/4

cup

chopped onion white or yellow

1

garlic clove

minced

Shredded lettuce for garnish

Grated Cotija or Monterey Jack cheese for garnish

Sour cream
Instructions
Saute the onions on medium heat until translucent (around 5 minutes), then add the minced garlic and simmer for 2 more minutes.

Add the chopped tomatoes and the shredded chicken. Cook over medium heat for 5 minutes, allowing the tomatoes to cook down slightly. Remove from heat.

Add ⅙ of the filling to each flour tortilla. It's best to add the filling closer to one side, so they can easily be rolled tightly. Be sure not to use too much filling in the flauta and to spread it evenly.

Heat the oil in a large skillet over medium heat. Add each flauta, seam side down to the pan. Cook for 3-5 minutes, rolling them occasionally to obtain an even fry.

Remove from pan to drain on a wire rack. Garnish with shredded lettuce, cheese and pico de gallo. Serve with salsa and/or sour cream.
Pin it for later!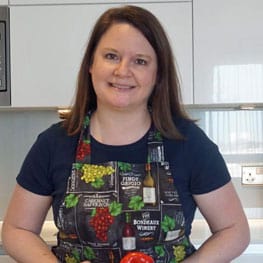 Laura is a home cook who loves making new recipes and finding new favorite things to eat, whether at home or abroad. She also runs a popular travel blog and spends a lot of her time traveling for food.