I really feel that a meat delivery service like ButcherBox that delivers 100% grass-fed beef, free range organic chicken and heritage breed pork directly to your door is one of the best way to get high-quality meat these days.
As a huge ButcherBox fan, I became an affiliate in order to spread the news to others who might also like this type of subscription meat service. (If you use the links in this review to purchase, I will receive a commission.
🥳🍗Don't miss out! New customers to ButcherBox get FREE wings for life! That's 3 pounds of free-range organic chicken in every box. SIGN UP HERE
The meat that comes from farms that are transparent about their practices, so you can be confident about what you're eating. And isn't that what we're all looking for?
If you've tried any of the beef or chicken recipes on this site, you know I'm always talking about ButcherBox. Whenever people ask me if ButcherBox is worth it, I say a resounding YES! Here's why.
During the height of the pandemic, I was incredibly happy I had a membership, so I didn't have to worry about getting to the store and finding meat that was scarce at times. My order was delivered regularly, just as I expected, and contained all the high-quality meat I needed.
You can start a new membership here.
What is ButcherBox?
ButcherBox was started by Mike Salguero who wanted to make grass-fed beef (and now heritage-bred pork and organic chicken) accessible for everyone to purchase, not just those who have access to a farm, or a grocery that stocks it.
Did you know that only 1% of the beef consumed in the United States is grass-fed? ButcherBox's meat is not just grass fed. All of their animals are humanely raised and free of antibiotics and added hormones. It's a game changer for your health and your table.
ButcherBox believes in making the planet a better place, improving the lives of animals and the livelihood of farmers. If those are things you want too, then this is a great way to start making a difference.
All of their meat comes from animals that were humanely raised on a farm with sustainable practices.
How Does It Work?
When you sign up for ButcherBox, you will get a box of meat delivered at the frequency of your choice (every 2 weeks, every 4 weeks, etc). The meat is delivered to your door, frozen and on ice in an insulated, recyclable box. Shipping is free.
There are 5 options to choose from currently. They are:
Custom box
Mixed box
Beef & pork box
Beef & chicken box
All beef box
Below is a picture of a mixed box I received, with steaks, ground beef, pork loin, and chicken.
How Much is ButcherBox?
A curated box starts at $129 a month. A custom box starts at $149 a month. It "starts at" because you always have the option of adding on a few extras, which will increase the price.
This comes out to less than $6 per meal, which I think is a really great price for such high-quality meat. I'm hard pressed to find that price in the store for the same quality.
Curated Boxes
If you choose a curated box, the cuts of meat will be chosen for you. They select a well-balanced assortment of easy-to-cook items, like chicken breasts, and a few interesting cuts, like Denver steak.
Classic box with 8-10 pounds of meat (enough for 24 meals) – $129.
Big box with 16-22 pounds of meat (enough for 48 meals) – $238.
12 additional items you can add on, if desired.
Custom Boxes
The custom box was created for those who want to choose their meats due to specific dietary restrictions, or you know, if you don't like something specific.Select up to 21 different cuts of everyday items, like ground beef, and premium items like pork tenderloins.
Classic box with 9-14 pounds of meat ($4.97 per meal) – starting at $149 or a big box for $270.
12 additional items you can add on, if desired, if you want.
What Cuts of Meat are Included?
Below is a sampling of the cuts you can expect to receive. Of course, you won't get every cut of meat every time in curated boxes. You'll receive a mix of things, depending on the options you choose. If you want to always choose your own cuts, be sure to go with the custom box.
Beef: bottom round roast, flat iron, filet mignon, ground, ribeye, steak tips, tomahawk steak, pot roast, meatloaf
Pork: bacon, pork chop, ground, butt, ribs (St. Louis and baby back), tenderloin, carnitas, bratwurst, pulled pork, Italian sausage, uncured hot dogs.
Chicken: breast, drumstick, tenders, thighs (boneless and bone-in), whole chicken, wings.
Turkey: Ground turkey, whole turkey
Seafood: salmon, scallops, sablefish, shrimp, lobster, cod, salmon patties, halibut
Addons: Crab legs, bone broth, ground bison, charcuterie, cheese, smoothies
Why Choose ButcherBox?
The reasons I choose a service like ButcherBox is convenience and quality. Those two things are my top priority, so this is absolutely the way to go for me.
You might be considering other reasons and want to know how ButcherBox stacks up. So I'll go over the main reasons you might choose this service below.
Quality
I have always been apprehensive about purchasing meat at the grocery when I don't know where it comes from or how it was raised.
Perhaps you already have a source of high-quality meat that you trust, but if you don't then ButcherBox is a great place to start. All of their products are humanely raised or wild-caught, and they're never given antibiotics or added hormones.
I've also been very satisfied with the appearance and taste of the meat. The cuts are generous, the meat tastes good, and it cooks well. These are all important quality measures for me. I actually get really excited when I pull a ButcherBox steak out of the freezer.
Convenience
There's really no easier way to source meat that to have it delivered automatically to your door. I do still purchase some meat from the grocery or a local butcher, when I need something specific, but otherwise there's no need to think about purchasing other meat.
Once you've ironed out the type of box that fits you best, and the frequency of delivery, you'll be able to forget all about purchasing meat. It just shows up. If there's a time when you don't need the box (for vacation or something) you can always skip a delivery in your online account.
Price
If price is one of your main concerns, you might want to do a bit of comparison shopping with the meat you're currently purchasing to see if ButcherBox is a good deal for you.
For the quality of the meat, to me the price is worth it. It comes out to around $4.97 per meal on average. I've found that for the same quality (humanely raised, grass-fed, organic, hormone-free meat), the price is on par with what I can get elsewhere. Add in the time and gas it takes to go to the store to purchase it, and ButcherBox comes out ahead.
This might not be the case where you are, so you'll have to do a little homework to see how the price looks to you.
One bit of good news: they don't charge for shipping!
Taste
Taste is obviously one of the most important factors, too. I find a lot of meat to be lacking in flavor and either fatty or watery. These are not complaints I've ever made about ButcherBox meat.
The chicken I've received has always been tender and well-trimmed. It's plump and juicy when cooked, but not fully of water that has to cook down.
The steaks from ButcherBox are one of my favorite cuts. They're impressively sized, robust cuts. The flavor is restaurant quality, in my opinion.
The heritage-breed pork has a slow maturation process, so they develop the fine marbling and great flavor that nature intended them to have. If you like bacon, get ready for ButcherBox's delicious bacon!
Want to try ButcherBox? Click here to sign up!
Packaging
I've recently been trying to avoid excess trips to the grocery store, so my freezer has been looking a bit like a Tetris game. It dawned on me how much I appreciate ButcherBox's minimal packaging, because it's very streamlined, with no extra bulk. This makes fitting things into the freezer much easier.
Yes, it's still shrink wrapped in plastic, which I don't love, but I also don't think there's an alternative at the moment, so I deal with it.
The box is recyclable and the other packing materials are biodegradable or recyclable.
You Can Cancel Anytime
With subscriptions, I think the main worry is that you might not be able to cancel at any time you choose, that you might be roped into more than you want, or that you can't pause your subscription during vacation or when you don't think you need it. None of that is a worry with ButcherBox.
There isn't a set amount of time you must stay on the service, so if at any time you want to cancel, you can; even after your first shipment, if you find it isn't for you.
You can also pause your subscription if you're going to be away, or just need a temporary break. You do all of these things easily with one click in your account page.
The only thing you can't do is shrink your order. My household only has 2 members. Sometimes I feel like we have too much meat from the previous box and wish I could get a half order instead. The classic box is as small as they come. However, when this happens, I just pause my subscription until I need it again.
Final Thoughts on ButcherBox
If you're looking for meat that is humanely raised, antibiotics and added-hormone free, then I can't recommend ButcherBox highly enough. The whole experience has been easy, reliable, and high-quality.
I don't think you'll regret giving it a try. Best case scenario, you fall in love with it like I did. Worst case, you're out one order and a little bit of your time. You can cancel right away if you're not happy. I'm pretty convinced you will be, though.
Don't have time right now? Pin it for later.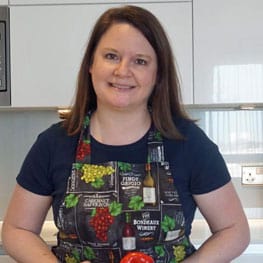 Laura is a home cook who loves making new recipes and finding new favorite things to eat, whether at home or abroad. She also runs a popular travel blog and spends a lot of her time traveling for food.