This article has links to products and services we recommend, which we may make commission from.
Roasted cauliflower is one of my favorite side dishes. Not only is it super easy to make, it's a healthy alternative to potatoes or other starches.
The roasting process brings out the natural sugars in the cauliflower, making it sweet and savory at the same time. If you've only ever had raw or boiled cauliflower, you absolutely have to try this roasted garlic cauliflower. It ticks all the boxes – sweet, savory, crunchy and irresistible.
How to Make Roasted Cauliflower
As promised, this dish is really easy to make. That's why it's such a great side dish, especially for weeknights when time is tight.
Start by cutting the cauliflower head into florets. I prefer smaller pieces, but you can make them whatever size you like. The smaller they are, the quicker they will cook.
The first thing you'll need to do is coat the florets with either olive oil or melted butter. The choice is up to you. I go back and forth between the two, because I like it both ways. Put the florets into a bowl, drizzle the oil or butter over the top, then stir to coat.
Next, add the minced garlic and Parmesan. Stir to evenly distribute the garlic and cheese and coat the florets.
Roasting Cauliflower in the Oven
I prefer roasting cauliflower in the oven over any other method of cooking, because the high heat allows the breakdown of fibers, making it very tender, and it brings out the sweetness, with a little bit of char.
It takes about 25 minutes in a 400 degree F oven to create this magic, and to brown the florets. Take them out of the oven as soon as they've turned golden brown. You don't want it to overdo it, as that will negatively affect the taste of the garlic.
You can also cook the cauliflower on the stovetop in a pan with a thin layer of oil, but it doesn't turn out quite as tasty, in my opinion, and it's not as healthy with the additional oil.
Other Variations of Roasted Cauliflower
You may have seen a few other versions of roasted cauliflower and are wondering if you can use this recipe to make those versions as well. Yes, you can!
You can roast a full head of cauliflower that has been coated with oil/butter and breadcrumbs. It will take longer to cook – around 45-50 minutes. Again, watch for the browning of the breadcrumbs. You can also stick a fork or knife into the head to make sure it's tender and cooked through.
Another variation is roasted cauliflower steaks. Although it's more difficult to cut a head of cauliflower into ½ inch slices, this dish is really tasty and it looks impressive on a plate. The steaks will cook faster than the florets – generally within 15 minutes.
What to Serve Roasted Cauliflower With
I think this cauliflower goes with any type of protein, personally. Another reason why it's so versatile. Serve it with roasted chicken, chicken wings, pork tenderloin, or a sirloin steak.
You can serve the cauliflower steak in lieu of meat, making it a fantastic vegetarian meal for meatless Monday or to serve vegetarian friends at a dinner party.
Like this recipe? We'd love for you to share it on Pinterest. Click to follow our Pinterest boards so you can find all our recipes!
Made this recipe yourself? Please rate your experience and leave us a comment.
Roasted Garlic Cauliflower with Parmesan
This roasted garlic cauliflower is a great side for any protein. The roasting process makes them tender and slightly sweet.
Print
Pin
Rate
Ingredients
2

tbsp

olive oil or butter

melted

½

cup

shredded Parmesan

1-2

cloves

garlic

minced
Instructions
Preheat oven to 400 degrees F.

Cut the cauliflower into bite-sized pieces. Place them in a bowl.

Drizzle the olive oil or butter on top of the cauliflower florets and stir to coat.

Add the rest of the ingredients and stir to coat.

Transfer the cauliflower to a baking sheet and spread in an even layer.

Bake the cauliflower for 25 minutes or until the florets turn golden brown.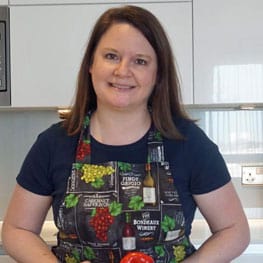 Laura is a home cook who loves making new recipes and finding new favorite things to eat, whether at home or abroad. She also runs a popular travel blog and spends a lot of her time traveling for food.