Did you know you can cook a whole chicken in the Instant Pot in a fraction of the time it takes in the oven? This Instant Pot Whole Chicken recipe makes for an incredibly easy and quick dinner.
»You might also like this Instant Pot Oxtail Ragu or Instant Pot Caramelized Carrot Soup.
One of the things I make the most in the oven is a whole roasted chicken. But it takes quite a while to cook a whole chicken in the oven. So when I got my Instant Pot, a whole chicken was one of the first things I made.
Whole chicken not only provides a delicious meal, it also ensures we have left over chicken for sandwiches and salads throughout the week.
You will likely be very surprised by how little time it takes to make a whole chicken in the Instant Pot. The first time I did it, I was more than a little skeptical that it would actually get cooked all the way through in such a short time. But it worked a charm.
You can also cook chicken drumsticks and leg quarters in the Instant Pot in a fraction of the time.
For a fresh chicken that is not frozen, it takes approximately 6 minutes per pound to cook. I usually cook a 3 pound chicken, so it's a total of 18 minutes. Be sure to check the weight of your chicken before setting the timer.
18 minutes! That's a HUGE time savings over roasting a chicken in the oven, which takes at least 45 minutes.
For a frozen chicken, it will take around 8.5 minutes per pound. That means if you have a typically sized 3 pound chicken, it will only need to cook for 18 minutes in the Instant Pot.
Ingredients In This Dish
Whole chicken – It is important to choose a chicken that will fit in your Instant Pot. We typically chose a 2 1/2 – 4 pound bird.
Olive oil and butter – They both add flavor and moisture to the bird while helping to hold on the spices.
Seasonings – Salt, paprika, garlic powder, rosemary, oregano, black pepper and mustard powder. While any seasoning will work we love this mixture of flavors.
How to Cook a Whole Chicken in the Instant Pot
There are three steps to making a whole chicken in the Instant Pot. It's actually very, very simple. It consists of seasoning the chicken, putting it into the Instant Pot, turning it on, and removing it to slice and eat. See? Super simple.
Let's go over each step.
STEP ONE: PREP THE CHICKEN
Before you begin, make sure that your chicken fits in your Instant Pot. As you know, Instant Pots come in different sizes. If you have the smallest one – the 3qt version – you will only be able to fit a very small chicken in the pot.
With the largest version – an 8qt – you can likely fit a chicken up to 6 or 7 pounds. A 6-quart Instant Pot, like the one I have, can fit up to a 5-lb chicken, as long as it's more plump than long.
Remove the chicken from the refrigerator. Mix up your wet rub and brush it all over the chicken's exterior, making sure to get inside the leg and wings.
STEP TWO: PREP THE INSTANT POT
The Instant Pot comes with a metal trivet that you can place at the bottom of the metal pot to raise the food up off the bottom. This is an occasion where you will want to use the trivet. Place it in the bottom of the pot.
Pour one cup of water into the bottom of the pot. You may need to use 1.5 or 2 cups if you have an 8-quart pot. The water should just come up to the top of the trivet.
Place the seasoned chicken on top of the trivet and close the lid of the Instant Pot. Make sure the valve is on seal. Set the pressure cooker to the appropriate number of minutes needed for your size of chicken.
1 lb = 6 minutes
1.5 lb = 9 minutes
2 lb = 12 minutes
2.5 lb = 15 minutes
3 lb = 18 minutes
4 lb = 24 minutes
5 lb = 30 minutes
STEP THREE: FINISHED!
When the cooking time is over, the pressure cooker will still need around 30 minutes to depressurize. It's best to allow the pressure to release naturally. This will help seal in the juices and make the chicken super tender and delicious.
The whole process should take around 40 minutes, for an average size chicken. Once you've opened up the pot, check the chicken with a meat thermometer, like the instant-read Thermapen, to be sure it's reached the proper internal temperature of 165 degrees F.
If your chicken did not reach the right temperature, you'll need to put it back on for a few minutes. 2-3 minutes should be enough. You may also wish to finish its cooking process in the oven – especially if you intend to crispy up the skin in the oven anyway.
Why Use An Instant Pot
The Instant Pot is one of the most useful kitchen appliances you can buy, because it drastically cuts down on the cooking time for developing flavors in soups and stews, getting tough cuts of meat tender, and even baking a cheesecake. And there are many accessories that will help you get more out of your Instant Pot.
If you don't have one yet, check out our guide on which one to buy. You can also check out our Instant Pot page for more information.
Frequently Asked Questions
Will the Chicken Have Crispy Skin?
When you take the chicken out of the Instant Pot, it won't have crispy skin. The skin will be thin and translucent. If you really want a crispy exterior, you should roast the chicken in the oven instead of the Instant Pot.
However, you can add a bit of crispiness and color to the top of the chicken by putting it in the oven on broil for around 8 minutes. Watch it closely so you don't over do it. Take it out as soon as color begins to form.
What If the Chicken is Frozen?
It's absolutely possible to cook a frozen chicken in the Instant Pot. It just takes a bit more time. You can even still apply the wet rub seasoning to a frozen chicken.
Just make sure the chicken has already been properly cleaned, with the gizzards removed, before you put it in the Instant Pot. If it happens to have anything stuffed into the cavity – some come with a bag of seasoning stuffed inside – you can't cook it.
Cook times differ for frozen chicken. Instead of 6 minutes, it will take 8.5 minutes per pound.
What to Serve with Instant Pot Whole Chicken
The chicken goes particularly well with a Classic Wedge Salad, but you might also want to serve it with this Roasted Green Beans & Mushroom side dish, or these crispy potatoes.
A whole chicken is such a great meal to make because it keeps on giving. You can easily make multiple meals from the one chicken. Then you can use the left overs for other things, like chicken salad, these delicious chicken flautas or these chicken southwestern eggrolls.
Like this recipe? We'd love for you to share it on your Pinterest board! Click to follow our Pinterest boards so you can find all our recipes!
Instagram it! If you try this recipe please tag #AFoodLoversKitchen on Instagram or Twitter. We love to see your photos of our recipes! Also follow us on Instagram, Twitter and Facebook to keep up on what we're cooking up.
Instant Pot Whole Chicken
Cooking a whole chicken in the Instant Pot is easy and incredibly fast.
Print
Pin
Rate
Ingredients
1

2.5 – 4 pounds

whole chicken

2

tablespoons

olive oil

2

tablespoons

melted butter

1/2

teaspoon

salt

1/2

teaspoon

paprika

1/4

teaspoon

garlic powder

1/4

teaspoon

dried rosemary

1/4

teaspoon

oregano

1/4

teaspoon

ground black pepper

1/4

teaspoon

mustard powder
Instructions
Mix together the olive oil through mustard powder in a small bowl.

Prepare the chicken by removing any gizzards from the cavity.

Brush the wet rub onto the exterior of the chicken.

Place the metal trivet into the base of the Instant Pot. Add 1 cup of water. Place the chicken on top of the trivet and place the lid securely onto the Instant Pot, with the valve set to Seal.

Push the Pressure Cook button on the machine and set the time according to the size of the chicken (6 minutes per pound).

Allow the pressure to naturally release. Test the internal temperature to be sure it has reached 165 degrees. Remove the chicken from the Instant Pot and slice to serve.
Nutrition
Calories:
466
kcal
|
Carbohydrates:
1
g
|
Protein:
31
g
|
Fat:
37
g
|
Saturated Fat:
12
g
|
Polyunsaturated Fat:
6
g
|
Monounsaturated Fat:
17
g
|
Trans Fat:
1
g
|
Cholesterol:
138
mg
|
Sodium:
455
mg
|
Potassium:
323
mg
|
Fiber:
1
g
|
Sugar:
1
g
|
Vitamin A:
530
IU
|
Vitamin C:
3
mg
|
Calcium:
24
mg
|
Iron:
2
mg
🥧 If you're interested in more great recipes, I share all my favorite Instant Pot recipes over at A Pressure Cooker Kitchen, air fryer recipes at Air Fry Anytime, and cocktails and drinks at Savored Sips. Check it out today!
PIN IT FOR LATER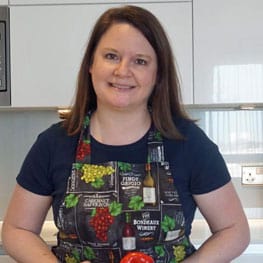 Laura is a home cook who loves making new recipes and finding new favorite things to eat, whether at home or abroad. She also runs a popular travel blog and spends a lot of her time traveling for food.