There's nothing worse than serving dry, overcooked or dangerously under-cooked meat to guests at your dinner party. Getting a precise temperature of the ingredient you're cooking — whether it's on the stove top, in the oven, or on the grill — is especially important for serving properly cooked and safe food.
The Thermapen instant-read thermometer is my constant companion while cooking. I've actually given Thermapens to friends for birthdays and Christmas, because I believe in it so much!
I used a couple of pretty awful meat thermometers before I found the Thermapen. Inevitably the inferior thermometers would stop working after a few uses and start telling me lies that led to both under and overcooking a few things before I learned my lesson.
If you want to be 100% sure of the temperature of the meat or whatever else you're cooking, the Thermapen is an absolute must. Really only one is all you need. I've had my red Thermapen for 8 years now – use it every day – and it's still going strong. But I now have multiple Thermoworks thermometers because I'm a little obsessed with them.
I have a Thermapen ONE – the workhorse – and a Thermapen IR, which has a built-in professional infrared thermometer. I also have a Smoke X4, which I use for all my smoking and grilling. Both are indispensible.
» Reading in one second or less
» Accuracy of ± 0.5°
» 5-year warranty
» Auto-rotate display; motion-sensing
» Insanely long battery life (2000 hrs)
If you've seen any of our recipes, like this Smoked Tri Tip or Oven Roasted Chicken, you know that I'm constantly on about checking the internal temperature of the meat to know when it's done. If there's one thing I hate, it's overcooked dry meat. The only way to make sure you're not overcooking it is to check the internal temp.
Using a digital thermometer helps you keep tabs on the meat as it cooks, so you achieve the perfect temperature every time. Your friends will be seriously impressed by how well you're able to cook a medium rare steak when you start using one.
Thermapen Features
The Thermapen MK4 has so many great features. Where other thermometers fail, the Thermapen excels. My number one feature is the incredibly battery life. It's one AAA battery Here's a quick list of the features:
2-3 second readings
High accuracy to ±0.7°F (±0.4°C)
Foldaway probe
Patented auto-rotating display
Use in either hand
Motion-sensing sleep & wake mode
Intelligent backlight
Waterproof to IP67
2,000 hour battery life (AAA Battery)
10 colors
Display temps in °C or °F
Battery Life
I have to say that the most impressive feature is the battery life. I've had my Thermapen for 5 years now and it's not yet run out of battery. I use it 2 or 3 times per week to check the temperature of a roast, steak, or even the temperature of oil for frying.
Orientation
Another super handy feature is the auto-rotating display. I am right handed while my husband is left handed. It's simple for both of us to use in a way we're comfortable with. The display reading tips vertical or horizontal, depending on how you hold it.
Accuracy
While I love the more superficial highlights of the Thermapen, the most important thing is always accuracy. After using different types of thermometers, I've learned that while they always work really well at first, they tend to get more finicky and less accurate over time.
When the difference of a few degrees really makes a difference between medium and medium well, it's important that the probe is accurate.
I've never had an issue with the Thermapen in the 8 years I've had it. I've tested it alongside other thermometers to gauge its accuracy, but the real demonstration is how the food comes out. It's spot on most of the time.
A another situation where the temperature is extremely important is when making cheese or ricotta on the stove top. When making Ricotta Cheese, it's necessary to heat the milk to 180 degrees F before adding acid. I use the Thermapen to measure the temperature of the milk.
It's convenient to set the pen in the pot and watch as the temperature climbs. The Thermapen has always shown an accurate temperature when testing the milk. It turns out perfect each time I make it.
Temperature Range
Most home cooks use a food thermometer for a few different purposes in the kitchen. You can use it to measure the temperature of cold water, hot water, oil, meat, chocolate, etc.
I've used mine to make sure water is the right temperature to allow yeast to bloom. I've used it to temper chocolate. I've used it to make sure oil remains at the right temperature for frying. While I don't tend to use it for cold things, a good thermometer should function well across a wide temperature range.
The Thermapen can reach as low as -60 degrees F and as high as nearly 600 degrees F. That's a huge range. It should be sufficient for just about any usage in the kitchen or on the grill.
For the record, it has both the lowest and highest measures of any instant-read thermometer I've tried.
Versions & Variations
Rated #1 by Cook's Illustrated / America's Test Kitchen
Thermapen ONE
The Thermapen ONE is Thermowork's best thermometer. It gives a reading in one second or less and it costs $99. This is the best money you'll ever spend for a thermometer. As I said, I've had mine for 8 years, using it constantly in the kitchen, and it's still working like a champ.
It has the following features:
Less than 1 second readings!
Automatic backlight and light sensor
High accuracy of ± 0.5°F (± 0.3°C)
Water-resistant
°F to °C reconfigurable
Auto on/off—no buttons!
5-year warranty
1.5 volt AAA, 2,000 hours typical
Available in 6 colors
Thermapen Classic
The Thermapen Classic is also available. It costs $79 and just a few different specs. The most notable being that it gives readings in 2-3 seconds. It has 1500 hours of battery life, and an accuracy of ±0.7°F (±0.4°C), no backlight, and no rotating display.
To me, the ONE is worth the extra $20 for a much longer battery life, backlight, and auto-rotating display (among other things).
Thermapen IR
The Thermapen IR has been a really fun piece of kit. It's an advanced infrared thermometer with a wide range of features to help you get precise temperature readings in all situations. I find it particularly useful for things like wood-fire cooking, pizza ovens, and beer making (yep, you read that right!).
It has the auto-rotating display like the ONE, as well as motion sensing sleep and wake mode, and the a foldaway thermocouple probe that takes fast and accurate readings in 2-3 seconds with an accuracy of ±0.7°F (±0.4°C).
Its adjustable emissivity infrared allows you to set the measurement range from 0.1 to 1.0. I'm not going to try to explain this feature. I had to study up on emissivity myself. You can read more about it here.
One of the features I didn't mention on the other thermapens is the Biomaster silver ion technology which helps reduce microbial growth on its surface. That gives me a bit of piece of mind while I'm busy and touching a lot of different things between hand washings.
The display unit can show temps in °C or °F, with 1 or 0.1° resolution, and comes with a NIST Traceable calibration certificate. While it's not waterproof, it has an IP54 rating which means it's resistant through water splashes when used outdoors.
Overall, the Thermapen IR is an excellent choice of thermometer if you're looking for precision readings without compromising on speed or accuracy.
Thermapen Smoke X
I do a ton of smoking and grilling, so a high-quality grilling thermometer is necessary. My smoker and grill both come with built-in probes, but neither of them has a wireless remote.
The Thermapen Smoke X is a long-range, 4-channel, remote BBQ alarm thermometer. That means it comes with three probes so I can track the temperature of three different things on the grill at once, plus my pit temp.
And because it's long range, not only can I take the remote inside and not have to traipse outside every hour to check on my smoker, I can monitor it from inside, no matter where I am in the house. The range on this thing is 6,562 feet. That's 1.24 miles or 2 kilometers. It's the longest range and transmission strength available for an alarm thermometer.
The large box gets hooked up to the probe and I attach it to the top of the pellet tray on my smoker. It's magnetized, so the thing will not move, no matter how windy it is. The other box is smaller and easy to carry around the house with me as I go about my day (smoking takes a long time!).
There is seemingly no end to the amount of information displayed on the screen. It shows the food's temp, the high and low set temperature for your alarm, and the max and min temperature, in F or C.
As for the batter, the Smoke X can be used up to 330 hours on a pair of AA batteries, or you can plug it in with an AC power adapter. I haven't used it nearly 330 hours yet, so I'm not sure if that stands true, but I have high confidence in it, based on my experience with the Thermapen ONE.
Overall, I have found it to be really accurate and reliable. I've used it about a dozen times in both my smoker and grill and it's been a pretty great piece of kit.
The one thing I don't love so far is that the remote monitor refreshes about every 30 seconds, so the outdoor box starts beeping really loudly 30 seconds before the one inside does. Might annoy the neighbors!
Frequently Asked Questions
Is the Thermapen Worth It?
I know the price for this thermometer is a bit higher than others, but in my opinion it is absolutely worth the cost. As they say, you get what you pay for. When you buy the Thermapen, you're getting a high-quality, reliable thermometer that won't stop working abruptly, run out of battery quickly, or become inaccurate. You'll have this thermometer for years!
Is ThermoPro the same as Thermapen?
I've gotten this questions a few times so I thought I'd help clear up the confusion. ThermoPro is a different company that makes similar, but not nearly as high-quality thermometers that you'll find on Amazon. Thermapen is made by a company called Thermoworks. Don't be fooled by the name. Thermopro is NOT the same.
What is the difference between Thermapen Classic and ONE?
There are a few differences between the Classic and ONE Thermapen. There is a $20 price difference, with the classic being the lesser expensive model. The classic also lacks a few of the upgraded features of the ONE, such as backlighting, rotating display, and a better and faster reading.
Can I use Thermapen for frying oil?
This is one extremely useful tool. You can use it for many different things, including gauging the temperature of oil for frying, as well as tempering chocolate, candy, and the more typical meat application. The Thermapen ONE has a range of -58 F to 572°F (-49.9 to 299.9°C).
Conclusion
In the end, I think it all comes down to accuracy, convenience, and price. The Thermapen might be one of the more expensive options for cooking thermometers, but it's also the most accurate and convenient to use.
The fact that the battery lasts so long makes it that much more valuable for the money. When the other thermometers give out after while, the Thermapen will keep working long into the future.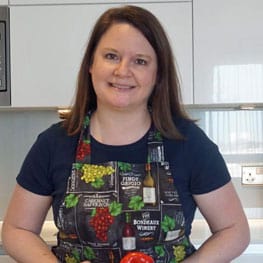 Laura is a home cook who loves making new recipes and finding new favorite things to eat, whether at home or abroad. She also runs a popular travel blog and spends a lot of her time traveling for food.