Instant Pot Chicken Legs are easy to make and result in a supremely tender chicken that goes with any sauce and side dish for a quick meal.
>> Learn more about the Instant Pot and then try this Easy Instant Pot Pulled Pork Recipe.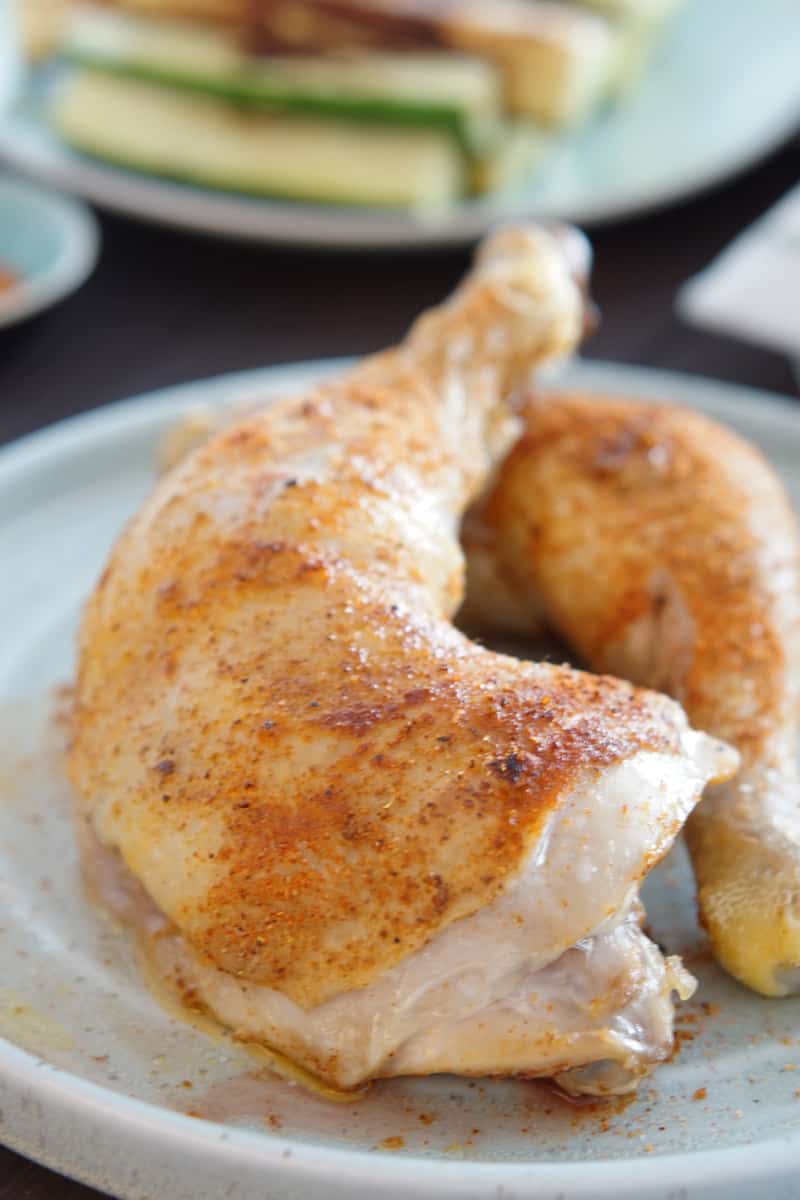 I love cooking in the Instant Pot. It's so much faster than the oven and it doesn't require heating up the house to do it. This recipe is so simple, and it results in the most tender chicken legs you've ever had.
Chicken legs are inexpensive and easy to make. I always keep chicken legs in my freezer, because they're so versatile. They can actually be put directly from the freezer into the Instant Pot and it only takes an additional 2 minutes to cook.
Using the Instant Pot
If you have an Instant Pot, you know how quick the process is. If you don't yet have an Instant Pot, look over this post to see the benefits and reasons I think it's the best tool in my kitchen.
I often make chicken drumsticks and chicken breasts in the Instant Pot, as well. And believe it or not, you can actually cook a whole chicken in the Instant Pot. Give it a try!
Chicken legs need to cook for at least 45 minutes in the oven at 400 degrees. During the summer that's just not something I'm prepared to do. It heats up the house so much. No thanks.
In the Instant Pot, it takes just 12 minutes, plus the pressurizing time. In just 25 minutes, dinner is ready and the house is still nice and cool.
Why Use An Instant Pot
The Instant Pot is one of the most useful kitchen appliances you can buy, because it drastically cuts down on the cooking time for developing flavors in soups and stews, getting tough cuts of meat tender, and even baking a cheesecake. And there are many accessories that will help you get more out of your Instant Pot.
If you don't have one yet, check out our guide on which one to buy. You can also check out our Instant Pot page for more information.
Ingredients You Need
This recipe is so simple, with just 4 ingredients.
Chicken legs – You can also use chicken drumsticks or thighs, if you don't have legs.
Seasoned Salt – Lawry's seasoned salt is perfect for this dish. If you want to mix up your own dry rub instead, here is our recipe for dry rub that we use on all kinds of meats.
Water
Garlic – I like to put a couple pieces of garlic in the bottom of the pot. It adds a great aroma to the chicken, though it doesn't really impart any flavor. Consider it optional.
How to Cook Chicken Legs in the Instant Pot
You'll need the trivet that came with the Instant Pot. If you don't have one, you can set the chicken directly in the pot. I like the texture of the chicken more when it's on the trivet. It's more tender and less water-logged, for lack of a better descriptor.
Seasoning the chicken legs before cooking adds a ton of flavor. I season almost everything with my homemade dry rub. You can find the recipe at that link. It's fine to season with seasoning salt or just salt and pepper.
Pour a cup of hot water into the base of the pot, along with the smashed garlic. Add the trivet. Then place the legs evenly on the trivet. This recipe is for just 2 servings, but you can make as many chicken legs as you need, just stack them up.
Close the lid and seal the vent. Press the "pressure cook" button and set the time to 10 minutes. After this, allow natural pressure release for 5 minutes, then manually release the remaining pressure. You can also allow the pressure to release completely on its own, if you aren't in a hurry. The extra few minutes won't hurt anything.
Be sure to visit our Instant Pot Guide for more tips and great recipes!
At this point, you can serve the chicken legs as is. They are nicely seasoned and tasty. Or you can brush them with BBQ sauce (try our killer bourbon bbq sauce recipe), buffalo sauce, or a glaze, like this delicious honey sriracha sauce.
You can also crisp up the skin in the oven, if you want to. I almost always skip this extra step. It's just not necessary, in my opinion. Cooking the chicken for longer in the oven isn't why I choose to use the Instant Pot.
If you do want to crisp the skin, put it under the broiler for up to 5 minutes.
Frequently Asked Questions
Can I cook the chicken legs from frozen?
You can cook frozen chicken legs in the Instant Pot, if you've forgotten or haven't had time to thaw in advance. If you're cooking these chicken legs from frozen, you'll need to give them 14 minutes of cook time, and I also sometimes extend the pressure release to 8 minutes.
Will the chicken turn out rubbery?
I've never had chicken turn out rubbery in the Instant Pot. I think this outcome has more to do with the quality of the chicken than the cooking process. If you can, make sure you purchase grass fed chicken that are raised in the open, not farmed. Read more about why chicken can be rubbery.
Do chicken legs really require a natural pressure release?
You might be wondering about the need for a natural pressure release on the Instant Pot. Letting the pressure release naturally allows the food to come down from being at a high pressure at a slower pace. During this time it is still cooking and the meat will have time to relax as it comes down. So, yes at least a
What to Serve With Chicken Legs
I am a huge fan of serving grilled veggies like asparagus or zucchini with chicken lets. I also think this Classic Wedge Salad is a perfect pairing. You might also try these crispy oven-roasted potatoes.
If you'd rather add some carbs, try our creamy Stovetop Mac & Cheese, or this easy Black Bean & Corn Pasta Salad.
Can't make up your mind? Check out this list of 10 great summer salads that all pair well with chicken.
Like this recipe? We'd love for you to share it on your Pinterest board! Click to follow our Pinterest boards so you can find all our recipes!
Instagram it! If you try this recipe please tag #AFoodLoversKitchen on Instagram or Twitter. We love to see your photos of our recipes! Also follow us on Instagram, Twitter and Facebook to keep up on what we're cooking up.
Instant Pot Chicken Legs
Instant Pot Chicken Legs are easy to make and result in a supremely tender chicken that goes with any sauce and side dish for a quick meal.
Print
Pin
Rate
Ingredients
2

chicken legs

1/2

tablespoon

seasoned salt

or dry rub

1

cup

water

2

cloves

garlic
Instructions
Season the chicken legs with the seasoning salt or dry rub.

Add water and garlic to the Instant Pot and insert the trivet.

Set the chicken legs on the trivet, skin side up.

Lock lid. Press the Pressure Cook button and set to 10 minutes. Let pressure release naturally for 5 minutes, then do a quick release of the remaining pressure. When cooking from frozen, cook for 14 minutes with a 5 minute natural release.
Notes
If cooking the chicken from frozen, cook for 14 minutes.
Additional cooking isn't necessary, but you can broil the chicken to get the skin crispy. It takes just 5 minutes under the broiler.
Nutrition
Calories:
283
kcal
|
Carbohydrates:
2
g
|
Protein:
21
g
|
Fat:
21
g
|
Saturated Fat:
6
g
|
Cholesterol:
120
mg
|
Sodium:
115
mg
|
Potassium:
262
mg
|
Sugar:
1
g
|
Vitamin A:
145
IU
|
Vitamin C:
1
mg
|
Calcium:
27
mg
|
Iron:
1
mg
🥧 If you're interested in more great recipes, I share all my favorite Instant Pot recipes over at A Pressure Cooker Kitchen, air fryer recipes at Air Fry Anytime, and cocktails and drinks at Savored Sips. Check it out today!
Pin it for later!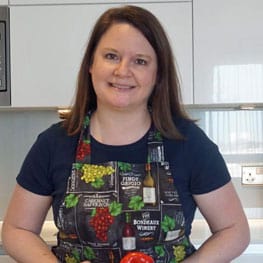 Laura is a home cook who loves making new recipes and finding new favorite things to eat, whether at home or abroad. She also runs a popular travel blog and spends a lot of her time traveling for food.