It's no surprise that the Instant Pot is as popular as it is today since you simply set it, and then walk away until your food is ready. That makes the Instant Pot a perfect solution for when you want to get a home cooked meal on the table fast.
If you're still wondering should I buy an Instant Pot, I would say a resounding YES to that. The Instant Pot's main claim to fame is that it can cook food in a fraction of the time, particular things that traditionally take a long time, like stews and roasts. One reviewer aptly said, "It's like a slow cooker on steroids."
You can build amazing flavor, break down tough meats, and even cook perfect pasta and rice in there and it turns out great!
» Beginner? Try this Easy Instant Pot Whole Chicken Recipe or these easy Stuffed Bell Peppers.
If you're not quite ready to buy one and give this modern take on pressure cooking a try, this post might help make up your mind. Will you end up loving it, as so many other people already have?
Read on to discover the pros and cons of the Instant Pot and see all the models that are currently available along with their features so you can decide which one to buy.
10 Extra Accessories You Need For Your Instant Pot
While the Instant Pot is a genius machine all on its own, there are lots of extra accessories you can get for your Instant Pot that will revolutionize the way you cook. See all our favorite accessories in this post.
What Is An Instant Pot?
While our mothers and grandmothers were comfortable using a stovetop pressure cooker, most women of this generation are intimidated by the hissing and potential safety issues. Because of this, pressure cooking fell out of favor for a while. All that has changed with the arrival of the Instant Pot.
The Instant Pot is a self-contained, electrical pressure cooker that's controlled through a digital interface and built-in safety features. It sits on your counter top and plugs into an outlet. It takes up about as much space as a rice cooker or slow cooker.
You tell it how long you want to cook your meal under pressure, set the timer and you're good to go. It automatically brings up and holds the pressure at a safe level and will not allow you to open the pot while it's pressurized. This makes it as easy to operate as a microwave.
As an added bonus, there are dozens of things you can do with the Instant Pot. It's not limited to soups and stews. All you need is a few extra accessories and your Instant Pot can cook just about anything.
Why Use An Instant Pot
The Instant Pot is one of the most useful kitchen appliances you can buy, because it drastically cuts down on the cooking time for developing flavors in soups and stews, getting tough cuts of meat tender, and even baking a cheesecake. And there are many accessories that will help you get more out of your Instant Pot.
If you don't have one yet, check out our guide on which one to buy. You can also check out our Instant Pot page for more information.
What Can An Instant Pot Do?
There are many uses for an Instant Pot. It's not just used for pressure cooking, although that's its primary function. You can also use it as a slow cooker and rice cooker, or to bake, make yogurt, and even do some canning. See the list below for a complete list of what the Instant Pot is capable of.
Some of the uses vary by model, so if you're set on doing one particular thing, you'll want to make sure you get the appropriate model.
Pressure cooker
Slow cooker
Rice cooker
Steamer
Sauté Mode
Keep food warm
Make Yogurt
Sterilize
Make cakes
Canning
Sous Vide
Is an Instant Pot Worth The Money?
Let's take a look at the Instant Pot and whether or not it's worth the money. Depending on the time of year, and what kind of deal you can find, the average Instant Pot will set you back anywhere from $50 to $150.
While it's not the cheapest kitchen appliance on the market, it does have multiple uses and can take the place of other expensive appliances you might need.
You can purchase a stove top pressure cooker or slow cooker for around $25. Does that mean the Instant Pot is overpriced, or something you shouldn't consider buying? I don't think so.
A stove top pressure cooker will do you no good if you're too intimidated to use it, or end up keeping it in the back of the cabinet because you don't have the time and patience to keep an eye on the pressure and adjust the stove top as needed. If you have young children underfoot, you may not be comfortable using a traditional pressure cooker. That's where the Instant Pot is a great solution.
The Instant Pot can quickly become one of your most valued and often used appliances.After purchasing my first Instant Pot, and seeing how easy it was to use, plus how fast it cooked things, I started using it nearly every day. I can't part with it now. It's invaluable to me.
The Instant Pot is worth it if it keeps you from going out to eat, or picking up food on your way home. If you know you can get dinner cooked in 45 minutes without having to stir pots, it becomes a lot easier to go home and start that pot of chili, or pot roast, and relax while it cooks.
If you aren't sure if you'll actually use it, the Instant Pot may be a waste of money. On the other hand, you'll end up using it quite a bit if you keep it on your counter and use it as your pressure cooker, slow cooker, and rice cooker.
I've found that those who purchase an Instant Pot and then promptly put it in a cupboard and never look at it again are the ones who say it's not worth it. The first step is always the hardest.
If you vow to use it at least once or twice when you first receive it, it will be an investment that's well worth it. After I used mine the first few times, I couldn't put it away. I was using it every day.
Look through some recipes, borrow a friend's Instant Pot if possible, and see if this seems like the type of appliance that will work well for you and your lifestyle.
Instant Pot Shortcomings
While there are a number of great reason to own an Instant Pot, you should know that this device also has a few shortcomings.
The biggest shortcoming of an Instant Pot is that it doesn't really only take five minutes to cook your food. While the manual tells you an ingredient only needs five minutes to cook, but that doesn't account for the 10 to 15 minutes required for the machine to build pressure. And it doesn't include the time it also needs to release the pressure once the cooking time is over. Suddenly, a food that's suppose to cook in 5 minutes has taken 20 minutes.
As a rule of thumb, if something takes 20 minutes or less to cook on the stove or in the oven, go that route instead.
It's also not great for cooking things that need to have a crispy texture. This is because the Instant Pot uses steam to cook. So any food that needs to have a crispy skin or that you don't want to steam cook, doesn't come out well in the Instant Pot.
What About Safety Features?
Traditional pressure cookers have safety features built in, but the newest generation of electric pressure cookers, like the Instant Pot, are designed with a slew of self-regulating safety features that make them safer to use than ever.
The safety features on an Instant Pot include:
Steam release guard
Automatic seal and vent function (on newer models)
Sensors to monitor the unit's temperature and pressure.
Lid close detection
Leaky lid protection
Lid lock under pressure
Anti-blockage vent
High temperature warning
Extreme temperature and power protection
Pressure regulator protection
All of those features are designed to protect you from burning yourself, having the machine blow up, or scorch and burn.
Which Instant Pot Should I Buy?
When you go to buy your Instant Pot, you'll discover that there are quite a few different models available. They come in different sizes, with different functionality. Let me quickly run you through the most popular models and sizes so you can make an informed decision on what to get.
Sizes of Instant Pots
Let's start by talking about size. The size of meals you want to cook, or even the size of your family will determine what Instant Pot is the right size for you. Most come in the following sizes:
3-5 quart: works well if you are mainly cooking for 1-3 people. It works great for dorm rooms, and is a must have in a small apartment.
6 quart: the most versatile and also the most popular. Some of the models available will only come in this size. It's perfect for the average family and will fit all your pressure cooking needs. If in doubt, go with this size.
8 quart: a good fit for larger families, or if you know you'll be cooking a lot of large meals for family gatherings, church dinners and such.
There are many versions of each of these sizes. However, they are all fairly close to the same footprint, so if you choose a 6-quart, there's no need to worry about the size of the model you choose. They're all very similar.
Models
With size decisions out of the way, let's take a quick look at the different models available. There are three different main models with a couple of variations thrown in to keep you on your toes. Here are the main models.
Duo – Starter model with basic functions
Duo Plus – Basic with a few great additional features
Pro – More functionality and features like silicon handles
Pro Plus – Smart feature
Crisp (Duo or Pro) – Air Fryer capability
Each of the models have increasingly better and more robust features. If you're just looking for a base Instant Pot without all the bells and whistles, you can pick up the popular DUO for around $80-$100. The Pro Plus retails for around $180.
Currently Available Models (2023)
The Instant Pot Duo is the most popular of the versions, as well as the least expensive. It can do everything you expect of a pressure cooker, but it doesn't have as many bells and whistles as the upgraded versions.
If you're not using your Instant Pot very often and just want an easy to use simple version, the Duo is great. The one thing about it that bothers me is the vent, which hasn't been upgraded like on the other models. You have to remember to manually rotate the vent before you cook. And the knob is also where steam releases, so it's easier to burn yourself when releasing pressure.
7-in-1 functionality
13 built-in programs, including the yogurt setting
Finger-print resistant, stainless-steel sides and dishwasher-safe lid, inner pot, and accessories.
Does not have the cooking progress bar or easy-release steam switch
---
A step above the Duo is the Duo Plus. While this model also tacks on about $29 extra to the price, if you are lucky, you might find a sale that brings the price down to the same as the Duo. In my opinion, it's worth it to upgrade to the Plus. Here's why:
It has an easy-release steam switch that automatically resets itself, so you never have to remember to set the vent to sealing. The release vent on top doesn't rotate like the Duo, so there's way less chance of burning yourself or not properly sealing the pot. And it has the quietest steam release with a full enclosure for the valve so it doesn't spit on everything when you release it.
Easy-release steam switch
Whisper quiet steam release
Cake & egg programmed buttons
Very easy to read display with cooking progress bar
No spin inner pot so it holds still while you saute
Finger-print resistant, stainless-steel sides and dishwasher-safe lid, inner pot, and accessories
Lightweight lid
---
I'm a huge fan of the Pro model and would highly recommend splurging for this one if you use your Instant Pot regularly. There are some additional features that make it so much more versatile. For instance, you can use the inner pot on the stove top and in the oven.
I often don't love the fluctuating heat of sauté mode, but you can do your sauteing on the stove top in this model. Or if you have two inner pots you can cook two different things and keep the first warm in the oven while cooking the second. Endless possibilities.
I also love that this inner pot has silicon handles, unlike any other model. It greatly helps with lifting the pot out of the machine and carrying it. It's also much faster to build steam than other models.
10-in-1 functionality
Inner Pot has silicon handles (no other models have this)
28 customizable programs + ability to set your own programs
Inner pot has an extra-thick aluminum layer to heat faster and can be used on the stovetop and in the oven
Cooking progress bar and easy to read display
Easy-release steam switch with steam release reminders
Diffusing cover to reduce noise and prevent splashing
No spin inner pot so it holds still while you sauté
Finger-print resistant, stainless-steel sides and dishwasher-safe lid, inner pot, and accessories
---
The Pro Plus model adds the "smart" functionality. This means you can program and operate the Instant Pot from your phone over wifi. Some of the things you can do are program the time, temperature, release steam, and set the delay start. There are also 1900+ guided recipes on the app that walk you through every step.
The Pro Plus model has all the functionality and features of the Pro, including the silicon handles on the pot, the easy steam release with the diffusion cover for whisper quiet steam release and increased safety. You can also use the pot on the stove or in the oven, like the pro.
If you are looking for the badass model, this is the one. It can do it all. Program your own recipes or use your phone and the included recipes to do everything with a touch of a button. The only thing it won't do is chop the vegetables for you.
10-in-1 functionality
Wirelessly operate and program the Instant Pot Pro Plus over Wi-Fi
Large, easy-to-read display and intuitive, sensitive touch controls
Easily release steam with the one-touch button on the control panel or via the Instant Brands Connect app
Inner pot has an extra-thick aluminum layer to heat faster and can be used on the stovetop and in the oven
Diffusing cover to reduce noise and prevent splashing
No spin inner pot so it holds still while you sauté
Finger-print resistant, stainless-steel sides and dishwasher-safe lid, inner pot, and accessories
---
Instant Pot Crisp (Duo & Pro) ~ $229 – $249
The Instant Pot Crisp adds the air fryer functionality to the Instant Pot pressure cooker, so you can do both with just one appliance. There are actually 4 different models available for the Crisp, which I think might be going away soon.
The Crisp was initially made with 2 lids that you had to interchange, but newer models are now made with one lid that doesn't have to be changed. For now you can still buy both.
All of the features of the Duo and the Pro are available on the respective machines. Then you can also customize the air frying range from 70°F (21°C) to 450°F (232°C).
---
The Instant Pot Rio is one of the newest models. It's shaped slightly differently from the original models and has some different functionality. It also has a few different versions – the Rio, Rio Wide, and Rio Wide Plus. These are all just slightly different sizes.
In case you're wondering, RIO stands for Revolutionary. Innovation. One-Pot Wonder. It's a more modern design with a slimmer base, though the same amount of cooking space. It also has an anti-spin pot that makes sauteing easier because it doesn't move around.
It comes in 6-quart and 7.5-quart sizes. The Rio Wide Plus version has a shorter, wider cooking surface, so you can sauté more in it. It also has the whisper quiet steam release, which is one of my favorite upgrades on the IP.
---
How to Choose the Right Instant Pot for You
If you're on a budget, go for the Duo model. It's basic, but it gets the job done. This is a great machine for anyone who only uses the Instant Pot once in a while to make soups and stews, or just doesn't care about all the extra bells and whistles.
The easy-release steam switch and cooking progress bar are the main reasons to upgrade to the Duo Plus
The silicon handles on the pot and ability to use it on the stovetop or oven is a great reason to upgrade to the Pro.
The smart app is a great reason to upgrade to the Pro Plus.
Decommissioned Models
Over time, Instant Pot has come out with all kinds of different models with varied functionality. It used to be much harder to determine which model to buy. Today, it's actually quite easy, as you can see from our guide above.
These are some of the models that Instant Pot has decommission and no longer makes. The reason we've left this information in this article is because there is still a strong resale market for Instant Pots. You might find one at a garage sale or on Ebay and want to know what the functionality is. You won't find these on sale at any stores anymore.
Lux – lowest cost, budge model
Viva – Similar to the Duo Plus
Ultra – Adds custom temperature options for saute and slow cook, plus a cake maker, egg cooker, and sterilizer option. Also has a center dial to make adjustments
Smart – Adds unlimited programmable settings, ability to use it with a smart phone app to track progress. Does not include the extra "ultra" capabilities, and has 2 delay start timers.
Max – Most expensive model. Unlimted programmable settings and smart built-in programs, additional safety mechanisms, custom temperature options for saute and slow cook; Includes a sous vide option, 1100W (compared to 1000W in other models).
The Instant Pot Lux
This is the basic Instant Pot model and the one I recommend for most people new to pressure cooking. You may also hear as this one as the 6-in-1 model. It's a pressure cooker, slow cooker, steamer, rice cooker, with sauté and keep warm functions as well for a total of six different ways of cooking.
6-in-1
12 built-in programs
11.53 lbs
No lid holder
Only high pressure (no low pressure option)
---
Duo Nova model
The major difference I've found on the Nova is the digital display that gives more information on the screen than the Duo. The Nova also has a new EasySeal lid that gives you one less thing to worry about because it automatically seals your Instant Pot. The two retail for the same price.
---
Duo Evo Plus model
This model has 9 functions, instead of 7. It can perform the following: pressure cooker, slow cooker, rice cooker, grain maker, steamer, saute, yogurt maker, sous vide, bake, and warm. And it comes with 48 customizable program modes. You'll also notice that there is even more information given on the display screen.The Evo also has the following features:
9-in-1
15 built-in programs
Includes sterilize and yogurt
11.84 lbs
Lid holder
---
The Instant Pot Ultra has a central dial with a simple turn and press mechanism that provides added precision in program selection and adjustment. It has features like altitude adjustment, a cooking indicator, and a steam release reset button. It also has an "Ultra" button for custom programming. The new features include sterilize, cake and egg programs.
10-in-1
16 built-in programs
Ultra button
Custom temperature control for saute and slow cooker
11.84 lbs
---
The Instant Pot Smart + app
The Instant Pot Smart will do everything the previous two models do and more. The digital interface on the pot itself and the app that connects to your instant pot, allow you to control temperature and cooking durations for your meals as you see fit. If you like gadgets, prefer the ease of being able to save your favorite recipes and instant pot settings on your smart phone, and love full control over your pot, this is the model to get.
Unlimited programs
13 built-in programs
12.20 lbs
Can be used with wifi and the smart app
---
The next level Instant Pot is the Max. It adds the ability to do home canning inside the pressure cooker. And it gives the option of unlimited programmable settings and increased security.
Unlimited programming options
Max, high and low pressure options
Added canning and sous vide feature
Custom temperature control for saute and slow cooker
13.25 lbs
How To Find Instant Pot Recipes
Now that you're comfortable using this new electric appliance, you're ready to branch out and start to look for some other fun recipes to try.
There are plenty of home cooks who share their favorite recipes, tips, and adaptations on blogs and popular Instant Pot Facebook groups. We have our own collection of Instant Pot recipes on this site. When you join our mailing list, we also have a free Instant Pot Cookbook to share with you.
Check out our sister site, A Pressure Cooker Kitchen, for all things Instant Pot. We help you find easy-to-make, delicious Instant Pot recipes to get the most out of your pressure cooker. See our recipes, guides, and information to help you get started.
Blogs And Google Searches
If you're looking for something specific, doing a quick Google search is always a great idea. You'll be able to find just about any type of Instant Pot recipe through a Google search.
Along the way, you'll likely come across all sorts of different blogs where fellow Instant Pot users share their experiences and recipes. Bookmark them, or simply browse around when you come across them for plenty of fresh recipe ideas. Try the recipes as is, or use them as inspiration to come up with your own take on a dish.
Go Social With Pinterest And Facebook Groups
Last but not least, don't forget about social media. Pinterest is a great source of Instant Pot recipes. Do a quick search and follow a few Instant Pot boards for plenty of new recipe ideas in your Pinterest Feed.
By far my favorite way to come across new recipes to try or get suggestions for recipe adaptations, is Facebook groups. There are several good Instant Pot specific groups you can join and participate in. You'll find a wealth of information in these groups along with all sorts of helpful tips and ideas.
With these suggestions, I'm sure you'll find more Instant Pot recipes than you'd ever get a chance to try. Cook up the ones that look good or sound delicious and start to build up your very own library of family favorite Instant Pot recipes.
Looking for more kitchen gadgets? Check out 21 Kitchen Gadget Gifts Everyone will Love.
CONCLUSION
If you're still wondering if you should buy an Instant Pot, I'd definitely encourage you to give it a try. We make all kinds of great dishes in our Instant Pot every day, like baked potatoes, bone broth, and even whole chicken.
I've bought Instant Pots for my mother and sister as gifts and they have come to love theirs as well. It's an indispensable tool to have in the kitchen.
Like it, Love it, Want Some More of It? Subscribe to our newsletter and follow us on Pinterest, Instagram and Facebook. We really love it when you save our recipes to Pinterest 😊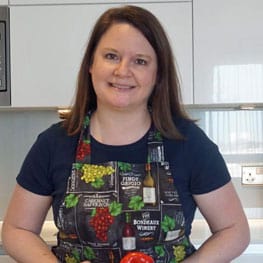 Laura is a home cook, with 25 years experience behind the stove, who spends an extraordinary amount of time in the kitchen cooking. She loves making new recipes and finding wonderful new things to eat, both at home or abroad. She spends a lot of time researching, crafting, and perfecting her recipes and currently has a cookbook in development.