While the Instant Pot is a genius machine all on its own, there are lots of extra accessories you need for your Instant Pot that will revolutionize the way you cook.
The Instant Pot changed my way of cooking dramatically. I use it practically every night, because it cooked nearly everything in a fraction of the time and all in one pot. Do you have one yet? If not, read our guide to help you decide if an Instant Pot is right for you. It also includes a comparision of the models you can buy.
» You might be interested in these 19 Easy Instant Pot Chicken Breast Recipes.
However, as much as I thought the pot was helping me be a more efficient cook, it wasn't until I expanded its capability with extra Instant Pot accessories that I realized just how much impact it could have on my cooking.
If you have an Instant Pot already, or are thinking of getting one, you absolutely must read on to see all the creative and incredibly useful ways this machine can save you time.
Why Use An Instant Pot
The Instant Pot is one of the most useful kitchen appliances you can buy, because it drastically cuts down on the cooking time for developing flavors in soups and stews, getting tough cuts of meat tender, and even baking a cheesecake. And there are many accessories that will help you get more out of your Instant Pot.
If you don't have one yet, check out our guide on which one to buy. You can also check out our Instant Pot page for more information.
10 Best Accessories for Your Instant Pot
Using stacking containers allows you to cook different foods in the separate containers. If you're making a complete dinner, you will be able to cook all the components at the same time, rather than one at a time.
This is super useful for dishes like:
Beef and broccoli
Fish and green beans
Chicken and stuffing
You can also cook foods in these stackable containers that you wouldn't be able to put directly into the bottom of the pot because they don't contain enough liquid.
Use stackable containers to cook these dishes:
Lasagna
Cheesecake
Creme Brulee
Fish
Cornbread
Stuffing
The sealing rings tend to hold onto the smells of previously cooked dishes. For this reason, it's wise to use one ring for savory dishes and one ring for sweet dishes.
For this purpose, I like this set of 3 rings that come in different colors. I use one for savory dishes, one for sweet dishes, and one for yogurt. They never get mixed up because they're color coded. Make sure you get the right size for your machine.
I also like to have a few extra rings on hand just in case one goes bad. They do need to be replaced over time, and if one stops working when you're preparing to cook something, you can recover quickly if you have an extra on hand.
If you eat boiled eggs often, a silicone egg rack will produce easy-to-shell, perfectly cooked soft or hard boiled eggs. The OXO Silicon Egg Rack holds up to 9 eggs upright, so they cook evenly and there's no chance of them breaking.
To cook eggs on this rack, all you have to do is add one cup of hot water to the pot, place the rack inside the pot, add the eggs, and cook anywhere from 2 minutes for runny yolk soft eggs, to 5 minutes for hard boiled eggs with manual pressure release immediate after time is up.
If you're regularly making a lot of eggs, you can even stack these racks on top of the eggs below to create two levels.
For steaming vegetables, a steamer basket is ideal. It will keep the veggies off the bottom of the pan and out of the water, so they don't become water logged during cooking.
Make sure you look for a steamer basket that is stainless steel, so it doesn't rust, and that has a silicon handle. The handle is necessary to be able to easy remove the basket from the hot Instant Pot.
Aside from veggies, you can steam just about anything in this basket. Use it to steam eggs, potatoes, tamales, and artichokes.
Another great use for this steamer basket is when you're making bone broth. Instead of putting the bones, roasted veggies and herbs directly into the water, you can add them to the steamer basket. When the broth is done, all you have to do is lift out the basket to remove the bones.
You can really turn your Instant Pot into an all-encompassing kitchen machine with a springform pan. You can bake cakes, cheesecake, brownies. You can also use it to bake casseroles and dishes like macaroni and cheese, meatloaf, or lasagna.
All you have to do to use a springform pan in your Instant Pot is add the necessary water and place the pan with your cake or casserole on the trivet inside the pot.
This official Instant Pot springform pan is 7 1/2″ and fits inside a 6qt pot. You can even stack them on top of each other in the pot to make 2 at a time.
You may not realize, you can actually bake banana bread in your Instant Pot in a mini loaf pan. This set of 2 official Instant Pot mini loaf pans fit perfectly side by side in a 6 quart machine. You can use them to make meatloaf, casseroles, bread… just use your imagination.
Since there are two of them, you can maximize your efforts and make two things at once, like meatloaf and mashed potatoes, or banana bread and zucchini bread.
So I was making chicken noodle soup with dumplings in my Instant Pot a few weeks ago and I realized I wasn't properly equipped to make the dumplings in the soup, like I usually do on the stove top, because I didn't have a glass lid to cover the pot with while the dumplings cooked.
Having a glass lid will enable you to use the Instant Pot like a slow cooker. It's great for when you need to boil something, using the Saute mode, with the lid on, but not under pressure. It's also really great for holding in the heat when you're not quite ready to take the food out of the pot yet.
Ever tried to lift a hot Instant Pot from the machine? I was always using a kitchen towel to lift the pot out, without getting the towel in the food. Such a pain!
Instead of burning yourself removing pots and trivets, you can use these mini silicon mitts. They fit easily on the tips of your fingers so you can easily lift hot things.
These are made from food grade silicone and meet FDA food safety standards. If you're worried about space in a small kitchen, they nest together for storage.
In the spirit of trying to make the Instant Pot a one-stop machine for the kitchen, you will need these silicon cupcake liners. They are great for making poached eggs (in bulk, if you have enough of them), as well as cupcakes, mini cheesecakes, egg muffins, mini meatloafs, etc.
I realize you won't always be using the Instant Pot to bake things, so that's why these silicon cupcake liners are the best to have. They can also be used in the oven or microwave. They're super easy to clean and are naturally non-stick.
Now that you've seen all the Instant Pot can do, you're probably wanting to get most of these accessories. In that case, an all-in Instant Pot kit is probably the most economical way to go.
A kit, like this 27-piece set, will get you just about everything you will ever need to make whatever you want in the Instant Pot. It includes steamer baskets, a springform pan, a steamer rack, egg rack, egg cutter, egg ring, egg whisk, egg bites mold, dish plate clip, spatula, kitchen tong, silicone pad, scrubber, and oven mitts, magnetic sheets and a recipe book.
All of those sold separately would cost 4 or 5 times what this set costs. If you know someone who just bought an Instant Pot, this makes a really great gift.
CONCLUSION
Owning an Instant Pot is just the beginning. Learning to use it as a pro is the next step. Using these extra accessories for your Instant Pot will help you get the greatest benefit out of this amazing appliance.
Share your favorite accessories with us in the comments sections. We want to know what you're finding the most useful.
Like this recipe? We'd love for you to share it on your Pinterest board! Click to follow our Pinterest boards so you can find all our recipes!
Instagram it! If you try this recipe please tag #AFoodLoversKitchen on Instagram or Twitter. We love to see your photos of our recipes! Also follow us on Instagram, Twitter and Facebook to keep up on what we're cooking up.
PIN IT FOR LATER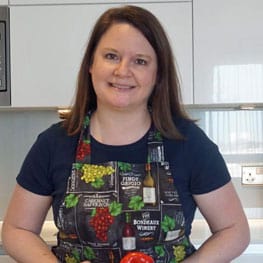 Laura is a home cook who loves making new recipes and finding new favorite things to eat, whether at home or abroad. She also runs a popular travel blog and spends a lot of her time traveling for food.