This article has links to products that we may make commission from.
These appetizers are great to serve for just about any party – from an engagement party to a glitzy New Year's Eve Party. I love how versatile appetizers can be. You can really mix and match a bunch of different things to create a smorgasbord of tastes and smells that will delight your guests.
These appetizers were curated from fellow food bloggers who have created these wonderful recipes. Click through to see the full recipe.
This festive holiday charcuterie board makes a great appetizer for a party since finger food is the best way to please a crowd. Read more in how to make the perfect party platter with 13 options to try.
▶ Also see these 10 Comfort Food Recipes to try and this list of great Instant Pot chicken recipes.
Spiced Potato Puff Pastry Baskets
If you feel challenged when it comes to samosa folding like I do, then why not try making these Spiced Potato Puff Pastry Baskets or deconstructed samosas?
Roast Beef Crostini
Need a simple yet elegant holiday appetizer? Look no further than this easy to make Roast Beef Crostini, perfect for parties!
Caprese Bites
Caprese Bites make the BEST EVER festive finger food for entertaining! A tomato basil mozzarella appetizer that can be plated with savory dips to skewer with prosciutto.
Warm Citrus-Marinated Castelvetrano Olives
These warm Castelvetrano olives are a hit to serve while entertaining guests. They're easy to eat finger food and offer a surprising twist on typical olives.
Mini Bacon & Onion Pasties
Mini Bacon and Onion Pasties are an easily prepared appetiser. Able to be made in advance, and delicious hot or cold, these will be a hit at your NYE celebrations. (They also freeze and reheat perfectly!)
Maple Bacon Wrapped Pork Bites With Dipping Sauce
These bacon wrapped pork bites are so easy to make and are packed with flavor! You get sweetness from the maple syrup and saltiness from the bacon making them such a great appetizer to serve at your next party!
Sweet & Spice Cream Cheese Dip
This Cream Cheese Dip appetizer recipe is a total snap to throw together in moments (like … 3 minutes flat)! It absolutely disappears whenever I serve it, and everybody asks for the recipe!
Honey & Walnut Baked Brie
A simple appetizer of Baked Brie cheese topped with honey, walnuts, dried cherries and rosemary. Serve with bread, crackers, and fruit for dipping. Ready in about 10 minutes!
Bacon Wrapped Asparagus
When you're looking for a great appetizer to add to your party, keep these grilled Bacon Wrapped Asparagus in mind. They're low-carb for anyone at the party who doesn't want to eat bread and crackers, and they're easy to make so they don't take up a lot of your time.
Creamy Beet Hummus
Creamy vegan beet hummus dip made from scratch. This hummus is vibrant, healthy, packed with plant-based protein and lots of flavor!
Whipped Butternut Squash Goat Cheese Dip
This creamy and delicious deep is made with simple ingredients, but has a gourmet-like taste! Wow your New Year's Eve guests with this one.
Goat Cheese Puffs
These Goat Cheese Puffs are the perfect little puff pastry bites you never knew you needed in life! They're a savory, sweet, and simply irresistible appetizer that's perfect for parties and holiday gatherings.
Cranberry Orange Brie Tarts
Cranberry Orange Brie Tarts are the perfect holiday appetizer. They kicked up a bit with cayenne pepper and nestled in a crunchy phyllo shell.
Filet Oscar Crostini Appetizer
A deliciously fancy hors d'eourvre for your next dinner or cocktail party! This Filet Oscar Crostini Appetizer is a fun take on the classic Filet Oscar dish made bite sized and worthy of your fingers!
Everything Bagel Cheese Bites
These Everything Bagel Cheese Ball Bites are the perfect bite sized appetizers for holiday gatherings and beyond! These mini cheese balls are great with crackers, bagel chips or with pretzels.
Bacon Jalapeno Cheese Ball
This bacon cheese ball is so quick and easy to make. You can even make a few and keep one waiting in the fridge for when the first one inevitably runs out.
Le Bernardin's Salmon Rillettes
These salmon rillettes are impressive for guests, but extremely easy to make. They will steal the show at your party!
White Bean Dip (with 3 easy variations)
White Bean Dip is a quick and easy appetizer that requires just a few ingredients and five minutes prep time! It's thick and creamy, and with three different variations included in the recipe, there's something for everyone at your holiday party!
Fig Jam & Blue Cheese Flatbread
Savory, sweet, and salty flavors combine in this simple and delicious flatbread appetizer… Fig Jam and Bleu Cheese Flatbread with Crispy Prosciutto is elegant enough for your New Year's Eve party and easy enough for game day!
Everything Bagel Puff Pastry Cheese Straws
With just a few ingredients you may already have on hand, you can make these easy Everything Bagel Puff Pastry Cheese Straws!
Sweet Crockpot BBQ Meatballs
These Crockpot BBQ meatballs are deliciously sticky and so easy to make. A slow cooker simplifies the process. Everybody loves meatballs, and covered with warm BBQ sauce this is one of my go to appetizers.
Mini Pear & Goat Cheese Tarts
These Mini Pear and Goat Cheese Tarts with Puff Pastry are to die for! The flakey savory dough, garlic-y goat cheese, and pears go so well together.
Bacon-Wrapped Pineapple Bites
Juicy pineapple is wrapped up in thick-cut applewood smoked bacon and then drizzled with a sriracha lime glaze before being baked in the oven to sweet and savory perfection!
Smoked Salmon Appetizer with Goat's Cheese & Avocado
Super easy and flavourful, this Smoked Salmon Appetizer can be whipped up in under 15 minutes, which makes it perfect for weekend eats or holiday entertaining. Crispy flatbread is topped with creamy goat cheese, smoked salmon, avocado, capers and chives. Click here for even more smoked salmon appetizers.
Loaded Hummus Dip
The most easy & tasty recipe that has major wow factor – loaded hummus dip with roasted eggplant & tomatoes, creamy feta and crispy chickpeas. Fresh, simple and delicious.
Jalapeno Popper Deviled Eggs
Jalapeno Popper Deviled Eggs are tasty New Years appetizer that everyone will love. Stuffed with cream cheese, bacon, cheddar and 3 types of jalapenos. Low carb and keto, the perfect appetizer for Easter, Super Bowl, Christmas or any holiday celebration or potluck.
Goat Cheese Stuffed Dates
These goat cheese stuffed dates have just the right balance of sweet and savory. They're easy to make, can be prepared in advance, and are sure to disappear long before you ring in the new year.
Cheesy Bacon Stuffed Mini Peppers
These Cheesy Bacon Stuffed Mini Peppers are the perfect crowd pleasing appetizer! They're stuffed with two kinds of cheese, bacon, and more, then baked till melty and delicious!
Smoked Salmon Potato Appetizers With Sour Cream Dip
Baked mini potatoes, topped with smoked salmon alongside a simple sour cream and dill dip. Super easy to make, and always a hit. The smoked salmon adds an elegant touch to the humble potato. A winning combination.
Hawaiian Pizza Muffins

Hawaiian Pizza Muffins are an easy savory appetizer best made with crescent roll dough and baked in a muffin tin. These pizza muffins topped with ham, cheese and pineapple, are great for a quick dinner for the whole family or as an appetizer for a party or game day.
Brie & Prosciutto Crostini with Caramelized Onions and Fig Jam
This is an easy-to-make appetizer that works well for all occasions, from dinner parties to game day parties!
CONCLUSION
I hope you enjoy these appetizers and that they dress up your party with lots of flavor. If you have a favorite appetizer you like to make, let us know about it in the comments. We'd love to share your recipe.
Like this recipe? We'd love for you to share it on your Pinterest board! Click to follow our Pinterest boards so you can find all our recipes!
Instagram it! If you try this recipe please tag #AFoodLoversKitchen on Instagram or Twitter. We love to see your photos of our recipes! Also follow us on Instagram, Twitter and Facebook to keep up on what we're cooking up.
Pin it for later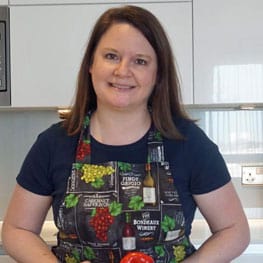 Laura is a home cook who loves making new recipes and finding new favorite things to eat, whether at home or abroad. She also runs a popular travel blog and spends a lot of her time traveling for food.