The holidays are a time of celebration and cheers, so it goes without saying that you'll need a few great cocktail recipes up your sleeve. We've got you covered with this look book of Thanksgiving-inspired drinks.
This collection of cocktails comes from dozens of fantastic food bloggers who know how to make a mean cocktail at home. They are all inspired by the fruits and spices that make Thanksgiving one of our favorite food holidays. So be sure to put apples, cinnamon, pears, cranberries, and pumpkin on your shopping list so you can mix up some of these cocktails for you and your friends. If you are looking for great Thanksgiving dessert ideas or a perfect Thanksgiving menu for two we've got you covered there too!
If you make a recipe below, we'd love to hear your impressions and results in the comments section below this post!
Thanksgiving Cocktails
Caramel Apple & Spiced Rum Cocktail
Relive your childhood with this tasty throwback to a caramel apple. This fall drink will remind you instantly of Fall with the sweet caramel syrup, apple cider and spiced Rum. » See the recipe
Spiced Gin Apple Pie Cocktail
A spiced Gin Apple Pie Cocktail that's perfect for entertaining any time of the year and for any occasion. It's a simple Gin Cocktail that comes together in minutes using regular pantry ingredients. » See the Recipe
Amaretto Apple Cider Cocktail
Amaretto blends wonderfully with apple cider and caramel to form this delicious cocktail. Three simple ingredients that's all you need: Amaretto, apple cider & caramel sauce. » See the Recipe
Apple Cider Moscow Mule
This Apple Cider Moscow Mule cocktail recipe is a twist on this classic cocktail replacing the lime juice with seasonal apple cider and garnishing with an orange slice and a cinnamon stick stirrer! » See the Recipe
Apple Pie Cocktail
Apple cider gets kicked up a notch with a splash of cinnamon and vanilla liquor. My Apple Pie Cocktail will have you ready for fall – it tastes like apple pie in a glass. » See the Recipe
Pumpkin Pie Boozy Punch
This easy and delicious Pumpkin Pie Boozy Punch is the perfect fall festive drink for adults. It's also an excellent cocktail to serve at Halloween parties and Thanksgiving gatherings! » See the Recipe
Cranberry Sangria
Cranberry sangria is the perfect seasonal cocktail to add to your festivities. Easy to make and great for making ahead, it'll be a staple for any occasion. » See the Recipe
Cranberry Orange Mulled Wine
This is my favorite mulled wine recipe. Perfectly spiced, warming and so tasty. Tastes like Christmas in a glass. If you're looking for a warming Fall/Winter drink, this cranberry orange mulled wine might be it. » See the Recipe
Blood Orange Cocktail
A fruity, juicy and delicious Blood Orange Cocktail made with gin, fresh blood oranges and garnished with thyme. This cocktail is the perfect way to celebrate winter citrus fruits. » See the Recipe
Maple Old Fashioned
Take a classic Old Fashioned Cocktail to a new level with maple! This Maple Old Fashioned is a great fall and winter cocktail, but we drink it all year long! » See the Recipe
The Coziest Hot Toddy
Ease a Dark and Stormy Cocktail into fall and winter with apple and maple! The flavors of apple, maple and ginger all pair so beautifully with the rum! You'll want to make a pitcher of these! » See the Recipe
Apple Cider Float Cocktail
A delicious combination of apple cider, a dash of cinnamon, some chilled champagne and topped off with a scoop of vanilla ice cream. It's like a decadent for-adults-only ice cream float! » See the Recipe
Cinnamon Maple Whiskey Sour
When you want to try a great tasting whiskey sour with a different twist give this Cinnamon Maple Whiskey Sour a try. It's a take on the whiskey sour — with a little holiday spin to it. » See the Recipe
Apple Cider Bourbon Cocktail
What says fall more than an Apple Cider Bourbon Cocktail? Perhaps you can think of a few different things, but these tasty beverages definitely top my list! Something about the sweet taste of apple with a hint of spice…and yes bourbon! » See the Recipe
Fall Pear Spritzer
Pear, ginger, and vanilla play along perfectly together for a beautiful and refreshing fall cocktail. You will be using a sparkling pear cider, vanilla vodka, and a ginger liqueur. It is simple to create and even easier to drink. » See the Recipe
Cranberry 75
A twist on the classic French 75 recipe. This French 75 cocktail is infused with cranberry to bring the holiday season together. Gin, sparkling wine, with bright cranberry and lemon flavours. » See the Recipe
Cranberry Orange Bubblies
Cranberry Orange Bubblies perfectly pair with your Thanksgiving appetizers. This drink is both festive and easy to enjoy while preparing the feast! » See the Recipe
Pumpkin Kentucky Mule with Ginger and Spice
This cocktail is "autumn in a glass"… Pumpkin butter (homemade or purchased), bourbon, ginger beer, and cardamom bitters get garnished with a cinnamon stick and candied ginger. This simple cocktail may become your new fall favorite! » See the Recipe
Hot Apple Pie Cocktail
This Hot Apple Pie cocktail is a favorite cool-weather drink! Lightly sweetened and seasoned apple cider and Calvados are warmed and served with fresh whipped cream. » See the Recipe
Fall White Wine Sangria
An easy white wine sangria recipe featuring gorgeous fall and winter ingredients like cranberries, apples, and oranges. This drink is refreshing, not too sweet , and even slightly healthy. » See the Recipe
Apple Cider Bourbon Slush
This apple cider bourbon slush is perfect for a cozy night in – the consistency and flavor is so good, it requires just 2 ingredients, 2 minutes and a little patience/preparation. » See the Recipe
Brandy Mulled Wine
Brandy Mulled Wine is warm and delicious and perfect for fall entertaining. It's a must have at the holidays. The drink is made with maple syrup for extra rich flavor. » See the Recipe
Hot Spiced Cranberry Cocktail
You should be drinking your cranberry cocktail warm with plenty of seasonal spices and vodka. This is the perfect holiday drink and will warm you right up! » See the Recipe
Almond Milk Chai With Whiskey & Orange
A warm and cozy vegan chai whiskey cocktail! Almond milk steeped chai tea with whiskey and freshly squeezed orange juice. » See the Recipe
Holiday Spiced Honeycrisp Apple Cocktail
Honeycrisp apples combine with a holiday spiced simple syrup and bourbon for the perfect holiday apple cocktail. Don't forget the cinnamon sugar rim! » See the Recipe
SERVE AND ENJOY!
Now that you've got dozens of fantastic Thanksgiving-inspired cocktail to make, it's time to get mixing! Serving these cocktails at a holiday party or Thanksgiving gathering will surely win you praise. Tried one of these cocktails? We'd love to hear your thoughts in the comments section.
Like this recipe? We'd love for you to share it on your Pinterest board! Click to follow our Pinterest boards so you can find all our recipes!
Instagram it! If you try this recipe please tag #AFoodLoversKitchen on Instagram or Twitter. We love to see your photos of our recipes! Also follow us on Instagram, Twitter and Facebook to keep up on what we're cooking up.
Pin it for later!
(Note: This is a collection of recipes from other fantastic food bloggers. All photography was provided courtesy of the recipe owner.)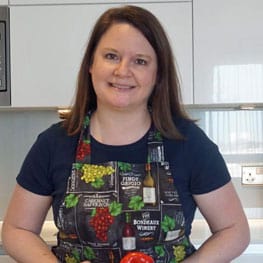 Laura is a home cook who loves making new recipes and finding new favorite things to eat, whether at home or abroad. She also runs a popular travel blog and spends a lot of her time traveling for food.