After a family snowball fight or a day filled with sledding, a steaming mug of hot chocolate is the perfect thing to warm you up. This winter hot chocolate sharing board is the perfect make-ahead treat.
Sharing boards are a fun way to present food. You can feed a crowd at a party or just nibble on it with the family all afternoon long.
Make your winter get-togethers super easy with a beautiful platter that you can make with minimal effort.
This hot chocolate board might seem daunting to put together, because of all the choices… and how do you make it pretty? Well, you'll be happy to know that it's super simple to put together.
How to Make a Party Platter?
The basic principle for making a beautiful board of any kind is to pile up all the good stuff. It's that easy! Okay, there's a bit more to it than just adding piles of good food to a board, but it's not much more difficult than that.
What Types of Food to Include
There are so many choices when it comes to what food to include on a winter hot chocolate board. I like to include a variety of at least 6 different items.
A few choices include:
Cookies – We like to used Pirouette wafer cookies but also these snowball cookies, chocolate chip or gingerbread cookies.
Chocolate-dipped pretzel sticks
Marshmallows – What mug of hot chocolate is complete without them? Mini marshmallows easily fit in mugs but think about different options here. We toasted some on the stovetop to make toasted marshmallows but you can also add homemade marshmallows of different flavors.
Mini chocolate chips – These melt quickly and add a punch of flavor along with diced up pieces of mint chocolate Andes mints.
Hershey's Peppermint Kisses
Candy canes (whole or crushed)
Whipped Cream
Sprinkles
This variety gives a lot of choices for what you can put into your hot chocolate and also gives you a few nibbles on the side, that aren't meant to be put into the hot chocolate.
You'll want to include 2-3 types of each item, so guests have options to choose from. This also helps diversify the board and makes it visually appealing.
Be creative. There are many things you can add to the board!
How to Make the Hot Chocolate
The most important item on this board is the hot chocolate. You can use powdered hot chocolate mix to keep it easy, but I recommend making it from scratch. A real milk hot chocolate is so good.
When making a batch of hot chocolate for my family I always use the Hershey's Hot Chocolate recipe. I use Hershey's special dark cocoa powder as it has such a deep chocolate taste. You can find the full recipe on their site.
Here are the ingredients you'll need:
| | |
| --- | --- |
| 4 oz. (1/2 cup) | sugar |
| 1 oz. (1/4 cup) | HERSHEY'S Cocoa, Natural (Item# 63505) |
| Dash | salt |
| 1/3 cup | hot water |
| 1 qt. (4 cups) | half & half or whole milk |
| 3/4 tsp. | vanilla extract |
Other Flavors to Add to Your Hot Chocolate
Cinnamon & Nutmeg
Peppermint Extract or Peppermint Schnapps
Orange Extract or Orange Liqueur
How to Display Your Platter
One of the most important parts is the board you put it on. It doesn't have to be something elaborate or fancy, but the board really does elevate the display.
A large wooden cutting board is perfect for the display of your foods. Depending on how much food you want to include, it will need to be a sizeable platter to hold enough food.
You will want to think about how to hold the hot chocolate warm so that it is the perfect temperature when a refill is needed. There are a few different ways to do this.
You can prepare a big batch of hot chocolate on the stove in a big pot. If you leave the burner on the lowest setting it should stay warm without scorching on the bottom.
My favorite way to make it is in the slow cooker. You can easily add all the ingredients in the morning and keep it warm all day.
An thermal coffee carafe with a pump is also a great way to keep the hot chocolate warm. And these generally have a handle for easy transport.
How to Assemble the Board
Once you've got a your hot chocolate made, half the job is done. What is left to do is to arrange your toppings.
Arrange your hot chocolate in a central location along with the mugs.
Arrange smaller items in bowls for easy access.
Cut up chocolate bars or chocolate candy so that they melt quickly.
Whip cream doesn't hold its shape once it starts to warm up. You might want to use a stainless steal whip cream dispenser that keeps it cold.
Refilling the board
The best part about a board with multiple items is that it can be refilled quickly and easily. Prepare extra of each item and have it at the ready to refill empty spots in the board as they get eaten.
If you're using a separate bowl to serve the hot chocolate, you can keep another batch warming on the stove top, or in the slow cooker that you leave in the kitchen.
Like this recipe? We'd love for you to share it on your Pinterest board! Click to follow our Pinterest boards so you can find all our recipes!
Instagram it! If you try this recipe please tag #AFoodLoversKitchen on Instagram or Twitter. We love to see your photos of our recipes! Also follow us on Instagram, Twitter and Facebook to keep up on what we're cooking up.
Pin it for later!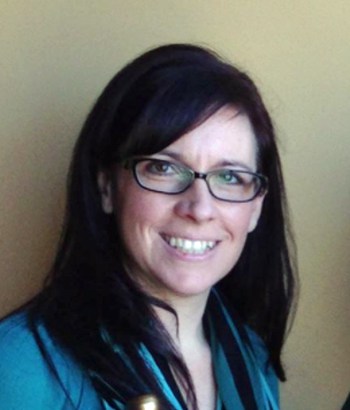 Hi! I'm Angela and I joined the team in 2020. I love to try new foods and recipes and look forward to passing them along to you. I live in a small town in Oregon with my two adult children who enjoy experimenting with food as well.