This Bagel & Lox Sharing Board is loaded with all the ingredients to make a perfect breakfast or brunch for a crowd.
Sharing boards are a fun way to present food at a family brunch. Rather than having everyone go into the kitchen to assemble their bagels, presenting all the options on a sharing board is way more fun.
Why not make your brunch super easy and fun with a beautiful platter that you can make with minimal effort.
This bagel & lox board might seem daunting to put together, because of all the choices… but believe me, it's simple and quick, but makes a big impact.
You might also want to check out this Hot Chocolate Sharing Board and our guide on putting together a great charcuterie board (featuring 12 fun party platter ideas).
How to Make a Bagel & Lox Board?
The basic principle for making a beautiful board of any kind is to pile up all the good stuff. It's that easy! Okay, there's a bit more to it than just adding piles of good food to a board, but it's not much more difficult than that.
What Ingredients to Include
There are some typical ingredients that you'll want to include on your Bagel & Lox board.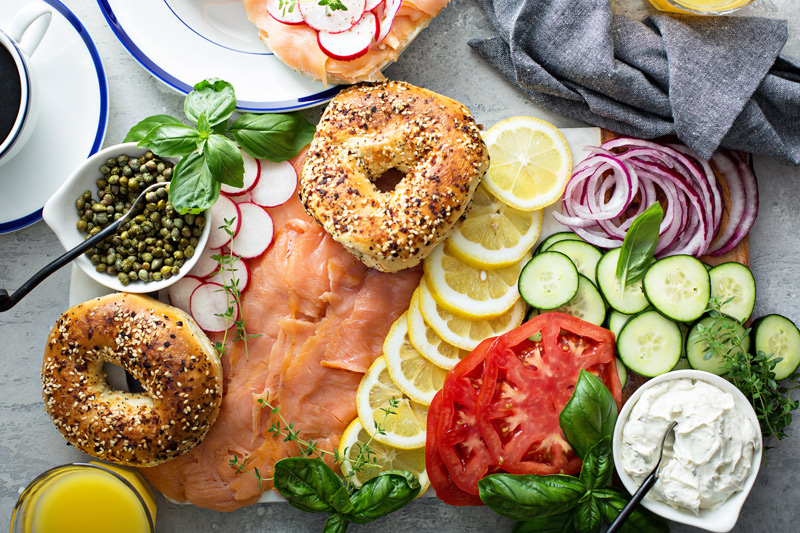 Bagels – this is the most important part fo the board. Make sure you source great bagels. We like to include sesame seed and plain bagels. Everything bagels are great too. You can serve the bagels in a separate basket placed near the board, if there isn't enough room on the board itself.
Cream cheese – you can serve just plain cream cheese, or add a few flavors for variety. A veggie or dill spread are great.
Lox – be sure to source a quality lox that you can lay on the board in large slices. You'll also want to provide small tongs to pick up the lox.
Capers – serve a small bowl of capers with a spoon.
Sliced or wedged lemons – you can use the lemons to spritz on top of the bagel, but mostly the lemons add a beautiful bright element to the board.
Cucumber slices
Red onion – break up the discs so just one ring can be added. A full slice is too overpowering for a bagel.
Sliced tomatoes
Sliced radishes.
Fresh herbs – especially dill, but also include fresh basil and thyme.
This variety gives a lot of choices for what you can put onto your bagel. There's something for everyone's tastes on the board.
Why Not Also Serve Low-Carb Bagels
It's more frequent these days that someone doesn't eat gluten or is avoiding carbs. Since bagels are so high in both, it might be a really nice thing to do to serve low-carb bagels, as well.
Low-Carb Bagels are easy to make and they only take a few ingredients that you might not have on hand, like almond flour and xanthan gum. They are much easier to make than a traditional bagel, though. See the recipe here.
How to Display Your Platter
One of the most important parts is the board you put it on. It doesn't have to be something elaborate or fancy, but the board really does elevate the display.
A large wooden cutting board is perfect for the display of your foods. Depending on how much food you want to include, it will need to be a sizeable platter to hold enough food.
Most serving boards aren't large enough to serve the bagels on the board with the rest of the ingredients, so you may also need a separate basket or plate on the side for the bagels. You can also stack them up in columns so they don't take much room.
Make sure you've precut the bagels down the center so sharper cutting knives are not necessary.
You'll also want to provide enough spreading knives for the cream cheese and serving utensils so no one has to use their fingers to pick up the ingredients.
Refilling the board
The best part about a sharing board with multiple items is that it can be refilled quickly and easily. Prepare extra of each item and have it at the ready to refill empty spots in the board as they get eaten.
Like this recipe? We'd love for you to share it on your Pinterest board! Click to follow our Pinterest boards so you can find all our recipes!
Instagram it! If you try this recipe please tag #AFoodLoversKitchen on Instagram or Twitter. We love to see your photos of our recipes! Also follow us on Instagram, Twitter and Facebook to keep up on what we're cooking up.
Pin it for later!
🥧 If you're interested in more great recipes, I share all my favorite Instant Pot recipes over at A Pressure Cooker Kitchen, air fryer recipes at Air Fry Anytime, and cocktails and drinks at Savored Sips. Check it out today!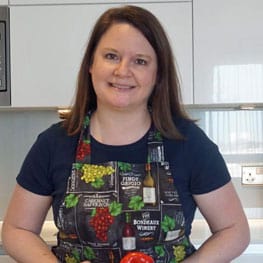 Laura is a home cook who loves making new recipes and finding new favorite things to eat, whether at home or abroad. She also runs a popular travel blog and spends a lot of her time traveling for food.