Smoked Salmon is one of my favorite ingredients to use in a recipe. Not only is it super healthy, it's packed with flavor and very versatile.
You can use it in casseroles, salads, sandwiches, brunch dishes – you name it, smoked salmon is a great ingredient to incorporate into your cooking.
We all know that salmon is packed with heart-healthy Omega-3 fatty acids and we should be getting more of it in our diets. Below are 30 fantastic recipes, created by expert food bloggers, that will help you create more dishes with smoked salmon. Enjoy!
If you make a recipe below, we'd love to hear your impressions and results in the comments section below this post!
30 Smoked Salmon Recipes
Smoked Salmon, Mushrooms & Egg Breakfast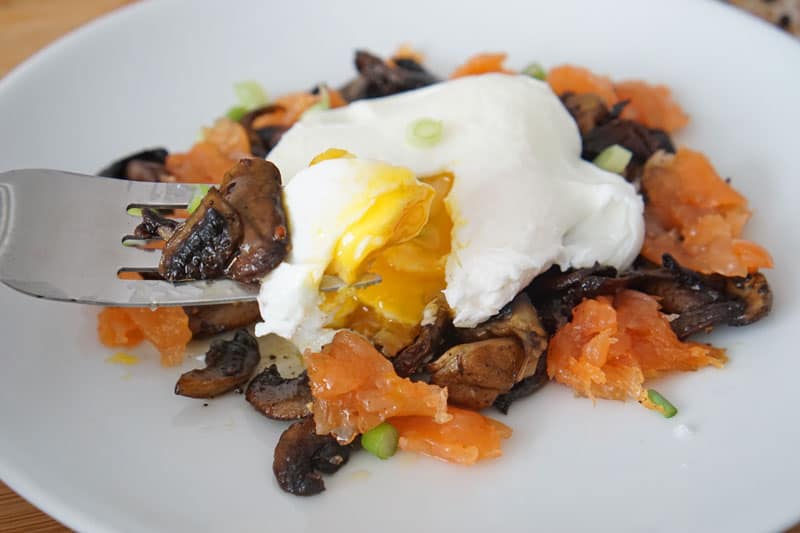 This smoked salmon, mushroom and egg dish is a great way to incorporate more healthy Omega-3 fatty acids into your diet. With mushrooms and poached eggs, this dish is umami goodness on a plate! [See the Recipe]
Smoked Salmon Quiche with Leeks and Cottage Cheese
This Smoked Salmon Quiche with Leeks and Cottage Cheese is the perfect dish for brunch, to take to work in your lunchbox or to enjoy as a light dinner. [See the Recipe]
Smoked Salmon Pasta
This simple Smoked Salmon Pasta salad makes a great make-ahead lunch, or it is perfect for a summer picnic or pot luck. [See the Recipe]
Smoked Salmon Salad
"This Smoked Salmon Salad features flavorful smoked salmon, tender baby spinach, crisp apples, chewy raisins and toasted almonds all tossed in lemon vinaigrette.  So easy to make and amazingly delicious!" [See the Recipe]
Smoked Salmon Pate
This homemade smoked salmon pate is made with double cream, lemon juice, salt and pepper. It couldn't get any easier to make. Just pop the ingredients in a blender and enjoy the results. [See the Recipe]
Everything Bagel Smoked Salmon Quiche
Quiche is a great way to use smoked salmon, but this recipe elevates it with cream cheese, and everything bagel seasoning, baked in a flaky crust. It's a perfect twist for breakfast! [See the Recipe]
Swedish Smörgåstårta Sandwich Cake
This Swedish Sandwich Cake makes a wonderful appetizer for your next party! This recipe is so easy to make as it uses a loaf of bread and just a few fillings. [See the Recipe]
Eggs Royale: Smoked Salmon Eggs Benedict
This Eggs Royale is a seafood twist on the classic Eggs Benedict. It's made with smoked salmon, poached eggs, and a creamy yogurt sauce, and is a lighter take on the breakfast classic! [See the Recipe]
Cottage Cheese, Kale & Smoked Salmon Frittata
This herb-packed cottage cheese, kale and smoked salmon frittata is low in calories, but full of flavour. Serve cold for breakfast or with a light salad for lunch. [See the Recipe]
Smoked Salmon, Spinach and Egg White Wraps
These 10-minute smoked salmon, spinach and egg white wraps make the perfect quick, easy and healthy meal! Packed full of protein and healthy fats, they're super filling, and also paleo, gluten-free and keto-friendly! [See the Recipe]
Pineapple Salsa with Smoked Salmon
This quick and easy pineapple salsa recipe takes little effort to make, and the addition of the smoked salmon makes it a real treat for the taste buds! [See the Recipe]
Pasta with Smoked Salmon
This creamy pasta with smoked salmon is impressive, as well as delicious, and the best part is that it requires minimal ingredients and takes only 20 minutes to throw together. [See the Recipe]
Smoked Salmon and Cream Cheese Dip
A recipe that always shines at a party is the smoked salmon cream cheese dip. It's always a hit, and it's so simple to make. This easy recipe should be on your party quick list. [See the Recipe]
Smoked Salmon Croissant Strata
For brunch, try this smoked salmon croissant strata that adds a bit of elegance and excitement to the breakfast table. This dish combines smoked salmon, cream cheese, capers and dill with croissants into a delightful baked dish. [See the Recipe]
Smoked Salmon Caprese Salad

This is a super simple, fresh salad that can be served at parties, or even as a meal. It includes vibrant tomatoes, fresh mozzarella and smoked salmon as a special twist on the classic. [See the Recipe]
Smoked Salmon Pasta Carbonara
A healthy and simple smoked salmon pasta carbonara recipe, made with just five simple ingredients and ready in 10 minutes. It's creamy (without any cream), luxurious and packed full of flavour. [See the Recipe]
Smoked Salmon Sandwich with Avocado
Smoked salmon sandwich makes for the perfect epic lunch sandwich. Packed full of veggies such as arugula, alfalfa, avocado and cucumber this one of the best sandwiches of all time. Gluten-Free & Dairy Free. [See the Recipe]
Smoked Salmon Sushi Bowl
Sushi bowl with smoked salmon, avocado, cucumbers, edamame and rice makes for the perfect Japanese themed meal that is ready in under 30 minutes. All the flavors of a sushi roll but none of the fuss. Gluten Free and Dairy Free too. [See the Recipe]
Smoked Salmon & Asparagus Fried Rice
Smoked salmon and asparagus add a fancy touch to fried rice in this 20 minute meal. It's a great way to use up leftover rice and it really delivers on flavor. [See the Recipe]
Smoked Salmon Cheesecake
You've probably never thought to put smoked salmon in a cheesecake before. But this creative, savory recipe will change your mind. This savory cheesecake is flavored with smoked salmon, Gruyere cheese, and dill. [
See the Recipe
]
Smoked Salmon Cheese Ball
Up your cheese ball game with this Smoked Salmon Cream Cheese Ball! This unique cheese ball will be the star of your party. [See the Recipe]
Smoked Salmon Pastry Cups
These Smoked Salmon Pastry Cups with mascarpone & fresh dill may look fancy, but they are a breeze to throw together and perfect for any gathering. [See the Recipe]
Smoked Salmon & Summer Vegetable Risotto
This smoked salmon and summer vegetable risotto is made with cauliflower rice making it perfect for a light summer lunch. [See the Recipe]
Smoked Salmon Appetizer with Goat Cheese and Avocado
This easy smoked salmon appetizer combines delicious smoked salmon, creamy goat cheese and avocado. Made in under 15 minutes! [See the Recipe]
Smoked Salmon Deviled Eggs
These smoked salmon deviled eggs looks so luxurious and delicious, and they're so easy to make that they belong on every party menu. Everyone loves a good deviled egg and the smoked salmon in these make them irresistible. [See the Recipe]
Chive & Tarragon Smoked Salmon Sandwich
No more boring lunches with this creamy Chive and Tarragon Smoked Salmon Sandwich on a multigrain and seeded bread with fresh veggies. [See the Recipe]
Smoked Salmon Okonomiyaki
Smoked Salmon Okonomiyaki is a Japanese cabbage pancake with smoked salmon, drizzled with Japanese mayonnaise and okonomi or 'brown' sauce. [See the Recipe]
Smoked Salmon & Lobster Bisque
"This smoked salmon and lobster tail bisque is as delicious as impressive looking. Best of all, it comes together in only 30 minutes. It's a perfect starter course for New Year's Eve, a dinner date or any special occasions." [See the Recipe]
Smoked Salmon Rice Salad with Lime Dressing
Smoked Salmon Rice Salad With Lime Dressing is a twist on the classic pairing of smoked salmon, capers, and red onion. A flavourful, chilled salad, with a tart, tangy dressing, it would make a fabulous side dish for summer barbeques or potlucks any time of year. [See the Recipe]
Smoked Salmon Tart with Herbed Quinoa Pastry
This smoked salmon tart with herbed quinoa pastry, cream cheese and capers is a classic combination of flavours sure to please everyone. Serve warm from the oven with a fresh side salad for a sensational lunch, or enjoy it for a picnic on a warm sunny day.
[See the Recipe]
Smoked Salmon Mousse
This delicious smoked salmon mousse is so quick to prepare. Just a few minutes in the blender and its done. Its wonderful served as a canapé, or as a dip. Its even delicious simply spread on a cracker for a snack! [See the Recipe]
SERVE AND ENJOY!
Now that you've got dozens of fantastic smoked salmon appetizer ideas, it's time to get cooking! Serving these appetizers at a party or gathering will surely win you praise.
Tried one of these appetizers? We'd love to hear your thoughts in the comments section.
Like this post? Be sure to save it on your Pinterest board for later! Click to follow our Pinterest boards so you can find all our recipes!
(Note: This is a collection of recipes from other fantastic food bloggers. All photography was provided courtesy of the recipe owner.)