Slow Cooker Pork Belly turns out incredibly tender with great flavor, and you can easily crisp up the skin under the broiler in just a few minutes. It's one of the easiest ways to make pork belly.
🥳🍗Don't miss out! New customers to ButcherBox get FREE wings for life! That's 3 pounds of free-range organic chicken in every box. SIGN UP HERE
Pork belly has a lot going for it. It's a cheaper cut of meat and it can be so amazing when it's cooked properly. We make it quite frequently. Check out our recipe for pork belly in the air fryer, pork belly slices, pork belly tacos, and air fryer pork belly bites.
If you've ever tried to make pork belly before, you know that it can be a pain to get it perfectly tender without overcooking. It takes a long cooking time for the meat to become tender and the fat to properly render. Then there's the skin to content with.
However you end up cooking it, these things all need to be taken into consideration in order for it to turn out perfectly tender and juicy.
Cooking it in the slow cooker is a great way to set it and forget it, and have it turn out perfectly tender and not overcooked. It's easier than the oven.
The one thing the slow cooker can't do for the pork belly is make the skin crispy. For this reason, you either need to finish the pork belly in the oven to crisp up the skin, or remove the skin before cooking. It's not really possible (or desirable) to eat the skin when it's not crispy.
Ingredients You Need
Pork Belly – Try to buy one that is about 2 pounds in size and is uniformly shaped, so that one side isn't thicker than the other. You will be cooking it with the skin on. But if you don't want the skin, just remove it and discard.
Dry rub – the ingredients in the dry rub are brown sugar paprika, black pepper, salt, chili powder, onion powder, garlic powder, mustard powder
Chicken or beef stock – You can use a boxed chicken broth, or mix water with a cube of chicken bouillon. Try and stay away from the low sodium stock.
Onion
Garlic
How to Make Slow Cooker Pork Belly
The most important consideration for pork belly is the skin. If you don't wish to keep the skin on, it's simple to remove it with a sharp knife.
If you want to keep the skin on and crisp it up at the end, you will need to score the skin and rub it with a dry rub that's got plenty of salt in it. I prefer to make a cross-hatch pattern on the skin (making sure not to cut into the meat), and use this homemade dry rub. You can find the full recipe at that link. The amounts and instructions to make it are also in the recipe card below.
Slather the dry rub on and be sure to get it into the slits in the skin. The salt in the rub will help dry out the skin so it can get crispy.
Add 1/2 cup chicken or beef stock, one chopped onion and two crushed garlic cloves to the slow cooker. Place the pork on top. Close the lid and cook for 6-7 hours on low.
Six hour is long enough for a thinner piece of pork. It will take longer for a thicker piece. Check it after 6 hours with a fork. If it pulls away easily, it's done.
If you're going to crisp the skin, you'll need to put the pork belly under the broiler for 5-10 minutes. Don't set it too close to the cooking element or it will burn too quickly. Be sure to keep an eye on it, to avoid burning.
I prefer to turn it upside down to slice, as it's easier to cut through the crispy skin that way.
Slice it to the thickness you wish and serve. In the image above, I've cut it into smaller pieces for an appetizer, dipped in ponzu sauce. Cut it into bigger chunks to serve as a full meal, like below.
Frequently Asked Questions
Is it Possible to Overcook Pork Belly
As much as it looks like you're just cooking the pork belly to the point of dryness, you're not. The cooking process is long for pork belly because of the amount of fat in the layers. This fat needs to break down and render so it's not thick and rubbery when you eat it.
However, there is a point at which you can overcook pork belly and it becomes dry and tough. That point is when the fat layer has completely rendered down into nothing. Cooking a 2 pound pork belly for 6 hours on low in the slow cooker is not enough time to overcook it.
Does Pork Belly Get Softer the Longer You Cook It?
Because of the amount of fat in a piece of pork belly, it takes quite a while to cook it to perfection, and it does become softer the longer you cook it, up to a point where you've properly rendered the fat. The meat should be moist and fall apart tender. If you over cook it, it will become dry and tough.
Do I Have to Use a Dry Rub?
The dry rub helps to add flavor along with the salt that is necessary to help dry out the skin of the pork. You can just add salt if you don't want to make or purchase a dry rub, however it will take some of the flavor that can be added with the extra seasoning, so I don't recommend leaving it out.
Other Pork Belly Recipes to Try
» See all our delicious pork belly recipes.
Like this recipe? We'd love for you to share it on your Pinterest board! Click to follow our Pinterest boards so you can find all our recipes!
Instagram it! If you try this recipe please tag #AFoodLoversKitchen on Instagram or Twitter. We love to see your photos of our recipes! Also follow us on Instagram, Twitter and Facebook to keep up on what we're cooking up.
Pork Belly in the Slow Cooker
Slow Cooker Pork Belly turns out incredibly tender with great flavor after 6 hours in the slow cooker.
Print
Pin
Rate
Ingredients
2

lbs

pork belly

1/2

cup

chicken stock

(not low sodium)

1

small

onion

quartered

2

cloves

garlic

smashed
For the dry rub
2

teaspoons

brown sugar

2

teaspoons

Spanish paprika

1

teaspoon

salt

1/2

teaspoon

ground black pepper

1/2

teaspoon

mild chili powder

1/2

teaspoon

garlic powder

1/4

teaspoon

onion powder

1/8

teaspoon

mustard powder

optional
Instructions
Remove the pork belly skin or score it with a sharp knife in a crosshatch pattern, taking care not to pierce the flesh.

Mix together the ingredients for the dry rub. Coat the pork belly on all sides with dry rub.

Pour the chicken stock into the slow cooker. Add the onion and garlic. Place the pork on top.

Put the lid on and cook on low for 6-7 hours, until pork is fork tender.

If you've left the skin on, crisp the skin under the broiler for 5 minutes, watching closely.

Slice to your desired thickness and serve immediately.
Notes
You can use any type of dry rub that you like, if you don't want to mix up the seasonings to make the rub we recommend. You can also just use 1/2 tablespoon of salt.
Be sure to check the pork belly after 6 hours to see if it's done. The meat should easily pull away and the fat layer should be very soft and spongy. If it's not done, continue cooking for up to an additional hour, checking frequently.
If it not necessary to crisp the skin of the pork, if you don't mind it not being crispy.
Nutrition
Calories:
806
kcal
|
Carbohydrates:
4
g
|
Protein:
15
g
|
Fat:
81
g
|
Saturated Fat:
29
g
|
Polyunsaturated Fat:
9
g
|
Monounsaturated Fat:
37
g
|
Cholesterol:
109
mg
|
Sodium:
469
mg
|
Potassium:
348
mg
|
Fiber:
1
g
|
Sugar:
2
g
|
Vitamin A:
395
IU
|
Vitamin C:
2
mg
|
Calcium:
17
mg
|
Iron:
1
mg
🥧 If you're interested in more great recipes, I share all my favorite Instant Pot recipes over at A Pressure Cooker Kitchen, air fryer recipes at Air Fry Anytime, and cocktails and drinks at Savored Sips. Check it out today!
Pin it for later!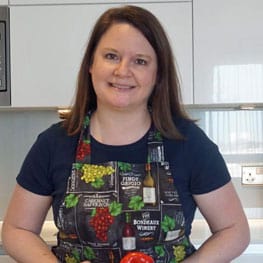 Laura is a home cook who loves making new recipes and finding new favorite things to eat, whether at home or abroad. She also runs a popular travel blog and spends a lot of her time traveling for food.