These Homemade Japanese Gyoza are handcrafted dumplings, filled with pork and cabbage, then steamed and fried to perfection on the stove top. If you've never made them, don't worry. It's not as difficult as it might seem.
» You might also like this Easy Okonomiyaki Recipe.
Japanese Gyoza (also known as potstickers) are an art, just like all other Japanese cooking. Gyoza chefs spend many years perfecting the craft, in order to produce the best possible gyoza. So you might not think it's possible to make these perfect little dumplings at home, but that's not the case.
Sure, they might not be the height of perfection especially your first time, but you can definitely pull it off. And believe me, they are delicious. You'll want to eat way more than you make.
In Japan, they use a special grill that first fries one side of the gyoza, then pumps water into the pan to steam the gyoza. The steaming cooks the wrapper and gives it the perfect amount of chew. Once the water is cooked off, the gyoza begin to fry again on the bottom, creating a crispy, crunchy crust.
As long as you're making gyoza, you should also make these Hokkaido baked cheese tarts to complete your Japanese meal.
Ingredients in Gyoza
Here is a list of ingredients you will need to make these delicious Japanese gyoza.
Cabbage
Salt & pepper
Minced pork
Fresh garlic
Fresh ginger
Gyoza wrappers
Peanut or vegetable oil
Ponzu sauce for dipping
How to Make Homemade Japanese Gyoza
We don't have fancy equipment at home with which to make gyoza, but that doesn't matter much. You can replicate it pretty well with just a frying pan with a lid. The lid part is quite important.
Stuffing and folding the gyoza is the time consuming part, but after you make a few and learn the technique, you'll get faster at it. I like to make up a large batch and freeze half of them for later, since I'm already putting in the effort. But even just making a dozen is worth it.
Step One: How to Make the Filling
For the filling, you can use just about any combination of ingredients that you like. I like pork and cabbage the best. You can also make chicken and cabbage or just vegetarian gyoza. No matter what you choose for filling, it will include white cabbage.
Sweat the Cabbage
One of the most important steps is getting some of the water content out of the cabbage so it doesn't make your filling soggy. To do this:
Mince the cabbage to a fairly small piece, about the size of a small button.
Salt the minced cabbage and allow it to sweat in a colander for at least 15 minutes to reduce the amount of water content. You can speed up this process by putting the cabbage in the microwave for 30 seconds, then allowing it to sit.
It sounds counterintuitive, but after 15 minutes, rinse the cabbage to get rid of the excess salt, then pat it dry with a paper towel. If it doesn't appear to have lost much water, squeeze the cabbage in a dish towel to remove even more water. It's not strictly necessary, if you don't have time.
Mix the Filling
Once the cabbage is ready, add it to a bowl along with the minced pork, green onions, soy sauce and ground black pepper. Stir it all up.
Step Two: How to Fill & Fold the Gyoza
I use store-bought gyoza wrappers or dumpling wrappers. These aren't the same as wonton wrappers. They're slightly different in texture and they're round, which is very important.
You can generally find these in the Asian aisle at the grocery. Or at a specialty Asian store. If you can't find gyoza wrappers, you can use round wonton wrappers, but don't try to use the square ones.
You could try making your own dough, but it would definitely add to the difficulty of this recipe. Plus, you'll often find that the restaurants in Japan also use pre-made dumpling wrappers. If you'd like to try your hand at making the gyoza wrappers, here's a great YouTube video to walk you through the process.
Filling the Gyoza
Put a dumpling wrapper in the palm of your hand and spoon some filling into the center. It takes about 1 1/2 teaspoons of filling. Don't overfill it, or you won't be able to close the wrapper around it. Judge the right amount by how easy it is to get it closed. You can always remove some, if necessary.
Use one finger to apply a small amount of water along the entire seam of the wrapper. Then close the wrapper around the filling, and pinch the middles together between your fingers. Halfway there!
Folding the Gyoza
This is the difficult part and it might take a second to get it right. I'll also say that you don't have to get it completely right. We're not trying to win any contests here. They'll taste the same, no matter what they look like. The only important thing is to get a good seal on them so the filling doesn't split out.
You're holding the gyoza closed in the middle with your thumb and middle finger (thumb facing you). With your other hand, carefully pinch a piece (only the top layer) of the wrapper to the right of your thumb, and fold it in toward your thumb. Press the fold down. Now pinch another flap and fold it toward the first flap. Press it down. That's one side done.
Repeat the process on the other side of the wrapper. This makes a fan shape facing toward the center pinch on each side. Just two folds is enough. When you're done, press the entire seam down to make sure it's secure.
If you're looking for more info on how to form the pleat on Japanese gyoza, check out these detailed instructions on Serious Eats. They don't have to be perfect, as long as they stay together at the seams. So don't worry too much if yours don't look great. They'll still taste great!
Step Three: Cooking the Gyoza
Once all of your gyozas are made, you can begin to cook them. In a large flat-bottomed pan on medium high heat, pour in 1/2 tbsp of oil and make sure it coats the bottom of the pan. Once the oil has heated up, set the gyoza flat-side down in the pan (meaning, not the side with the folds). You can cook as many at one time as you can fit in one layer in the pan.
Fry them for about 3-5 minutes to get a nice seared crust on the bottom. If they're getting too dark, turn the heat down.
As soon as they are crisp and golden, add about 1/4 cup of water to the pan and place the lid on the pan. Steam the gyoza like this for 3 minutes, then remove the lid and allow all of the liquid to evaporate. Cook an additional 2 minutes after all the water is gone to re-crisp up the bottom.
This process makes perfectly fried gyoza that are chewy on top, crispy on bottom. They won't stay crispy and warm very long, so it's best to eat them immediately after cooking.
Serve them with a Ponzu sauce on the side. It has a good mix of salty soy and bright acidity that goes really well with the gyoza.
Storing Uncooked Gyoza
If you're not going to eat all of the gyoza you made right away, you can store the rest in an air tight container in the freezer until you're ready to use them. I don't recommend storing them in the refrigerator, even if it's only overnight, because the water in the filling will make the wrapper soggy and it can break or stick to the plate they're on.
Instead, place the uncooked gyoza on a plate or piece of parchment paper, so they aren't touching each other, and put them in the freezer for about 10 minutes. At this point, they'll be frozen enough that they won't stick together, so you can store them all together in a bag or container without them sticking together.
Like it, Love it, Want Some More of It? Subscribe to our newsletter and follow us on Pinterest, Instagram and Facebook. We really love it when you save our recipes to Pinterest 😊
Handmade Pork Gyoza
These Japanese Gyoza are handcrafted dumplings, filled with pork and cabbage, then steamed and fried to perfection on the stove top. If you've never made them, don't worry. It's not as difficult as it might seem.
Print
Pin
Rate
Ingredients
1

cup

(

70

g

)

cabbage

finely chopped

3/4

teaspoon

(

5

g

)

salt

divided

4

ounces

(

113

g

)

pork

minced

1/2

teaspoon

(

2

g

)

minced fresh garlic

1/2

teaspoon

(

1

g

)

minced fresh ginger

1/4

teaspoon

(

0.5

g

)

pepper

1

package gyoza wrappers

1/2

tablespoon

(

7

ml

)

peanut or vegetable oil

1/4

cup

(

59

ml

)

water

Ponzu sauce

for dipping
Instructions
Finely chop the cabbage and put it in a microwave safe bowl. Sprinkle with 1/2 tsp salt and microwave for 30 seconds. Put the cabbage in a colander and let sit for 5 minutes while preparing the rest of the filling. After 5 minutes, rinse the

salt

off the cabbage and dry it with a paper towel. You can extract more water by putting the cabbage in a cheesecloth or thin dishtowel to ring the water out of the cabbage, but this isn't a necessary step.

Finely mince the pork and combine it with the cabbage, garlic, ginger, remaining

salt

, and pepper in a bowl.

Place a single dumpling wrapper in the palm of your hand. Spoon about 1 1/2 teaspoons of filling in the center. Dip a finger in a bowl of water and lightly wet the outer edge of the wrapper. Fold the wrapper in half and pinch it together with your middle finger and thumb (thumb facing you). With your other hand, carefully pinch a piece (only the top layer) of the wrapper to the right of your thumb, and fold it in toward your thumb. Press the fold down. Now pinch another flap and fold it toward the first flap. Press it down. Repeat on the other side.

Add cooking oil to a large frying pan over medium high heat. Once hot, place the gyoza, flat side down, into the frying pan and cook for 3 minutes, or until a nice golden crust begins to form on the bottom.

Add 1/4 cup water to the pan and cover with a lid. Cook for 3 minutes.

Remove the lid to allow the water to evaporate. Once the water is gone from the pan, cook for an additional 2 minutes, to re-crisp the bottom.

Serve hot, with dipping sauce.
Nutrition
Calories:
17
kcal
|
Carbohydrates:
1
g
|
Protein:
1
g
|
Fat:
1
g
|
Saturated Fat:
1
g
|
Polyunsaturated Fat:
1
g
|
Monounsaturated Fat:
1
g
|
Cholesterol:
3
mg
|
Sodium:
78
mg
|
Potassium:
19
mg
|
Fiber:
1
g
|
Sugar:
1
g
|
Vitamin A:
3
IU
|
Vitamin C:
1
mg
|
Calcium:
2
mg
|
Iron:
1
mg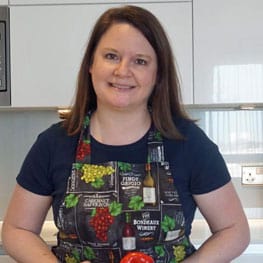 Laura is a home cook, with 25 years experience behind the stove, who spends an extraordinary amount of time in the kitchen cooking. She loves making new recipes and finding wonderful new things to eat, both at home or abroad. She spends a lot of time researching, crafting, and perfecting her recipes and currently has a cookbook in development.