This article has links to products and services we recommend, which we may make commission from.
These pork belly tacos are so addictive. The pork belly in these tacos melts in your mouth, while the Asian slaw adds just the right amount of crunch.
There's nothing I don't like about pork belly tacos. I would eat then every day if I thought it was a wise nutritional decision. Alas, it's reserved for an occasional treat.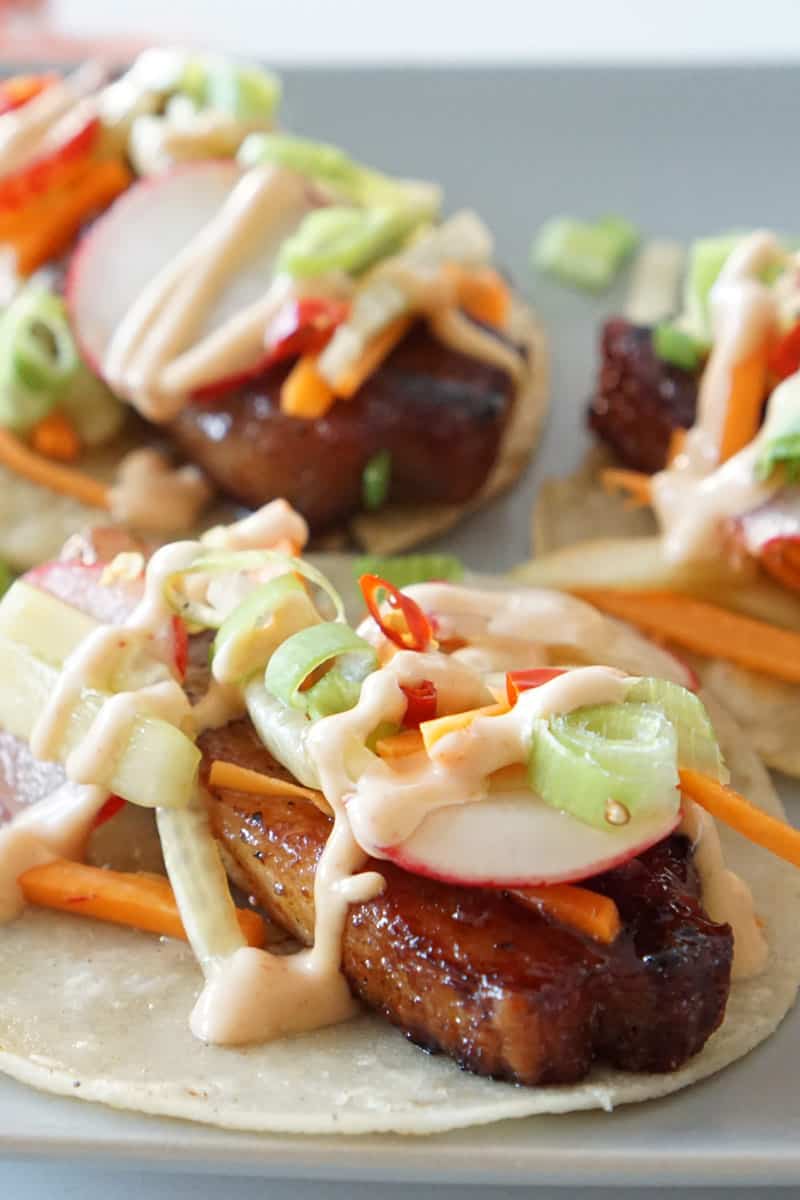 You might be thinking that you'll actually never make these because slow cooking a pork belly isn't exactly the easiest or quickest thing to do. No one has time for that!
But these tacos use pork belly strips that you can buy already sliced. They take the long preparation and day-long cooking out of the equation. In fact, it only takes about 30 minutes to make these pork belly slices. See the full recipe here.
This method of cooking the pork belly is much faster, and the pork belly turns out really great. But it's not the fall apart tender version that you'll get from slow cooking it all day. I'm sure you'll forgive it once you've tasted it though.
How to Make Pork Belly Slices
If you can buy the pork belly already sliced, that's the easiest way to go about this. If you can't, you can buy a pork belly slab and cut it into slices. This is easiest to achieve when the meat is still a bit frozen.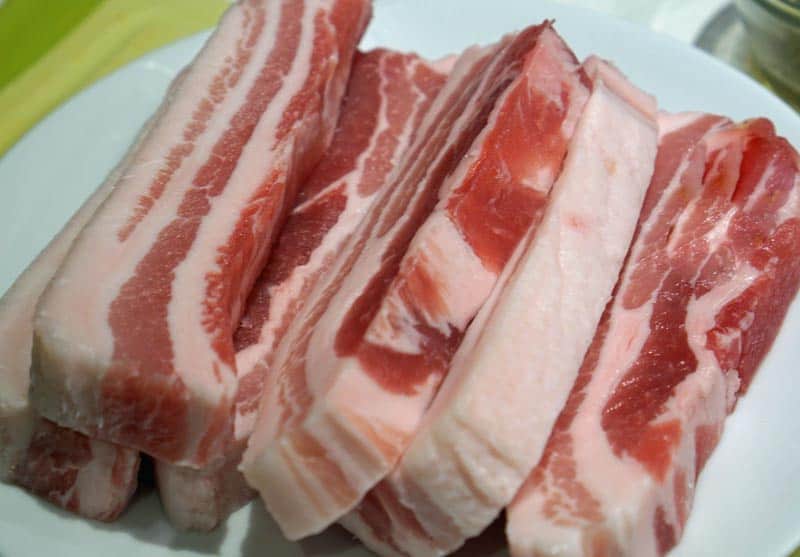 Place the slices on a baking sheet. Rub them with an olive oil, salt and pepper blend. Then put them in the oven for 15 minutes on 375 degrees F. Flip them over at that point and put them back in for 15 more minutes. Near the end, watch them well. You don't want to overdo it or they'll get really tough.
At the 30 minute mark, take them out of the oven and baste them with the glaze. Then put them back in for a few minutes on each side just to get the glaze all bubbly.
How to Make the Asian Slaw
These pork belly tacos don't need a lot of toppings. You want the pork to be the start of the show. But all that rich meat needs some acidity and crunch to balance it.
You can use whatever vegetables you want in this slaw. If you only have carrots, that's fine. I use a mix of carrot, cucumber and radishes. Slice them up into matchsticks and give them a quick pickle in vinegar and soy sauce. Ten minutes is about all they need.
You can add as much or as little of the slaw as you want to your tacos. I then top it off with Yum Yum sauce.
Corn Tortillas vs Flour Tortillas
I like to eat these pork belly tacos on both corn and flour. You can choose your preference. The small street taco corn tortillas are perfect size for the tacos.
If you use flour tortillas, get the smallest size you can – usually 6″. Since these are bigger than the corn tortillas, it's best to cut the pork belly into smaller pieces so it's easier to eat.
Either way, give the tortillas a warm up before using them, so they are soft and pliable.
If you're looking for a side to serve with these crispy pork belly tacos, try this Mexican street corn. You can replace the mayonnaise with Yum Yum sauce to keep the flavor profile consistent. It makes a pretty satisfying meal. Or try this Bacon, Jalapeno and Corn salad.
Like this recipe? Be sure to save it on your Pinterest board for later using the pin button below! Click to follow our Pinterest boards so you can find all our recipes!
Ingredients
For the Pork Belly
1

lb

pork belly slices or whole pork belly cut into slices

1

tbsp

olive oil

1/8

tsp

salt

1/8

tsp

pepper

1

tbsp

brown sugar

1

tbsp

soy sauce

1

tbsp

hoisin sauce
For the Slaw
¼

cup

cucumber

julienned

¼

cup

carrot

julienned

¼

cup

radish

thinly sliced

1

tsp

rice wine vinegar

1

tsp

soy sauce
For the Tacos
4

corn tortillas

or 6 street taco corn tortillas

2

tbsp

yum yum sauce

1

green onion

chopped
Instructions
For the Pork Belly
Preheat the oven to 400 degrees F (200 degrees C).

Whisk

together the olive oil, salt and pepper.

Brush the pork belly strips with the olive oil mixture.

Place pork belly strips on a

baking tray

and put them in the oven for 15 minutes.

Remove from oven and turn the strips over. Bake for another 15 minutes.

Meanwhile, mix together the brown sugar, soy sauce and hoisin. When the strips are done, remove them from the oven and brush on both sides with the glaze. Return to the oven for 3 more minutes on each side.
For the Slaw
Cut the vegetables into matchsticks and put them together in a small bowl. Add the vinegar and soy sauce. Stir to coat. Refrigerate for at least 10 minutes.
For the Tacos
Heat the corn tortillas in a skillet until pliable. Place them on a plate. Top with a slice of the pork belly, the Asian slaw and green onions. Then drizzle the yum yum sauce over the top and serve.
Notes
Use flour tortillas instead of corn, if you want.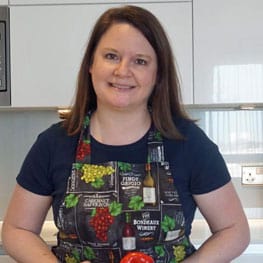 Laura is a home cook who loves making new recipes and finding new favorite things to eat, whether at home or abroad. She also runs a popular travel blog and spends a lot of her time traveling for food.