Sriracha Bacon Jerky is something you've always wanted, but never knew you needed. The sweet and spicy Sriracha marinade on these bacon lardons makes them one of our favorite snacks.
» You might also like this Homemade Strawberry Fruit Leather Recipe.
I was introduced to this Sriracha bacon recipe by my friend Andrea. She brought some over to our house for a party and it was devoured in minutes. It takes a while to make bacon jerky, so if you're wanting a much faster snack, check out these awesome pork belly bites that we make in the air fryer in less than 10 minutes.
You might be thinking that Sriracha is way too spicy, and it can't possibly make for good jerky, but I hope you'll suspend your disbelief and give this recipe a try, because you'll see that the Sriracha marinade is sweet enough to overcome the heat. And it makes for some really tasty jerky snacks.
What Type of Bacon to Use for Jerky
I use bacon lardons, or large bacon end pieces (like the ones you can buy at Trader Joe's) for this recipe, but it's also fine to use full slices of thick-cut bacon. I personally prefer the pieces because it's easier to snack on them in small measure, without consuming dozens of whole slices of bacon because you can't resist it.
If you don't have a Trader Joe's nearby, there are a few ways to go about this. You can ask your store butcher to make you some larger bacon lardons, or you can buy a chunk of pork belly and cut it up into pieces yourself, or you can buy thick-cut bacon strips and cut it into pieces. Lots of options!
You can also purchase quality meat raised on small farms from FarmFoods without a subscription. They have all the information for every farm on their website and you can choose what cuts you want and have it shipped free to your door.
How to Make Sriracha Bacon Jerky
If you have a food dehydrator, this is an incredibly easy process. All you have to do is spread the bacon out evenly on the trays, turn it on, and wait for the bacon to completely dry out.
This takes about 3-4 hours, depending on the thickness of the pieces. If you don't have a dehydrator, you can make the bacon in the oven, which is the recipe we include below, because it's a bit longer of a process.
For dehydrating jerky in the oven, you will need some wire racks that have small enough grating that the jerky won't slip between the rails. It also needs to have a drip tray underneath. One like this is perfect.
Spread the bacon out on the rack so the pieces aren't overlapping. Put it in the oven on the top rack at 170 degrees F for about 8 hours. You'll be tempted to take it out long before 8 hours. When the aromas start to permeate your house, you'll want to take it out and eat it all right then. But it's important to dry it thoroughly.
Best Dehydrator for Jerky
If you really are looking for the best jerky dehydrator that's loaded with premium features, then this dehydrator by Gourmia is the one.
This advanced dehydrator has six trays worth of dehydration space. It has the ability to set the drying time in 30-minute increments, and it has 8 temperature settings, from 95° to 158°F.
It's the dehydrator that gives you full control. This appliance has a see-through door so that you can always keep an eye on the food without opening the door.
Questions About The Recipe
Can I make this recipe if I don't have a dehydrator?
Absolutely! You can use your oven to make sriracha bacon jerky. Set your oven to the lowest temperature, typically around 170-200°F (75-95°C). Place the bacon strips on a baking rack over a baking sheet to catch drippings. The cooking time may vary, but it generally takes 3-4 hours. Keep an eye on the bacon to ensure it doesn't burn, and remember to flip the strips halfway through.
How long does homemade bacon jerky last, and how should I store it?
Homemade bacon jerky can last up to 2 weeks if stored properly. Once it's cooled down completely, place the jerky in an airtight container or zip-lock bag. Store it in a cool, dry place. For longer shelf life, you can refrigerate the jerky, which can extend its freshness for up to a month.
My jerky turned out too spicy. How can I adjust the sriracha level in the recipe?
If the jerky is too spicy, you can reduce the amount of sriracha sauce in the marinade. Start by cutting the amount in half and adjust to taste. Alternatively, you can increase the sweetness to balance the heat by adding a bit more honey or brown sugar to the marinade. Remember, the flavor intensifies as the bacon dries, so it's always best to start with less heat and adjust in future batches.
Other Recipes to Try:
Like it, Love it, Want Some More of It? Subscribe to our newsletter and follow us on Pinterest, Instagram and Facebook. We really love it when you save our recipes to Pinterest 😊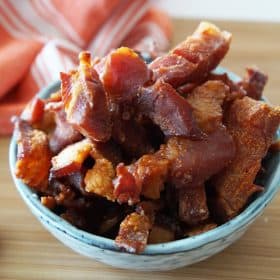 Sriracha Bacon Jerky
The sweet and spicy Sriracha marinade on these bacon lardons makes them one of our favorite snacks.
Print
Pin
Rate
Ingredients
2

tablespoons

(

30

ml

) sriracha

1/2

tablespoon

(

7

ml

)

soy sauce

1/2

tablespoon

(

7

ml

)

Worcestershire sauce

1

tablespoon

(

12

g

)

brown sugar

1/2

teaspoon

(

1

g

)

pepper

More if you want it extra peppery

1

pound

(

454

g

)

bacon pieces

like Bacon Ends and Pieces from Trader Joe's
Instructions
Mix the marinade ingredients together and pour it into a plastic Ziplock bag. Add the bacon pieces.

Marinate it overnight, or up to 24 hours.

Place the bacon pieces on a baking tray with a rack, spacing them out so they don't touch each other. Put the baking tray on the top rack of the oven at 170 degrees for about 8 hours, or until thoroughly dried.
Equipment Needed
Oven baking rack

or dehydrator
Notes
Dried jerky does not need to be kept in the refrigerator.
Consume within 5 days.
Nutrition
Calories:
280
kcal
|
Carbohydrates:
3
g
|
Protein:
33
g
|
Fat:
16
g
|
Saturated Fat:
11
g
|
Cholesterol:
108
mg
|
Sodium:
2481
mg
|
Potassium:
18
mg
|
Fiber:
1
g
|
Sugar:
2
g
|
Vitamin C:
3
mg
|
Iron:
1
mg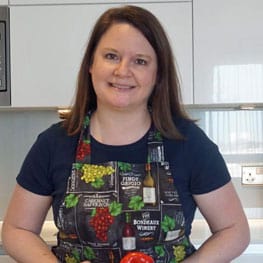 Laura is a home cook, with 25 years experience behind the stove, who spends an extraordinary amount of time in the kitchen cooking. She loves making new recipes and finding wonderful new things to eat, both at home or abroad. She spends a lot of time researching, crafting, and perfecting her recipes and currently has a cookbook in development.