Adding a dehydrator to your household appliances is a brilliant move. These nifty kitchen gadgets can be utilized in all kinds of ways – making delicious homemade jerky being one of the best. Purchasing a dehydrator for jerky will allow you to make this tasty snack whenever you want, right from your own kitchen.
This is such a fun thing to do, and once you get started it can be seriously rewarding! With all of the different options out there, we've put together this list to help you find the best dehydrator for jerky.
We'll take a look at our four favorite dehydrators for jerky and what to look for when buying one.
Finding The Best Food Dehydrator For Jerky
When making jerky, you need to ensure the meat gets properly dried out through a slow dehydration process. Food dehydrators that are used for making jerky usually have a fan to assist with the drying process, as well as a constant low heat.
A meat dehydrator usually comes with layers of shelves that can be stacked on top of each other. The more shelves that you have, the more jerky you can make.
Making large batches of jerky is definitely the way to go because the process is too tedious for just a small amount.
What to Look For in The Best Jerky Dehydrator
It's important to understand your needs and exactly what you're looking for when purchasing a dehydrator for jerky. Whether you want to attempt making jerky as a first-timer, or are looking for the ultimate dehydrator to help perfect your craft, there are some elements to always keep an eye out for.
Space
First of all, consider the amount of space that the dehydrator caters to. Some of these products can only produce limited quantities, so if you are planning on making large batches of jerky then take this into consideration. Most dehydrators use a system of shelves, or stacking trays, to increase their volume.
Airflow System
Look out for an even airflow system when purchasing your dehydrator. The best jerky dehydrator on the market will have a fan assisting even airflow throughout the dehydrator. This works with a heating element.
Temperature Control
Dehydrators with an adjustable thermostat are also preferred for jerky making. This will allow you to set, change and regulate your temperature. This is a major factor in making quality jerky.
Best Dehydrators For Jerky Reviewed
Now that you know what to look for in the best dehydrator, it's time to consider some products. With so many different products out there, we have narrowed down the search to help you find the best dehydrator for beef jerky.
*Best Countertop Dehydrator*
If you really are looking for the best jerky dehydrator that's loaded with premium features, then this product by Gourmia is the one.
This advanced dehydrator has six trays worth of dehydration space. It has the ability to set the drying time in 30-minute increments, and it has 8 temperature settings, from 95° to 158°F.
It's the dehydrator that gives you full control. This appliance has a see-through door so that you can always keep an eye on the food without opening the door.
And best of all, the dehydrator has a 360° airflow circulation to make sure everything gets dried evenly, without the need for rotation. The only negative for me is that it takes up a lot of counter space, because it can't be easily tucked away in a cupboard.
If you have a small kitchen, that's not ideal. But if you have the space, this is the one to go for.
Assembled Dimensions (L x W x H): 19.4″ x 15.2″ x 14″
Power: 110 volts
Weight: 17 lbs
Specifications
Six tray system
Digitally controlled
See-through door
Uses a thermostat
Includes a fruit leather sheet and drip tray
PROS
CONS

Easy to control the temperature
ETL certified
Can be suited to all kinds of food dehydration
360° circulation

Trays can be tricky to clean
Buy Now on Amazon
---
*Best Portable Dehydrator*
The Presto Dehydro electric food dehydrator offers a really convenient solution for those wanting to start making dried foods at home.
This device consists of a four tray drying system, giving you a really good amount of drying space. If you need more space though, there is the option of converting the Presto Dehydro into an eight-tray capacity.
This is a great dehydrator for jerky due to its see-through cover and non-stick trays. With this, you can always keep an eye on your food inside to ensure that everything is going well. Not only is this dehydrator practical when in use, but it is also really easy to clean up!
All of the drying trays and cover can simply be thrown into the dishwasher. If you have a small kitchen, but still want a large and powerful dehydrator, this is the dehydrator you should go with. It can be easily stored because the drying trays nest together.
Assembled Dimensions (L x W x H): 14.5″ x 15″ x 6.25″
Power: 600 Watt, 120 volts
Weight: 7.5 lbs
Specifications
Four-tray system
See-through cover
Runs at a preset temperature of 165°
Bottom-mounted fan
Drying trays nest for compact storage and the cord stores in the base
PROS
CONS

Easy to clean
Space can be extended to eight trays
Optimal and consistent airflow
Jerky gun and spice kits available

No temperature control
Not suitable for drying all foods
Buy Now on Amazon
---
*Best simple-to-use dehydrator*
Even though this product may seem really simple, it is still one of the best dehydrators out there, and it is certainly a great jerky maker. This simple all-in-one kit comes with a top-mounted fan for consistent airflow. This is helped by the 500 watts of drying power.
This convenient dehydrator uses five trays which easily stack up on top of each other. This is a simple-to-use product with no complicated settings or temperature gauges, but it will still dry food evenly and in less time than many other dehydrators.
The NESCO dehydrator also comes equipped with a jerky gun, a fruit roll sheet, and a clean-a-screen for herbs or sticky fruit.
Assembled Dimensions (L x W x H): 13″ x 11″ x 13″
Power: 500W
Weight: 8 lbs
Specifications
Five-tray system
Top-mounted fan
Includes a jerky gun, fruit roll sheet, and clean-a-screen
500 watts of drying power
PROS
CONS

Easy to use
Maintains great even airflow
Adjustable thermostat
Dishwasher friendly

The trays provided are pretty shallow
Buy Now on Amazon
---
This is a brilliant household dehydrator, easy to use with a one-button operation, and easy to fit into any kitchen with its small footprint. This product by Nutrichef features a completely see-through covering which allows you to always see what is going on inside.
It's quite small and portable. And it runs really quiet. There are five stackable food trays that are removable and particularly easy to clean. A great feature of this dehydrator is its temperature control system, which goes up to 180 degrees.
Assembled Dimensions (L x W x H): 11" x 11" x 10"
Power: 120V
Weight: 3.1 lbs
Specifications
Five tray system
Temperature control system
See-through cover
Effective heat circulation
PROS
CONS

Easy to clean
Easy to operate
There's a great level of temperature control on this device
Plenty of space for jerky
Buy Now on Amazon
---
Homemade Jerky Recipe
Now that you've chosen the best jerky dehydrator, you need to prepare to make your first batch! Below is one of the best jerky recipes to make for your first time.
You can use this as a base to adjust and make your own perfect recipe. You may also love this Sriracha Bacon jerky recipe.
Ingredients
2 pounds beef round steak, cut into thin strips
1/4 cup soy sauce
2 tbsp Worcestershire sauce
2 tbsp brown sugar
1 tbsp liquid smoke
2 tsp salt
1 tsp ground black pepper
1 tsp garlic powder
1 tsp onion powder
1 tsp paprika
1 tsp mustard powder

Instructions
Cut the beef into thin strips. I prefer to do this while the beef is partially frozen, as it allows you to cut thinner slices. If you can't get the slices then enough, you can pound them with a meat mallet.
Put all of the other ingredients in a bowl and stir to combine. Add the beef and stir to coat all the pieces. Cover with plastic wrap and refrigerate for at least 8 hours.
Place the beef strips on the dehydrator trays, spaced out enough so they aren't overlapping. Dry according to the dehydrator instructions, for at least 4 hours.
Note: If you don't yet have a dehydrator but still want to try this recipe, you can place the beef on metal racks and put them in the oven on 175 degrees for 4 hours or until thoroughly dried.
Final Thoughts
Making beef jerky at home is really fun, and with the right beef jerky maker, it can be incredibly easy! Owning a quality dehydrator will not only allow you to make your own beef jerky but an endless supply of dried healthy snacks.
If you are looking for the best food dehydrator for jerky, then any of these four products come highly recommended. As long as you know how to use them, you will be sure to achieve some amazing results.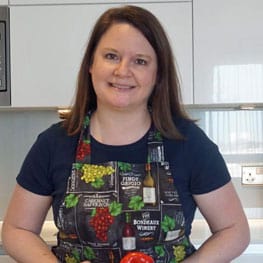 Laura is a home cook who loves making new recipes and finding new favorite things to eat, whether at home or abroad. She also runs a popular travel blog and spends a lot of her time traveling for food.