Liven up your morning with this light and fluffy Dalgona whipped coffee recipe that will turn your morning coffee upside down. It has just 3 ingredients and can be whipped up in a flash.
» Also try this Winter Hot Chocolate Sharing Board, perfect for cold days.
This whipped coffee became a craze on social media in 2020 and everyone was making it! We couldn't help but jump on the trend and check it out for ourselves. You won't believe how easy this is to make.
If you love coffee, but want to try something new, this dalgona whipped coffee is a super fun way to turn it around. You can add it to the top of your black coffee as a sweet topping, or you can add it to the top of steamed milk for a punch of coffee flavor. We even used it to make a cocktail!
All you need is the easy ingredients and a hand mixer to blend it up.
What is Dalgona Coffee?
Dalgona coffee is a beverage made by whipping equal parts instant coffee powder, sugar, and hot water until it becomes creamy and then adding it to cold or hot milk. Dalgona coffee (달고나 커피) is the Korean way of saying whipped coffee, much like frappe in Greece or batido in South America.
Although whipped coffee has been around for ever, in different forms in different countries, Dalgona coffee became internet famous when it was featured on social media and it caught on around the world.
Ingredients You'll Need
It takes just three ingredients to make:
Instant coffee grounds – Freeze dried coffee dissolvable instant coffee is what you want here, not coffee grounds.
Sugar – White granulated sugar
Water – boiling water is best
It's as easy as mixing those three ingredients together and whisking them until it's light and fluffy. You can then put the topping on anything you like. A "dalgona coffee" is steamed milk topped with this whipped coffee. It's like a latte turned upside down.
How to Make a Dalgona Coffee
In a mixing bowl, combine a 1:1:1 ratio of the ingredients. For each serving you want to make, use 1 tablespoon of each. Our recipe makes 2 servings, so we use 2 tablespoons of coffee, sugar, and boiling water.
There are a couple of ways you can prepare this whipped topping, but the easiest by far is with a hand mixer in a bowl. I tried to whisk the whipped cream by hand and – while it eventually worked – it was not an easy task and it took forever.
Hand mixer – This is the easiest method. It takes about 3-5 minutes to whip it up.
Immersion blender – Many immersion blenders come with a whisk attachment. That's perfect for making this whipped coffee topping. for your immersion blender, you can put the ingredients in the chopper attachment and blend it that way. It won't get as fluffy in the chopper, but a few minutes of hand whisking after will get it there.
Whisk by hand – takes about a 10-minute forearm workout to get this done. Only use this method if you don't have a another alternative.
It can take a while to turn the mixture into whipped topping that's stiff enough to add to your milk, but just keep on with the blending until it comes together. When I was hand whisking it, it really felt like it wasn't going to work, but it eventually did.
Served Cold or Hot?
You can use either cold or hot milk. Traditionally, you would serve dalgona coffee over hot milk. I prefer to drink mine cold. I even add ice to the milk for a cool, refreshing drink, like an iced coffee.
To add an extra burst of flavor to the milk, you can mix the coffee topping into the milk, then add more to the top. It's a light and tasty way to start your morning.
You can also add this whipped topping over hot coffee if you want. It just adds a boost of sugar to the coffee. Also try it over ice cream or on top of a White Russian cocktail!
Substitutions & Alternatives
The biggest substitution you can use is for the sugar. If you don't eat sugar, but still want to try this whipped topping, you can substitute the sugar for a sugar substitute.
To make keto whipped coffee, just replace the sugar with a 1:1 ratio of your favorite granulated sugar alternative, like Erythritol, allulose, or swerve. It blends up exactly the same way as with regular sugar.
If you don't want to serve this whipped topping over milk, you can put it on any type of milk alternative you want to drink. I used almond milk. The drink isn't affected at all by using a milk alternative.
Doubling the Recipe
You can double or triple the recipe – make as much as you want, really. I've never tried making more than 4 servings at a time, but I don't think it would be any different than making just one or two servings.
The recipe is a 1:1:1 ratio of coffee to sugar to water, so just add as much as you want in those ratios to maintain the balance.
How to Store Dalgona Whipped Coffee
As with any whipped topping, it won't stay perfectly whipped for long. You can store any left over whipped topping in the fridge in an air tight container to use later. I find that only keeps for 3-4 days, so you can whip up a larger batch and enjoy it for a couple of days.
I've seen people say you can freeze it, but I haven't found that to be the case. The whipped topping works by adding air to the ingredients and that air won't stay in the topping when frozen, so it comes out really weird. I would suggest just making it fresh when you want it.
Equipment You'll Need
Mixing Bowl
Instant Coffee
Other recipes to try
Like this recipe? We'd love for you to share it on your Pinterest board! Click to follow our Pinterest boards so you can find all our recipes!
Instagram it! If you try this recipe please tag #AFoodLoversKitchen on Instagram or Twitter. We love to see your photos of our recipes! Also follow us on Instagram, Twitter and Facebook to keep up on what we're cooking up.
Dalgona Coffee Recipe
A light and fluffy whipped coffee topping
Print
Pin
Rate
Ingredients
2

tablespoons

instant coffee

2

tablespoons

granulated sugar

2

tablespoons

hot water

nearly boiling but not quite
Instructions
Mix the ingredients together in a small mixing bowl. Whisk together until nice and fluffy. About 3 minutes with a hand mixer or 8 minutes by hand.

Use a ladle or spatula to spoon onto the top of your milk, coffee or hot water.
Nutrition
Calories:
64
kcal
|
Carbohydrates:
16
g
|
Protein:
1
g
|
Fat:
1
g
|
Saturated Fat:
1
g
|
Sodium:
3
mg
|
Potassium:
177
mg
|
Sugar:
12
g
|
Calcium:
7
mg
|
Iron:
1
mg
🥧 If you're interested in more great recipes, I share all my favorite Instant Pot recipes over at A Pressure Cooker Kitchen, air fryer recipes at Air Fry Anytime, and cocktails and drinks at Savored Sips. Check it out today!
Pin it for later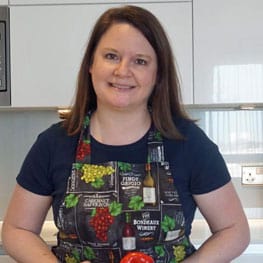 Laura is a home cook who loves making new recipes and finding new favorite things to eat, whether at home or abroad. She also runs a popular travel blog and spends a lot of her time traveling for food.