One of these four best Immersion blenders will be invaluable in the kitchen, especially if you make a lot of soups and sauces. I can't live without mine now that I'm used to having it. It makes pureeing soups, blending up dressings, and smoothing out gravy super easy.
In this post, we will go over the best immersion blenders for home cooks, so you don't have to spend hours researching before buying. We've tried dozens of hand-held blenders for the making of this guide and are confident that you'll find the best handheld blender for you on this list.
Best Handheld Blenders – Quick Pick List
We understand that you might not have time to read all of the full reviews for each of these four blenders, so we've included a quick pick list for you with our favorite immersion blender at the top of the list.
What is an Immersion Blender?
An immersion blender is one of the handiest tools in your kitchen, because it can be used to puree, blend, mash, or whisk your food without moving it to a different blending container.
It is shaped like a wand, with blades at the bottom, so you can insert it into any cooking vessel you're using and blend your food without having to dirty another dish. Immersion blenders are also known as stick blenders, handheld blenders, and wand blenders.
These all do the same thing. You can use them to blend hot or cold liquids, puree vegetables to make a smooth soup, or to quickly blend up a smoothie. There are infinite ways the blender can be used to make your cooking process easier.
Most immersion blenders can be bought alone or with a set of accessories. Be sure to check what it comes with, to make sure you get exactly what you're looking for. The accessories include a plastic blending cup, a whisk, a masher, and a mini food processor/chopper.
What to Look For in an Immersion Blender
The most important things to look for in an immersion or handheld blender are power, speed settings, and durability.
Power
The higher the wattage, the more powerful the blender will be and the more capable of blending harder or thicker foods. 200 watts is a basic starting point and you'll find that most blenders come with this level of power.
One that we review below has a much more powerful motor, with 350 watts. If you're planning to use it for thicker foods, look for that wattage.
Speed Settings
It's really worthwhile to get an immersion blender that has at least two speeds. I've found that two speeds are generally enough to get the job done, although some handheld blenders do have more than two.
Durability
If you're going to be using your handheld blender alot, it's wise to look for one that is made of a more durable plastic or metal. All of the blenders we review below have some plastic parts, but the more money you spend the more durable the material tends to be.
Also look at the grip. A sturdy, non-slip grip is definitely the way to go.
Accessories
Handheld blenders can do so much more than just puree soups and sauces. They are also powerful chopping devices, if you also purchase the chopping attachment. I use the chopping attachment more than the blender alone.
It's great for mixing up a basil pesto or vinaigrette without having to get out the full-size food processor. Most blenders also come with a whisk attachment and a cup in which you can blend drinks, smoothies, or dressings.
---
*Most Powerful Handheld Blender*
The Braun Multiquick 5 is a very powerful handheld blender, with 350W of power and two speeds. It's one of the most powerful handheld blenders you can find. If you're going to blending solid foods, you'll need that power to get a smooth puree.
The dual speeds are useful to get the right amount of power for the food you're blending, but you do have to hold down the button while blending. What I personally like the most about the Braun is the uniquely shaped blending shaft, because it reduces suction, which often creates splatter.
The grooved design makes it much easier for the blender to grasp food and blend it. You might not think this is a huge benefit, but it is. Foods are pureed finer with this style of blade.
The other great thing about the Braun is that the attachments have an easy click system that makes them so easy to take off and put on. You won't be fumbling with the accessories. You just have to push the buttons on the side to remove one, and do the same to put on another.
This version comes with attachments to blend, chop, whisk, mash, crush, and purée. Do keep in mind that despite the powerful motor, you still cannot use this handheld blender to crush up ice or raw vegetables.
It's also not meant for making dough or thick nut butters. For those, you'll need a more powerful blender. Check out our guide on portable blenders, which can crush ice.
Pros: Very powerful, great set of attachments that easily click on and off.
Cons: Plastic gear box not as sturdy as metal. Whisk head cannot be submerged in water.
Includes Beaker, Whisk, 2-Cup Chopper, and Masher.
See on Amazon
*Best High-End Immersion Blender*
The Breville Immersion blender is one of the best you can buy, and that fact is reflected in the price. Although it's a bit more expensive than the Braun, it also has better durability.
The casing is sturdier and the comfort grip handle is ergonomically designed to be easy to hold and grip, even with wet hands. This immersion blender has a bell-shaped wand that leads to less suction when blending.
If you've used an immersion blender before, you'll know that the suction can lead to a lot of splatter which sends your soup flying onto the surrounding counter tops and makes a big mess.
This blender is not quite as powerful as the Braun, with its 250 watts of power, but it has 15 speed settings to make up for that difference. The settings give you the ultimate control over the blending of your food.
Pros: Comfort grip, larger capacity accessories.
Cons: Heavier than other handheld blenders, can only use for 15 seconds at a time then rest the motor.
Includes 6-cup chopping bowl with steel chopping blades, whisk attachment and more accessories.
See on Amazon
---
*Top Rechargeable Blender for the Kitchen*
This cordless rechargeable blender from Cuisinart has a lot of different applications that make it stand out. It offers 200 watts of power and two speed settings. It's the only cordless handheld blender on our list.
It's handheld-upright style, comes with a fair price tag (that we feel is well deserved), and comes as a set. With only 20 minutes of charged battery life, it's not ideal to use on the go – but if you're well prepared and a great planner, you could try your luck.
It has five variable speeds, which may seem a bit much until you get into the attachments it comes with. Arriving in a handy kit bag with a large measuring jug (that's blend-safe), this kit is already showing promise.
The Cuisinart blender comes with a stainless steel electric knife attachment, which can be used for carving meat or slicing bread, as well as a whisk attachment for baking. These two extras already make it worth the money, but it's the chopper cup that really sets this set ahead.
There's a 3-cup sized all-in-one chopping cup attachment that sits on the end of the blender as the standard blade does. This has a set of rotary blades within it and can be used to blend nuts, cheeses or anything tougher that you might want to blend up.
One could use this feature for everything from guacamole and hummus, to nut butter or falafel ball mixture. Now, as we've mentioned this blender isn't really portable, with the short battery life and the myriad of attachments that come with it.
It is, however, a great addition to your kitchen (especially if you have a small kitchen), and hypothetically could replace your blender, whisk or electric mixer, carving knife and bread knife all in one go. This is quite a rep for a blender to have, so be sure not to look past this one if you're really looking at giving your kitchen a little upgrade.
Pros: Great quality attachments; Could replace your kitchen blender; Decent price for the set.
Cons: Safety button on top can be tedious.
Comes with 2-cup mixing beaker, chopping attachment, whisk
See on Amazon
---
*Best General Use Blender*
If you liked using a stick blender or immersion blender, this KitchenAid is a great one. While it comes with a higher price tag than generic version, the KitchenAid Hand Blender is simply one of the best blenders we've used.
This blender comes in three different power levels. There's a 5-speed, 3-speed and 2-speed version. Which one you choose depends on what you'll be using it for. The 2-speed version is the least expensive and it is best used for blending and pureeing softer foods, like smoothies, soups and dips.
It includes a 3-cup blending jar with a lid. The cup is not a take-and-go bottle. The 5-speed version is the overall power horse. It can do just about anything. It includes a 1-liter blending pitcher, 3-cup jar, and 8″ and 13″ blending arm, interchangeable blades, a whisk and chopper attachment, and a storage case.
In terms of blades, it comes with three blade-style attachments. The first is a standard 4-leaf stainless steel blade for multi-purpose blending, next is a two-leaf s-blade for more blending and crushing, and third a froth bell blade for frothing milk or cream.
These alone already give it a foot up above the Cuisinart model. However, the addition of a similar whisk, measuring / blending cup, blender cup attachment, and even an arm extender (to make the blender longer) make this model really worth it as something to invest in for your kitchen, in the long term.
With the handy kit bag that all of this fits into, it really makes for a kitchen-wide upgrade, more so than just a fancy blender purchase. The uses for this blender are just about endless, and the build quality is great – so as long as you're prepared to fork out a little extra for this set, it's going to be a welcome addition to your kitchen that you won't soon regret.
Pros: Great set of attachments; Multi-Purpose Blender
Cons: Steep Price tag; Would look better in black
Comes with 2 1/2-Cup BPA-Free Chopper Attachment, 3-cup blending jar with lid, whisk, storage bag.
See on Amazon
CONCLUSION
With so many immersion blenders on the market today, it's difficult to know which one to choose, but you cannot go wrong with any of the top handheld blenders listed above. Each of them have their unique features and power levels, but they will all get the job done right.
🥧 If you're interested in more great recipes, I share all my favorite Instant Pot recipes over at A Pressure Cooker Kitchen, air fryer recipes at Air Fry Anytime, and cocktails and drinks at Savored Sips. Check it out today!
Like this post? Why not share it on your Pinterest board!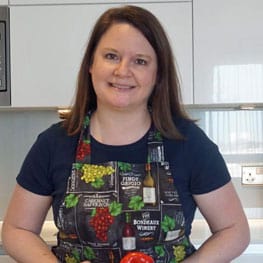 Laura is a home cook who loves making new recipes and finding new favorite things to eat, whether at home or abroad. She also runs a popular travel blog and spends a lot of her time traveling for food.